You must select a power tower that empowers your workout. It revolves around your requirements, best quality and the features. It takes an equal effort of your 10 minutes workout in a day. How about we do the task for you? Yes, we choose the best power towers for you to pick one from the list.
We have a list of best power towers with 10 different options. You have the one which comes in your budget, a best alternative for the top selling product and so on. See the one that brings the best out of you for fitness goals.
We have prepared buying guidance that can help you navigate the best power towers from this list. Check what is the best and not so best about each product that helps buy an effective one. Don't rush as you have the buying links attached here.
10 Best multi purpose Power towers
1. Multifunctional and Adjustable Power Tower by Hi-Mat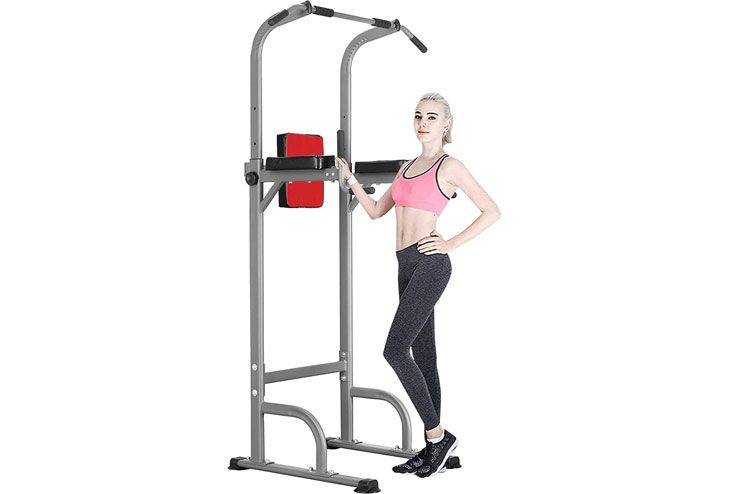 The feature that makes a power tower the best is sturdy construction. This product is well known for its stability and durability. If you are prioritizing buying a quality beast like a gym tower then you can choose this one.
It comes with 5 adjustable height settings and the weight capacity is 550 lbs. Overall, it is a heavy duty product to install in your workout space. This tower is multi functional to practice push ups, pull ups, knee lifts. It is an ideal choice if you are looking for a product that helps you strengthen the core, shoulders, chest and back. You can do the exercises that target the upper body.
You would want to have back support for a few workout styles and exercises. This power tower is designed with a cushioned back support for extra comfort.
The power tower is to withstand the weight with a solid base. The handles are made with anti slip technology and enhanced with protection at the handles while you practice high intense exercises. These are the safety features that amaze you post using it.
Read: 8 Best Back Stretchers- Reviews and Buying Guidance
PROS
Height settings
550 lbs weight capacity
East to assemble
Multi functional
2. ANTOPY Pull Up Bar Wall Mounted Chin Up Bar Dip Stand Power Tower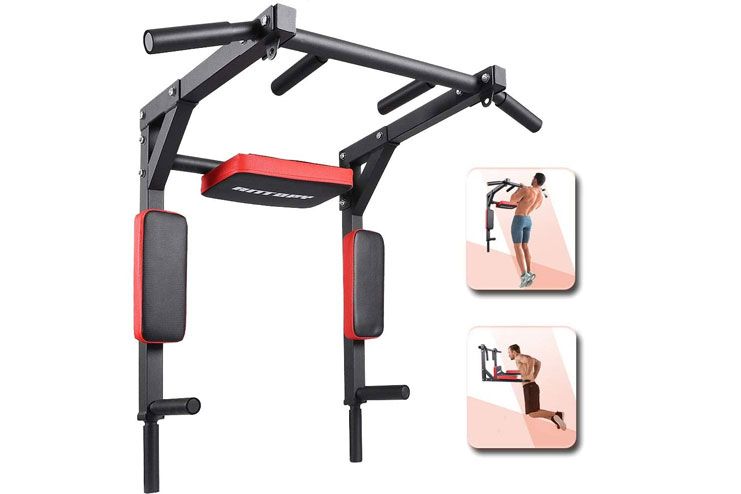 Are you setting up your home gym? Then you definitely would be looking for a power tower that is super convertible. With this power tower, you don't have to limit your workout sessions even if it's at home. You can quickly convert it into a dip bar for variant exercises. It supports push ups, pull ups, chin ups, dip station, leg raises and boxing.
You will have an extremely comfortable experience using this product. It has the ergonomic designed handles. It allows you to have non slip grips throughout the workout. You also have the padded armrests.
Coming to the weight capacity, it is exclusively made for 440 lbs or below. You have a wide variety of angles to practice the exercises. It gives you enough room for mobility and exercising. The product is accompanied with additional gym accessories that include punch bags, TRX strap, ropes or yoga straps. It is the best suited to install on the concrete, brick or cinder blocks. The only caution is not to mount it up on drywall, plaster walls.
Read: 11 Best Cross Training Shoes for High Arches!
3. Body Champ VKR1010 Fitness Multi function Power Tower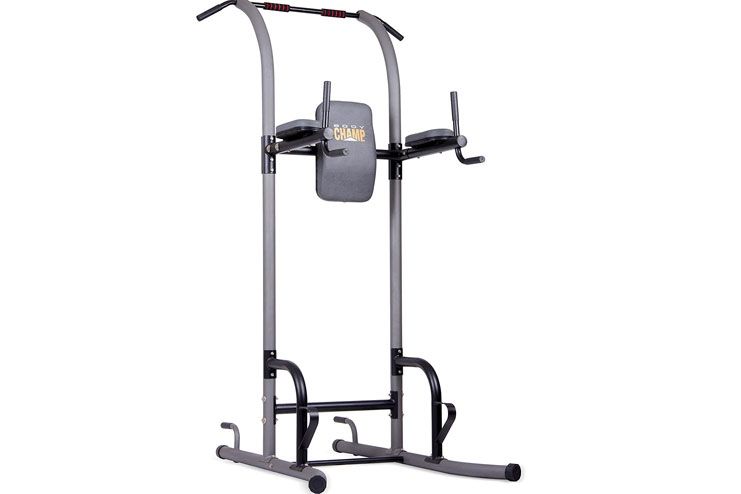 Body champ fitness multi functional power tower is an option that comes in low budget but with the best quality. It takes you back to the basic exercises like knee and legs raises. You can use it as a dip bar, lat pull up bar and practice push ups as well.
You can challenge your body flexibility with this beast for toned muscles. It is a model that makes your strength training effective by targeting the various muscle groups. It allows you to focus on toning your shoulders, legs, chest, biceps and abdominal muscles.
If you are looking for a H frame power tower then note the features of this product. It can fit in your home gym as you don't need any weights to practice high intensity workout. Also It is built with high stability on either side of the tower.
And It is a portable power tower that you can place in the limited space. The back support is padded for a comfortable use. We can say, this is a basic model for beginners of bodybuilding or strength training.
Read: 12 Best Posture Corrector And Back Support For Better Health
PROS
Portable product
Padded back seat
Strong grip handles
No need of weights
4. Odoland Wall Mounted power tower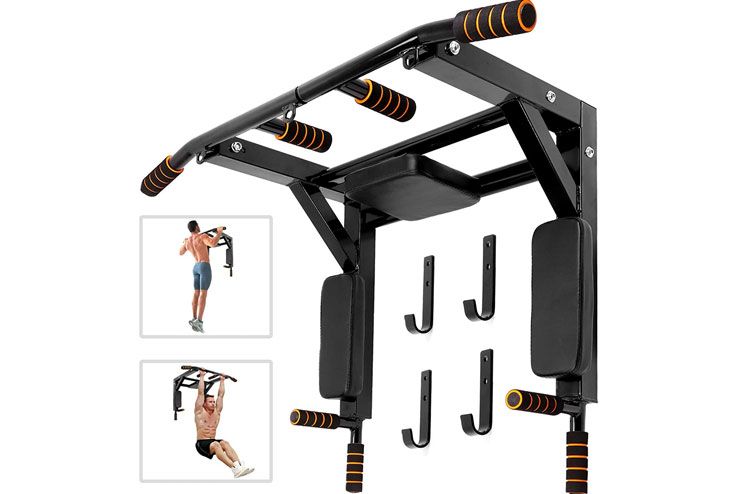 While you are progressing your endurance, you want to face the challenges. You need confidence inspiring gym equipment for endurance. Odoland power tower is made to practice plenty of exercises like pull ups, knee raises, leg raises, push ups, dips. It is a perfect product that targets the areas shoulders, chest, arms, triceps and biceps. This tower can cooperate for you to achieve those toned front abs.
The power tower was made of heavy duty steel material and facilitated with non slip grips at the appropriate points. It is padded for back support and armrests which are crucial features for a best power tower.
This power tower can hold a person who weighs 440 lbs and below. You have no barrier to use this equipment which is made for more than 50 exercises.
It is a wall mountable tower that can be installed on concrete, brick, blocks. It is made to hang up a punching bag as well. We must say that it is a multi functional product as you can install it in a room, commercial gym or home gym.
Read: 13 Benefits Of Good Posture – Sit Up Straight!
PROS
440 lbs weight capacity
More than 50 exercises
Padded armrests
Padded back rest
High durability
5. Health Gear CFT2.0 Functional Fitness Gym Style Training Power Tower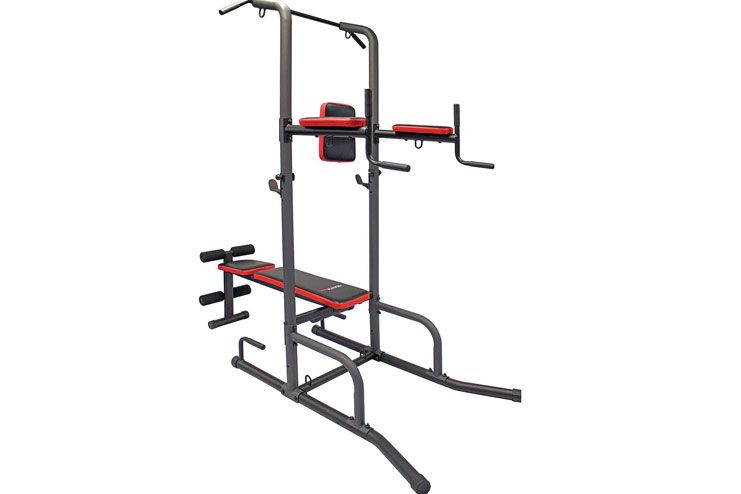 One power tower for complete body workout- it must be a brilliant contraction. Experience the best of this product if you are exactly for an extensive workout routine. It is attached with a bench that encourages you to practice multiple exercises. Some of the exercises that you can practice on the bench are decline press, incline press, flat press, decline dumbbell flys. Additionally, you can practice a few other exercises with the bar.
While you practice the exercises on the bench,you will feel comfortable as it is padded. Even the armrests and back rests are padded to prevent the discomfort. You can rest your legs while for a supportive stretch. The handles are made to provide a non slip grip while you hold them and practice the vigorous exercises.
If you weigh below 300 lbs then this product works for you without any restriction. The build of the product is stable to support the instructed weight. Also it is a best substitute power tower to buy for various workout styles.
Read: 7 Best Elliptical Machines for Small Spaces – Reviews & Buying
PROS
Attached bench
300 lbs weight capacity
Non slip grip
Padded supports
6. Slsy Multifunctional Wall Mounted power tower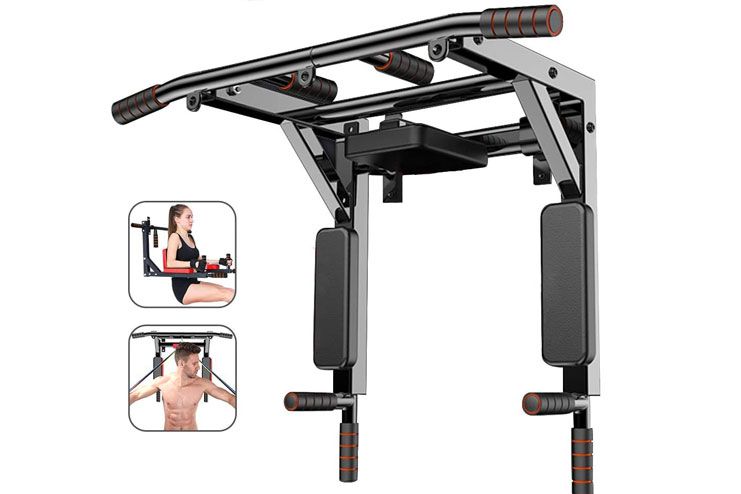 Setting up a home gym is the best idea to save time and money. What makes it possible is the reliable workout equipment. If you are currently looking for the best power tower for your gym workout then this must be in your list. It is a wall mountable tower that can be put on the concrete, brick walls. The caution is not to install it on plaster walls and drywalls as it can the equipment and the walls.
If you want to test the stability of this product then it is made of qualitative steel. You do the robust workout but your health and well being must be taken care of too. Picking this tower is a good choice as you have the protective and comfy features like padded backrest and armrests.
You will get this stable gym tool along with a special mount suspension trainer and a punching bag which are the benefits of choosing this product. Another feature that must be considered is the weight capacity of 300 lbs.
It is convertible as a dip station and pull up bar. Besides this, you have the best warranty and guarantee policies. It is guaranteed with a 30 days of return policy and comes with a 1 year warranty.
Read: 5 Cardio Workouts For Weight Loss At Home
PROS
Padded supports
300 lbs weight capacity
1 year warranty
30 Days guarantee
Easy to install
7. Syzythoy Multifunctional Wall Mounted power tower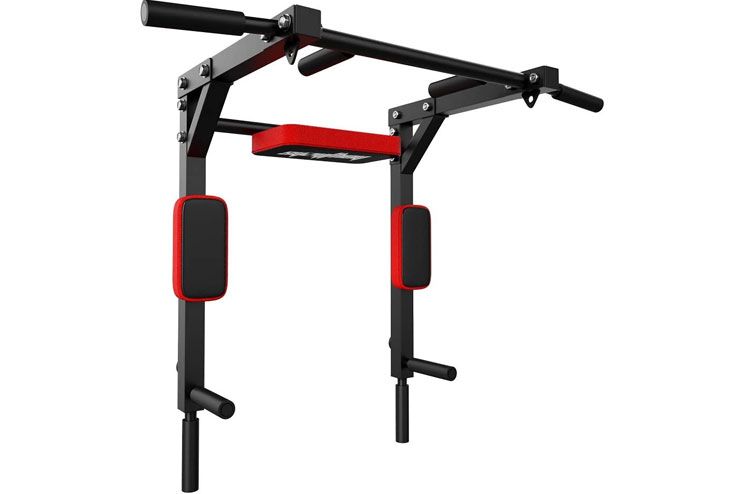 The power tower from Syzythoy is a wall mountable to convert into a dip station or pull up bar. You just have to mount it up on concrete walls, bricks excluding drywall or plaster walls.
It is best recommended for the people who weigh 440 pounds and below. It gives an unbeatable stability and rigidity. The power tower enables you to practice different exercises that include pull ups, leg raises, dips, mountain climbers.
This workout tower is to target your upper body which involves arms, shoulders along with core, hips and legs. All the angles are well padded for a safe workout of abdomen, waist, chest and upper limbs.
It is one of the brilliant power towers you have for a home gym. As it is portable, you can easily install it in a limited space as well. The construction of the product is standard that helps you for a routine workout.
Read: Tips to increase the stamina – be strong, be focused
PROS
Heavy duty steel
440 pounds weight capacity
Easy to assemble
Tough handles
CONS
Limited lower body exercises
8. Fitness Reality X-Class High Capacity Multi-Function Power Tower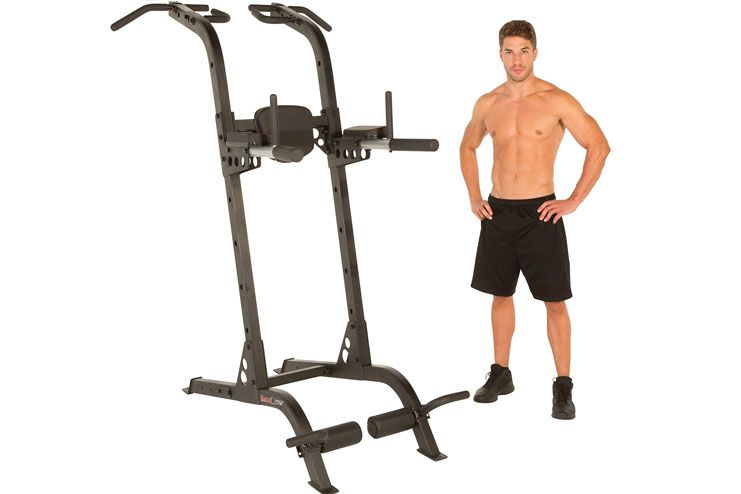 Another best power tower that is included in the list for you. It is designed with standard dimensions for a spacious room and two adjustable foam bars. You can change the position of the bars for your comfort and convenience. Those bars are attached for you to practice 7 different mounting positions.
You have the padded armrests and back support. You may want to switch the position for a laid workout and the machine supports you wholly. It has got a lower bar to lay down and practice the exercises. An extra feature of the product that needs your notice is a dip station for building triceps.
Also you have the step support and foamed leg support at the bottom. It has the stability beam for 4 variable positions to mount the equipment from ground for your convenience. We recommend it as a flexible product for a fullest use for a high intensity workout.
The complete tower from top to bottom is designed with coated heavy duty steel. The company claims a 10 years frame warranty and 3 years for parts. You can choose this product for its durability and stability.
Read: Simple Exercises to Get a Flat Tummy
pros
7 Mounting positions
Stability beam
Adjustable foam bars
Padded arm and back rests
10 Year warranty
9. Weider Power Tower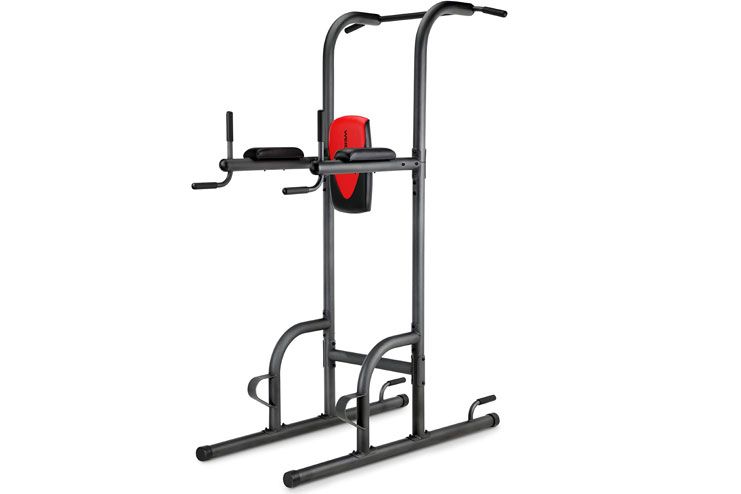 The power towers from Weider gives your comfort and lets you experience the practical utility. Think about supplementing your gym expenses with this product. It helps you train your entire body with a push up and pull up station. The model is to engage your lats, biceps and forearms with the right position of your body.
You can freely do the elevated push ups, tricep dips and vertical knee raises. The product is made for the persons of 300 lbs and below. It allows you to adjust the handles for muscle isolation with a medium to deeper angle while practicing the dips. Moreover, you can focus on training your chest, hips and quads. It encourages you to fight against the mass of your muscles and increase the body endurance.
The tower allows you to use your body weight, dumbbells, weight plates for improved challenges. A sturdy construction of the product along with vinyl padding makes it a best companion workout.
Read: 12 Trigger Finger Exercises For Faster and Effective Pain Relief
PROS
300 lbs weight capacity
Adjustable handles
Padded support
Increases endurance
Multiple exercises
CONS
Slightly touch to assemble
10. KT Toes Don't Touch Ground Foldable power tower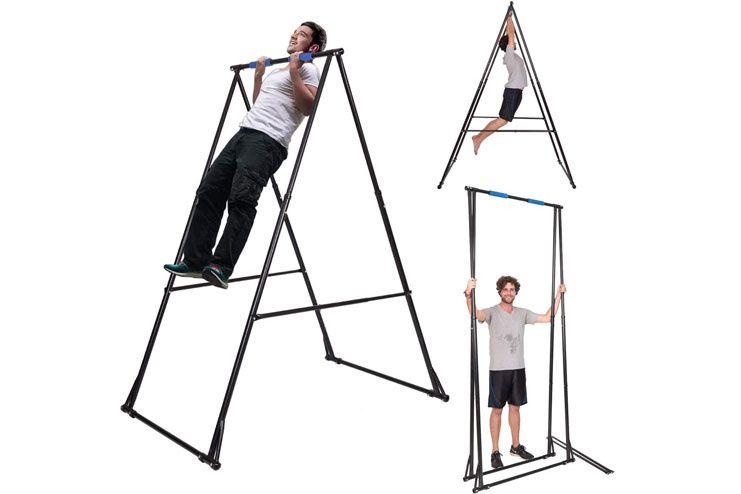 The product is for full body spring and stretch. It is a uniquely made power tower without any limits for body movements. You can do chin ups, pull ups, push ups, pedal and body twist exercises. It is an adjustable tower from 76.7" to 100.4 according to your requirement.
The power tower is made for everyone below 6.56 ft and it can resist the weight of 485 lbs. It is a sturdy product that withstands the stability and capacity without being collapsed and bent. Being a strong tower it is foldable and portable. You can fix it in a limited space.
Versatility with this product is expanded to use it to hang up punching bags, TRX straps, resistance bands. It can also be a substitute for kids swings with a pull down of the bar.
If you are looking for a basic product that is also easy to assemble then you can pick this power tower. It is made of high quality by welding the help of a robot. See if this product matches your budget and choose it for your style of workout.
Read: Important Benefits of Balloon Exercises
PROS
485 lbs weight capacity
Unlimited body movement
No bent and collapse
Height adjustments
Things to be considered when buying a power tower
1) Weight capacity
You must check the weight capacity while choosing a power tower. A power tower that mismatches your weight can lead to damages or limit your exercise performance which is a big loss.
2) Height adjustments
Convertible height is another helpful feature for a room of exercises according to the progress. It is a significant feature for a personalized use to adjust according to the height.
3) Padded support
You must always select a power tower that comes with padded supports. Padded backrest and armrests are for comfortable features that you must check for.
4) Functioning
Look for a power tower with multi functional features as it adds the possibility of enhancing your workout challenges. You must check if the product is usable in multiple ways as you are investing a huge amount. Only then a power towers becomes worth buying.
5) Additional features
You can look for the additional features that increase your workout possibilities without a compromise. For example, bench or punching bags which are the added features of a best power tower.
6) Non slip grips
A product that has non slip grips is safer to use. Most of the power towers come with ergonomic design that helps holding on to the handles for strong exercising. These protect you from slipping while practicing the robust exercises.
7) Stability
What makes you choose a power tower over anything? It must be the stability. A tower with a strong base is an important feature. It must be able to withstand a person's weight as per the capacity for a trouble workout. It makes the power tower a reliable equipment with safe features and construction.
8) Durability
Another factor that you must check is the durability which includes the material, construction of the power tower. Know if the product is made of quality steel to support your body weight as it increases the longevity.
9) Warranty
Looking for the warranty policy is a basic factor while buying a power tower. It assures the best quality and services which makes you buy the product.
10) Price of the product
You must choose the product that fits your budget which sorts out the best options. Cost of power towers is based on the features, quality and functionality. So, compare the various products and then see which comes in your budget.
A best power tower is a requisite for an effective workout. But you have to consider the requirements of the product you are seeing. Power towers are huge equipment with various features that help you practice the exercises. So, we have given you an easy directory when you are looking for power towers. You may need a buying guidance to refer that makes your selection right without any troubling results.