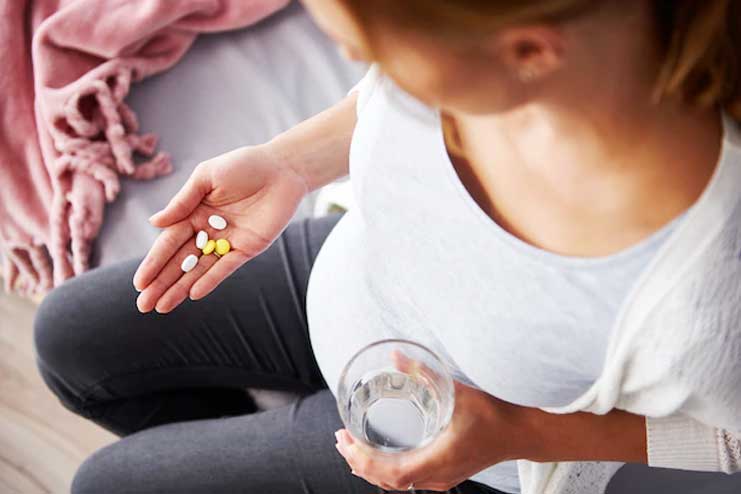 Have you noticed a pregnant woman's hair going from dull to lustrous and looking bombshell? That is because during pregnancy a woman's hair grows faster and longer because of the hormonal changes taking place in their body during these times. Due to increased levels of estrogen in pregnant women, your hair growth is in an increasing phase. Although it is also true that the hair goes back to its original form and also starts shedding after childbirth or pregnancy.
That is when pregnant women consume prenatal vitamins for nutrients in their bodies. These nutrients in prenatal vitamins aid in the growth of hair when consumed during pregnancy. Although you may have a question if it is safe to consume vitamins if you are not pregnant, to find the answer keep reading, as we will also discuss the best prenatal vitamins for hair growth in this article today.
Is it Safe to Take Prenatal Vitamins for Hair Growth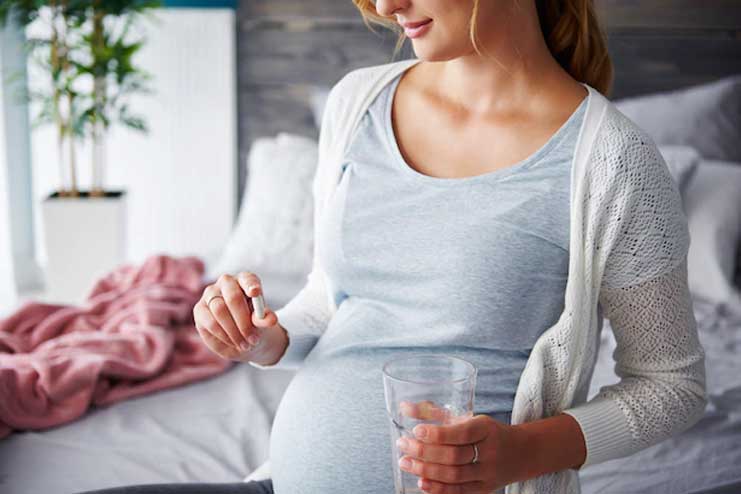 The purpose behind consuming prenatal vitamins is that some of a woman's nutritional and vitamins want to increase with pregnancy. Prenatal vitamins are beneficial in reducing risks for pregnancy complications like neural tube defects and Anemia. The baby will need certain nutrients to develop and stay healthy. Sometimes expectant moms do not always take in proper nutrients in their daily diets which may not be enough. Prenatal vitamins help provide enough nutrition and balance the nutritional content in women's bodies.
Since these prenatal vitamins have nutritional value, which helps in the healthy growth of hair and nails too, it is completely safe to consume them. In fact, doctors do recommend and prescribe it for pregnant women or women who want to conceive. It may not be recommended for women who do not want to get pregnant as they can consume enough nutrients from foods themselves instead of a need for other supplements
Although one must understand that these prenatal vitamins are a supplement to a healthy diet for expectant moms they cannot be a replacement for a healthy diet. Your diet is what will affect your and the baby's growth so always pay attention to it.
Best Prenatal Vitamins for Hair Growth
1.One A Day Women's Prenatal 1 Multivitamin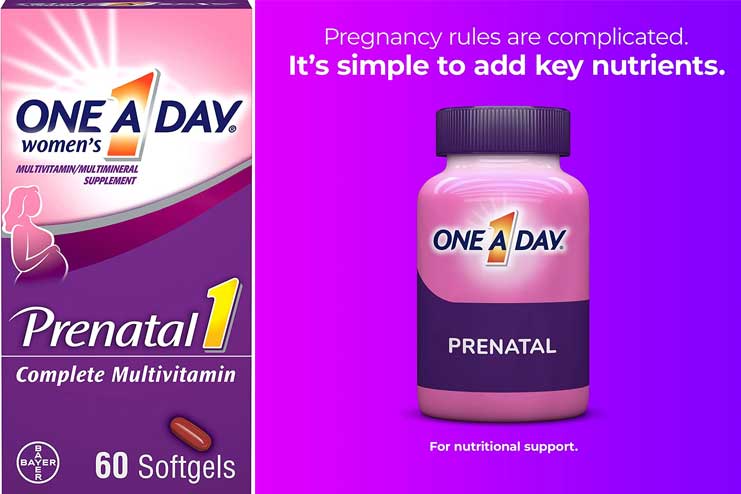 One A Day Women's Prenatal 1 Multivitamin is a whole prenatal multivitamin specially formulated to provide pregnant women with nutritional support during, pre and post-pregnancy. It has a complete list of nutrients in it, such as Folic Acid, Omega-3 DHA, Calcium, Vitamins A, B6, B12, C, D, and E, Iron, Thiamin, Riboflavin, Niacin, Biotin, Iodine, Magnesium, Copper, Pantothenic Acid, and Zinc. DHA is an Omega-3 fatty acid that can help support healthy fetal brain and eye development.
One a day is no 1 recommended brand by doctors for prenatal vitamins. As these vitamins contain DHA and folic acid it also helps in the growth of your hair naturally and makes them lustrous. This one-a-day prenatal vitamin is gluten-free and they do not contain any artificial sweeteners or high fructose corn syrup, which makes it really healthy and safe to be consumed.
PROS
Provide nutritional support during, pre and post-pregnancy
Contains a complete pack of nutrients
DHA and folic acid helps in hair growth
Gluten-free
No artificial sweeteners
CONS
Does not smell great because of the fish oil in it
2.Rainbow Light Prenatal One Multivitamin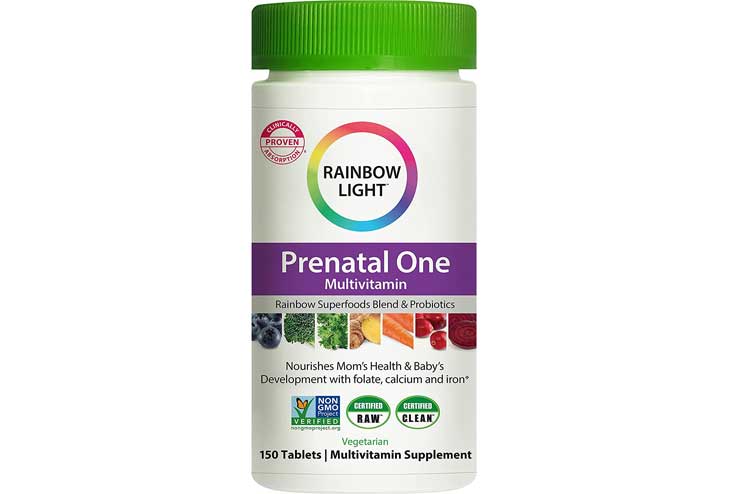 Rainbow light prenatal one is a high potency multivitamin for women. It benefits and provides nourishment to mom's health and baby's development with folate, calcium, and iron, while also promoting energy with a potent B vitamin complex. It contains a high-potency source of zinc and supports red blood cell health that helps support immune health.
This multivitamin delivers clinically proven absorption of Vitamins D, B2, B5, folate, calcium, iron, and zinc. This daily vitamin is made with blends derived from fruits and vegetables, which contains 30 million probiotics digestive enzymes and, yet is very gentle on your stomach. This supplement is useful to fight against malnutrition. Also, This is a Non-GMO, vegetarian prenatal supplement made with no colors, flavors, or sweeteners.
pros
High potency multivitamin supplement for women
Which contains 30 million probiotics digestive enzymes
Helps to fight against malnutrition
Non-GMO
No added sweeteners
Plant-based
CONS
Contains lead which can be harmful so consult a doctor prior to consumption
3.MegaFood Baby & Me 2 Prenatal Vitamins – Postnatal and Prenatal Multivitamin for Women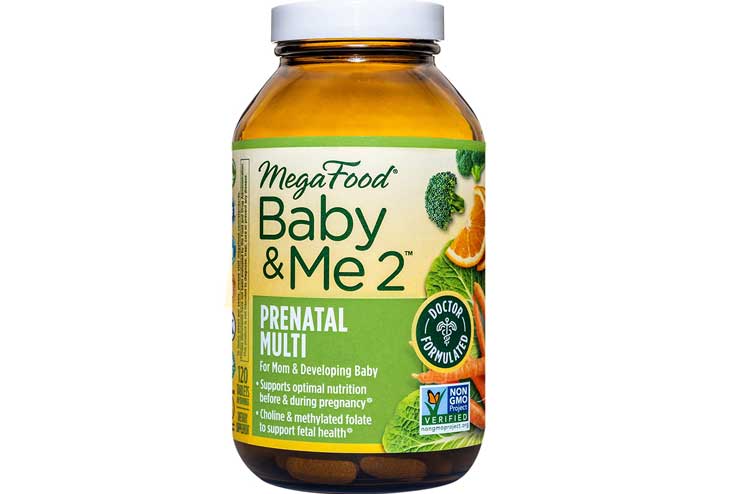 MegaFood Baby and Me 2 prenatal vitamins can be consumed prior to and post to pregnancy. This multivitamin is one of the best-selling products. Multivitamin that supports optimal nutrition, also has added choline and methylated folate which is the active form of folic acid to support fetal health. It also contains iron to support pregnancy and provide energy to pregnant ladies. This pre and postnatal multivitamin include key nutrients like vitamin B6, vitamin B12, and other healthy nutrients. These supplements are infused with real foods and added nutrients which are of supreme quality and good for women. This supplement is also doctor-formulated and it is a Non-GMO product.
PROS
Can be consumed prior and post to pregnancy
Added choline and methylated folate
Contains vitamin B6 and vitamin B12
Doctor formulated
Non-GMO
Plant-based
4.HAIRtamin MOM Vegan Prenatal and Post Natal Multivitamin Supplement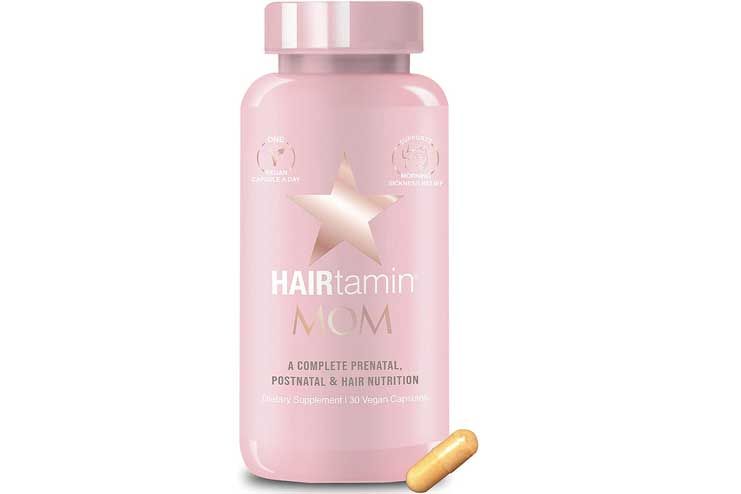 Hairtamin MOM Vegan is one of the best hair prenatal and postnatal multivitamin supplements. It helps to provide nourishment to both you and your baby, your baby, and also to your hair. This supplement has a proprietary blend of vitamins, minerals, and herbs plus a powerful super antioxidant complex that synergistically promotes existing hair growth, prevents hair loss and shedding and increases follicle strength for the strong, shiny, healthy hair you desire.
For pregnant women the initial days they go through quiet sufferings, this supplement helps to boost energy levels naturally in their body, probiotics that help for enhanced digestion, a complex that has the digestive enzyme to ease morning sickness, helps to promote an overall healthy pregnancy and fetal development. One capsule per day is enough to get that beautiful and lustrous hair back. They recommended trying these supplements for 90 days to see the best results. It also consists of zero sugar, carbs, and calories.
PROS
Promotes overall healthy pregnancy
Healthy hair growth
Improves nails and skin
Supports morning sickness relief
Super antioxidant complex
Zero sugar, calories, and carbs
Allergen-free
Cruelty-free
CONS
Takes time to show the results
5.Garden of Life Prenatal Multivitamin for Women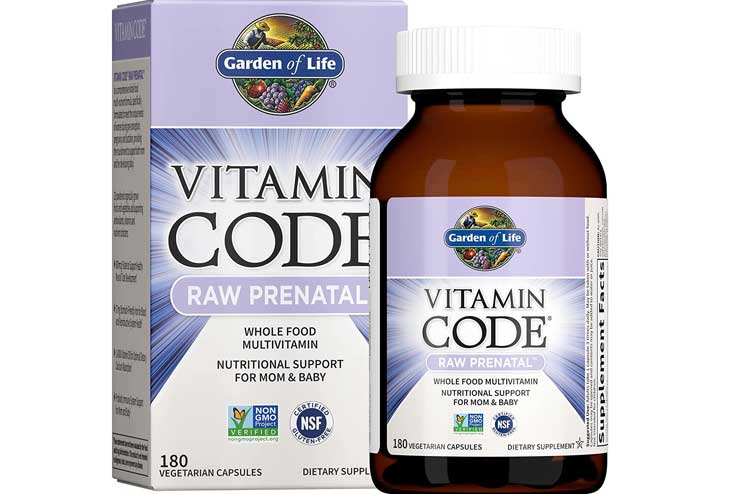 Garden of life prenatal multivitamins are specially formulated women's multivitamins made from nutritious raw whole foods. These prenatal multivitamins for women are designed for both mom and baby during pregnancy and lactation. It includes probiotics, natural substances like ginger, nutrients like vitamin D, and zinc that supports digestion easily. This multivitamin also supports blood and heart health with iron, vitamin C, vitamin E, and vitamin B-Complex plus Folate for healthy neural tube development.
It also helps to promote existing hair growth, prevents hair loss and shedding and increases follicle strength for the strong, shiny, healthy hair you desire. It consists of a blend of 23 powdered organically grown fruits and vegetables that adds supporting antioxidants, vitamins, and nutrient cofactors The product has no binders or fillers, is also completely vegetarian, gluten-free, and has a dairy-free whole food multivitamin.
PROS
Supports healthy neural tube development
Stomach-friendly
Contains vitamins for optimal dietary calcium absorption
Non-GMO
Gluten-free
Dairy-free
CONS
May take time to show desired results
6.New Chapter Advanced Perfect Prenatal Vitamins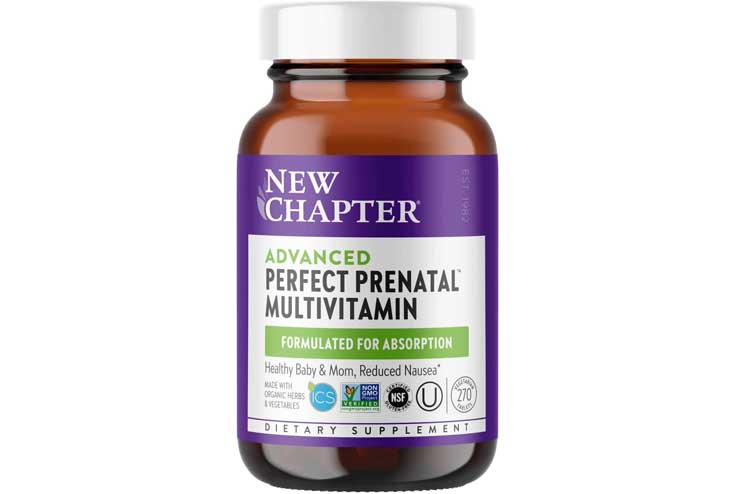 New Chapter advanced perfect prenatal vitamins help to add nutrition to both baby and mother. It is a complete prenatal vitamin with folate for a baby's healthy brain and spinal cord development. You can consume it on an empty stomach as it is very gentle on it. Also helps to ease morning sickness with a clinical dose of organic ginger. Consists of superfoods and safe herbs plus fermented nutrients to support the baby's development in a healthy way and mom's healthy pregnancy. Sure to provide 100% daily value of iron, plus folate, b vitamins, vitamin d3, vitamin c, and zinc. Methylfolate is the most active form of Folate, for a baby's healthy brain and spinal cord development which is recommended by doctors. It does not cause constipation as it has fermented Iron that boosts the mom's natural energy during pregnancy. Also, This is a Non-GMO, vegetarian prenatal supplement made with no colors, flavors, or sweeteners.
PROS
Gentle on stomach
Prenatal vitamin with folate
Consists of superfoods and safe herbs
It does not cause constipation
Non-GMO
No added sweeteners
CONS
The herbal blend in these vitamins may not suit everyone
7.Garden of life Organics Prenatal Gummy Vitamins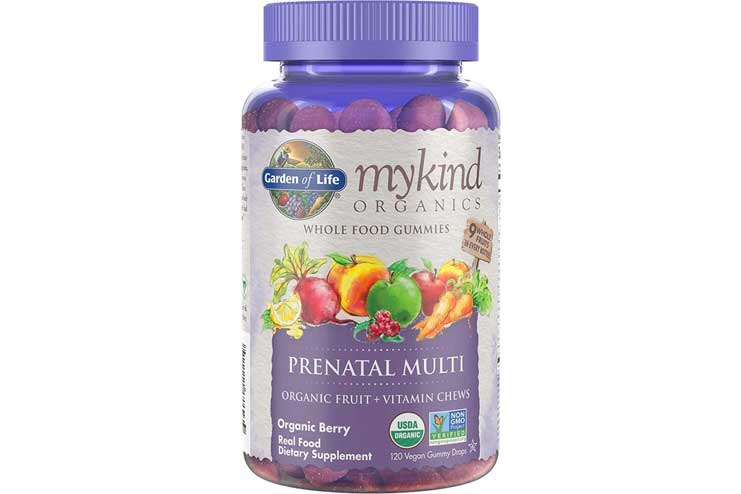 These Garden of life organic prenatal gummy vitamins are made from organic fruits. These organic gummy vitamins for women have 9 organic whole fruits infused in every bottle. The brand has clean gummy technology, these prenatal multivitamin gummies have no "candy" ingredients, no pig gelatin, and no corn starch that makes them clean and safe to consume. This prenatal gummy multivitamin has a blend of ingredients to support the needs of mom and baby, including folate and Vegan D3 vitamin in it. These berry gummies are extremely yummy and organic that contain nutrients and vitamins for adults which are made with pectin so they not only taste good but are good for you to consume as well.
These gummies do not contain meat, fish, fowl, animal by-products including silk or dyes from insects, eggs or egg products, milk or milk products, honey or honey bee products. These are 100% organic with non-GMO, gluten-free, and no added flavors.
pros
Infused of 9 organic whole fruits
Includes folate and Vegan D3 vitamin
100% organic
Tastes good
Non- GMO
Gluten-free
No added flavors
CONS
Does not contain iron in it
8.Enfamom prenatal multivitamin supplements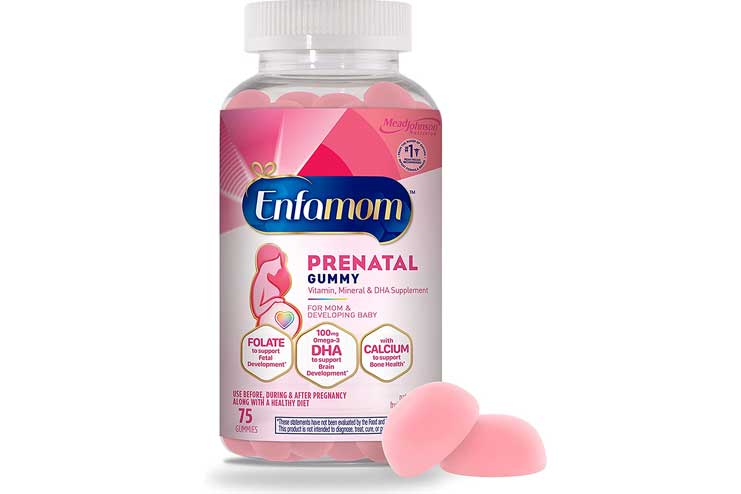 Enfamom prenatal Multivitamin supplements are full of nutrition and best for pregnant ladies. It has enough folate as folic acid, omega-3 DHA, and calcium in your diet helps support your health as well as the development of your growing baby. It has vitamin d that helps in building bone strength for the baby, also has vitamin e, vitamin c to help support your immune health. The B vitamin in this is an absolute must for expecting moms. Folate as Folic Acid helps by nourishing your baby's developing nervous system and protecting them against certain birth defects, including spinal cord and brain abnormalities.
As said this product is full of nutrients like vitamin B-12 to help keep blood cells healthy and help the formation of DNA. Vitamin E supports the immune system. Niacin helps turn food into energy. Biotin is an important nutrient for cellular growth, hair growth, and function. Vitamin B6 supports a baby's brain development and vitamin B6 and also omega 3 fatty acids. This product has no artificial sweeteners, flavors, high fructose corn syrup, or sugar. It is also Gluten-free.
PROS
Vitamin, minerals, and DHA supplement
Contains vitamins and minerals in great quantity
Consists of folate as folic acid, omega-3 DHA
Non-GMO
Gluten-free
No artificial sweeteners and flavors
CONS
The product may not be stored properly
Tips to retain hair growth post-pregnancy
Give proper nourishment to your hair to make them stronger, thicker, and longer.
Follow proper hair care regimen.
Go for a hair spa at least once or twice a month
Consume clean food and proper diet and exercise.
Sleep on a satin pillowcase
Do not use excessive chemicals on hair
Use a cotton towel and stop the breakage of hair
Conclusion
Before consuming any vitamins for prenatal hair growth, always consult your gynecologist beforehand. Some ingredients may not be suitable for your body during pregnancy so it is better to consult and consume. Prenatal vitamins are great to provide nutrition to your body, which is needed for both mom and child. They also help to retain the growth of your hair post-pregnancy. Hope this article has helped you to choose the best multivitamins for your hair growth.