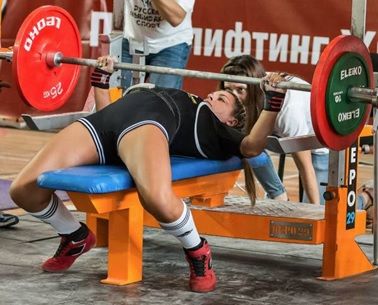 Building the muscle mass and strength training requires the weight lifting sets. And you must be knowing that basically, weight sets are divided into types-Olympic and standard. If you are preferring to go for Olympic weight sets then you have visited the right page. Today we are reviewing the best Olympic weight sets.
You must be vigilant when buying the weight sets. The products may look perfect but you can't detect the quality and performance by just seeing. You must choose the well doing Olympic weight sets that let you sweat out. The list of 7 best Olympic weight sets are picked on various parameters which makes them fit to your solid workout.
Finding the versatile weight sets must be your aim as you can include it your different workout levels and styles. You can have a look on these best Olympic weight sets are ideal for workout set up at your home or at gym.
1. CAP Barbell 2-Inch Olympic Grip Plate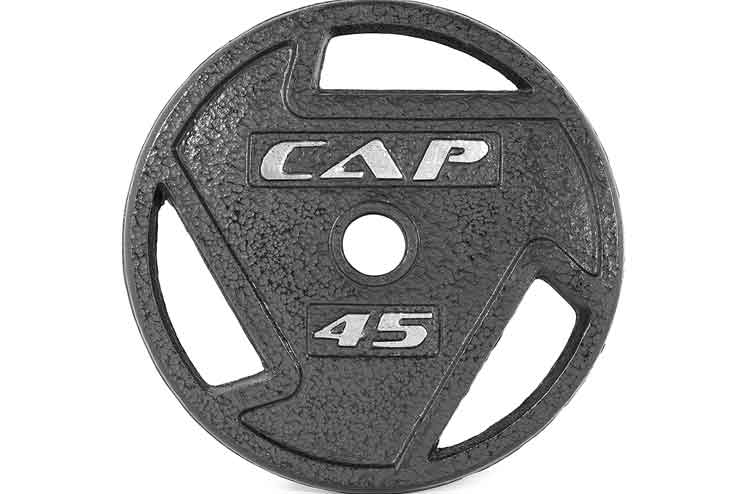 Firstly, we would describe the solid construction from iron. The secondary material of these weight plates is enamel finish for durability. These weight sets have the 2 inch machined hole that makes them fit into most of the Olympic bars. This is a product made to show up the durability with high impact workouts like deadlifts for years.
Grip is a must while handling the weight sets. The vigorous movement during the workout practice can lead to slipping from down which leads to injuries and damage of other gym equipment. There is no such danger with these weight sets. It is featured with the triple for strong grip.
These are the best Olympic weight sets to use for multiple exercises. You can use these plates for warm up, strength training, flexibility and balance.
The clearly displayed numbering on the weight plates help you identify the weight size of the sets. The weight sets are available in various sizes from 2.5 to 45 pounds. This set comes from a well reputed brand in the fitness industry.
Read: 10 Best Free Weight Workout – Complete Guide and Exercises
PROS
Available in various sizes
Triple holes for grip
Compatible with bars
Durable finish
2. Olympic Bumper Weighted Plates for Barbell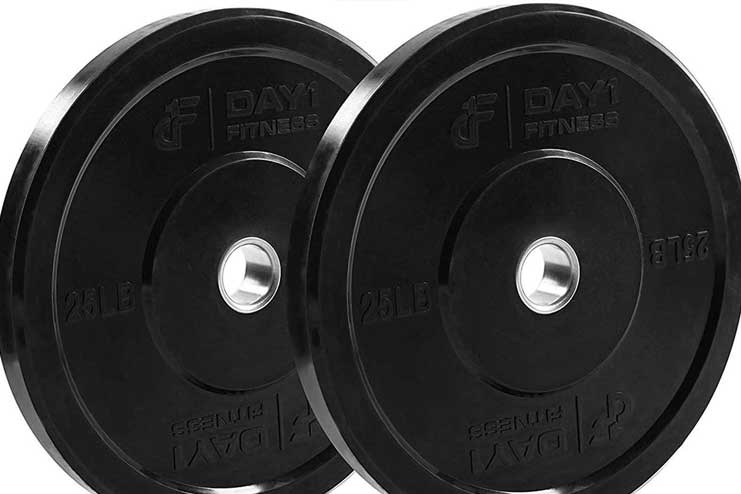 The Olympic weight sets are built with stainless steel. Moreover, the parameter of the plates is covered with low bounce rubber. The rubber covering is a safety feature that keeps the weight lifters away from injuries, damage to the floor and the gym equipment.
It is necessary for the weight plates to have a control when placed on the bars. For the same purpose, these plates have got the strong steel ring attached to the rubber. These are the best Olympic bars that fit the standard racks and bars.
These Olympic weight sets are befitting for Olympic competition as they match the gold standards. It is 17.5 inches in diameter. However, the thickness of the plates depends on the weight. The design may wonder you as it is ergonomic for easy lifting. The whole design of these weight sets is to avoid disturbing sounds when placing on the floor or barbells. You can effortlessly transfer the plates from rack to bars.
The weight sets are available in multiple sizes which range from 10-45 pounds. These are the reasonably priced Olympic weight plates that are in your reach. If you are looking for a pair of weight plates for your daily weight training session then you must check this out fur sure.
pros
Rubbered diameter
Fits standard bars
Multiple sizes
Low bounce design
Controlling steel ring
3. PINROYAL Bumper Plates 10LB/15LB Set, Olympic Weight Plates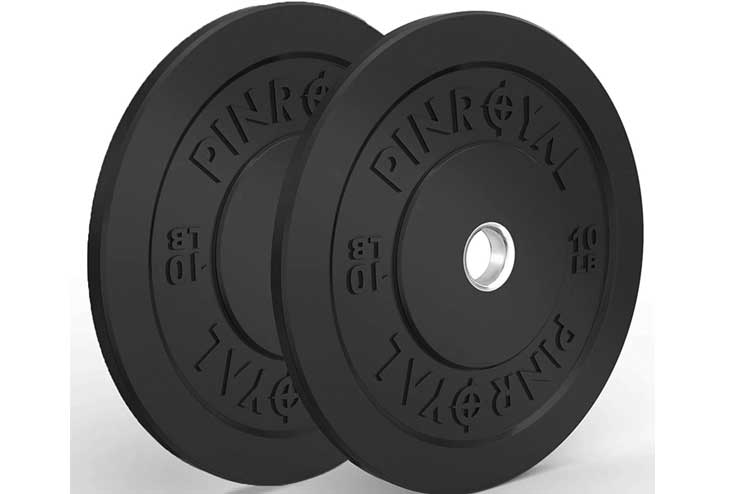 If you are looking for thinner weight plates then this can suit your requirement. These thinner weight sets allow you to load more weight to your barbells. It is composed of rubber material that is naturally recycled. The material used to derive these weight plates is safe and eco-friendly.
The rubber plates are safe from rusting which enhance the durability. The plates glide on any bar without causing any scratches. It is such craftsmanship that makes the rust free and smooth finished equipment.
As you use the heavy metal plates, it demands your focus on the floor safety. Whereas, with these weight sets, you don't have to fear floor damage rather you can focus on your exercise. It is made of low bounce steel to protect the floor.
The weight lifters who are in search of high weight loads can pick these weight plates. This is the best pair of Olympic weight sets with 55 Lbs weight. The minimum weight starts from 10 Lbs.
You can practice the workout with distracting noise while taking off and putting back on the barbells. The plates slides on to the barbell rightly. It helps you go comfortable with your flawless workout session.
Read: 5 Best Ellipticals Under $500 – A Budget-Friendly Pick!
PROS
55 lbs weights
Low bounce material
Rust free plates
Fits standard bars
4. Marcy Olympic Weight Bench for Full-Body Workout MD-857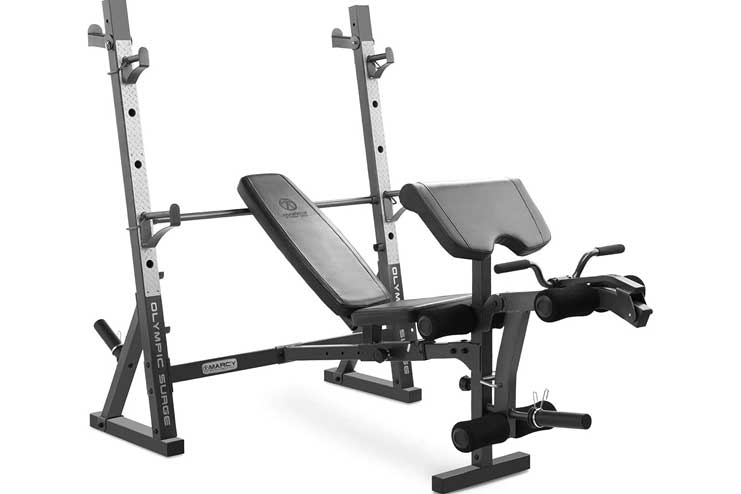 Weight set for whole body workout is a powerful package. You can set it up at your home gym or public gyms. If you want to target the muscle groups with your workout then this is an ultimate pick for you. You can perform the sturdy exercises with this weight bench. It is built with foam for cushion comfort during the workout.
The complete design makes it a compact gym equipment. It is a classic weight set for everyday workout. This bench can hold the maximum weight capacity up to 600 lbs including the users weight.
Get on this bench for abdominal exercises with a safe locking mechanism. While practicing the exercises,you must make sure of maintaining the proper body posture. This bench helps you correcting the body posture during the workout. Your body will be positioned for health lifting to gain the benefits of high impact workout.
The bench weight set is featured with the adjustable bar catch. You can adjust the bar according to your seating positions. It has the storage space to place the weight plates. You can place the plates on the give space to avoid noises at your workout space.
PROS
600 lbs weight capacity
Padded bench and back
For whole body workout
Adjustable bar catch
Plates storage place
5. AXLE Versatile Olympic Barbell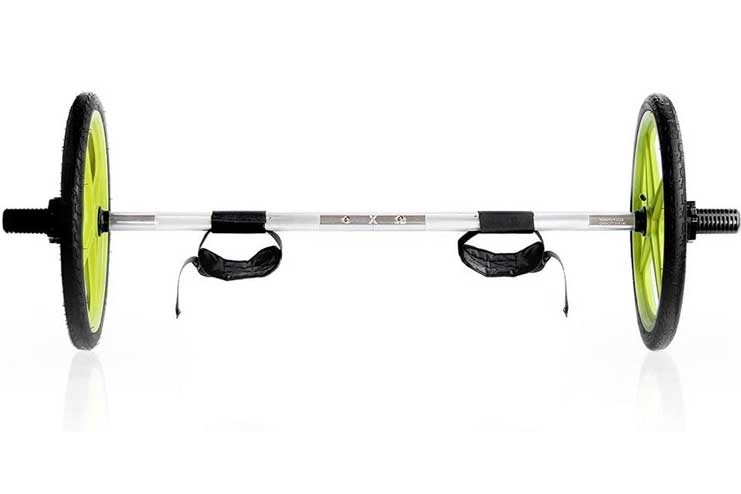 Are you looking for a barbell with weight plates? In that case, this is the best choice with 11.2 pounds of weight. The two 19 inches wheels on each side make it a strong weight set for weight lifters. You can add the weight load up to maximum 150 pounds. The bar thickness is 1.5 inches for endurance of the heavy weights. The maximum user weight is 350 pounds.
The material used to construct the bar is anodized aluminium that resists during the weight training. You can practice various exercises as it is accompanied with the foot band. Joint the foot band to the barbell to perform the strength training exercises. You can stand and use the foot band while exercising with or without the weight load. This equipment can be selected for Olympic or crossfit workout.
This weight set is perfectly engineered for rolling with hands and feet. You can adjust the barbell on your foot with the plastic straps that helps easy holding. When its time to wrap up your workout, you can place it back easily.
Read: 11 Best Cross Training Shoes for High Arches!
PROS
Barbell and wheels
Maximum weight load 150 pound
Foot band and foot straps
Aluminium built
For several exercises
CONS
Foot straps could be harder
6. Troy USA Sports Olympic Weight Set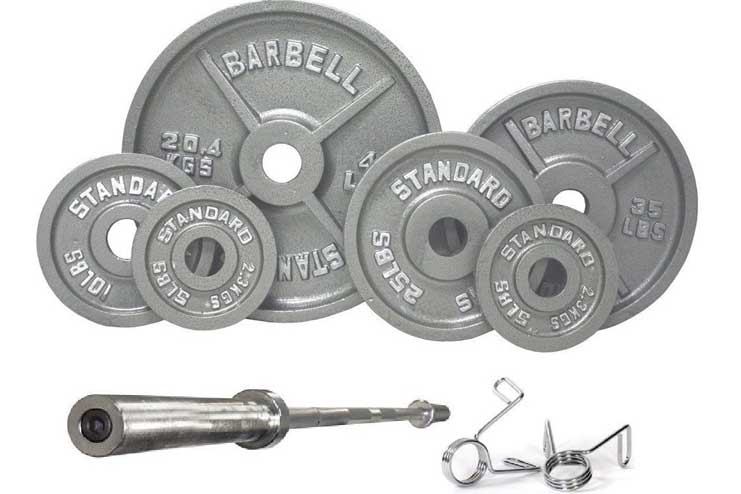 The weight lifters challenge higher weights. If you are challenging to lift maximum weight around 500 lbs then you must buy this weight set. This fits your goal as the maximum weight is 600 lbs.
The barbell is partnered with the 14 weight plates with various weights. You get a two of 2.5 lbs, four plates of 5 lbs, two of 10 lbs, two of 25 lbs, two of 35 lbs and two of 45 lbs. It is a versatile weight set for beginner or advanced weight lifters.
These are the best Olympic weight sets as composed from iron and enamel finish. The material plays a role for durability. Every plate of the set is silver embossed to pick easily during the workout. These plates have machine holes which allows you load and unload the weight effortlessly.
You have another feature of safety. The set comes with the two spring collars to fix at either ends that secures the weight plates. It holds the weight plates without falling off from the barbell.
PROS
High weight load capacity
14 Weight plates
Iron weight plates
Secure spring collars
Easier plate loading
7. Day 1 Fitness Cast Iron Olympic 2-Inch Grip Plate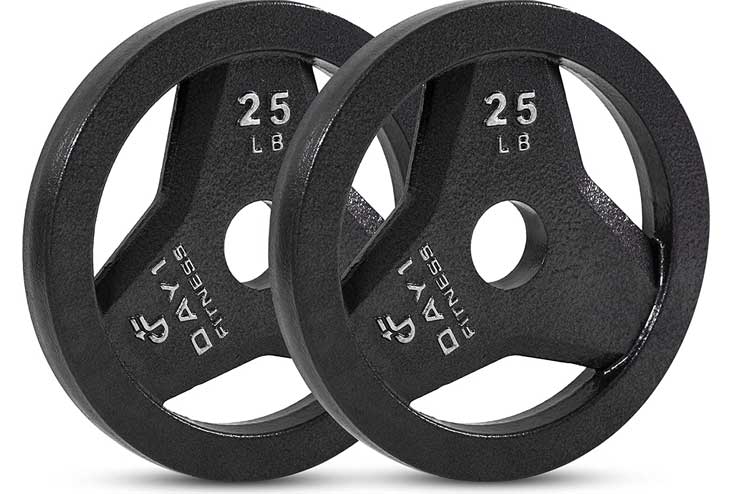 The trouble free weight lifting is with the grip plates like this. You will find it uncomplicated to take and put back the plates to bar.These are the standard Olympic weight plates with 2 inch holes. You fit in these plates to any standard bar at your gym.
Check if you are looking for similar weight sets. You can pick these weight set that is made of iron cast for durability. The enamel coating on the plates averts chipping and peeling. It is highly resistant for daily workout routine.
These are the supportive weight lifting plates that fit your exercise routine. You can read the weight size easily as it is highlighted in silver. You can practice various exercises from cardio to high impact weight lifting. These are adaptable to be part of your workout with or without a bar.
You can buy the weight plates of different sizes according to your weight training. The available sizes of this set are 2.5 lbs, 5 lbs, 10 lbs, 25 lbs,35 lbs. The dimensions of diameter and thickness are perfect. Most of the weight lifters are happy with the grip. Beginners may find it comfortable and easy to handle such well designed plates.
Read:18 Best Exercises For Balance – Get Your Posture Fixed
PROS
Easy grip plates
Durable material
Adaptable to bars
Various weight available
Conclusion
Looking for the best weight sets is no easy task. You must consider the various factors when choosing the weight sets. Various weight sets here benefit you in their own way. Pick the one which adds benefit to your workout routine. You can be particular about the size and weight lifting goals. Not only that but you must also consider if the weight sets are compatible with your present equipment and workout style. This helps you finding the best weight sets for your solid workout.