Who says that you have to spend a bomb on elliptical machines? If you have a budget constraint and longing to workout on an elliptical machine for a long time now, we can show you 5 best ellipticals under $500. Excited?
Since you've made up your mind to ditch the gym and pick up the best ellipticals under $500, you should know what is in it for you?
You don't have to spend for a gym subscription, a good investment for strength in the upper and lower body, you don't even have to spend much on an elliptical machine either. Why wait?
Read this article to get information on the best elliptical cross trainer under $500 and even look through the essential factors
Best Ellipticals Under $500
Here are 5 best home ellipticals under $500! Check out their features in detail to know which one would cater to your needs.
1. SCHWINN A40 Elliptical Machine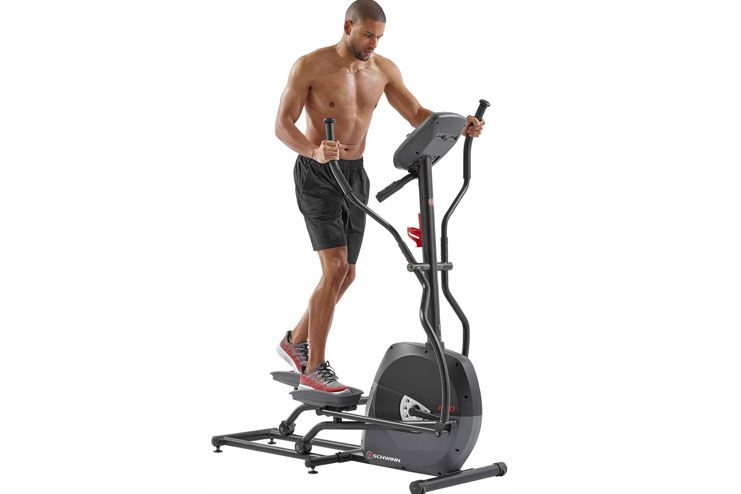 Highlights
8 effective resistance levels
LCD Console
Suitable for cardio workout
Hassle-free assembling
If you have a stringent budge and been searching for a good elliptical machine, you search comes to an end. As you are keen on buying the best ellipticals under $500, we recommend Schwinn A40, it is compact and you can comfortably do all your workouts on this machine.
The best part is that you can carry this elliptical machine all around your home as it weighs only around 120lb. Focus on all your fitness goals in the most economical manner.
First things first, this equipment has a simple interface and a clear display screen that will give you updates on details such as the number of calories you burnt and how long you worked out. In addition, the panel includes comfortable buttons for usage.
Talking of it's design, this equipment looks sporty and it is equipped with the best fitness technology.
Having said that, you can connect this machine to an app known as Run social, it will let you get in touch with your friends who have similar fitness goals. Supposing, you want to brisk walk for 30 minutes, that can easily be done.
You can do different kind of simple and challenging workouts at home.
It's excellent 17.5" stride length will let you place your foot and enjoy a hassle-free workout. Besides, it comes with a precision foot motion technology that will enable you to have a natural running motion.
To get a firm grip while working out, hold on to it's smooth handle bars. Interestingly, these bars have a special functionality of tracking your heart rate.
This elliptical machine comes with 16 resistance levels. Based on your workout intensity, you can either increase or decrease the resistance levels.
The speed on this elliptical machine is the best. No matter how fast you move, you will enjoy it's quiet operation. If you want to take a call or listen to music from your MP3, you can use the space allotted for keeping your gadgets.
In total, this top rated elliptical machine under Rs.500 has 7 workout programs to offer to you. At no point you will experience any kind of discomfort with the handles, they are super flexible and fixed.
Read: 7 Android Workout Apps For Fitness Lovers
PROS
Effective heart rate sensors
Silent operation
Spacious footplates
Progress tracker
Good storage bays
CONS
Unstable for heavy use
No display backlight
2. Sunny Health & Fitness Pre-Programmed Elliptical Trainer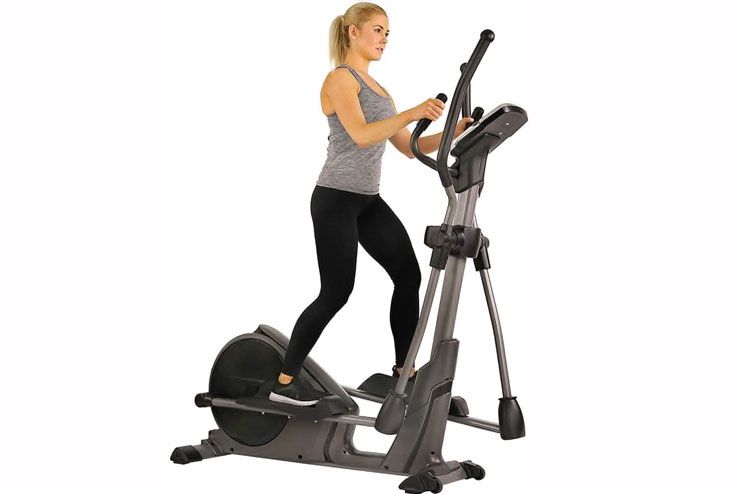 Highlights
Pulse Sensors
330lb weight capacity
Performance monitor
For an excellent design and high-end features, we recommend sunny health and fitness as the best elliptical cross trainer under $500. Unlike many other elliptical machines, this machine has several useful features.
To begin with, on the elliptical machine, there is sufficient space to keep your electronic gadgets or devices. Even if you don't wish to use it, you can keep a small water bottle there.
It is equipped with an electromagnetic resistance that will let you workout the way you want. If you want to build muscles, you can increase the resistance or keep it low.
The moment you step on this elliptical machine and begin to move, you will love those wonderful smooth strides. At no point will the elliptical machine shake, it has effective floor stabilizers.
It comes with a pretty decent weight capacity. If you weigh 330lb or less, without a second thought, you can step on this elliptical machine.
This elliptical machine comes with commendable workout options. There are manual, pre-programmed, heart rate, and even user programs to choose from. You will receive around 20 plus workout options.
You can track details like calories burned, speed, time, and distance on it's well-displayed performance monitor.
The pulse rate sensor sets this elliptical machine apart. While working out, you can check the status of your heart rate.
This elliptical machine has effective handle bars that let you have a good hand movement to build your biceps and triceps. Besides, you can even step on the non-slip pedal and comfortably peddle to build strength in your lower body.
It has smooth transportation wheels that will let you move this elliptical machine from one room to another. If you are skeptical about how would the pedal feel, you will neither have issues with it's stride nor placing your foot on the pedal would be a problem.
Read: 12 Best Recumbent Exercise Bike – Know Which One You Need!
Pros
Spacious device holder
Padded upper body handlebars
Effective magnetic resistance
Commendable performance monitor
Worth the price
3. Exerpeutic Heavy Duty Magnetic Elliptical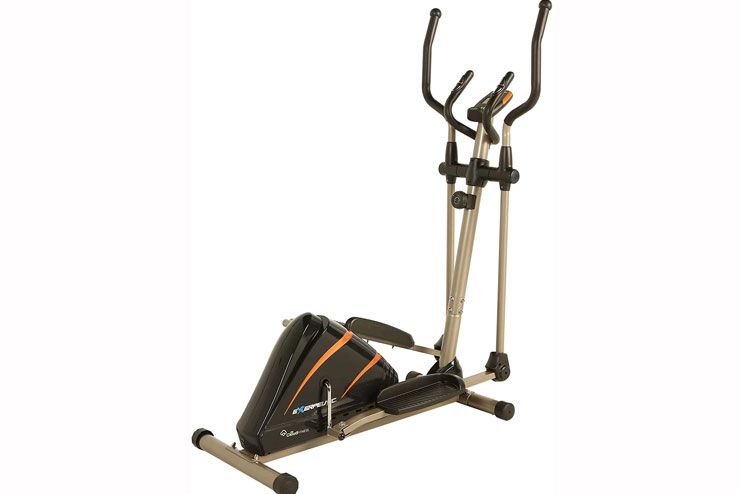 Highlights
Big LCD Screen
Compatible with smart cloud fitness app
8 level magnetic resistance
Yet another best ellipticals under $500 is exerpeutic heavy duty magnetic elliptical. This machine is compatible with mycloud fitness app that is available on android and IOS. Under $500, it is worth taking a glance at this elliptical. It has advanced features to cater to
Whether the toning needs to be done on the upper or lower body, this elliptical has dual action workout arms and effective pedals to strengthen your arms and legs.
The body is equipped with a heavy duty steel construction, easily you won't get to see a dent or damage on the elliptical machine. Moreover, this machine has a maximum weight capacity of 300lb.
As there is an app that is compatible with this elliptical machine, you have an option to set goals on the time, distance, and calories burned.
On the 3.5" large LCD screen, you can see all important details like distance, calories burned, time, speed, and heart rate.
There is a precision balanced flywheel that will make sure you have a smooth operation. The good news is that your elliptical machine won't be a disturbance in your surrounding.
Although having transportation wheels is a common feature, it is still quiet an advantage to be able to move your elliptical machine from one room to another.
You can stick to a challenging workout or keep it low key, this elliptical machine has a 8 level magnetic resistance. At start, you might find the assembling part a little complicated. However, it is manageable.
Among the best budget elliptical machines in $500, you can choose this one as it is compatible with technology and delivers an amazing performance.
Read: 12 Best Health Gadgets – See How Fitness And Innovation Collaborates
PROS
Effective and large pedals
Suitable for upper and lower body workout
Quiet operation
Compatible technology
CONS
Assembling issues
Not sturdy enough
4. ProForm Hybrid Trainer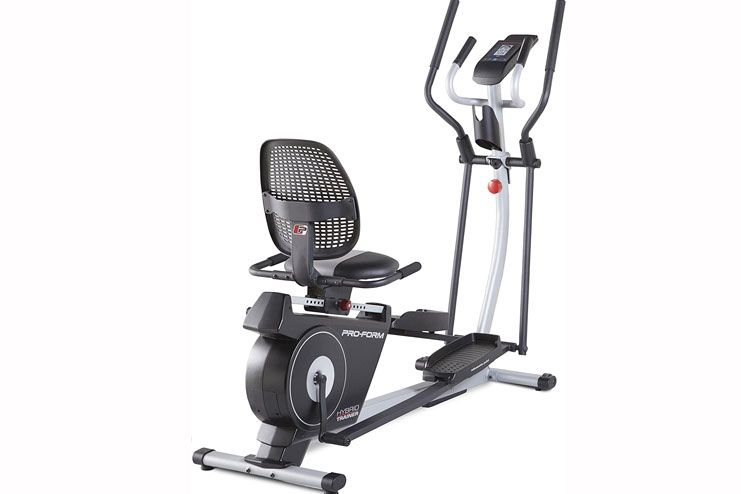 Highlights
Low-impact elliptical
Adjustable pedals
Integrated sound-system
Proform hybrid is the best ellipticals machine for your home under $500. It is a versatile equipment and suitable for beginners. If you want to avoid working out intensely but need an equipment to keep you going, this one's the best.
To begin with it's special features, this elliptical machine allows you to access the 30-day I-fit trial membership and you can pick some of the best streaming trainer-led studio classes and workouts.
In addition, you get to access the 30-day ifit trial membership. Anytime, if you think that the resistance levels is beyond your reach and you wish to change it, you can easily do so. Even your trainer will be able to adjust the resistance levels.
Even though this elliptical machine under $500 is a low-impact machine, still it has technological advancements such as an in-built speaker and trainer led sessions to enhance your workout experience.
You will be delighted to be a part of this interesting virtual journey where you get to choose your trainer and without having to research, you will get the required workout guidance.
The fact that this equipment is an elliptical machine and a recumbent bike, you are going to have a fantastic time exercising and resting your back. While you rest, you can track the RPM and number of calories you burned on the large LCD screen.
In total, you will get 16 digital resistance levels and this is more than sufficient for you to exercise as per your comfort.
In addition, you will enjoy the total body workout with the soft-touch upper body grips. At ease, you can work on your lower and upper body. On this elliptical machine you will get to do a 15" stride stretch.
Read:12 Best Recumbent Exercise Bike – Know Which One You Need!
PROS
Comfortable cushioned seat
Multiple resistance levels
Superb flywheel
Lightweight
Easy to use
CONS
Low quality equipment
Difficult to assemble
Ineffective console
5. Body-Solid Best Fitness Cross trainer Elliptical Machine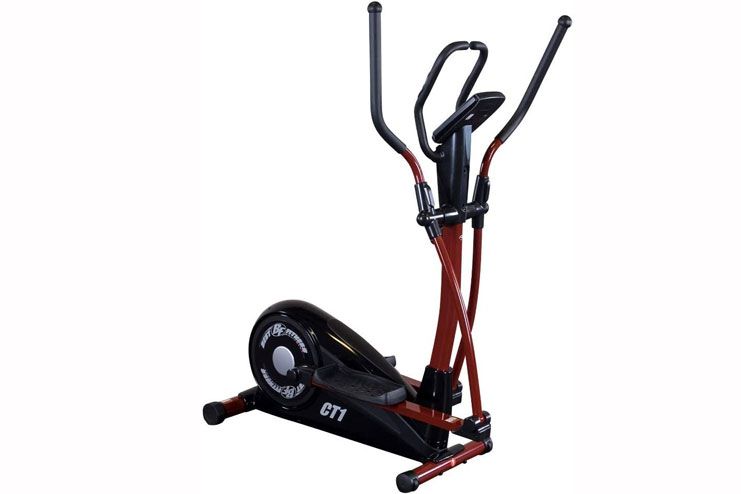 Highlights
Synchronized for total body workouts
5 year frame warranty
Multi-function LED display
8 levels magnetic resistance
If you are a beginner to working out and hunting for the best compact ellipticals under $500, body-solid best fitness can be a great choice. Right from burning calories to strengthening your upper and lower body, you can achieve it all on this budget-friendly elliptical machine.
This lightweight elliptical machine has an appealing design and it can easily fit into a small space in your room. If you are bored of constantly working out in the same place, you have the facility to take this machine to your living room as it has smooth transporting wheels.
On it's console, you can track for how long you worked out and the number of calories burned. It is constructed well and tends to make a little squeaking sound while you move on this machine.
The synchronized arms balances the upper and lower body movement. You won't experience any sort of discomfort. In fact, this elliptical machine is designed to invigorate the muscles in your arms and legs.
Most of the elliptical machines don't provide a long-term warranty period. However, there is almost a 5 year warranty period on the frame and one year on the other parts.
The weight capacity of this elliptical machine is 170lb. It is not suitable for healthy individuals. To have a fantastic elliptical like this, the investment is worth it.
Read: 11 Best Cross Training Shoes for High Arches!
PROS
Compact
Effective LED display
Portable
Sturdy
CONS
Noisy
Not suitable for tall people
How to Choose the Best Ellipticals Under $500
To have top-notch ellipticals under $500 is fabulous. Keep the below listed factors in mind while choosing the best ellipticals under $500.
1. Right Size
Before you shell out $500, check for the size of the elliptical machine.
Consider these factors
Size of the machine(height and width).
Dimension at your feet.
Check for the stride length.
Make sure that the elliptical machine fits into your space and see to it that you are comfortable to step on it and enjoy a hassle-free workout.
2. Sufficient Resistance Levels
It is quintessential for your elliptical machine to have a good resistance level in order to ensure effectiveness in your workouts.
For instance, if your end goal is to stay fit, then you need not set a high resistance level, you can keep it low. On the other hand, if you want to lose weight, you have to adjust the resistance level accordingly.
Therefore, keep in mind to pick an elliptical that is offering multiple resistance levels.
3. Capacity It Can Hold
A few elliptical machines are lightweight and it won't serve the purpose. If you are healthier, there are chances that the machine might not be able to hold your weight and it will eventually lose it's efficiency.
To avoid this problem, before you buy an elliptical machine, always check for the maximum capacity it can hold.
4. High Quality Display And Control
This factor is for you to think about. What kind of a display are you looking for?
Most of the ellipticals display details like calories burned, track time, and heart rate monitor. If the elliptical you choose has all of these details, you should go for it.
5. Assess Your Workout Time
Choose an elliptical machine based on how much you workout regularly. If you are focused at working out regularly, then choose an elliptical that has those extra features.
6. Adjustable Incline
It will be an added advantage if you buy an elliptical machine that gives you a chance to adjust the incline.
If you want your legs to come in shape and get firm, you can make necessary adjustments to the incline. On the other hand, when you don't wish to stay engaged with intense workouts, you can let the incline remain as it is.
Conclusion
The best elliptical machines under $500 are readily available without their performance or quality being compromised at any cost.
Before you choose from a list of the best elliptical machines in a range of $500 make sure to check the size, resistance levels, incline, and maximum capacity it can hold. Enjoy all your exercises at a reasonable price.
Recommended: