Moisturizing socks for your cracked feet are a great way to forget about them and let the sock do its job. Isn't this better than anything else? You don't have to put on sticky heavy creams overnight at home, or to work, that smell yuck. The moisturizing ingredients in the best moisturizing socks are– typically avocado oil, olive oil, grapeseed oil, vitamin E and jojoba — are contained in a polymer gel that comes in the sock itself.
Moisturizing socks feel like you are wrapping your feet in a spa-like treatment at home and restore your skin's natural suppleness. These socks have a gel lining infused with vitamins and mineral oils that nourish, repair, and hydrate your feet.
Before we dive into the list of the best moisturizing socks 2021, below is the buyers' guide so that you can get to know the different types of moisturizing socks.
Top 12 Gel Moisturizing Socks
1. ZenToes Moisturizing Heel Socks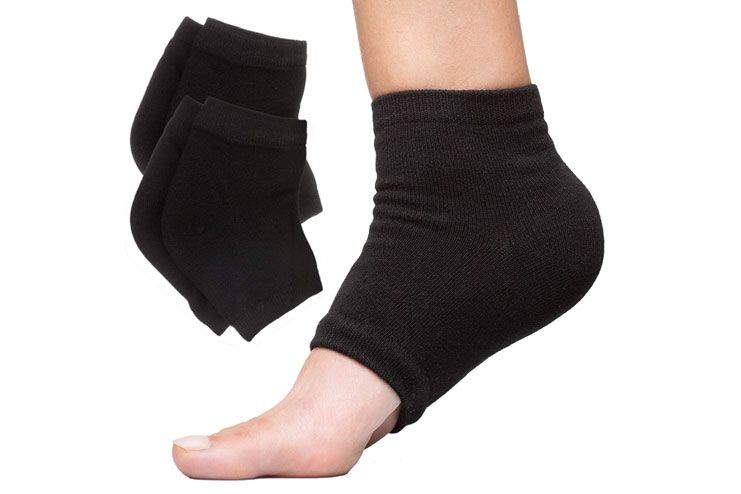 These heel socks provide spa-quality hydration that leaves your feet soft and supple. Zen-Toes gel-based socks are made of a high-quality cotton blend fabric. They provide comfortable compression and support to your feet. You are in for a spa-treatment if you keep these on for the whole night. There's no problem if you put on more moisturiser along with the gel-lining present in the socks, depending on what your feet need. Footcare means rejuvenating your feet and protecting them from getting damaged from everyday chores you are busy doing. These socks are unisex and are for both men and women. It has a toeless design so that you can wear them outside as well. These socks also help your feet stay inside the sandals as they cause friction and you can walk without bunching or slipping.
You can wash them with your hands or in the machine. They are very light and a gentle cycle and air dry is good for it to go long-term. Each pack contains two pairs of toeless Zentoes socks.
PROS
Gel lining
Breathable, soft and stretchy fabric
Light compression
No bunching or slipping
One size fits most
Reusable
Unisex
2. Vented Moisturizing Gel Heel Socks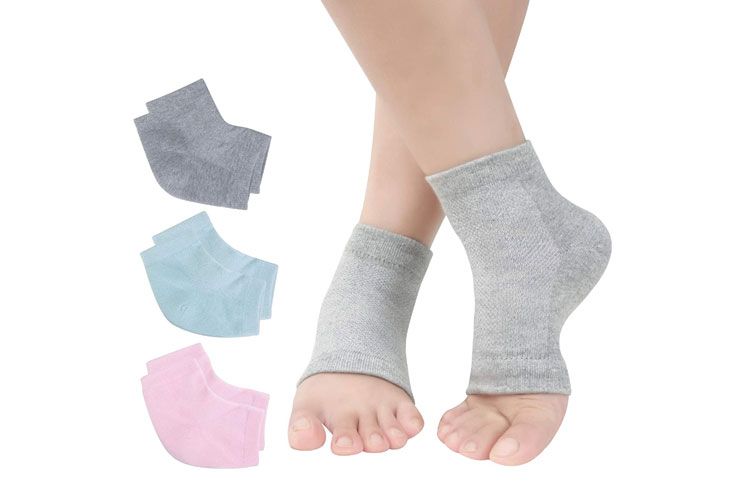 These open-toe heel sleeves are made of a vented, breathable fabric that allows all-day use. It repairs and heals cracked, dry heels. The inner gel lining is made of a secret moisturiser that protects your heel by releasing therapeutic oil and vitamins to repair and soothe dry and parched skin. For a more intensive treatment, pair these socks with your favorite moisturiser gel or foot cream. For best results, wear these socks every day for 7 days, and 2 to 3 times a week after that or as per the need.
Vented Moisturizing Gel Heel Socks also provides relief for your heel and ankle pain, and a comfort spa treatment for your feet.
PROS
Breathable
Vitamin-enriched
Washable
Reusable
3. Dr. Frederick's Original Moisturizing Gel Socks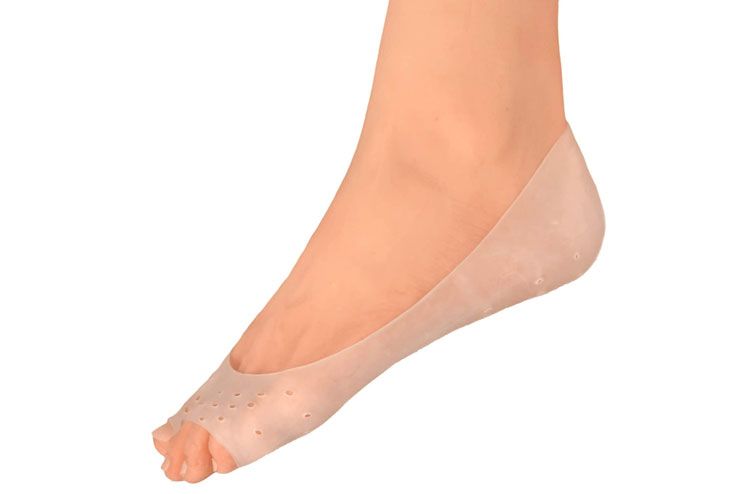 These pharmaceutical moisturizer socks are made with SmartGel Technology and are a comfortable treatment for your skin on feet. The material is durable and the cream lining contains shea butter, vitamin F, aloe vera, and vitamin E. A great product for cracked heels as they provide intense hydration to damaged heels and nourish them. Each pack contains 4 pieces.
Goes well with any shoes, such as sneakers, sandals, flip flops, etc. Each toe is individually enclosed in therapy thus helping treat the cuticles. Provides deep moisturisation to your dry, parched feet. If you want to hydrate and soften hard, dry, and rough feet, calluses, heels, toes, and cuticles- this is the go to product. The socks are hypoallergenic, washable socks fit women's sizes 7 to 10 and men's sizes 7 to 10. You will be able to see visible effects if you wear them daily or at least 2 to 3 times per week.
These socks are not that supple and hence not meant to cuddle your skin and feel like soft cotton or silk against it. On the first try when you put them on, your feet will feel dry and rubbery because of the inner gel lining. Once the cream warms up to the temperature of your body, your feet are enveloped in medical-grade essential oils that provide deep hydration and spa-like treatment.
PROS
Deep moisturization
Hypoallergenic
Washable
Release therapeutic oils used for spa treatments
CONS
Strong fragrance
Not breathable
4. Gel Spa Socks For Repairing and Softening Dry Cracked Feet Skins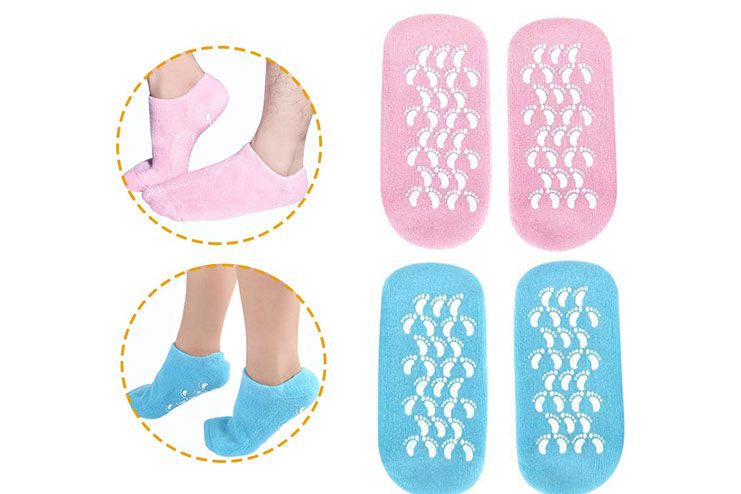 Your dry and parched heels will come back to life after you try on these unique moisturizing socks. They contain a special blend of moisturising lotion to bring. They are infused with essential oils, vitamin E, grape seed oil, jojoba oil, olive oil, avocado oil, and canola oil. It has an open-toe design and airflow ventilation mesh makes them comfortable to wear.
The socks are very breathable and comfortable to wear during the day or night for added protection. These moisturising socks are incredibly durable and washable. To further fasten the hydration and softening you can pair them with your favorite foot cream or balm to boost the skin-softening effects. To witness best results, wear these socks at least 3 times a week. The design is unisex, non-toxic, anti-odor, and makes your feet smell great.
PROS
Lightweight, washable, breathable and stretchy
3 pairs in a value pack
Unisex
Anti-odor
Non-toxic
5. Barefoot Scientist Sleep On It Overnight Moisturizing Gel Socks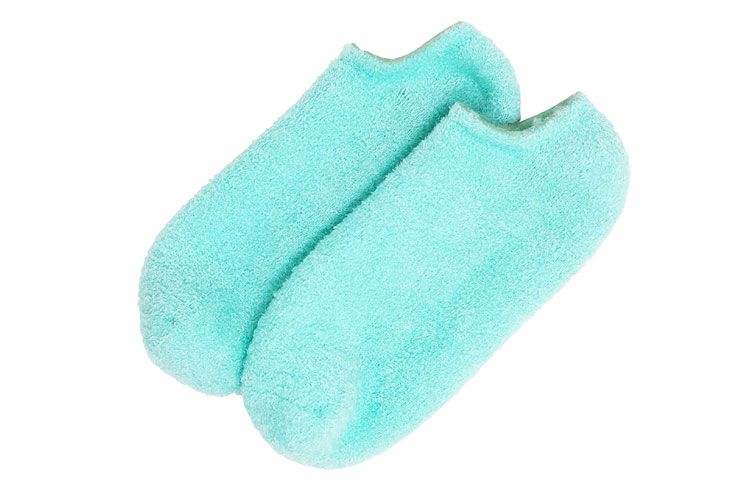 Nourishing your feet with these socks are the best for repairing dry, cracked heels. These socks are made with cotton, nylon and spandex with a silicone gel lining that fuses to your heels. Thy also provide full feet coverage. They are odorless, hypoallergenic, non-greasy, and suitable for all skin types. Additional foot balm will speed up skin repair and is ideal for diabetic feet. These moisturizing gel socks fit well on both small and large feet.
These socks contain shea butter, argan oil, jojoba oil and rose oil and help in treating dry, hard, and cracked heels. Apply extra foot cream and wait 30-minute before you put the socks on and go to bed. Try this for a few weeks this will give long-term benefits for cracked feet.
PROS
Comfortable
Suitable for diabetic patients
ashable
Reusable
6. Baby Foot Moisturizing Foot Mask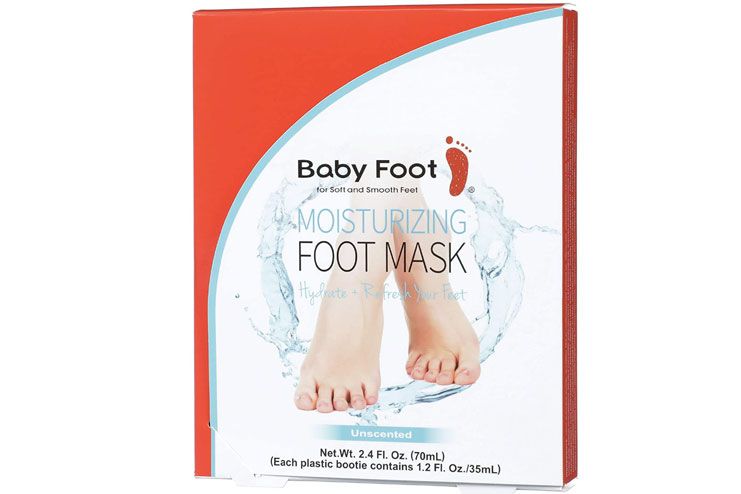 These moisturizing socks are a 15-minute treatment for your cracked feet for everyday use. They are unscented and great for those who are on the move and need something to carry with them. These provide cooling and heel-repair socks. These soft and breathable socks are designed for dry, cracked feet.
Baby Foot Moisturizing Foot Mask is designed to hydrate and refresh your feet after your feet have completed peeling as a result of using our Baby Foot Exfoliating Foot Peel. Formulated with Collagen, Hyaluronic Acid and 14 kinds of natural extracts, these rich moisturizing components combine to help maintain super smooth soft feet.
PROS
Unisex
Cooling effect
Comfortable
Stretchy fabric
7. NatraCure 5-Toe Gel Moisturising Socks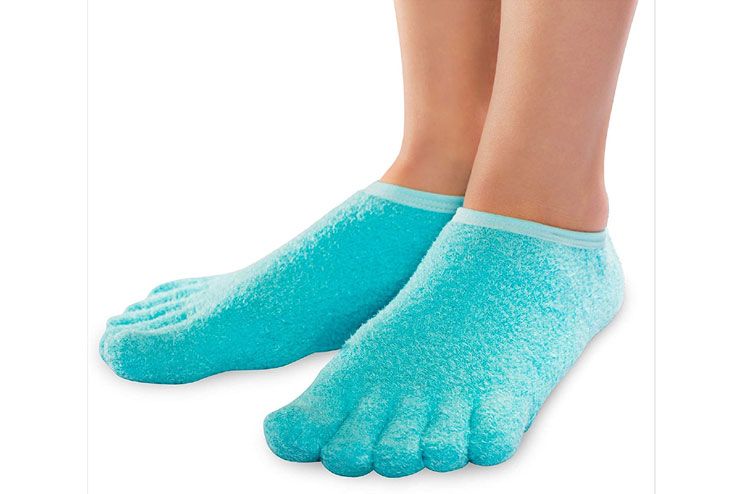 NatraCure 5-Toe Gel Moisturising Socks is for intense hydration treatment and has a built-in hypoallergenic gel section for your heels' region. The gel lining is enriched with botanical ingredients, vitamin E and mineral oils. These gel socks stay put when walking and do not come off easily and these don't even make your feet sweat. It has a silicone interior heel pad which keeps the lotion where it should be. Pair these with a good foot cream for enhanced results.
These are unisex, well-ventilated socks and are made of 90 percent cotton and 10 percent spandex. The fabric is stretchy and is one-size fit almost all men and women. The five toes design keeps your feet from getting hot overnight.
PROS
Increase the flexibility of the feet
Unisex
Dermatologist-tested
Five toes design
8. Eurow Cotton Spandex Cosmetic Moisturizing Therapy Socks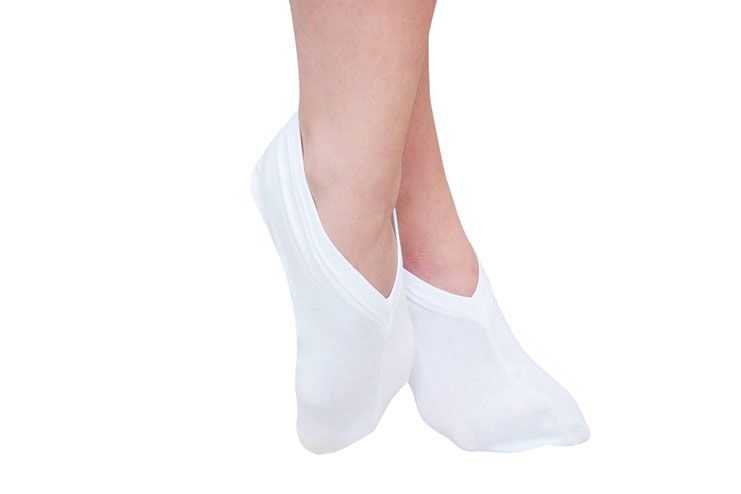 These socks are great for repairing and softening dry, cracked feet. These socks are made from super-soft cotton and spandex – which makes them durable – and high-quality medical-grade gel lotion for more absorbency, efficacy, and healing your skin. You can apply extra lotion or cream as you usually would and then put the socks on like normal socks.
These moisturizing socks are reusable, and cure hard, dry, rough feet, calluses, heels, toes, and cuticles. The great feature is non-slip material on the bottom for improved stability and balance. They are washable, you can wear them at least 2-3 times per week and still last long enough.
PROS
Hypoallergenic
Non-slip
High quality
Washable
Durable
Reusable
9. Gel Spa Socks For Repairing and Softening Dry Cracked Feet Skins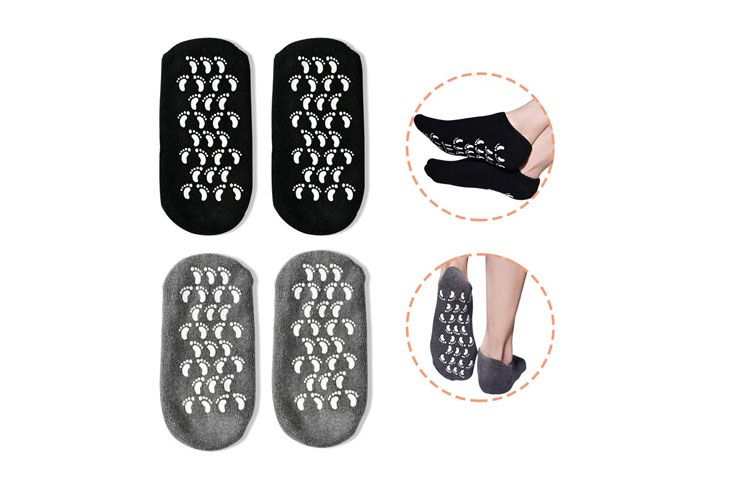 These are premium-quality gel socks. They are made with soft and flexible fabric and are very comfortable. One size fits all men and women, and the closed toe design provides good protection to your feet and keeps them cool and dry. It also has dot open pores for better grip to avoid slip and fall accidents. Great for age-groups. The gel is enriched with rose, grape seed, jojoba, and olive oils and vitamin Et. These socks are available in 2 different solid colors – gray, and black.
PROS
Premium quality
Firm grip
Flexible fabric
Breathable
10. Moisturizing Spa Socks Aloe Infused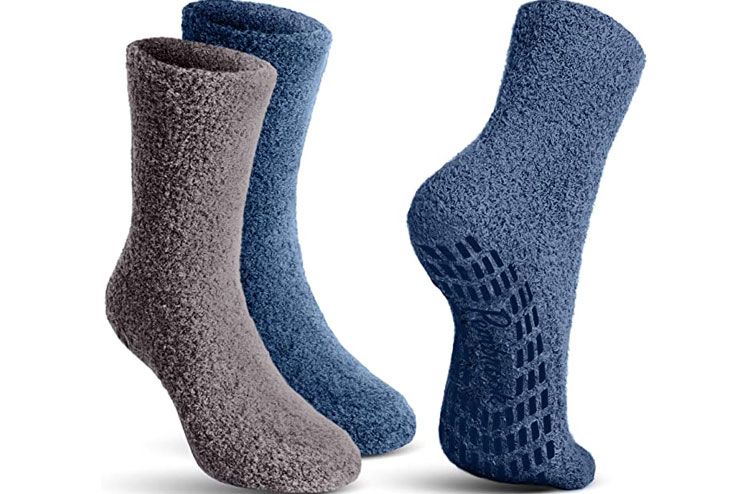 When you want a wholesome experience of spa and also healing, you must opt for these heel socks which are the most durable moisturising socks. These socks fit both men and women providing full coverage up till the ankles. These also have a built-in moisturizing gel in the heel part of the socks. The closed-toe design offers good breathability and keeps your feet hydrated and dry from sweat in the summer. They are soft, washable, durable, and available in exciting colours, dark blue and brown.
These aloe-infused socks protect your skin from peeling and cracking. You should wear them at least 3 times a week to see the results yourself.
PROS
Unisex
Breathable
Durable
Comfortable
Prevent the skin from peeling
CONS
Too small
Average quality
11. ZhiQToes Moisturising Gel Socks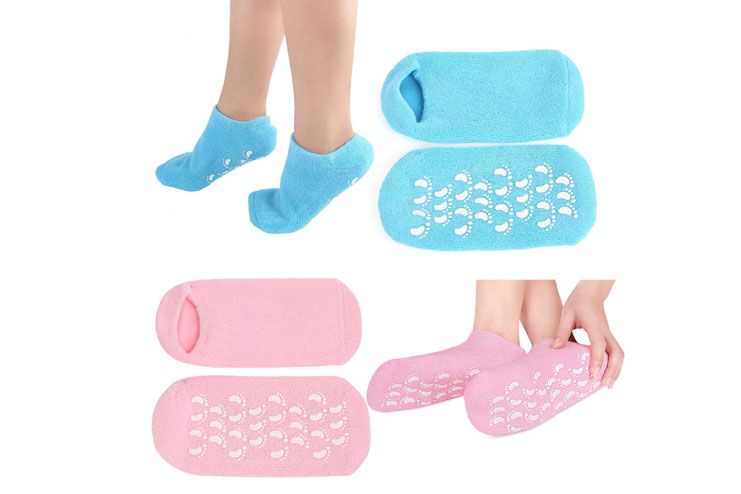 ZhiQToes Moisturising Gel Socks gives you the ultimate spa experience. The built-in moisturising, hypoallergenic gel in the heels helps soothe dry, cracked skin. The outer material of the socks is made of cotton and elastic fibers, and the inner material is made of a gel infused with mineral oil. These socks are washable and reusable, although hand-washing will ensure its durability. The closed-toe design hydrates your feet but also lets them breathe. Each package includes two pairs of gel socks- pink and light blue.
These socks are a good fit for both men and women. According to some reviews they do feel a bit tight after wearing. But for some, this aids better moisturisation. The inner gel lining of the socks releases medical-grade mineral oil, helping repair dry and cracked heels. You can keep them on for the whole day and night, anywhere you go.
PROS
Breathable
Unisex
One size fits most
Dermatologist-tested
Contain medical-grade mineral oil
12. Selizo Heel Moisturizing Socks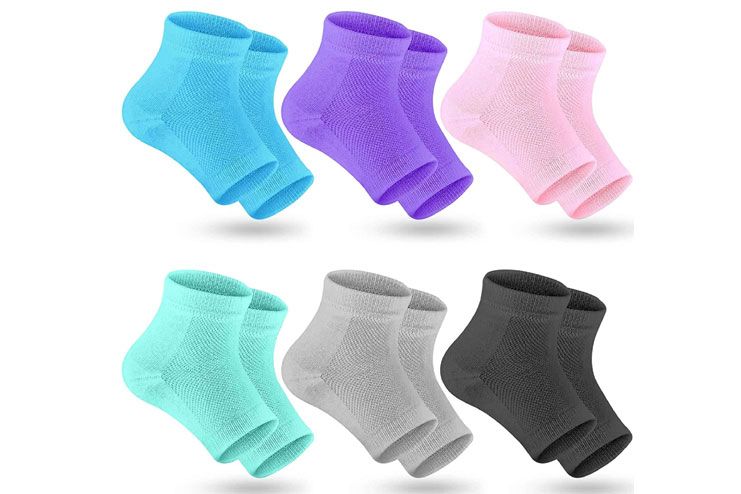 The deal here is clearly that you get the value for money with these socks, one pack contains six pairs. These open-toe socks are made of cotton blend, are flexible, comfortable, soft and stretchy. They have a gel lining in the heels that are rich in vitamin E, essential oil, and aloe vera. These socks constantly moisturise your heels to give them a healthy and natural look. Your feet will feel nourished in a day or two. The toeless design allows your toes to breathe too.
The gel lining in the heel region speeds up and enhances the moisturising process of healing your dry, cracked heels. They are suitable for people who are on their feet for long stretches of time. Also a great option for women who often wear high heels for a long time. These socks are available in 6 colors: black, grey, turquoise, pink, purple and blue.
PROS
Easy to use
Flexible
Comfortable
Instantly treats feet problems
Breathable
Durable
Why do we need moisturizing socks and how do they work?
Foot Problems
Moisturising socks solve a lot of foot issues for people with normal to dry feet and heels. It is essential for those suffering from foot issues like calluses and hard, dry, and rough feet, heels, toes, and cuticles can use these moisturizing socks. They are more tidy than using foot creams. Also come along with foot creams and lotions are helpful in treating several issues. And they can be used to simply prevent foot problems and keep their feet warm and soft with or without lotions.
Lifestyle
If you lead a hectic life which makes you travel outdoors in slippers and you regularly sweep the floor and clean your own washroom, you are naturally prone to dry cracked feet. Keep a pair or two of the moisturising socks will ensure that your feet stay soft and supple and even after that. Sometimes, even bad sandals and shoes can also cause cracked dry feet.
Foot Care Routine
People don't feel the need to have a foot care routine but with this you don't even need one. The pick made for the moisturising socks in this list will be useful anywhere and everywhere and will soon also care for you once you start wearing them regularly.
Different Types of Moisturizing Socks:
There are two types of moisturizing socks available right now in the market:
These are light and designed to work without an additional foot cream. It contains moisturizing ingredients like avocado, olive, jojoba, and grapeseed oils and vitamin E that are infused in a polymer gel form lining the socks. You need to treat these socks with care as they are delicate.
Moisturizing Socks without gel:
These are soft and made of cotton or a combination of cotton and spandex. You have to use these with some kind of cream or lotion. First you have to apply the cream and then put on the socks. Some of them have cream and essential oils in them and not gel.
Choosing the right moisturizing socks is based on the problems you are dealing with your feet and your lifestyle. Check out how you can pick the perfect ones for your needs in the next section.
Steps to do every day DIY for moisturising socks
Make warm water and socks with your feet in them. Relax your feet and keep the temperature to the maximum that your feet can take. Use liquid soap-free cleanser and rub it. The warm water and soap-free cleanser will help the cracked feet. Just mix it into the warm water tub where your feet are. Using soap-free cleanser will make sure to avoid drying out the skin.
Rub both your feet with pumice stone or an exfoliating scrub to clear off the dry, callused skin.
Rinse with warm water and apply a foot cream, lotion, or moisturizer of your choice.
Wear the moisturising socks of your choice.
Leave the socks on for as long as it has been said to be in the instructions.
FAQ's
Do I need to wear moisturizing socks overnight to get results?
Yes, experts advise that you should wear mosirising socks overnight to experience the change you have been wanting.
Can You Wash Moisturizing Socks?
Moisturising socks are washable in the washing machine and with hands. Hand Wash ensure longevity of these soft and stretchy socks.
How Long Do Moisturizing Socks Last?
They last for at least six months if taken good care of. Maximum they can last for a year or two even. If you see product description carefully, nylon, cotton and spandex blend will last longer fir sure.
Conclusion
Moisturising socks are a very interesting invention, easy to use, portable and durable. They take care of your feet 'skin and give them a royal treatment. We need moisturising socks because of many medical conditions, besides, for cosmetic purposes.
Some medical conditions which cause cracked feet are obesity, diabetes, eczema, hypothyroidism, Sjögren's syndrome, juvenile plantar dermatosis, infections such as athlete's foot, biomechanical factors such as flat feet, heel spurs, or standing for long periods of time.
Although, aging-related health issues such as thyroid disease, vitamin deficiency, or excess weight can also cause cracked feet. People prefer a good pedicure that can soak and file, but that does not have a lasting effect nor does it heal the cracked feet. The callus is not just dry skin therefore needs long-term care so that it can heal.