Rambutan! Have you ever heard of this? It is a tree that thrives in tropical regions, mostly in Asia. The Rambutan season occurs twice a year from June to August and December to January, when the fruits are abundantly found. Not just fruits, all the parts of the Rambutan tree are of several uses to mankind. Read through the post to learn everything about the benefits of Rambutan.
What Is Rambutan?
As mentioned earlier, Rambutan tree grows in tropical regions that have warm climate. Both, the location and the temperature play an important role in growing rambutan tree as the tree is sensitive to humidity and temperature.
If the rambutan is being planted out of seeds, the soil mixed with the organic compost and sand, besides small pots with drainage are essential. It requires 10 to 21 days for the seeds to germinate, after covering with soil. The tree is fragile and thus, has to be planted indoors for at least 2 years before being transplanted outside. A lot of care needs to be taken while planting Rambutan as its exposure to low temperatures could be fatal.
Rambutan fruit, in particular, is a tropical fruit loaded with health benefits. This fruit offers a wide variety of nutrients to help maintain and improve the body's performance.
The Nutritional Value of Rambutan Fruit:
Amt. Per

Serving

% Daily

Value*

Calories
58
Calories from Fat
3
Total Fat
0 g
0%
Saturated Fat
Saturated Fat
Trans Fat
Cholesterol
0 mg
0%
Sodium
0 mg
0%
Total Carbohydrates
16 g
5%
Dietary Fiber
3 g
11%
Sugar
13 g
Protein
1 g
Vitamin A0%
Vitamin C
0%
Calcium0%
Iron
0%
*Percent Daily Values are based on a 2,000 calorie diet. Your daily values may be higher or lower depending on your calorie needs.
The rambutan fruit is sweet, juicy pack of minerals and vitamins that can help maintain immune system by flushing out the toxins. The fruit is a good source of copper that helps keep the immune system, bones and blood vessels healthy. Iron is abundant in this little fruit and thus its ingestion helps maintain and produce red blood cells.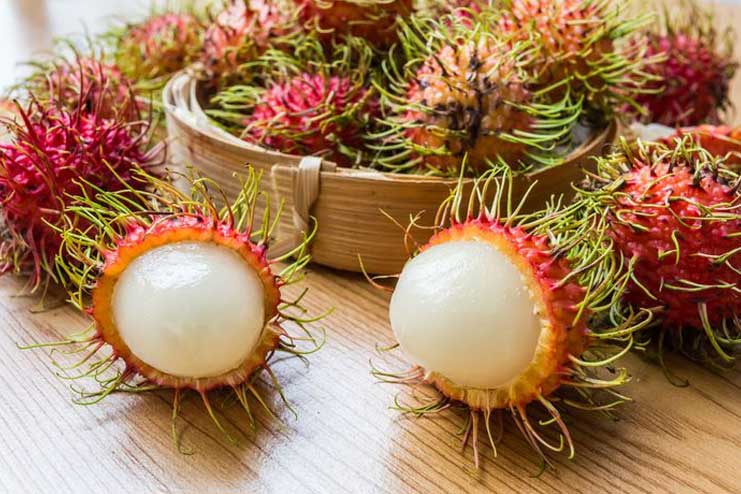 Other benefits of rambutan include:
High fiber content in the plant helps with food metabolism and prevents constipation.
As it is low in calories it helps promote weight loss and restrain hunger pangs.
It's antiseptic properties and high amounts of antioxidants make rambutan antimicrobial and anticarcinogenic.
Its antifungal properties help kill intestinal parasites, as per the traditional Chinese medicine.
Phosphorus in rambutan helps with bone formation and the maintenance.
Gallic acid in the rambutan rind helps function as a free radical scavenger and helps prevent oxidative damage and cancer.
More Health Benefits Of Rambutan:
As mentioned earlier, every part of the rambutan plant offers incredible health and beauty benefits. Check a few of them below.
Rambutan Leaves For Haircare:
Rambutan leaves can be used to achieve shiny hair and healthy hair.
How To Use:
Mash the Rambutan leaves into paste, by adding water.
Squeeze the extract and apply on to the scalp and hair.
Rambutan Leaves To Treat Fever:
Theses leaves can also be used to cure fever.
How To Use:
Add 3 glasses of water to a container and add some rambutan leaves.
Boil them and stain.
The concoction has to be drunk 3 times each day to let the body recover and relieve the headache
Rambutan Seeds For Skin:
The seeds of the Rambutan can be used to uplift the skin
How To Use:
Mash the Rambutan seeds into a paste using water.
Apply the paste onto the skin to get clear and improved complexion.
Repeat twice a week to obtain softer and healthier skin.
Rambutan Seeds For Diabetes:
The seeds of the Rambutan are helpful for diabetic patients. It can help them maintain the blood sugar levels.
How To use:
Chop the seeds into pieces and let them dry for some days.
Grind the dried pieces into powder.
Mix the powder in warm water and drink regularly.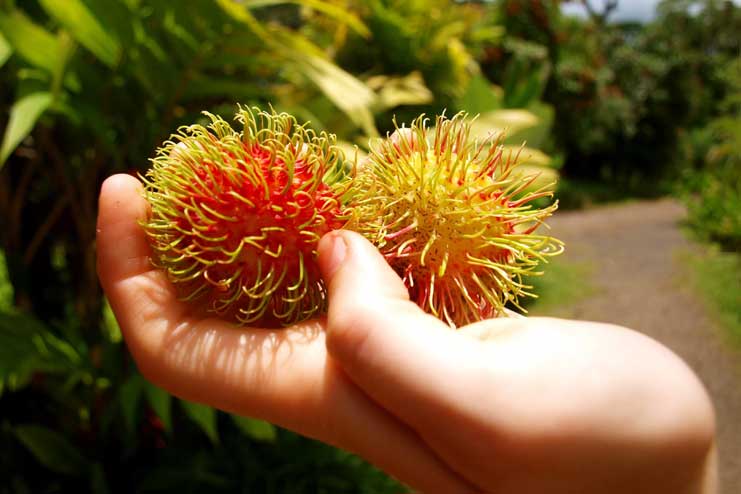 Rambutan Benefits For Pregnancy:
Rambutan has no possible side effects during pregnancy. In contrast, there are several benefits of eating Rambutan during pregnancy. The fruit is a good source of nutrients and reduces dizziness and nausea. It also helps keep blood pressure under control.
Even though Rambutan comes with several benefits, it importantly to choose it carefully depending on one's health condition.
Side Effects Of Rambutan:
Below are a few cases of possible side effects of consuming Rambutan.
Extremely ripened rambutan has alcoholic content and so it is not good to pick too ripe rambutan.
Ripened rambutan is also sweet and rich in sugar content and hence diabetic patients may need to avoid rambutan.
As too ripe rambutan has too much sugar, it will turn into alcohol that can raise cholesterol levels.
Avoid excess consumption of rambutans and too much ripe rambutans. Anyway, there are several ways in which people eat rambutans. Below is a popular rambutan curry.
How To Make Rambutan Curry?
Several rambutan recipes are famous and widely prepared. The sweet fruit is also incorporated into many traditional desserts like pudding and gelatos. Here is an age-old recipe of rambutan curry.
Ingredients/Things Required:
Garlic
Chiles
lime leaves
mortar and pestle
Lemongrass
galangal
turmeric
rambutans
coconut oil
Saucepan
Pineapple
Onions
coconut milk and broth
Chicken
fish sauce
Honey
cilantro
Procedure:
Make a coarse curry paste of one pound garlic, chiles, lime leaves, lemongrass, galangal and the turmeric.
Cut the rambutans into 2 halves with a knife and peel away their outer shell.
Take out the soft flesh from the seed and transfer into a bowl.
Add 1 tbsp coconut oil in a saucepan and heat. Add pineapple and cook for 4 minutes
Add 1 tbsp oil to the pan and add onions.
Cook until golden brown and add curry paste. Stir for 2 minutes.
Pour in the coconut milk and broth and boil in simmer for 20 minutes.
Stir in chicken and cook thoroughly for a few minutes.
Add rambutan and pineapple and cook for 2 minutes.
Switch off the flame and stir in the fish sauce and honey.
Garnish with cilantro, and serve immediately with brown rice.
In conclusion, even though rambutan may not be very familiar, it is known for its sweet flavour among those who eat. It is a good pack of nutrients and at the same time, better to avoid excessive consumption and too ripe rambutan fruits, basically because the fructose content in it can promote insulin resistance and several negative effects on the body. Moderate consumption of rambutan fruit offers numerous health benefits.
FAQs
1. Is Rambutan Toxic?
A. There are no records of deaths due to eating of rambutan seeds and peels of the sweet fruit. Seeds are not poisonous according to this recent research.
2. How Does Rambutan Taste?
A. The white flesh inside the fruit tastes sweet with a tinge of acid. Its flavour may range between apricot and pineapple. The rambutan fruit may taste like a dry litchi with little to no juice.
Recommended Articles