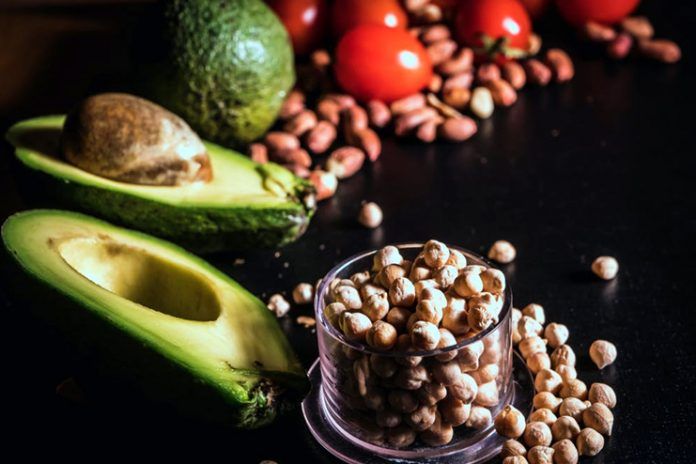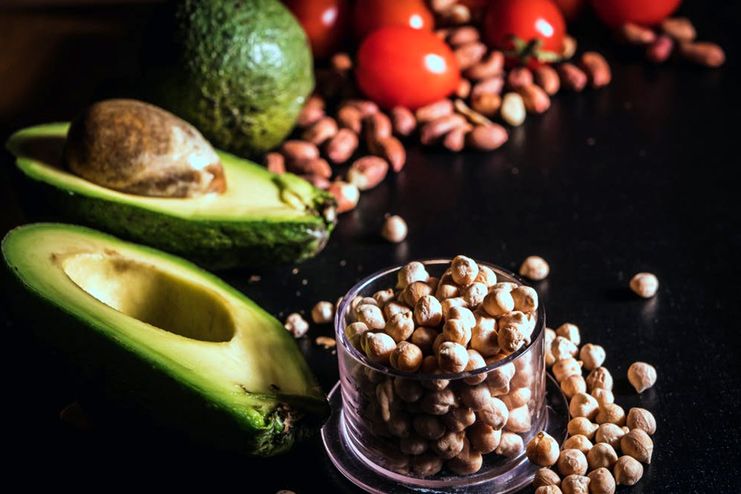 Everyone of us has had their fair share of falafel during their lifetime. While this fried delicacy might be delectable, have you ever wondered if or not the same can actually be good for shedding those extra pounds? Chickpeas for weight loss have been a hot topic but are they even effective?
Chickpeas sure have their fair share of benefits, from helping in digestion to giving you an alternative if you are a vegan. It is pretty multifaceted, isn't it?
In this article, we are going to be sharing everything you need to know about the benefits of eating chickpeas for weight loss.
Are Chickpeas Good for Weight Loss?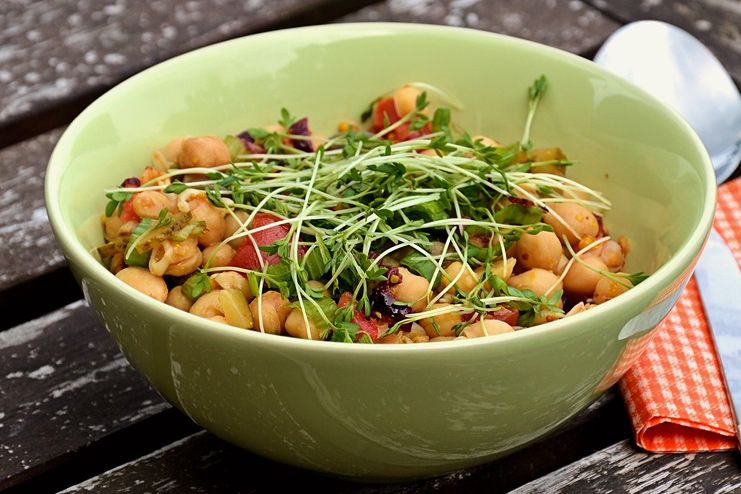 Also known as garbanzo beans or Bengal grams, chickpeas are definitely a huge part of the staple diet around both Africa as well as Asia. It has a very creamy and starchy texture when cooked and can leave a very subtle nutty aftertaste on your palate after consumption.
When it comes to discussing whether or not chickpeas are good for weight loss, the answer will incline towards a yes, mainly because of the amazing nutritional qualities that it possesses. From a wide range of fibers to healthy fats and carbohydrates, chickpeas have it all.
Still wondering about the nutritional quality of chickpeas? Let us walk ourselves through them individually, shall we?
Protein content
A standard size cup of cooked chickpeas contain around 15 grams of protein. This amount makes up for the 26% daily protein requirement for men and 32% for women.
Also, Read: High Protein Diet For Weight Loss
Fiber
A standard size cup of cooked chickpeas contain 12.5 grams of fibers. This makes up for around 50% of the daily requirement which is amazing, given the fact that it tastes just as good.
Vitamins
Chickpeas are loaded with Vitamins, especially Vitamin B like folate, riboflavin, pantothenic acid, pyridoxine etc. Because of the fact that folate is quite an essential vitamin for the pregnant mothers or women trying to get pregnant, it is quite essential to consume a fair cup of chickpeas to avoid any kind of developmental issues with the kids.
Minerals
Apart from everything, chickpeas are loaded with a wide range of minerals that help boost the overall metabolism of the body and thus help with the gradual weight loss as well. Some of the essential minerals found in chickpeas include calcium, potassium, phosphorus, iron, magnesium etc.
How To Eat Chickpeas For Weight Loss?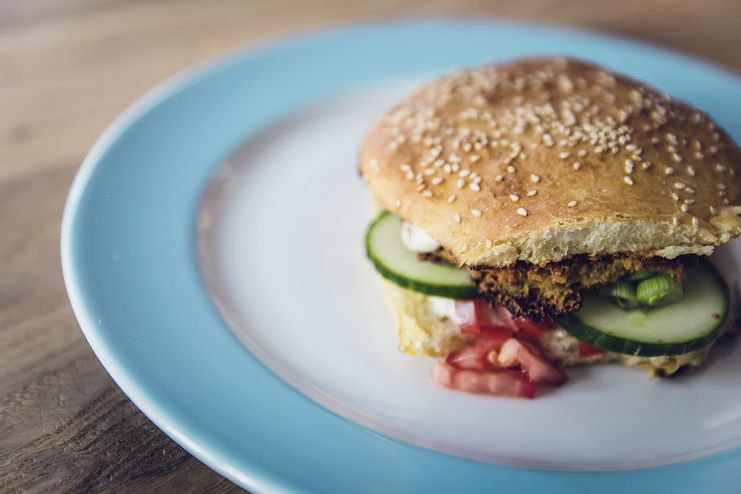 Chickpea is possibly the most important and loved ingredient amidst the vegan individuals. Not only is it healthy, it tastes just as good which definitely adds the whole fervor of the process. If you have been looking up chickpeas weight loss recipes, I am here to share some easy ones that you can whip up within a short span of time and that to with a few ingredients at hand.
For your convenience and more options for you to choose from, we are going to be sharing the best breakfast, lunch and dinner recipes that you can gorge down if you are trying to cut down some of the extra pounds off of your body.
Breakfast
Recipe 1
Chickpea "Omelettes"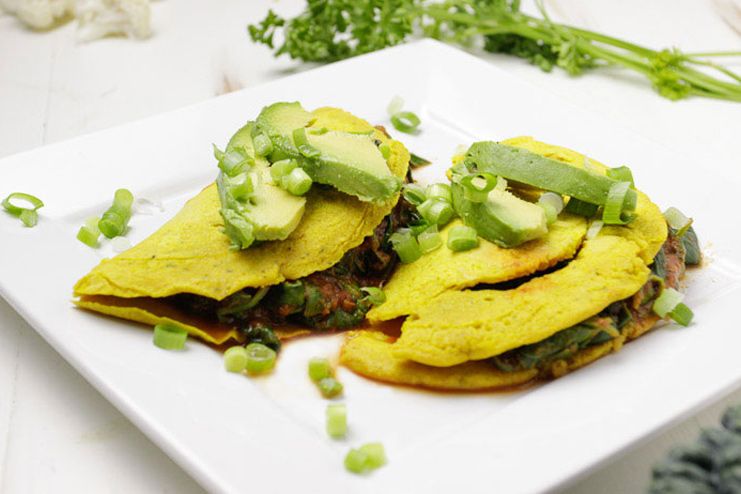 This is perfect for breakfast because it will give you the omelette vibe without eating eggs and the same is just like a savoury pancake, so it's a win-win situation.
Ingredients you will need
1 cup chickpea flour
½ cup diced carrots
Few spinach leaves shredded
Chopped Onions
Salt and Pepper
Butter/Oil
Process involved
In a big bowl, add all the ingredients
Combine everything together with dry hands
Add the salt and pepper as per your taste
Add some water to the mix to make a smooth pancake like batter
On a nonstick pan, add some butter to stop anything from sticking
Add some of the batter and spread it like how you would do with a pancake
Cook both the sides on medium heat making sure everything is cooked all the way through
Pair it with a glass of orange juice and your breakfast is sorted
Recipe 2
Hummus with Toast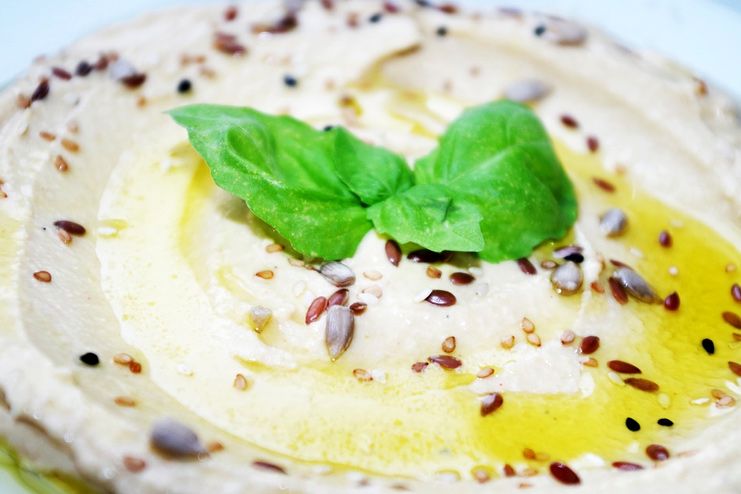 Now, you must be here thinking how does hummus even make it up as a breakfast item, right? Well, wrong.
Ingredients you will need
A cup of boiled chickpeas
1-2 tablespoons of lemon juice
Tahini (if available)
Water
Salt and Pepper
Toasted Multigrain Bread
Process Involved
In a blender, mix the cup of boiled chickpeas and the salt and pepper, 1 tablespoon of tahini and some water
Mix till everything becomes a smooth paste
Add this as a spread over the toasted multigrain bread
Consume this with a glass of orange juice and you are good to go
Lunch
Recipe 1
Chickpea Patty Burger and Green Salad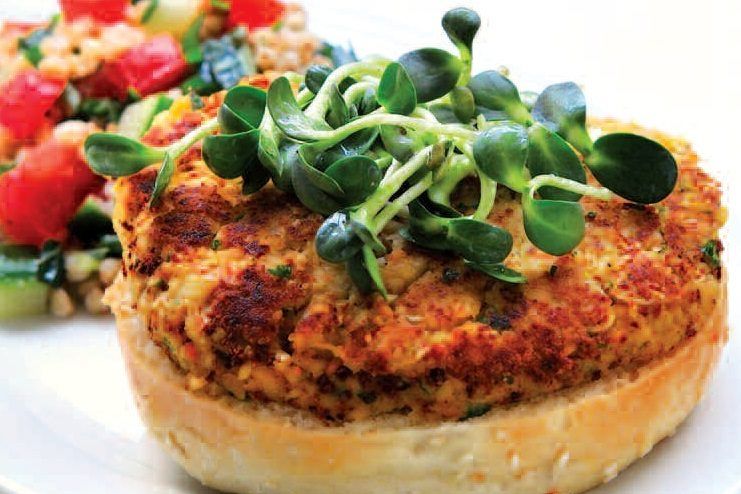 Now, I know, you might wonder how can burger be a staple for lunch, right? Well, the salad definitely makes this a lot better. Pair this with a fresh and crunchy green salad with some cherry tomatoes and a dash of tahini dressing and the meal is complete.
Ingredients you will need
1-2 cups boiled chickpeas
Freshly chopped coriander and mint
Paprika
Salt and Pepper
Sliced Tomato
Iceberg lettuce
1-2 tablespoons of chickpea flour
Toasted multigrain burger bread
Process involved
In a blender, add the chickpeas, chopped herbs, paprika, salt and pepper
Blend everything to a coarse mixture
Transfer it to a bowl and if it is binding, let it be but if the mixture is runny, add some chickpea flour
Make patties with the mix and bake them till they are crispy
Assemble the burger with tomatoes and lettuce and even a dash of lemon
Enjoy it with your bowl of salad
Recipe 2
Chickpea Salad with veggies and fruits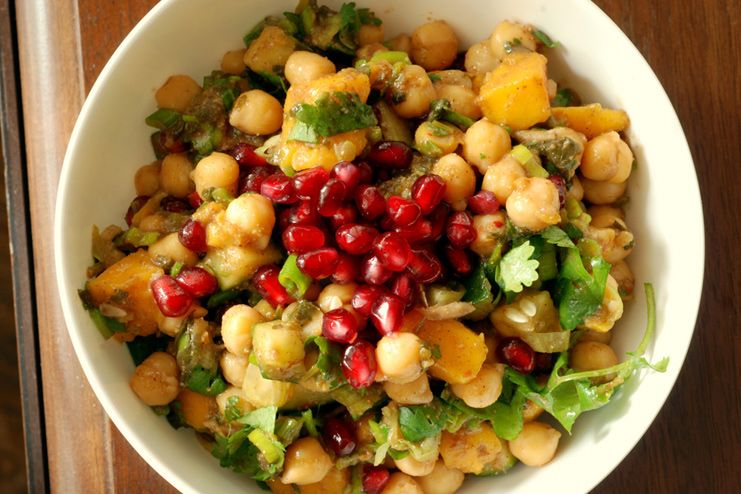 Yet another amazing recipe with chickpeas for weight loss is eating it on its own in the form of a salad with some roasted veggies and fresh fruits.
Ingredients you will need
2 cups boiled chickpeas
Carrots, potato, broccoli, bell peppers
Salt and pepper
Tahini dressing
Freshly chopped herbs
Pomegranate
Process involved:
In a baking tray, arrange the chickpeas, veggies and dress them with some oil and salt and pepper
Bake them till they are cooked through and roasted
Transfer them in a bowl and add the freshly chopped herbs
Add some pomegranate seeds and toss it through
Squeeze some lemon juice on top and add a dash of tahini to flavour everything
Enjoy your salad bowl for lunch
Dinner
Recipe 1
Chickpea Stew / Curry with Rice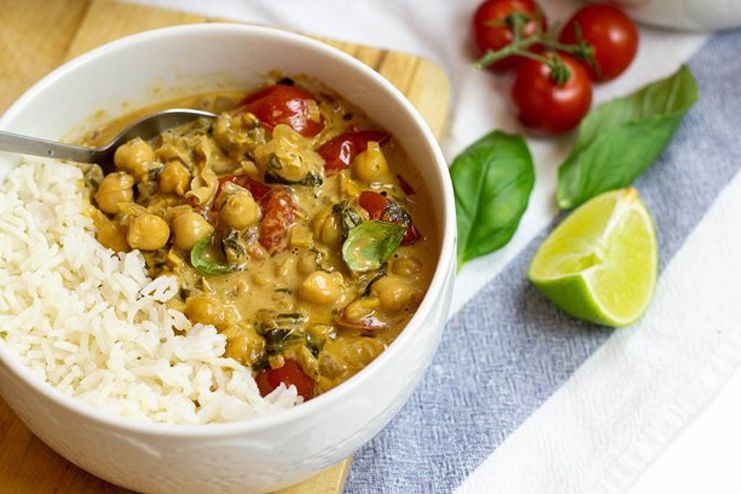 Curry for dinner is not hearty and delectable but for the most part, you will have some leftovers that you can enjoy the day after which is an added bonus.
Ingredients you will need
2-3 cups of boiled chickpeas
Chopped onions
Chopped tomato
Ginger-garlic paste
Cumin powder
Coriander powder
Turmeric powder
Salt
Chilli powder
Cooked rice
Process involved:
In a deep vesseled pan, add 2 tablespoons of oil and add the onions
Brown the onions and add in the ginger-garlic paste till everything is combined and then add the chopped tomatoes
Mix everything and add the spices as per your taste and requirement
Stir everything together to combine all the spices
Add in the boiled chickpeas and coat it in the spices
Add 1-2 cups of water and cook it till it becomes saucy
Enjoy it with hot rice
Recipe 2
Chickpea tacos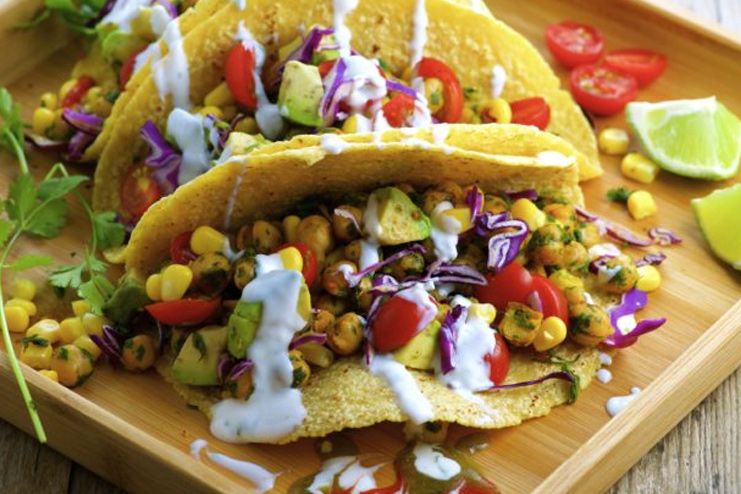 Tacos are a staple for many when it comes to dinner. So, a chickpea taco won't be that bad, right?
Ingredients you will need
Taco shells
1 cup roasted chickpea
Chopped onions and tomatoes
Salt and pepper
Paprika
Guacamole
Process involved
In a bowl, add the roasted chickpeas, onions and tomatoes and season it with salt, pepper and paprika
Mix everything together
Stuff it inside a taco shell like you normally would
Serve it up with a lime wedge and sorted
Chickpeas diet for weight loss can actually revert with the very best results if only you adhere to the same and exercise along with it.
If you have been encountering whether or not chickpeas for weight loss are an actual thing, it is, if the same is eaten in considerable amount and in the limit. Eat mindfully and keep a check on the calorie and carbohydrate intake and that should help you in cutting down the excess fat from the body and aid in benefiting the process of weight loss.