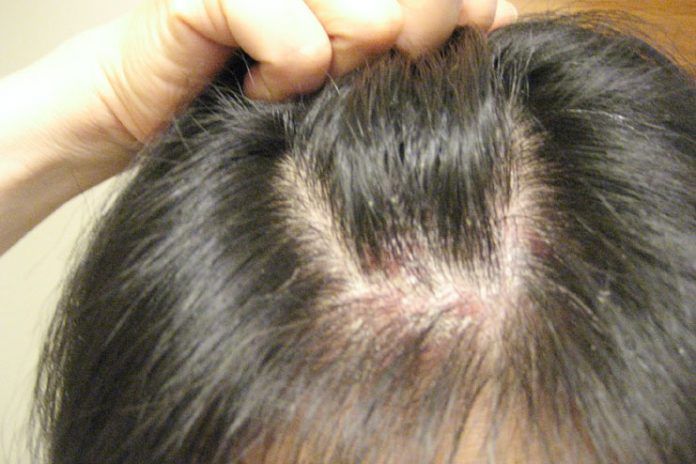 Treatment for Scabs on Scalp: Hair and scalp problems are very common, and everyone faces them at some point or the other. Various cases are mild and go away on their own, but some cases may cause serious deformities of scalp and hair. Scabs on the scalp are one such skin ailment which needs proper treatment, or they can get serious.
What are scalp scabs?:
Scabs on the scalp
are raised yellow crusty patches over our head.
Scalp scabs
may also be dark colored and bleed too. Scalp scabs may be itchy, irritating, painful and appear randomly. These
scabs on the scalp
 are minor lesions, and
cause of scabs
can be attributed to scratching hair, pulling and picking dandruff, tight braids and pony. These may not pose any health condition, but they are painful and displeasing.
Persistent scratching and picking the scalp damages the outer layer of the skin. When the skin tries to heal itself, it forms yellow, red crusted tissues to accumulate which is called a scab. Scalp scabs can be due to lice, nits, dandruff, eczema, psoriasis or other skin conditions. If these scabs on the scalp are not treated, they may result in bad and unpleasant odor in addition to the displeasing look. Don't worry if you have scalp scabs as there are ways to treat them easily and quickly.
Causes of scabs on scalp:
Ever wondered why do we have scabs on scalp? Well most of us have been suffering from these skin infractions for years and continue scratching them to aggravate further. There are underlying causes for these sores on the scalp and these need to be diagnosed properly before taking any treatment
1- Dandruff or Seborrheic Dermatitis: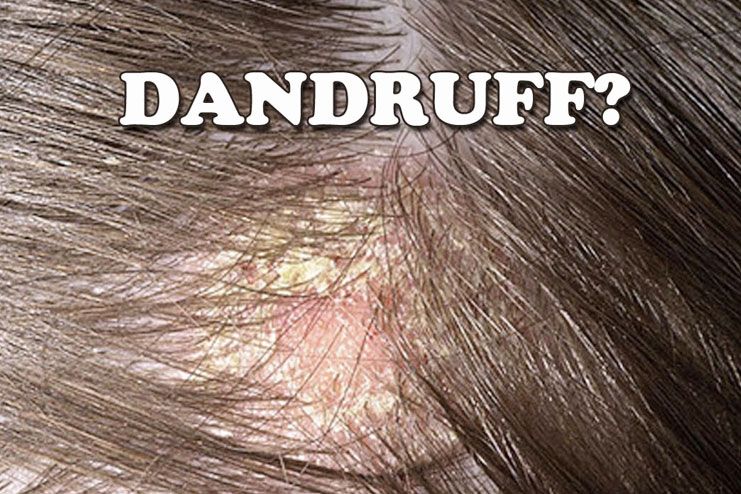 Dandruff is a very common problem, and most of us have it for our lives. Dandruff makes our skin scaly, itchy and flaky. With severe dandruff comes yellow or red scaly pimples stuck up at the hairline behind the ears. When pimples mature and break, the skin begins to heal by forming crusty patches. These cause immense itchiness and resulting into scratching and actuating scabs on the scalp.
2- Eczema or psoriasis: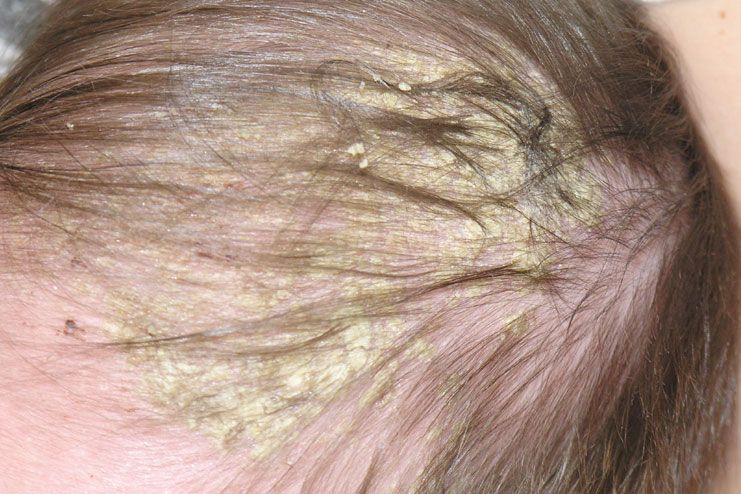 Both eczema and psoriasis can cause scalp scabbing and cause tiny white patches over the head. These induce scratching, and these tiny white flakes get shredded to entire hair length. The scalp eczema and psoriasis cause skin patches and lesions. These result in scratching and wounds and further aggravate by causing more itchiness. These scabs won't go away and keep coming up again and again.
3- Oily scalp:
Oily hair and scalp can be one of the main causes of scabs in the scalp. Oily secretion cause sores, dandruff, scaly skin, flaky skin and constant scratching sensations.
4- Using chemical based hair dye or colors: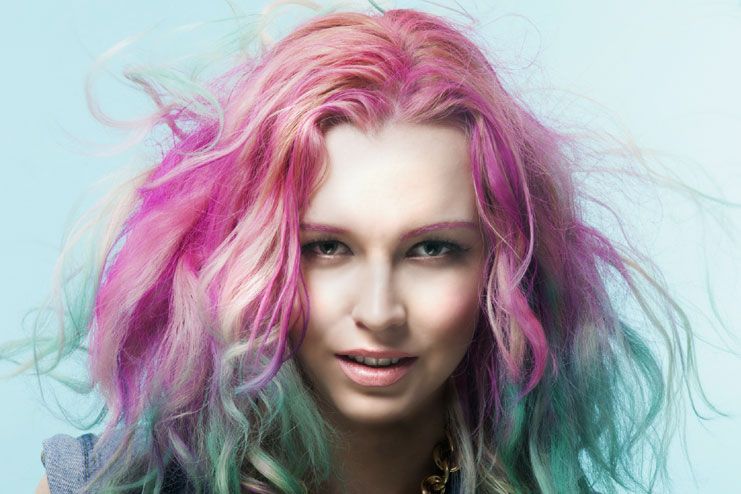 Most people have allergies from these harsh chemical based hair colors, and soon after applying dye or color they see scabs on their scalp. Mild to severe itching results as soon as the hair color is applied and with continuous scratching, it gets aggravated. The common ingredient in hair color that causes these sever allergies is para-phenylenediamine.
5- Tight hairdo: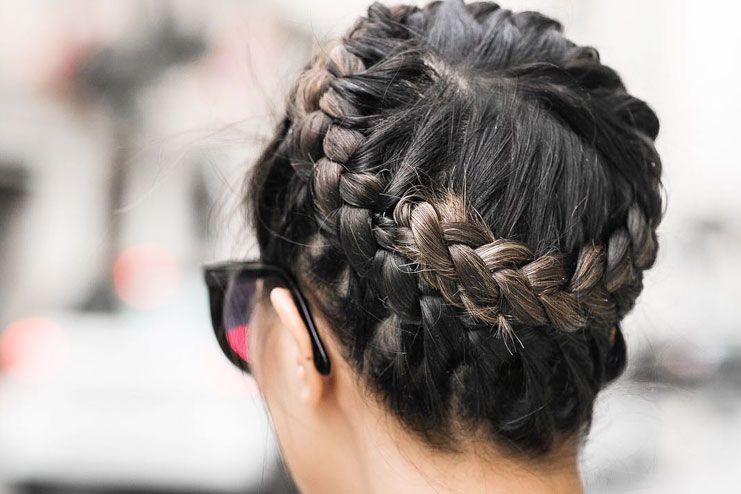 Perm, weaves, braids and extensions keep the hair tightly packed and hence the sweat or perspiration keeps getting accumulated in addition to oils from hair. These also make the hair brittle and causing it to break often. The hairline lesions may even start bleeding, causing sores on the scalp and scabs on the scalp too.
6- Lice and nits in hair: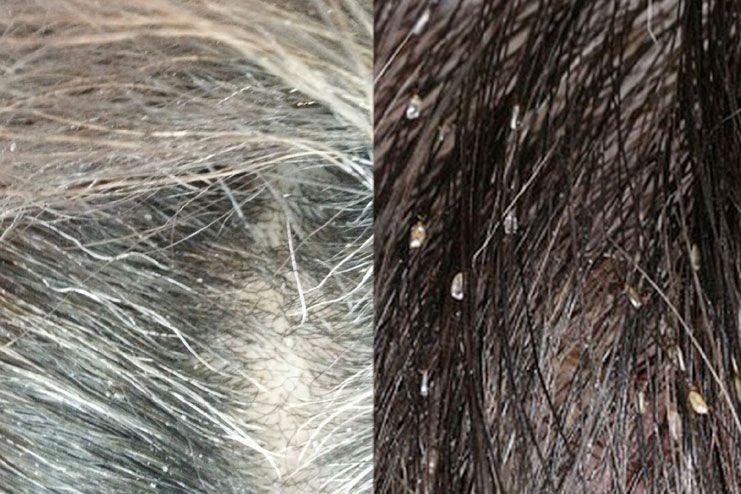 Lice and nits in hair cause immense scratchy and itchy sensations, thus prompting hands to stay in hair. This results in picking and causing the skin dermis layer to break in some areas. Nits on hair follicles and shafts are visible and cause a lot of discomforts. These result in a lot of scabs on scalp.
7- Cancer:
Some researchers suggest scabs on the scalp can be a sign of cancer and must be diagnosed by a health-care provider immediately. Caution for over four weeks of bleeding and paining scabs on the scalp, they need an immediate diagnosis. Also, skin cancer is a major cause of sores on scalp. These scabs on scalp due to cancer would not heal at all, be itchy pink or red bumps and may even turn into ulcers on the bump.
8- Scabs are a result of shingles and ringworms:
Both shingles and wing worms are a result of viral infections on the scalp. They cause an eruption of blisters which dry up and cause crusty scabs on scalp. These prompt scratching and may aggravate further
9- Picking scabs due to anxiety or stress:
Some psychological causes also prompt picking scabs and forming sores. Stress causes hormonal spikes on our body. They also cause acne and pimples which turn into scabs on scalp. People under stress pick this acne or pimples and even cause bleeding and aggravating the wound.
Also, Read: Ayurvedic Remedies for Acne and Pimples
10- Seasonal effects:
Scabs on the scalp can also be caused due to seasonal changes, especially in winter when the skin loses moisture and is dry and flaky. Winter brings dry scalp, and it is prone to pimples, acne, and dandruff. They may form skin lesions, and if untreated they result into severe scabs on scalp.
Treatment for scabs on scalp:
Scalp scabs can be treated effectively and prevented too. There are both home remedies and salon based chemical treatments which can work as scabs on scalp remedy. Scab scalp treatment calls for little patience and some changes in lifestyle, food, and fitness too. Some scab scalp treatments include:
1- Coconut Oil: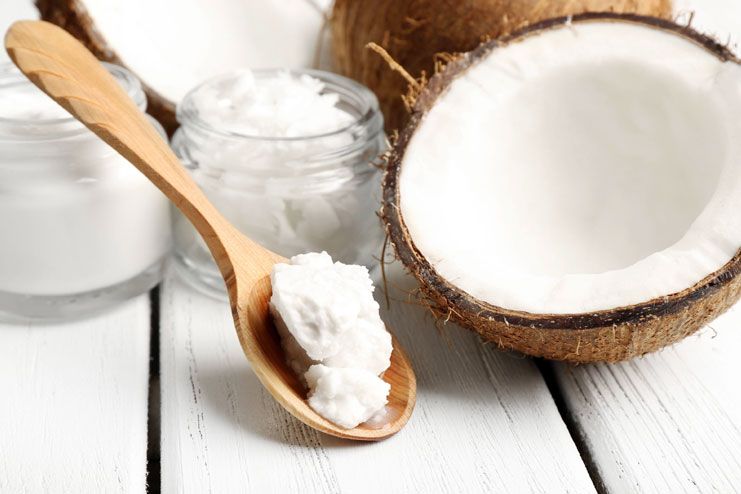 Coconut oil is a miracle potion for all skin and hair ailments. It has anti-inflammatory, anti-microbial, antioxidant and antiseptic properties in addition to soothing and calming our scalp. Coconut deeply hydrates and moisturizes the scalp. Continuous massage of coconut oil can get us clear and nourished scalp in a few weeks. Also, take steam at home using a hot towel to cover the oiled hair for 10 minutes. This also cures dandruff and other skin deformities.
2- Olive oil:
Olive oil is another wonderful oil with immense properties for hair nourishment and hair care. The hydration power and non greasy result makes it most preferred hair oil. Just apply olive oil and massage your scalp for 15 minutes daily. It will clear off the scabs from scalp soon.
Must Read: Important Oils for Hair Growth
3- Eggs:
Eggs are protein rich naturally occurring moisturizers which sooth, calm and condition hair and scalp. Just beat a few eggs and make a frothy white mask. Use brush or fingers to apply this mask on hair and scalp. Leave it covered with a shower cap for 30 minutes. Now wash it with lukewarm water. It not only clears the scabs off but also nourishes the scalp too.
4- Tomato yogurt mask:
Tomato is rich in vitamins and citrus and yogurt is a natural probiotic which helps in clearing bacteria and virus too. Both help in strengthening hair roots and nourishing hair scalp. Blend the two in equal quantities and make a mask. Apply this on your scalp and leave for 30 minutes. Now wash with lukewarm water. Repeat twice a week to get rid of scabs on the scalp in a few weeks.
5- Aloe Vera:
Aloe Vera is a natural hydrating gel with anti-inflammatory and antibacterial properties. It also helps in nourishing and strengthening hair and scalp. Just apply fresh cut aloe Vera gel to your hair and scalp and leave for an hour, now wash with lukewarm water. Continue once a day for severe scabs on scalp. And twice a week for mild sores on scalp, these scabs on scalp treatment is most soothing and calming of all. Here we wrote a detailed article about benefits of Aloe Vera go check it.
Being proactive is better when it comes to hair and skin: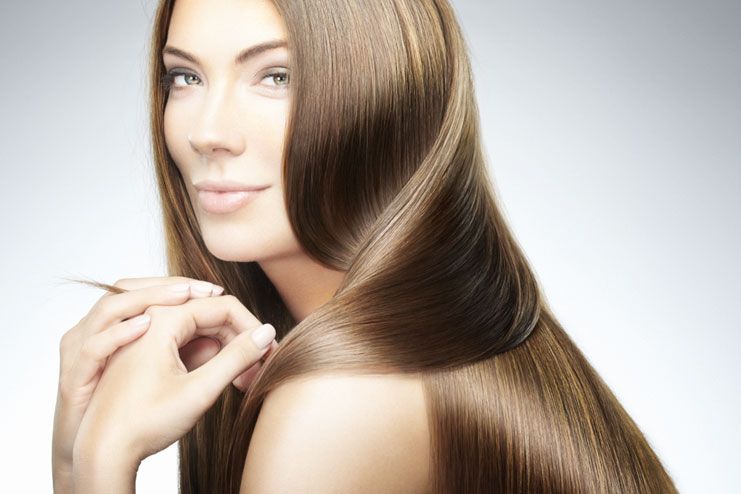 Hair and skin ailments may be tough to cure, so better take proactive measure and prevent them in the first place. It is necessary to know how to prevent scalp scabs and treat scalp scabs as they can affect hair strength and skin health. Take proper care of your hair, especially when changing weather causes havoc on skin. Do not apply harsh chemical based products and keep up with your healthy lifestyle.
Use humidifiers in dry and winter season to keep the hair moisturized and prevent flaky scalp. Do not wash your hair too often as it causes more harm than hygiene. Limit hair washes to once a week or twice a week. Do not apply shampoo directly to hair but dilute it with water and then apply.
Never share comb or towel with anyone as it causes infections and allergic reactions resulting in skin and scalp deformities. Keep up your hygiene and do not let your hair get exposed to sunlight or sweat much. Always get your hair checked for lice, nits, and dandruff once a month. And eat more fruits and vegetables than processed food in your diet.
Hair care requires a regular effort and a routine to wash, dry, massage and steam your hair. Keep your hair trimmed once every six months to avoid thinning ends. And use a good oil like coconut, olive or castor oil to massage hair and scalp once a week. This will not only cure but prevent scabs on the scalp and other deformities too.
Conclusion:
The above compilation on A detailed guide to understanding and treating Scalp scabs is based on experiences and learning over time. There are basic rules and some proactive approaches which help in preventing and curing scabs on the scalp. But for severe impacts see your dermatologist immediately. Any continuous scabs must be diagnosed by health care provider for skin or other malignant cancers. Share ahead and keep writing us, we love hearing from you!
Minu Manisha
Disclaimer:
The above tips and information are only for reference purpose. The articles are not written by qualified medicare professionals. Even though, you may find the tips and information easy and useful, we recommend you to consult a qualified medicare professional before adopting these. It is necessary to analyse and find out your physical fitness in accepting these tips. Some tips may not suite you or you may be allergic to. Hence consulting a medicare professional is essential. Failing which, you will be having the sole responsibility for the consequences arising out of your negligence and reluctance.
NOTE:We inform you that we are not owner of any of the products, images or any other products displaying on our website. But all the articles are written by us and we owned them. If you found any image or product that found under your copyrights then please feel free to CONTACT US. We will remove that image or product as soon as possible. All the images are collected from Google.