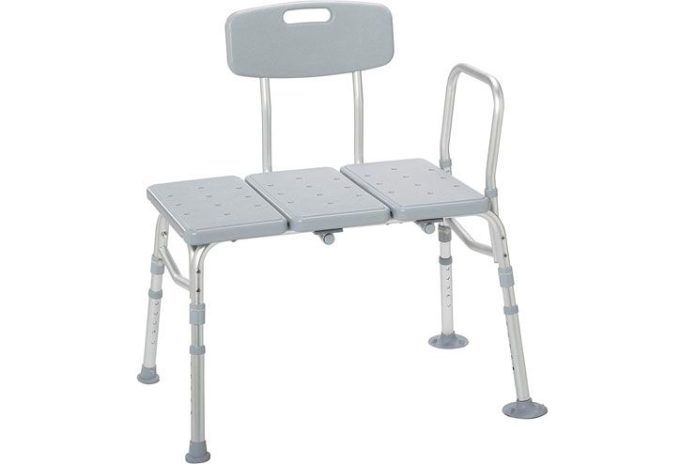 Shower chairs are one of the most important items for home healthcare after knee surgery. There are different kinds of knee surgery from tendonitis to total knee replacement, it takes a maximum of up to six months to recover from knee surgery. And the best shower chairs recommended by experts is one of the most important things to consider if you are planning to fully recover without any side-effects and residual problems.
Some common issues which people face after knee replacement or knee surgery is going up and down the stairs, showering while standing and, sitting down, sitting down when putting on shorts or pants, and keeping the floor clear to avoid a tripping hazard because they have problems bending their lower body.
Most of the shower chairs in this article are recommended by knee surgeons and orthopedists and is based on thorough research for the best shower chairs after knee surgery. This list is going to help you recover fast and easily. There are types of showers and things to be considered before you buy a shower chair for your home.
After knee surgery, it takes about seven-to-10 days to straighten up your leg after discharge from the hospital or clinic. In those times, a shower chair at home is a must. The best shower chairs after knee surgery is also an investment for long-term commitment towards the future of your elderly at home too. It can also be a one-time buy which will come in handy in case of any future accidents. It keeps the home shower area safe.
Best Shower Chairs after Knee Surgery
We need shower chairs that don't slide and skid and stand firm when we sit on them and move in the shower. With wheels, it becomes easy to move in inside the bathroom. Most important, are safety and security. It should allow full movement without the injured person or elderly with mobility issues to raise their legs or move too much during showering, for quick recovery. Below are the select 7 best shower chairs in the market to buy after knee surgery.
1. Drive Medical 12011KD-1 Plastic Tub Transfer Bench with Adjustable Backrest (Color May Vary), Gray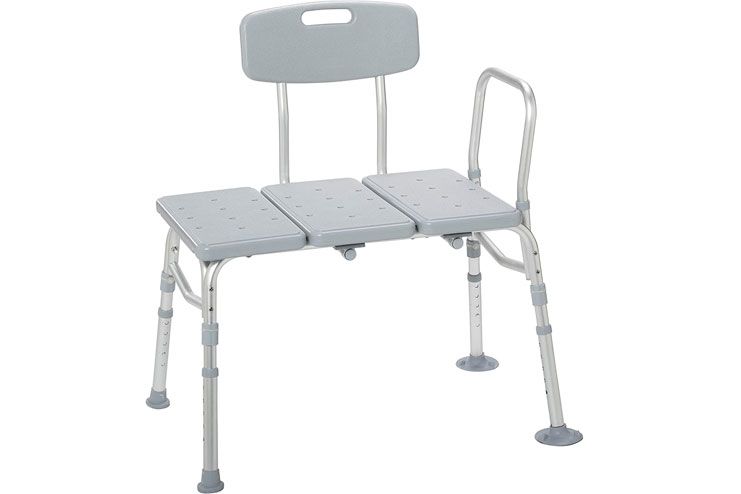 This is a transfer tub bench designed to assist individuals while entering and exiting the bath for renewed independence. It takes care of your safety and security by getting accommodated in any bathroom. It has a reversible transfer bench for bathtubs, including a blow-molded plastic bath bench and stabilising backrest. The tool-free assembly which means no tools are required to assemble the back, arm, or legs of our tub benches for bathtubs; Pinch-free lever included for extra installation safety is reassuring. The adjustable seat, the bathtub bench seat with dual-column extending legs can be lifted or lowered from 0.5" to full range increments. These seat dimensions are 26" W x 17.5" H x 18.5-19.5" D; outside legs: 32" W x 23" D.
There are drainage holes to help prevent water from pooling. The patient or the elderly person feels more comfortable making their own bath less slippery, and more secure during transitions in and out of the tub. As this product is lightweight about 10 pounds, it surely is very helpful. Outside leg depth- 23 inches, outside leg width- 32 inches, overall product height- 17.75 inches, overall product length- 19.75 inches, overall product width- 29 inches, primary product material- Aluminum, product weight capacity- 400 pounds, seat depth- 18.5 inches- 19.5 inches, seat width- 26 inches, seat to floor height- 17.5 inches – 22.5 inches
PROS
Quality Construction
Extra-Large Non-Slip Suction Cups
Easy Assembly & Installation
Back support is reversible
2. Ez2care Shower Bench Bath Seat Chair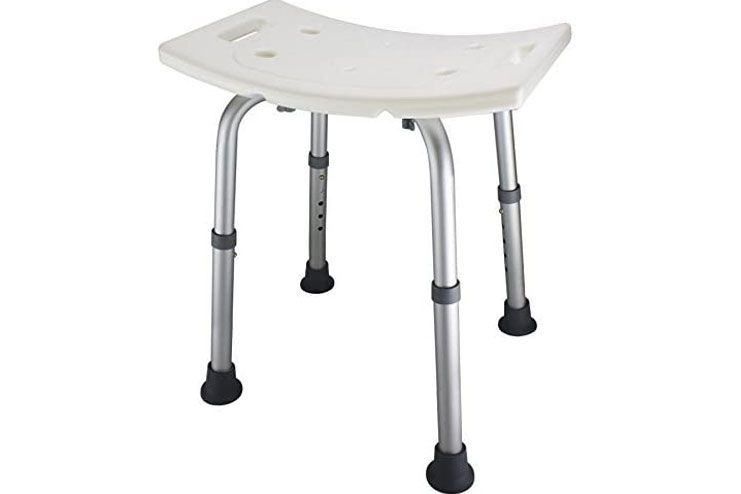 This is a versatile shower bench. Designed for elderly and injured such that it can be handled personally by the concerned individual themselves. It has a corrosion-resistance anodised aluminium frame, anti-slip perforated surface, wide-base frame with rubberised feet maximised to fit mist bath tubs. You don't need so many tools to assemble this one. The adjustable legs are 12.5'' to 18'' (inches).
The water drainage holes, and carrying handles are well thought out in regards to placement inside the bathroom. It is lightweight and very easy to move in and out of the shower, even with one bad leg. Ez2care Shower Bench Bath Seat Chair is stable (140lb female) on the spot and leaves plenty of room for me to stand, shower, wash my hair, etc. It comes with an instruction manual and the assembly directions were excellent.
It fits into small corners inside the shower and also in a small tub/ shower combo bath. The rubber safety helps because they're slightly angled and allows the bench to fit better over the curves of the tub. But the lower part of each leg does not make a secure fit onto the upper legs that are attached to the seat.
pros
Easy to assemble
Corrosion free surface material
Adjustable legs
Compact
CONS
Have not been evaluated by the FDA
No drainage holes
3. NOVA Medical Products Shower and Bath Chair with Back & Arms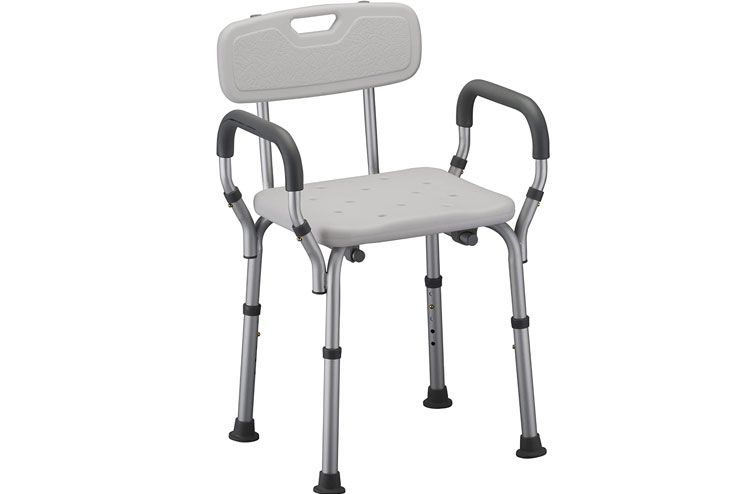 The model 9026 features arms and back. It is made from heavy duty molded plastic. Has an Aluminum anodized frame. Anti-skid resistant rubber tips, push button release removable arms. It weighs 275 lbs. This shower chair can take up to 275 Pounds. It is adjustable and corrosion resistant.
The dimensions of the seat are 16" – 20" H x 16" W x 13" D. The legs of the shower chair are 0.75″ W. -Leg to leg: 21.5″ W. The overall height from top to bottom is 29″ and width including side to side is 21″ and the overall depth from front to back is19″. It weighs 6.75 lbs.
NOVA Medical Products Shower and Bath Chair has comfortable padded arms providing support and stability to get up and down from the bath seat. arms are easily removable. It is great for storage or travel. Also, skid-resistant rubber tips have a wide base and drainage holes.
PROS
Lightweight
Adjustable
Easy to carry everywhere
Anti-skid shower chair
4. Carousel Sliding Transfer Bench with Swivel Seat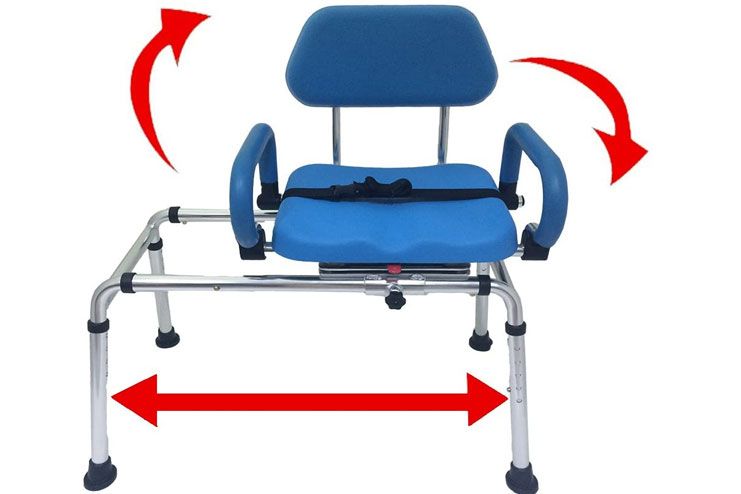 Sliding shower bench with swivel seat. This product is for those with injured legs and painful mobility challenges. It is designed by frontline healthcare workers with decades of experience. The swivel seat is safe, easy to use, and more comfortable than a standard fixed seat, this design means that the chair protrudes into the room much less than a traditional transfer bench. It is useful for sliding and doesn't require use of the chair if there is free space in the bathroom.
The padded armrests can be raised and lowered and locked into place and can be used as leverage points to help the user into and out of the chair. They also provide additional physical and psychological support against slips and falls and fear of slips and falls. The shower chair is safety proofed, it prevents slips, trips, falls and even skin tears by keeping the user secure while transferring in and out of the tub/shower. You have to simply loosen the knob below the seat, glide down the rail, then tighten the knob again to lock the set in place. Do review the dimensions shown in the line drawing carefully before ordering to make sure this item will fit your room.
PROS
Height Adjustable Legs
high-contrast color for best visibility
Soft and Padded Seat, Back, and Armrests
Smooth, Effortless Sliding
360° Swiveling Seat
5. Carex Tub Transfer Bench
If you are looking for a bath bench or shower bench for your safety in the shower or for an elderly person who cannot stand for long, Carex tub transfer bench is for you. You can be sure of your and your loved ones' safety and protection with this bathtub. It's design will be of great help in the shower especially for the elderly, those who suffer from arthritis, those with back problems, and all those who cannot stand for a long period of time.
It is made with special care with non-slip feet that have a rubber grip to prevent slipping and falling in the tub, shower, or bathtub. It's feet are flared to provide stability and safety when bathing. It has a high-end ergonomic design- the bath seat features an adjustable height to provide convenience for all. Also, pretty easy to lift and carry since it is made with durable lightweight aluminum.
Good quality aluminum is used for anti-corrosive effect even when it gets wet. The strong and heavy duty construction enables it to hold high weight capacities. Last but not least Carex tub has a foolproof assembly. You won't need tools or screwdrivers. The shower bench is absolutely convenient and easy to set up.
PROS
Adjustable height – 16″ to 20″
Lightweight aluminum construction
Anti-corrosive construction
Holds 300lbs
Anti-slip flared feet for stability and safety
6. NOVA Medical Products Rolling Shower Commode Chair with Locking Wheels and Removable Footrests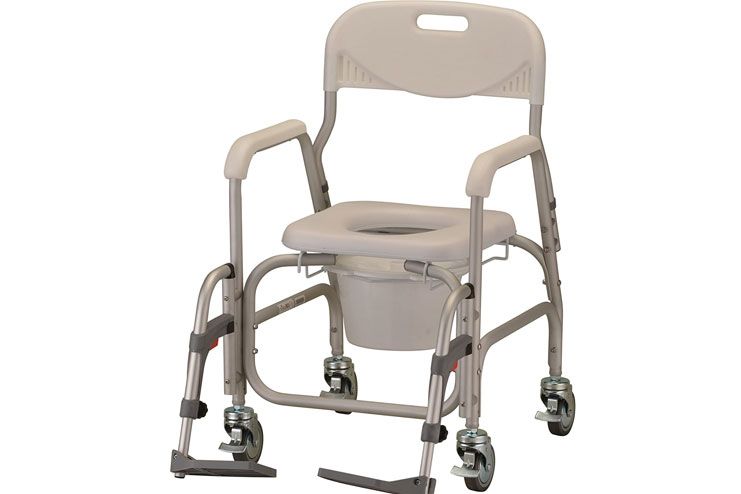 This product is a luxury, a commode that is portable and versatile, this will make your life easier. The shower chair comes with many options available to you with our commodes including wheels, drop arms, padded seats, and more. It can be used as a stand-alone commode, shower chair, or over toilet use. The whole pack has a bucket with a handle and lid included which easily slides in and out from the rear of the seat. It is comfortable and safe with contoured armrests. There is also a backrest with the handle cut out, comfortable padded seat (easy to clean), and locking wheels that are easy to engage with the foot – without bending over.
The swing-away removable footrests are so versatile that the footplate folds up and can easily attach and detach in seconds. These footrests are adjustable for optimal fit and comfort. Additionally, no need to worry about assembly because it comes assembled, simply snap in the backrest and attach the footrests. Its weight is 18 lb and can take up to 250 lbs. Adjustable legs can reach height to rear seat support up to 16.5″ (inches).
PROS
Contoured safe armrests
Comes with a bucket and lid
Commode with wheels
Adjustable footrests
CONS
Not great height is achieved
7. Drive Medical RTL12505 Premium Series Shower Chair with Back and Arms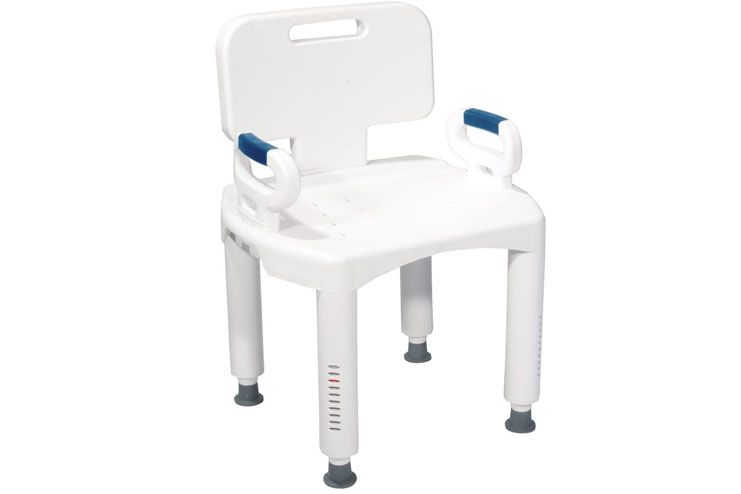 The Drive Medical Bath Bench with Back and Arms is built for individuals who require additional safety measures that assist you with mobility and balance while entering and exiting the bath or shower. It is a budget shower chair in the market currently. The seat has been designed to comfortably accommodate all shapes and sizes.
Also, lightweight, comes with large stable legs which are complemented by soft non-slip feet, ensuring your safety at all times. The shower chair allows tool free height adjustment. The back, as well as the legs and arms, can also be removed making it an item that is flexible, easy to store, pack away, and transport. Also, if you experience dizziness, or you're unsure of your footing due to mobility issues when it comes time to bathe you can now be stress and worry free.
PROS
Detachable legs
Lightweight
Easy to adjust height
Can take up to 350 pounds
5 Types of shower chairs we have in the market?
Shower chair
The National Kitchen and Bath Association research shows that a shower seat height of 17" to 19", and a depth of 15" is the standard size in addition to floor space These have rubberised feet, hand grips, back support, and a wide seat. Best shower chair of this type are Azadx Bath Chair – Reversible and Height Adjustable, Carex Bath Seat – Holds up to 400 Pounds, Drive Medical Premium Series Shower Chair – Removable Back and Arms and Drive Medical Shower Chair with Back – Adjustable Legs.
Transfer Bench
After knee surgery people with extreme limitations of mobility specifically require this. A transfer bench has two rubberised feet that can be placed outside the tub, with the other two being inside, allowing the user to slide across the bench from a wheelchair and into the shower. A transfer bench is a bath safety device which helps in ease of mobility as they can sit on it to get into a bathtub. After the recovering patient finds it difficult to sits on the bench, which is straddled on the side of the tub. With this they can gradually slide from the outside to the inside of the tub. The best of this type of shower chairs are Drive Medical Plastic Tub Transfer Bench, Medokare Shower Transfer Bench Seat, Giantex Tub Transfer Bench, Carex Tub Transfer Bench, HydroGlyde Premium Heavy Duty Sliding Bathtub and Swiveling and Sliding Bathtub Transfer Bench and Shower Chair.
Shower stool
Folding stools in the shower are sturdy. These have standard rubberised feet, hand grips to facilitate moving to and from the shower, and a seat with no back for limited support while bathing. Most of them have a slip-resistant seat and slip-resistant rubber stoppers or suction cup-style feet to prevent the stool from sliding. You can rest and sit on these while showering, washing your feet or shaving your legs. A shower stool enables anyone who has decreased balance; physical strength or mobility to shower safely and independently while sitting. It has a seat, backrest and arms, and is usually adjustable in height.
Fold-down shower chair
A shower chair that has a seat, backrest and arms, and is usually adjustable in height are called a fold-down shower chair. These Shower chairs have small seat drainage holes to minimise risk of genital entrapment. These are especially designed for permanent installation in a shower and have two rubberised feet with the chair that is back mounted to the shower wall for stability. It is usually paired with a support rod built into the adjacent shower wall to serve as a handgrip when moving to and from the shower. The best fold-down shower chairs are Vive Shower Chair with Back, Moen DN7100 Shower Chair and Platinum Health Padded Chair.
Rolling
These shower chairs have rubberised wheels with locking mechanisms. Some models also feature a flip-up cushioned seat, providing both shower and commode chair functions – a clip-on seat lift up for easy cleaning, an offset push bar, also makes moving the user around easier. With this shower chair you can place the shower seat facing any side you want. The best rolling shower chairs are MJM International Standard Shower Chair, DMI Shower Transport Chair and Caspian Professional Mobile Shower/Commode Chair.
Baby Shower Chairs
Baby shower chairs perform the same function. They provide stability and comfort for your child, while making it easier for parents to bathe their infant children without excessive bending and back strain. Examples are, Summer My Bath Seat (Aqua) – Baby Bathtub Seat for Sit-Up Bathing, Fisher-Price Infant-to-Toddler Rocker – Geo Diamonds and Summer Lil Luxuries Whirlpool Bubbling Spa & Shower.
How to choose whether it suits you or not? Things to be considered before making a buy?
Weight capacity
Some of the bariatric shower chairs or benches that are designed to be able to withstand individuals who weigh up to 600 pound. The usual standard shower chair that can only accommodate a 300-pound weight limit.
Backrest
Shower chairs are supposed to have this recumbent feature, offering reclining backrests as well as rising legrests. Typically, the good ones do have this, along with adjustable leg rests and backrests, showing that you can comfortably accommodate the height of the person who is using it. Backrest is constructed with a textured and non-slip surface making the shower chair a safe solution for showering.
Seat design
Basically, a shower chair seat should easily provide independence, stability, and comfort. The design should be such that easy installation is possible, it should be lightweight, especially, if the user does not have assistance from others. The design should not make the necessary cleaning process overly difficult. The majority of the seats work for people up to 250 pounds, slip-resistant, and anti-corrosion with a large surface area.
Legs
The use of the shower chair after knee surgery, is aimed to recover from leg and back pain. If your surgery is expected to have a long recovery such as after an Achilles Tendon surgery or a total knee replacement the shower should be rust and slip-resistant, in order to avoid accidental falling of the chair and also be adjustable.
Feet
A shower chair's feet should be replaceable as it tends to get spoiled after a certain period of use. It should have a rubber grip underneath. The height of the shower chair feet should be tall enough for one's feet to be touching the floor with the knees bent at a 90-degree angle. It could be detachable so that it can be carried while traveling.
Self Care tips to be considered while using a shower chair after the knee surgery
Positioning: A shower chair provides the facility to sit down and relax as you let warm, soothing the waterfall gently over you. It should be placed inside the shower facing the shower. If you're installing one, it's best to follow the shower seat height recommendation and make sure it is between 17 and 19 inches high, at least.
Sitting: When sitting, place the chair in the tub or shower stall. Be sure it's stable. Remove any obstructions that can topple and hurt someone or cause them to slip. Alter the chair's height according to your comfort. Make sure to sit in the center of the chair, never on the edge.
Getting into the tub for shower: Transfer yourself into the tub from a seated position if possible when trying to sit on a shower chair. If you need to be transferred using the shower bench then swing your legs into the tub from a seated position. While stepping in/out of the tub, use grab bars, make sure feet are dry, and ask for help at first if needed.
Conclusion
Medicare doesn't usually cover shower chairs in its health policy. But we need them for the elderly and those with extreme mobility issues. Wood and bamboo shower chairs are also available in the market but this list of best shower chairs reviews are much stronger and reliable as compared to the bamboo seats with a higher price tag of course.
These are better choices and an excellent budget option as well. Safety is the most important feature in the shower chair seat design. Therefore, the best shower chairs in the market are those with arm and backrests, holes for good drainage- slats on the seat so the water doesn't linger. Shower chairs should not be slippery and dangerous for use.