Freezing water to ice while you are experiencing pain or discomfort can make it tough for you. And sometimes, the ice melts to water while you prepare for therapy with an ice pack. These are common drawbacks with ice packs but healing must never be a compromise or delay. What comes into the picture now is a cold therapy machine.
You have an alternative to an ice pack and it is a cold therapy machine. If you have decided to buy the best cold therapy machine then you are on the right page. You may need buying guidance to find a promising machine that allows you to have cold therapy. We have reviewed the products that describe the features.
What is a Cold Therapy Machine?
Cold therapy is a method to manage pain and aches at home. When there is an affected area with swelling, redness as a symptom of any conditions then ice therapy or cold therapy can soothe the discomfort. This kind of therapy with colds is also known as cryotherapy. The machine is trusted to heal wounds, pain with ice water application. But if you are having an idea of buying a cold therapy machine then you must know the conditions. The conditions and proper review can make it a worthy choice.
5 Benefits of Cold therapy Machine
1. Instant cold therapy
If you have an emergency requirement of cold compression to apply on painful injuries and post-surgery areas then you need a machine. It gives you instant relief without delay in treatment, makes you feel comfortable with a soothing cold effect. The best thing is you don't have to long for the treatment at home. It fastens the recovery process of injuries and surgery. Pain management becomes easier with a system that provides a cold effect.
2. Mess free method
If you are using the traditional method of cold therapy then it creates a mess with water leaking. And ice block melts within few minutes which shortens your therapy duration while the pain is still not recovered. So, for elongated cold therapy without any mess, you can get a machine.
3. Adjustable temperature
Adjustable temperature is a feature that is available only in the best cold therapy machines. It is not possible to adjust the cold temperature with traditional methods. So, buying a cold therapy machine can help you with adjustments as per the requirement. You can have personalized treatment with an entire system until you feel better.
4. Even cold distribution
You can have an evenly distributed cold that also circulates effectively which is not the same with a traditional method. When you are applying cold therapy, it allows the flow of it in an even way.
5. Multipurpose treatment
You can have the multipurpose treatments with a cold therapy machine including for injuries, swell, inflammation, or post-surgery recovery. It helps in pain management, preventing inflammation, soothing the affected area with comfortable compression. However, you have many easy-to-use cold therapy machines to suit various requirements.
8 Best Cold Therapy Machine to Buy In 2021
#1. Ossur Cold Rush Therapy Machine System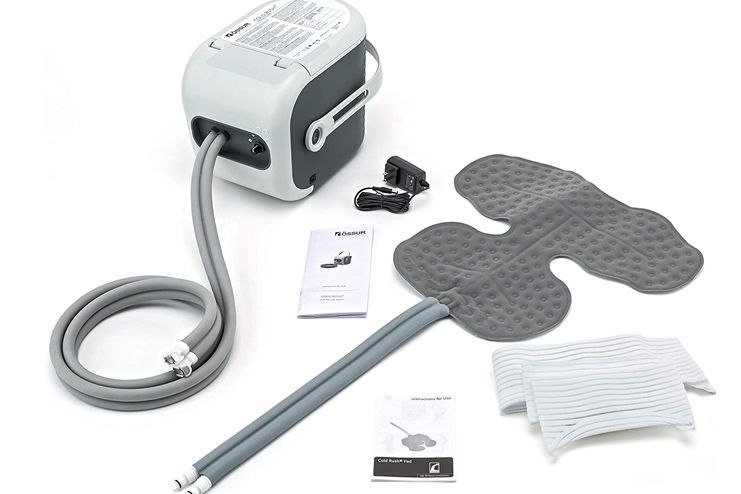 The first product in the list is designed to provide soothing relief from swelling, trauma, and pain. If you are experiencing any discomfort in joints and inflammation then you can apply cold compression with this tool. This machine is ideal for the post-workout recovery of tired muscles.
The machine is made with the highest capability for ice to water and it also produces less heat but a healing cold therapy for faster recovery. And most importantly, the system is noiseless which doesn't disturb the user.
As it is made of an ergonomic pad, it provides localized treatment by contouring your body. Hence, we can say it is the best choice if you want to improve your quality of life. The bucket of the machine is to deliver water and ice for 6 hours which makes it possible to have cryotherapy throughout the day. Altogether, it is a worry-free purchase with a 6-month warranty.
PROS
High water storing capacity
Noiseless system
Nearly 6 hours therapy
6 month warranty
#2. Polar Active Ice 3.0 Cold Therapy Ice Machine System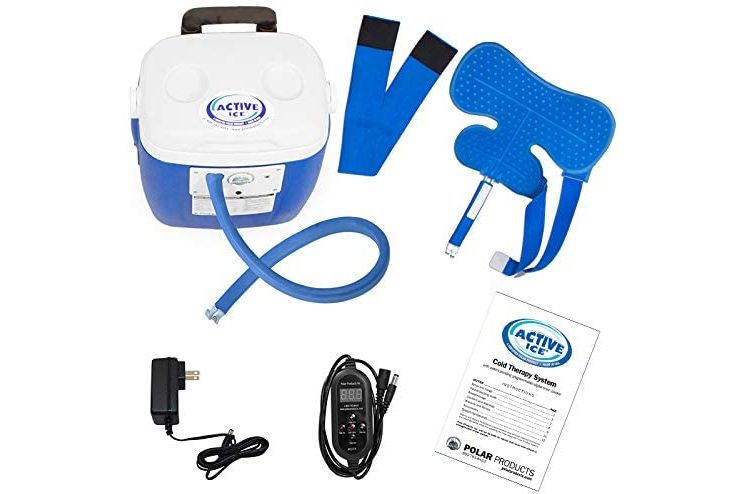 Poplar active ice therapy machine comes with unique features like on and off-cycle. And you need to set it up as per your requirement. You can have a safe, convenient, and effective therapy of cold with this system. It provides a soothing effect irrespective of day or night for post-surgery pain recovery and healing. This is a useful feature that may draw your attention.
It is a long-lasting cold therapy that serves for good hours. As it is equipped with a 16-quart cooling reservoir which is large enough. The system works with a noiseless pump without any brush. The 12-volt adapter which is made to delivering post-surgery and drug-free pain relief.
The machine is ergonomically designed with pads that fit your body parts with a contouring effect. It comes with 6 months warranty. You can utilize this cold therapy machine for purposes including pain healing, calming swell, better function of lymphatic drainage, stimulated tissue soothing, and reducing narcotic use.
pros
16-quart reservoir
12-volt adapter
Multi purposes
6 months warranty
#3. Vive Cold Therapy Machine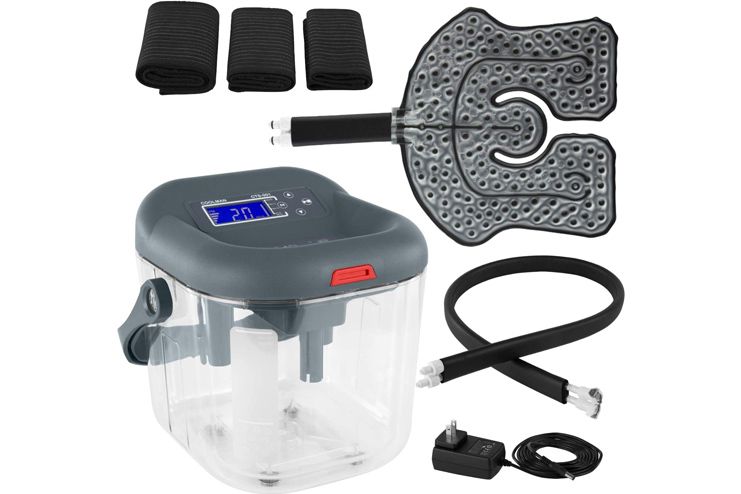 Here we must focus on the cold therapy machine which is easy to use. It helps target the affected area to relieve inflammation, joint pain. You are going to have compact, quiet therapy with the machine. It is a system developed with a therapy pad, tubing, and three secure straps. The container holds up to 6 liters of water which provides cold therapy for 30 minutes at least for a personalized experience.
The shape of the pad is uniquely designed for targeted relief making it easy for you to use. It contours your body while applying cold therapy. And the ice water is distributed evenly to heal the pain or discomfort effectively. It is a cold therapy machine to use on ankles, knees, legs, hips and elbows, shoulders, and arms.
The pad is added with elastic straps to secure in various positions. Hence, they will be no problem while using it. It is equipped with a durable material that is leakproof for long-term use. The machine supports you constantly to ensure the cold therapy treatment. And the best part is, it has 1-year guarantee that helps you have a confident purchase.
PROS
Leak proof design
Securing straps
Even cold temperature
Contours body parts
1 Year guarantee
#4. Cryotherapy – Circulating Personal Cold Water Therapy Ice Machine by Arctic Ice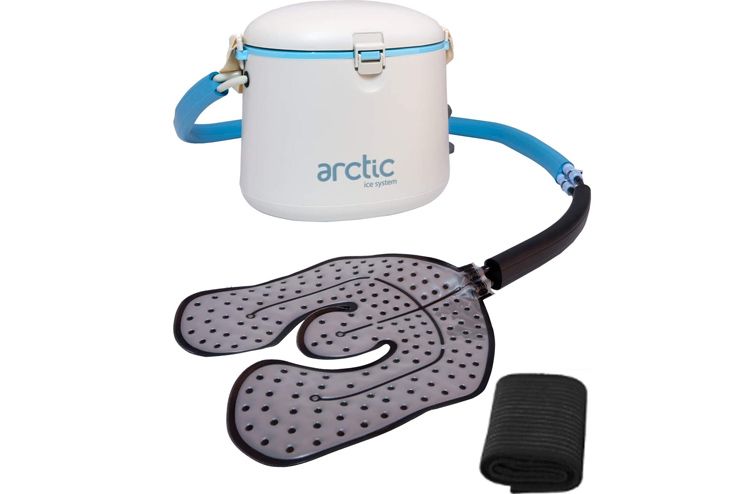 Don't you think you need soothing therapy post-surgery? But it is important to have a safe method. So, here is something that makes the healing process safe for you with Artic cold therapy machine. It is made to help the recovery become faster, tame the inflammation, joint pain.
The machine is made to have effortless cryotherapy. If you are looking for a well-designed machine then this is perfect for you. Handling the machine while getting the cold therapy is comfortable as it is portable, compact. It is a completely durable product constructed with tubing and adjustable straps.
You can have personalized therapy with timers of 15 minutes and 60 minutes. It flows a continuous cold flow as set it up with the timers. It is provided with a universal strap that fits the areas hips, knees, elbows, and almost all the body parts. And moreover, the tubing is stuffed with foam to ease the use and remain a consistent temperature throughout the cycle.
PROS
Timers set
Universal straps
Foam tubing
Compact product
Consistent cold flow
#5. COOLMAN Cold Therapy System Cryotherapy Machine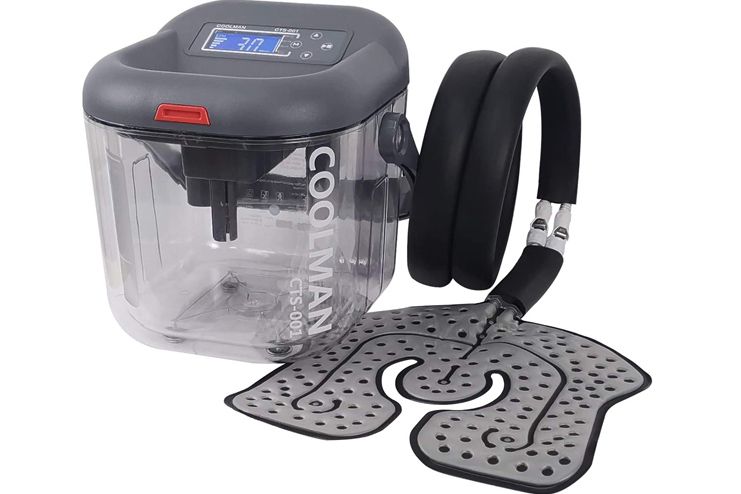 The cold therapy machine is the best to treat post-surgical pain and with it, you can manage to reduce the inflammation of injuries. If there is any swelling, cuts, then this is the instant therapy you may need. You can have gentle cryotherapy without any inconvenience.
This is the cold therapy machine with a high-quality pump that allows you to have the treatment without noise. If you compare with other products in the market, they may produce a disturbing noise while running. So, you are free from such unnecessary disturbances.
It is facilitated with a pad that fits the various body parts. So, you don't have to buy a different cold compression system for different areas. You can use the same easy machine to heal the areas shoulder, hip, elbow, arm, and legs. Coolman cold therapy machine is an ideal option for traditional ice packs to have a mess-free treatment.
This system is made with flow rate settings with water temperature which is allowed to monitor from 41-68 degrees. It is a wise purchase with a 1-year warranty.
PROS
Noiseless treatment
Temperature monitoring
Convenient use
1 Year warranty
#6. LEONNS Cold Therapy Machine w/Universal Flexible Pad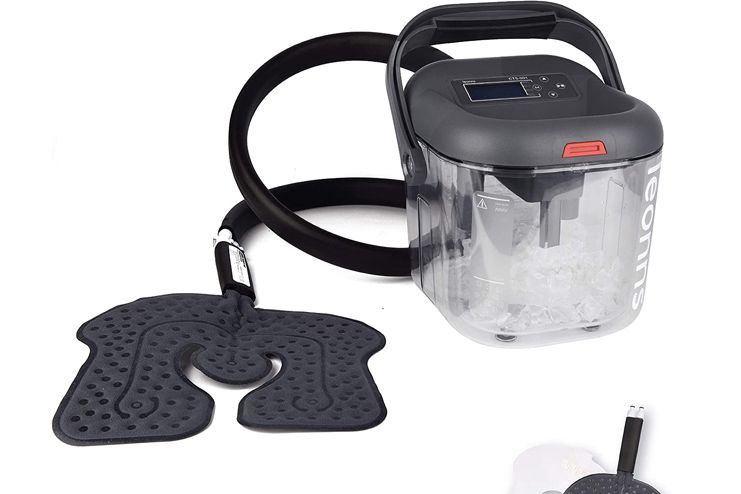 Are you recovering from surgery? Then this is a must have a machine to aid your healing process up faster. It reduces swelling, inflammation during the process of healing. Along with the cryotherapy machine, you need some rest for faster healing of injuries and wounds.
This machine is inbuilt with a timer with 30 minutes to have personalized use. You can use the 5 different modes of the machine according to your needs. To ensure that you are getting proper treatment, you can monitor the water temperature too.
The system of LEONNS cold therapy is accompanied with a universal pad, knee therapy pad, insulation tube. You also have the AC adapter for easy use and the adjustable securing straps. You can have instant relief of pain in the knee, hip, arm, and leg. And finally, we conclude by saying, it is a secure purchase with 1-year warranty.
PROS
Timer settings
Securing straps
AC adapter
1 year warranty
#7. NEHOO Universal Pad for Cold Therapy System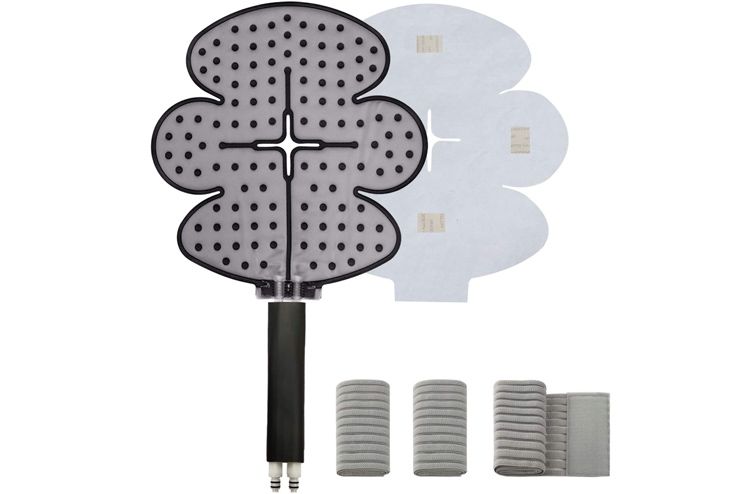 The material of the body is flexible enough to have an easy cold therapy. It is made with a soft material along with a backing of insulating sponge cloth. There are also quick connectors that are inner stoppers that are provided to control leaking when disconnected. The elastic straps of the machine allow you to wrap the machine effortlessly.
There are three elastic straps with different lengths to fit the body areas for customized use. You can apply cold compression on the shoulder, lumbar, ankles, elbows, and knees.
If you didn't purchase the entire system yet then it is compatible with other cold therapy machines- Vive and Coolman. I would say, this is a great choice of cold therapy machines in affordable price for the given features.
pros
Leak free use
Three elastic straps
Universal pad
Soft clothed pad
Secured hold
#8. Frozen Heat Therapy Unit for Hot and Cold Cryotherapy Treatment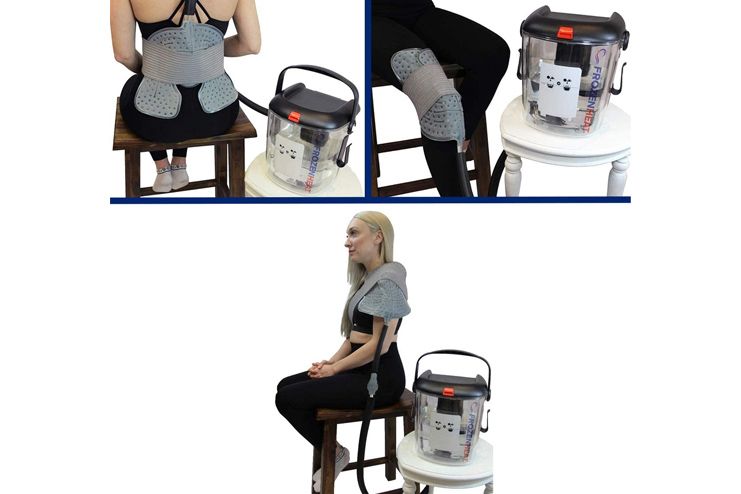 If you are looking for a cold therapy machine that fits all the joints then here is one. It gives you cold therapy for your knees, shoulders, back, and legs. And the machine allows pain relief treatment.
The machine is portable, lightweight which makes it easy for you to use. The unit of the system gives you improved circulation in order to encourage an improved speedy recovery. You can use the machine to release stiffness, relax muscles and muscle spasms as well.
You can use this cold therapy targeted relief. And sometimes, you may also need heat therapy like you need cold therapy. So, this is a dual therapy machine to utilize according to your requirements. It allows you to use it with a comfortable fit.
PROS
Heat and cold therapy
Allows for good fit
Lightweight machine
Improves cold circulation
How Long Should You Use a Cold Therapy Machine?
If you want to use a cold therapy machine for post-surgery healing then you can use it for 5-10 minutes for the first one week or less it. For mild cut or wounds, you can use for 5 minutes follow the same for 1-2 days.
Take away: If you are under recovery period post-surgery or injury then you need a cold therapy machine. Having cold therapy using a traditional method can cause discomfort with uneven cold circulation and you cannot adjust the temperature. So, always choose a cold therapy machine that gives you a soothing, healing cold therapy. The machine helps you get instant cold compression without delay. You can compare the products mentioned here and pick the best cold therapy machine from the list.