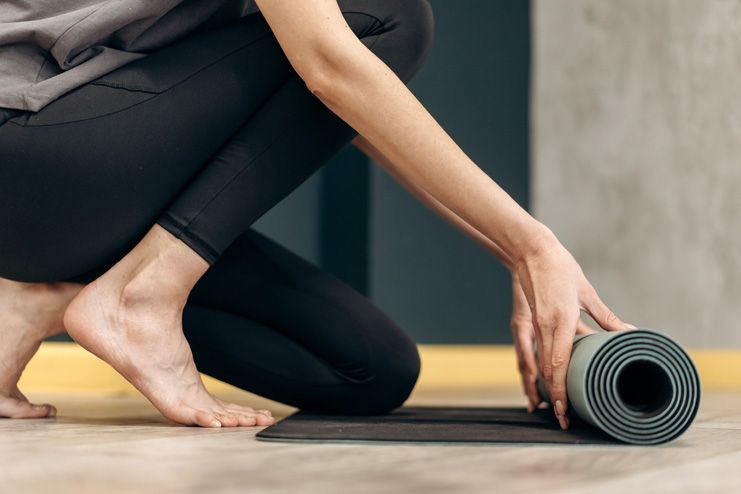 Is your regular Yoga mat of no use on your floor since you have carpet? No worries we got you. Since many of you have been working out or practicing yoga at homes, having carpet flooring would not be easy. Usually practicing on a carpet may let you have a good balance and therefore you need a yoga mat which is thicker in size than the regular ones.
Yoga is an art to many, it is more than that. Doing yoga at home at any time of the hour is comfortable. One cannot stop doing yoga because of a minor issue like carpet flooring. We believe there is a solution to everything. You might not have known much about yoga mats for carpets and that is why we, in this blog will cover it all.
CAN YOU DO YOGA ON A CARPET?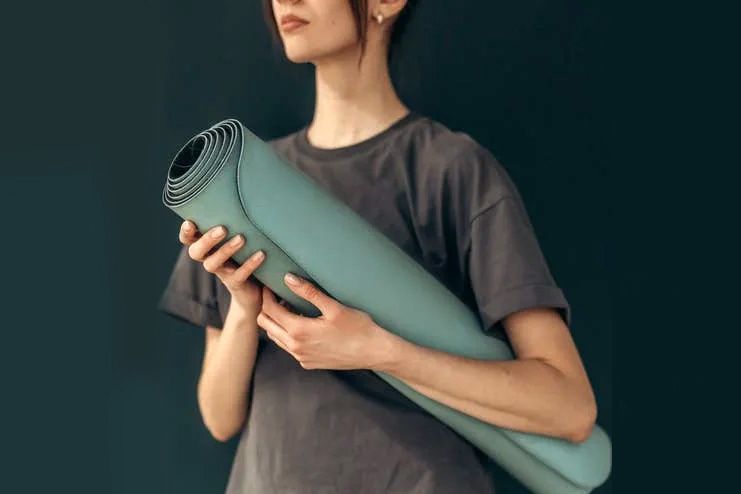 Yes yoga can be done on a carpet, there will be a need of few changes to be able to execute congruously. You might not be able to practise yoga on your regular yoga mat as they are thin and may not have enough traction which would result in injury to you while practicing yoga. Go for a yoga mat which is at least six mm thicker or more depending upon your carpet flooring. Make sure to not use too thick yoga mats as they can make it harder for you to balance. Always go for a type which has thermoplastic foam called TPE. They are known for their non-slip formulas.
Do You Need a Yoga Mat on Carpet?
Ideally, doing yoga on a mat is more preferable. There are few reasons for this. Yes you can practise yoga directly on the carpet floor but people are not able to have adequate balance they need, compared to what they could achieve on using a yoga mat. Many have complained and experienced the same. Also, if you are a beginner and practising on a carpet it should not have any folds while doing yoga. But it is always beneficial to practise on a yoga mat anytime. Having a firm grip is important while doing any yoga moves and doing it just over a carpet, not a great option honestly.
LIST OF BEST YOGA MATS FOR CARPETS
1. Jade Yoga harmony yoga mat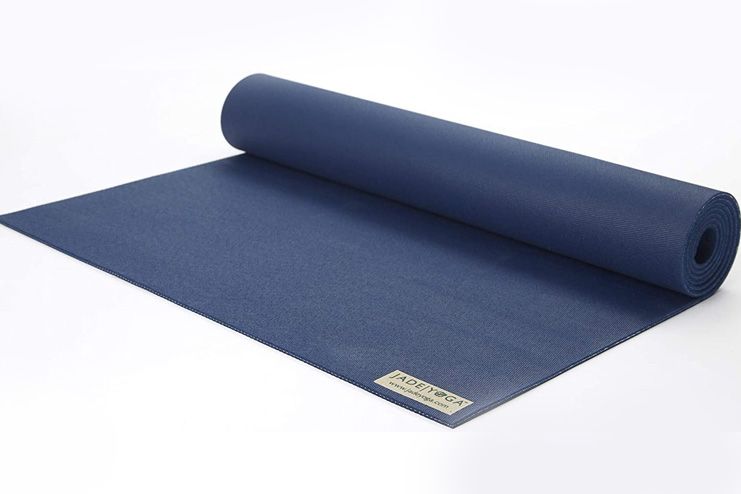 Jade Yoga is everything you need in a yoga mat be it their cool colors, incredible grip, great comfort, or made with sustainable materials, this mat has its own fan base. The use of natural rubber in it makes it have a stronger grip overall. These mats provide a superior level of traction.
JadeYoga mats are made with open-cell natural rubber, which provides optimum grip for long poses and vigorous practice. Natural rubber is the most sustainable and best-performing material for yoga mats. They are committed to giving back to the Earth with every product.
They say the Harmony is great for all types of yoga, including Hatha, Vinyasa, Hot, Bikram, Iyengar, and varied practices. This is our most popular mat. The Jade Yoga Harmony Mat, is 3/16" thick- providing cushion while still providing stability for standing poses. It is the perfect mat for every occasion, for any activity, and for any level!
PROS
Natural rubber
Provides grip
Made with sustainable resources
No pvc's
Variety of colors
CONS
May not be suitable in warm weather
2. Gaiam yoga mat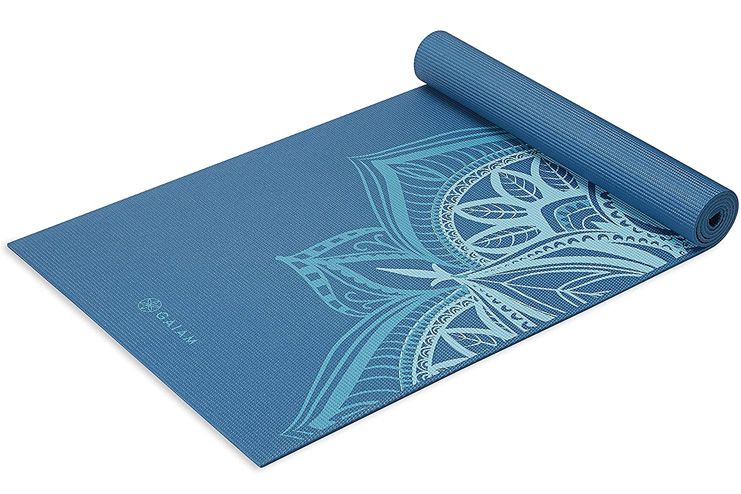 Gaiam yoga mat is great for all types of fitness. It is extra thick which is a plus point to have on carpets. It is a non-slip yoga mat that is moisture-resistant. This 6mm yoga mat for women and men is extra thick for added cushioning and support for both standing yoga poses and a meditation mat. The non-slip mat is ideal for most yoga sessions. This anti-slip yoga mat includes a sticky non-slip gripping surface so you can pose with confidence and maintain balance without the worry of slipping or injuring yourself. It is ideal for all kinds of poses and stretches.
pros
Lightweight
Ideal for all yoga poses
Extra thick
Good grip
Durable
Non sticky
3.Heathyoga eco-friendly Yoga mat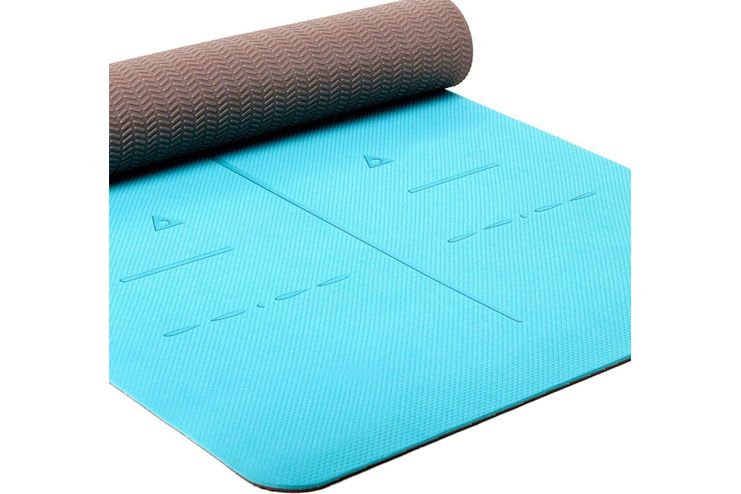 Heathyoga eco-friendly yoga mat is made up of TPE. TPE is the latest technological improvement to traditional yoga mats. It has no latex or PVC, or any heavy metal. TPE material is non-slip, odorless and excellent in cushioning. They are truly eco-friendly and healthy yoga mats. Which PVC ones aren't?
The alignment lines present on the mat help you to focus and adjust your hands and feet to the accurate position, and keep your body in proper alignment. It is also slip-resistant and has an extra middle-mesh layer that also makes it tear-resistant. Now, isn't that great to hear right? The 6mm in thickness offers the most comfortable experience for all types of yoga.The double-layer structure design provides optimal grip, excellent cushioning and double-sided non-slip texture, best suitable to practice many forms of Yoga.
PROS
Eco friendly
PVC & latex free
SGS certified TPE material
Extra thickness
Durable
Anti tear
Slip resistant
CONS
Expensive
Has a chemical smell
4.Plyopic all in one yoga mat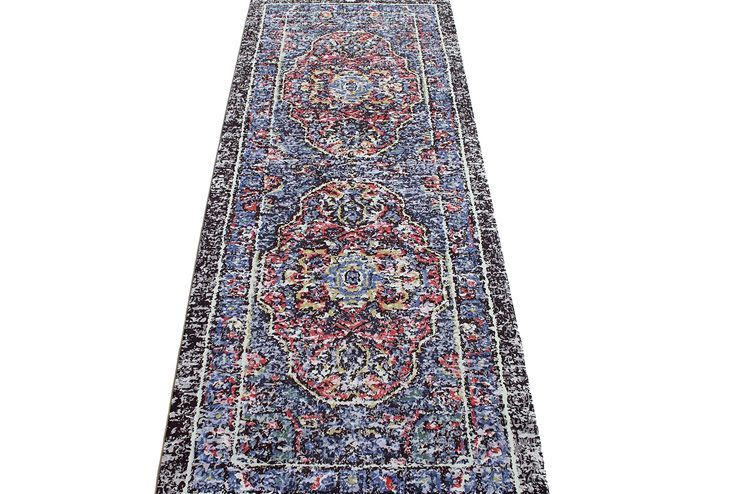 Plyopic all-in-one yoga mat- as the name says it is suitable for types of yoga sessions. From moist hands to hot yoga sweats, feel strong and confident in your poses and smooth in your transitions. It helps you to Improve your balance and stability in any pose with a dense non-slip 3.5mm rubber base that firmly grips the floor.
It is an environmentally conscious product with SGS-certified materials. This mat will definitely be soft against your skin and better for your health. This is specially designed for Yoga and Pilates along with Ashtanga, Vinyasa Flow, Power, Hatha, Yin, Iyengar, Kundalini, Bikram, and Hot Yoga. The best part is the materials used are all non-toxic and non-allergic.
PROS
Eco friendly materials
Suitable in all weather
Durable
SGS certified
Variety of designs
Non toxic
Non allergic
CONS
Could have been more thick
5.Liforme eco- friendly yoga mat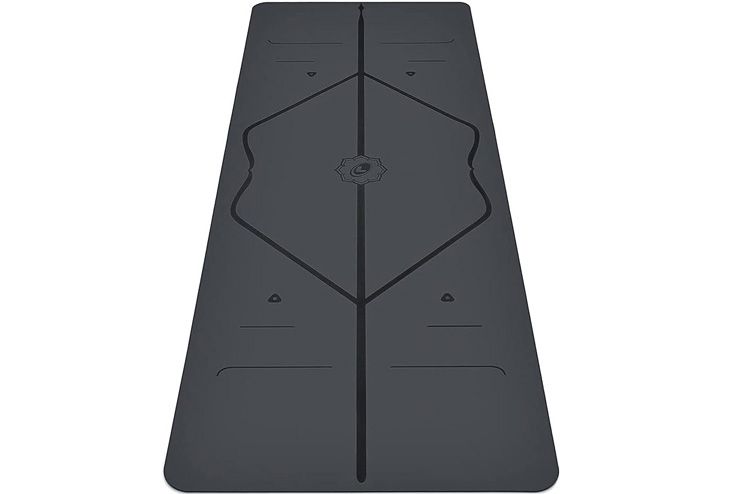 Liforme eco-friendly yoga mat is a Premium yoga mat designed to be the most innovative & comfortable mat for all your yoga experiences. It is one of the best products when it comes to grip. It speaks "GripForMe" material that gives you an unparalleled warrior-like grip whilst practicing. Because of its best grip quality it guides and prevents you from being injured.
Liforme incorporates the most engineered eco-polyurethane and rubber specialty for the body. These mats are PVC free, biodegradable and made using high-quality non-toxic materials that keep the mat clean and hygienic. It is great for anyone of any shape and body size
PROS
Revolutionary grip
Great alignment and balance
Durable
Non allergic
Made for any shape and body size
Non toxic
6.IUGa pro non slip yoga mat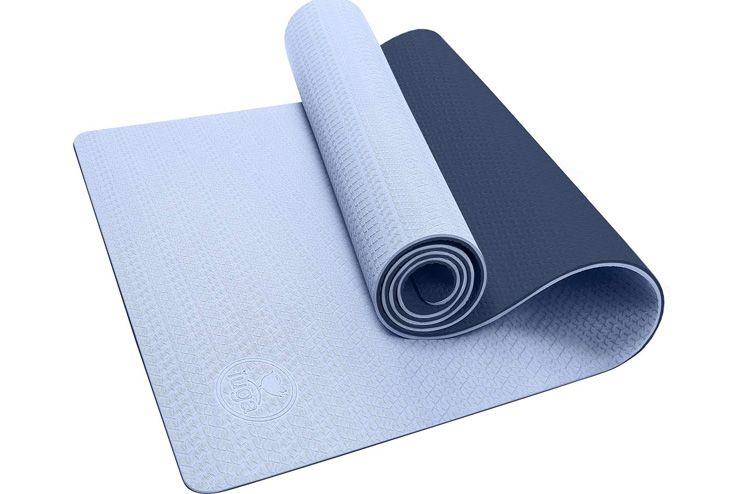 Iuga pro non slip is made of SGS certified TPE material, No latex, no PVC. It has a proper thickness so it gives optimal protection to your joints with proper balance and grips This Mat has double-sided non-slip surfaces so you can perform any movement with confidence. It has an exclusively designed "Bone" pattern underneath that stops the mat from sliding on the floor. The subtly textured surface prevents hands and feet from slipping out of position so you can hold poses no matter how vigorous your practice gets. This Natural, eco-friendly TPE mat does not have that strong lingering smell like other mats have.It also comes with a yoga bag. It does not flake, the stretch falls apart.
PROS
Eco- friendly
No odour
SGS certified
Strong cushioning
Comes with mat bag
Durable
Suitable in all seasons
7.Clever Yoga non slip mat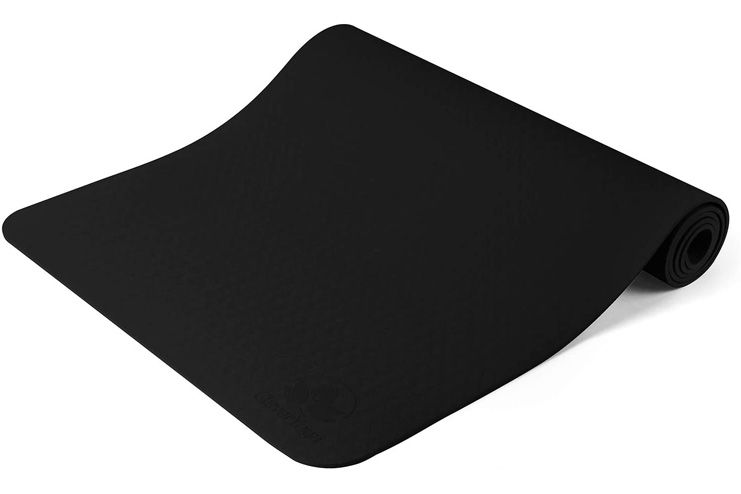 This clever yoga mat is designed for maximum comfort for you during your yoga practice without compromising support and stability. It is made up of TPE material with 6mm of thickness which is best for carpets. It is larger than any other mat which makes it suitable for any height person to use, made for maximum comfort.
It has a double-sided reversible design that gives you traction with the floor while giving your hands and feet a grippy surface for your yoga. Designed using anti-tear technology the mat won't tear, shred or stretch with use. The closed cell surface locks out dirt and moisture making it easy to wipe clean with soap and water after practice.
pros
Extra thick
Dirt proof
Slip resistant
Eco friendly
Non toxic
Travel friendly
PVC free
CONS
If not taken care may get folds or curl up
8.Yoga design lab infinity yoga mat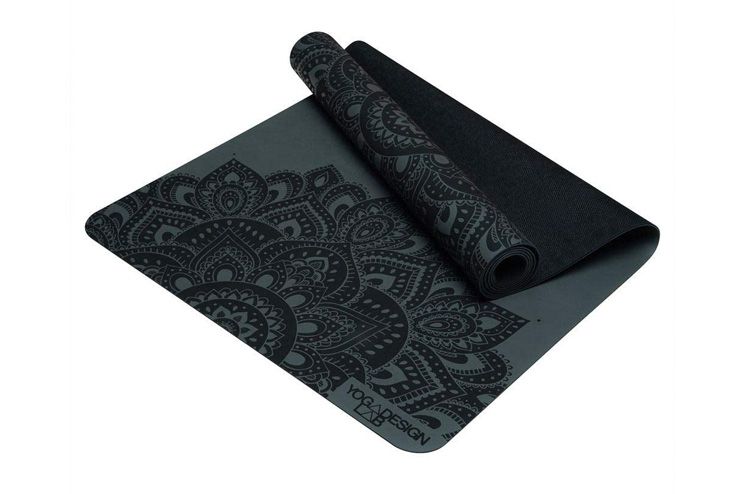 Yoga design lab infinity mat offers a non-slip texture due to which it is sweat and dirt-proof and offers dry and wet grip during your yoga. The beautiful laser-cut mandala print helps to align your poses. Blending high-performance luxury with top studio-quality, this anti-slip mat pairs function, and comfort.
It has a rubber mat base and water based inks for tonal designs. Perfect for all fitness and yoga styles with an excellent foundation for poses and just the right amount of cushion. The carrying strap is included with it. It has great durability and natural rubber makes it much more sustainable
PROS
Good thickness
Non slip
Great design
Durable
Sustainable
Right amount of cushioning
Carrying strap included
CONS
May not be suitable during warm yoga sessions
9.Manduka ekolite Yoga mat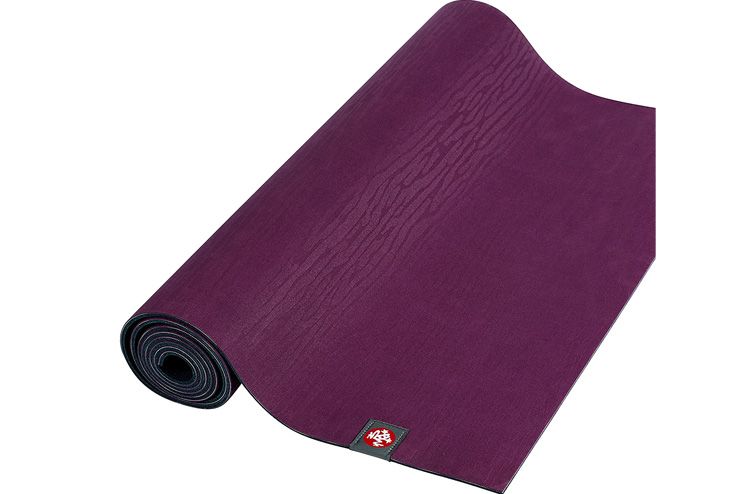 Manduka ekolite yoga mat is constructed of natural tree rubber. This yoga mat provides a naturally grippy surface, which makes it non toxic and biodegradable. It is available in large and extra large sizes. The quality of the mat is great and it has no allergic material that may cause allergy to your body
It is tear proof so you can practice any type of yoga on it. The cushioning of the carpet makes it great use on carpet and the natural material has a better grip than other materials
PROS
It has proper thickness
Eco friendly
Non toxic
Non allergic
Biodegradable
Tear proof
Durable
CONS
He rubber smell can be irritating
10.YAWHO yoga mat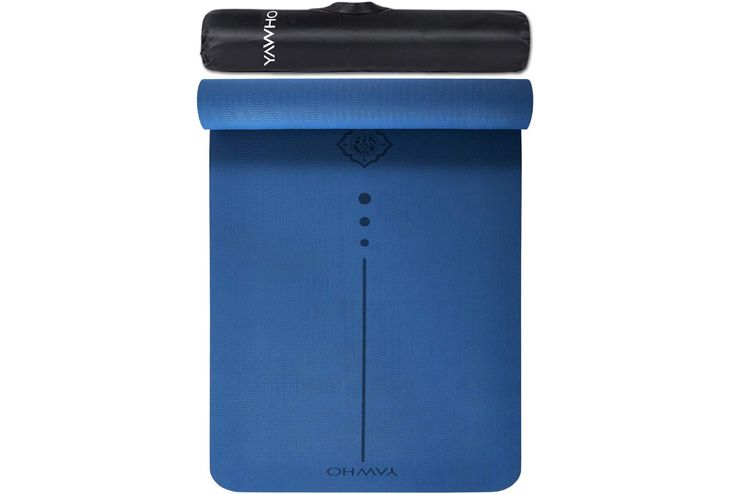 The YAWHO yoga mat is made of TPE material which makes it eco-friendly, non-slip, odorless, and excellent in cushioning. It has no latex or PVC, non-toxic or any harmful chemicals. These mats are SGS certified. These are truly eco-friendly, Healthy, and recyclable. The mat allows you to keep your balance during any yoga sessions. It's Moisture resistant Technology makes the mat to be easily washed with soap and water. It has anti-tear properties and perfect cushioning which gives comfort to your knees and joints while performing any yoga. They also provide one year of warranty
PROS
Eco friendly
No latex and PVC
Biodegradable
Perfect cushioning
Non toxic
Moisture resistant
Ani-tear
Comforting
HOW TO STABILIZE YOGA MAT ON CARPET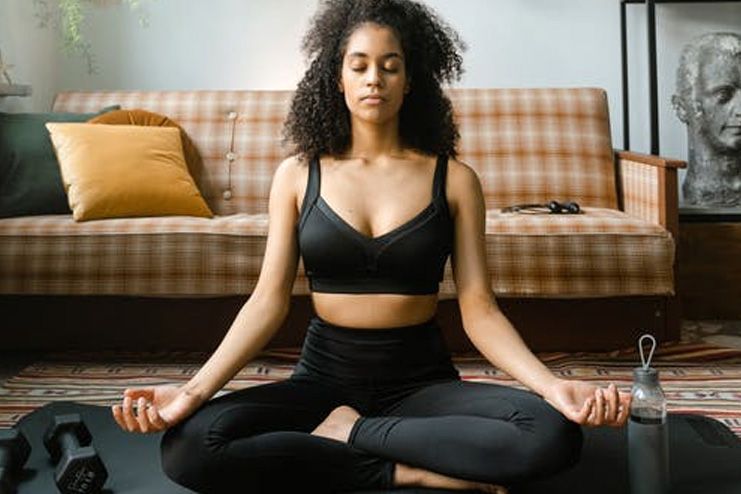 The key to make your yoga mat stable on a carpeted floor is going for a thicker mat of about six mm then your regular one which is 3-4 mm. The extra added padding or cushioning will also be good for your health if you suffer from joint pain. Always go for a type which has thermoplastic foam called TPE. They are known for their non-slip formulas. They are a bit expensive but are worth it. Common pvc ones are also not great for the environment.
Make sure to choose one with upper rubber surface and bottom on texture as that texture will help to gain grip on the carpeted floor, and you will be able to do yoga maintaining the balance and stability on the ground.
HOW TO CHOOSE THE BEST YOGA MAT FOR CARPET?
The yoga mat for carpet is different from your standard yoga mat. Here are some factors that will help you to choose the right yoga mat for your carpeted floor.
Texture– The texture means the outer layer of the mat. Texture is one of the important factors when considering buying a yoga mat for carpets. The texture should be soft and nonslippery at the same time. It should have a strong grip so that it can sustain on the carpet well.
Design & Form – The yoga mat on the carpet can be broader than the standard one. The form of the yoga mat should be lightweight and one must be able to balance on it. People have different designs on carpets in their houses so choose something which would also go with it.
Materials– The material should be durable. It should be able to catch the grip onto carpet so one can go for PVC material, of course, there are some quality factors which you need to choose and decide. Apart from that as said earlier, go for a type which has thermoplastic foam called TPE. They are known for their non-slip formulas.
Non allergic– yoga mats can be allergic and toxic to you and your skin because of the material and the grip. Most people tend to be allergic to Yoga mats and if used along with carpets it might just add more to it. Choose the ones which are non allergic or non toxic.
CONCLUSION
Yoga mats for carpets have been an option some aren't aware about. They do serve not just physical but also mental health. Hope this article has helped you to know more about yoga mats for carpets, and to choose one according to your needs.