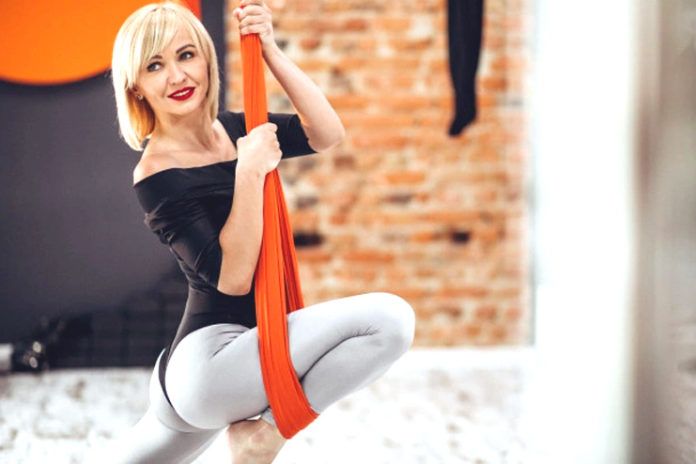 Yoga for everybody is different, for some it brings calmness, for some it is about flexing and toning, and to some, it brings peace of mind and many more. Many of you might want to swap from your regular exercising to a new yoga technique. Change is good and yoga surely will help to listen to our bodies in addition.

Everyone is struggling today and practicing yoga does help in a way. Yoga swings are great fitness tools. They actually help you to connect to your body and bring you everything that you ever wanted to experience.
You can practice so many moves with your body entitlement horizontal or vertical, there is just so much fun and dedication involved to it as well. Your body can even heal if you have been experiencing pain in your back or any area of your body. Therefore bringing you some best yoga swings that you would love to check out.
What is a Yoga Swing?
A yoga swing is used as an aerial way for supporting your body helping it to freely suspend in the air. It is also known as a yoga trapeze. It is great to practice yoga which was not achievable for you doing it on the ground as yoga swings give you more freedom to practice while you are flying with the necessary support
Yoga swing is a relatively new trend but was practiced since the 2000s. it is full-body workout equipment especially good for healing back issues and making your spine strong and body flexible. There are various kinds of yoga practices one can comprehend too. One such is aerial yoga and it has many health, mental, and stress managing benefits.
By using yoga swing as a form of therapy you can appease back issues and increase blood circulation to the brain. By looking at pictures you might feel it takes a lot of space but no it can be easily hung on to anything and in the covid time you can practice yoga from your homes too. Of Course, if you are a beginner you can take help from a trainer to assist you.
10 Best Yoga Swings
#1. Yogabody Yoga trapeze pro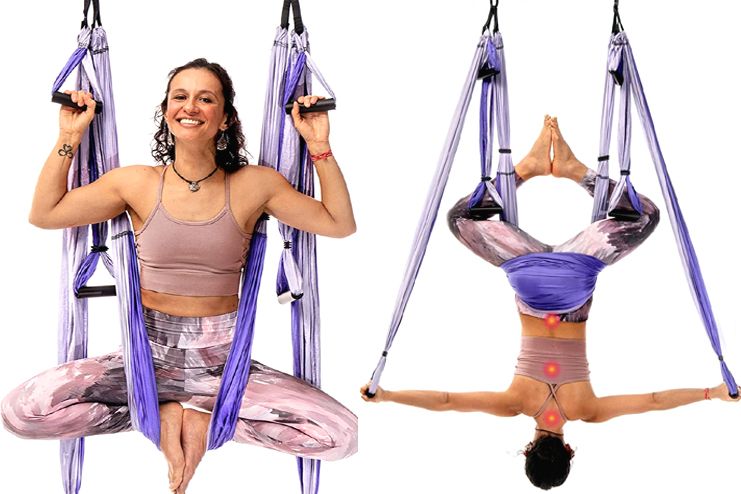 Yogabody yoga Trapeze pro swing is very easy to set up and it will change your backbends forever. It gives less pain and more flexibility with a balanced upper body and core strength. It is the most durable as it is made from the same material as a parachute- with quad-stitched seams and pure steel hooks. This Yoga Trapeze can hold a weight of up to 600 pounds.
It helps to strengthen the back muscle and also improve your grip strength with proper alignment through functional strength training which includes pulling motions. When you practice inverted backbends on this Yoga Trapeze, you can hold yoga backbend poses for a much longer duration without feeling tired, which allows you to make big mobility gains especially in the mid, upper back, and chest. It has rubber handles which make the holding surface smooth and not cause roughness to your hands
PROS
Durable Fabric
Affordable
Great for beginners and experienced both
Relieves back pain
Increases flexibility and strength
Easy setup
Comes with instruction guides
Rubber gripping makes it easier to hold
Fun to use
CONS
Does not come with a Stand
Material may not stretch
#2. UpcircleSeven Aerial Yoga Swing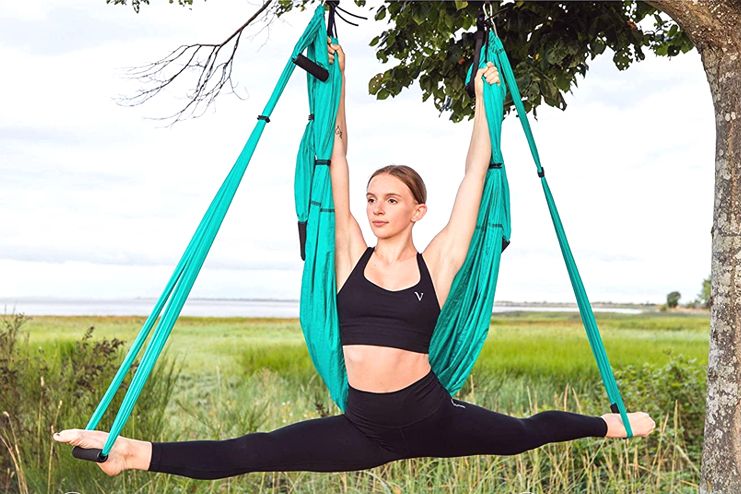 Upcircle seven aerial yoga swings come with a studio-like quality of swing, it will help you in back pain-relieving. It has been crafted from high-quality parachute fabric. It is made up of 6 soft padded thick handles. This yoga swing will definitely give you the feeling of comfort and luxury.
This yoga swing is specially made for spinal decompression for relieving back pain and backbends with safety. Whether you use it for inversion therapy for spinal decompression or building upper body strength, it will surely invigorate your back & health. It comes with a guide to mounting it over the ceiling. This swing can be used by kids too.
PROS
Larger padded foam handles up to 25%
Studio like quality
Helps in back pain relief
Great for building upper body strength
Various color options
Can be used by kids too
Can take up to 550 lbs weight
#3. Wellsem aerial yoga hammock
Wellsem ensures that you have fun practicing yoga and dance. The aerial yoga hammock is equipment that allows you to depend on your postures, create a fuller range of motion, deepen awareness, and in many cases heal their body. Wellsem Yoga hammock is a soft material swing, it helps in supporting the hips for forward bends and backbends. Yoga postures that some of you find difficult to do on the ground, such as the reverse post, maybe easier in mid-air using this hammock, and the hammock movement makes it fun to do so.
This yoga hammock has suspenders shaped in 'U' from two points, which helps the body to rest in and fly and practice any moves they prefer easily. It is made from good quality material, the material that is generally used on stages of circus and dance theatres.
PROS
Offers safety hanging
Spacious
Fun to practice
Relaxing
High quality fabric
Easy to work on
Heals the body
Feels comfortable to practice any yoga
CONS
All accessories are not included in the same
#4. CO-Z Aerial Yoga Swing Set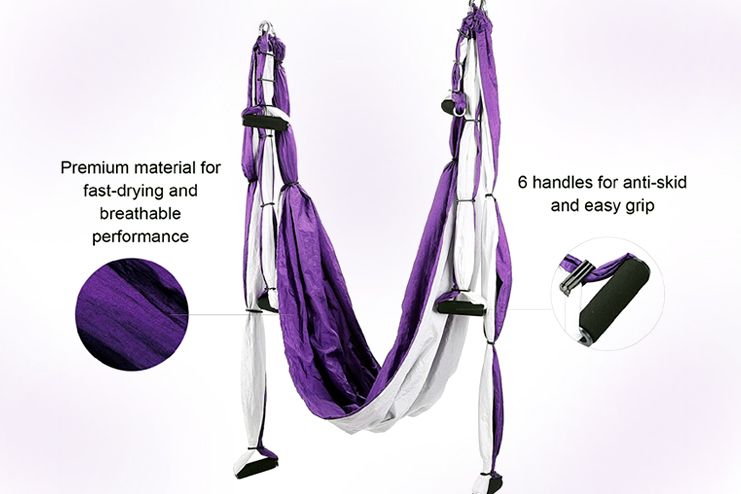 CO-Z aerial swing, you can do full-body exercise anytime anywhere you want. It is made up of polyester taffeta. You can practice much yoga poses such as backbends, splits, inversions, which will also help to deepen your body awareness and balance, and relieve your back and joint pain. Doing the splits, stretches the hamstrings and opens your hip flexors, and your body feels relaxed and calm.
The yoga swing is durable and has a soft nylon fabric. By hanging freely upside down from your hips, the swing also can be used as a spinal traction device. It helps to reverse gravity compression and allow your spine to lengthen and release stress. It also takes up to 40lbs of weight. This swing has many health benefits attached to it.
PROS
Smooth and durable nylon fabric
High strength carabiners
Comfortable spongy holders
Flexible enough
Comes with a pouch
Easy to set up
Instant traction to spine
CONS
Mounting accessories are not included
#5. Odse aerial Flying yoga swing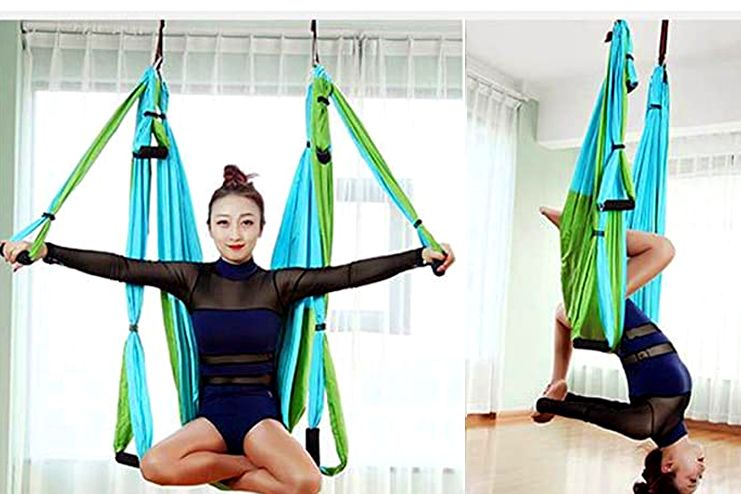 Odse Aerial flying yoga swing hammock is made up of studio quality silk nylon fabric. The Blue & green color anti-gravity yoga hanging kit is powerful enough to bear the weight up to 600 lbs. The material in the center of the swing is a double layer for maximum comfort.
This is a large wide anti-gravity hammock. Your aerial yoga inversions can be made more comforting because of the foam handles. You can fit this on any height up to 10 ft and it is quite wide. It comes with 6 foam padded handles to add comfort and security. Definitely help to Relieve back pain and improve your backbends. Inversion therapy is great for your back, inverted backbends on yoga swing, you can hold yoga backbend poses much longer without fatigue as the swing is made very comfortable for yoga needs
PROS
Can hold weight up to 600 lbs
Durable
High quality fabric
Added layers for extra comfort
One can hang it on Height upto 10ft
Back pain relief
Sturdy swing
#6. Melktem aerial yoga swing trapeze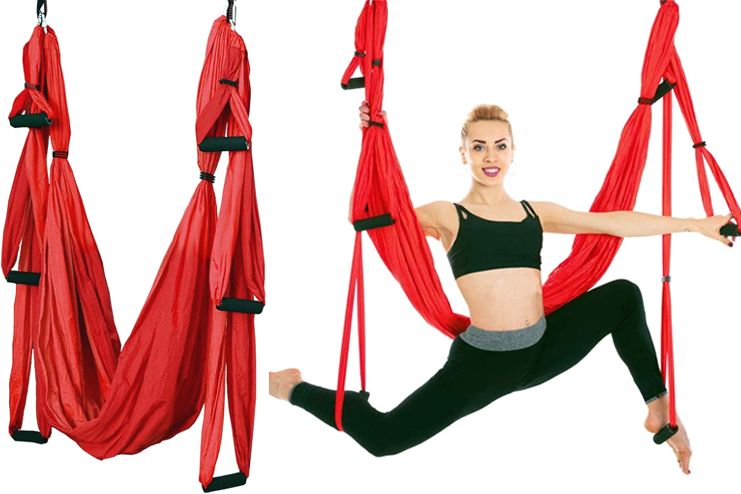 Melktem Aerial yoga swing will provide inversion relief to your back pain and joints while strengthening your muscles and core body. It focuses on Opening up your back, hips, chest, and shoulders. Use it to increase strength, improve balance, open and enhance your yoga abilities while crafting that yoga body that you want with this inversion trapeze.
It is suitable for anyone and every one, one swing and the whole family can be benefited by it. It can hold up to 600 pounds. It is made from the material the parachute is made of and is very durable. When you practice inverted backbends on this Yoga Trapeze, you can hold yoga backbend poses much longer without fatigue, allowing you to make big mobility gains particularly in the mid, chest, and upper back where most people get stuck in their yoga practice. Practice deep, passive backbends, splits, and hip openers in ways otherwise impossible to do on the mat.
PROS
Easy setup
Sturdy and durable
High quality material
Strengthen core area of body
Comfortable to practice yoga on
Back pain relief
CONS
The material is great but the stitching seems bad.
#7. Blue crescent Yoga swing hammock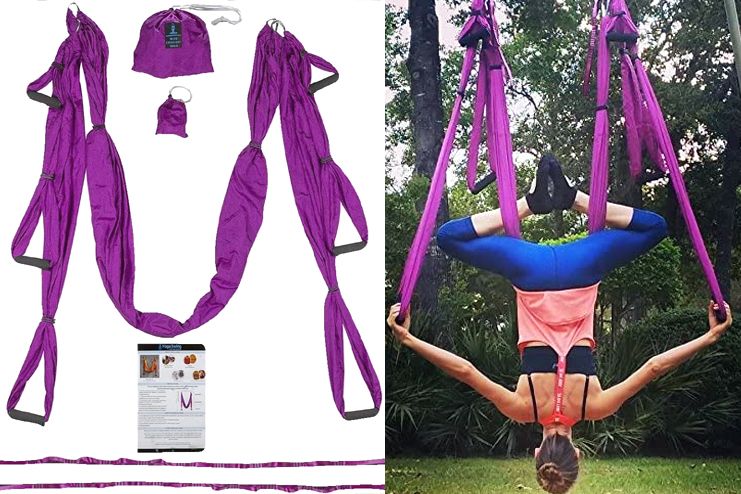 Take your yoga to new heights with a Blue crescent Yoga swing hammock. The yoga swing sets are made with anti-static, quick-drying, and extra-strength fabric like parachute nylon silk so it's easy to care for and can handle up to 550 lbs. It is also equipped with 6 handles that are made extra wide. You will feel comfortable doing inversions and difficult poses.
 The Blue Crescent Yoga's aerial yoga hammock can help you release tension in the neck, back, and spine, inversions, Pilates, yoga, acro yoga, and so much more to enhance hand strength by inversion therapy. The yoga trapeze is versatile and can be used as a workout tool or just as a relaxing place to rest.
PROS
Good quality material
Dries quickly
Come with all accessories
Hold weight up to 550lbs
Helps release tension from various parts of body
Durable
CONS
The material is not stretchy enough
#8. Aerial Trapeze yoga swing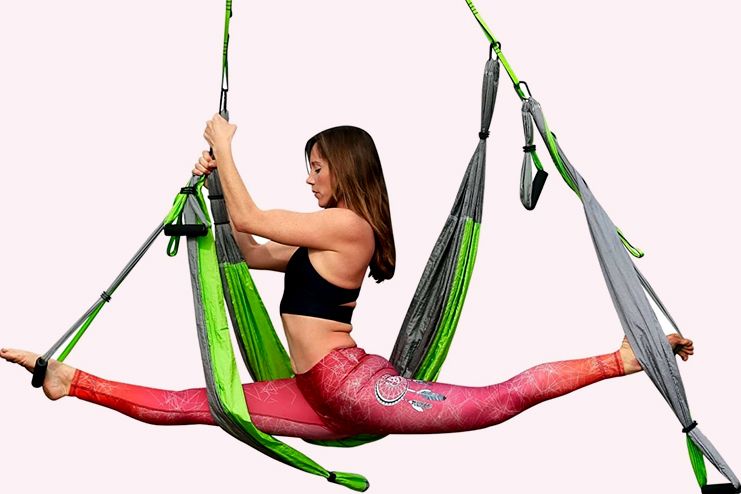 Aerial Trapeze Yoga swing gives instant back pain relief in 7 minutes with a yoga inversion swing therapy. It also allows inversions and exercise from home or outdoors. Aerial yoga swing will provide inversion relief to your back pain and joints while strengthening your body. It also opens up your back, hips, chest, and shoulders with much more benefits to increase strength, improve balance, open and enhance your yoga abilities while crafting that yoga body that you want with this inversion trapeze. It is also space-saving gym equipment, which actually allows more mobility than an inversion table, and the benefits of any workout equipment that packs into a pouch that is less than a 12-inch box. It is durable and gives comfort and creates a relaxing environment
PROS
Provides relief on major parts of your body
Reduces fatigue
Strengthens body muscles
Improves balance
Fits in 12 inch pouch
Durable
Easy to handle
CONS
Material of handles need improvement
#9. Yoga swing Pro premium aerial hammock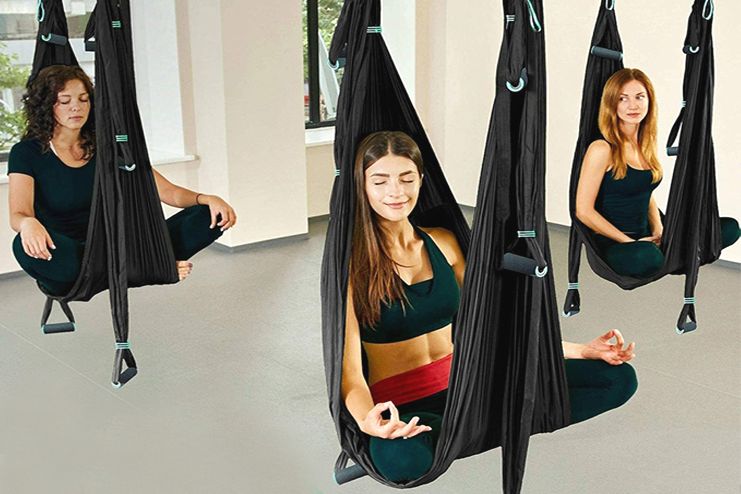 Yoga Swing Pro is carefully designed with premium grade breathable nylon parachute fabric with strengthened extension straps and stainless steel locking Carabiners to give you a comfortable stretch for yoga inversion. It comes with triple stitching which adds safety and holds up to 500lbs weight
Time to Block your negative thoughts, get your natural physique back with this yoga swing hammock. Perfect choice for backbends, stretching, Pilates, yoga, Acro yoga, and a lot more. Build up your natural flexibility, fitness, and sense of balance, this multi-purpose yoga hammock swing can be used for upside yoga therapy, low impact workouts and can also be used as a hammock to relax and study your favorite novels. Breathable and stretchable fabric and comes with Multi-loop strong daisy chains
PROS
High grade parachute material
Holds upto 500 lbs weight
Builds flexibility
Breathable and stretchable fabric
Durable
All safety measures taken care and is curated
#10. Sotech Anti gravity hammock aerial swing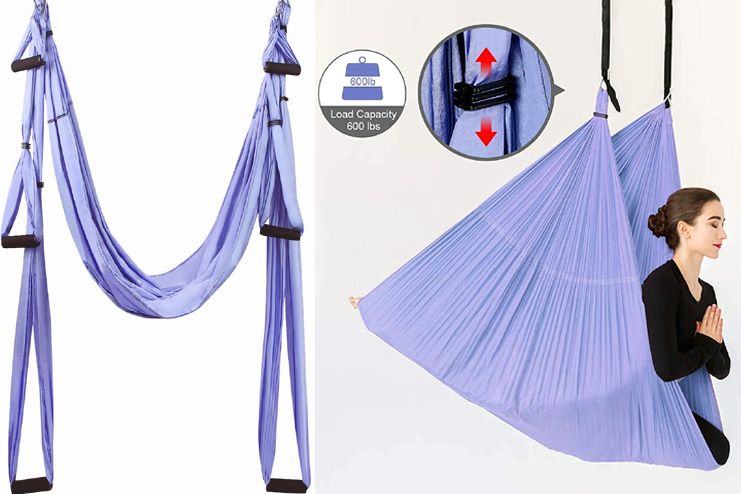 Sotech Anti gravity hammock aerial swing is made up of the best quality with 3 level stitching so no fear of falling at all. It is made up of durable and ultra-soft nylon taffeta which is lined with double layers load-bearing up to 600 lb. The best part is all the aerial silks and materials are nontoxic – no lead.
This wing is built with Large & comfortable thick padded foam handles, and surely going to help you release the pain and improve flexibility, strength, and balance. It also comes with a one-year warranty. It is said to add that extra depth to every stretch with strong and supportive materials that will allow you to bend further and bring you confidence. Perfect for a beginner as well as it ensures all safety guides.
PROS
High quality material
Adjustable
Comes with warranty
Improves Strength and flexibility
Triple stitched
Comfortable and thick over all
CONS
Mount ceiling anchors are not provided
#11. Chilly aerial yoga swing set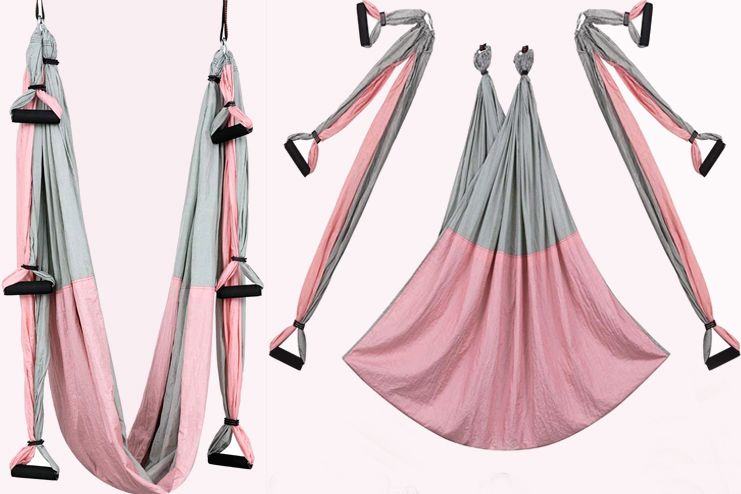 Chilly aerial yoga swing is made of high strength and high quality parachute fabric and polyester taffeta, the flying yoga hammock is heavy duty and durable and holds its max capacity up to 450 lb. It is also large & comfortable, made of thick padded foam handles. A very spacious triple stitched swing seat helps in pushing the boundaries of comfort during any aerial yoga swing Exercise.
It is good and strong and the silk gathers very well to pull and practice yoga for the upper body. It is a versatile tool and sure to invigorate your health. They also provide quality assurance.
PROS
High quality fabric
It is durable
Easy setup guide
Holds up to 450 lbs of load
Versatile tool
Great for beginners
Spacious enough
Triple stitched fabric
CONS
Does not come with mounting accessories
Benefits of Yoga Swing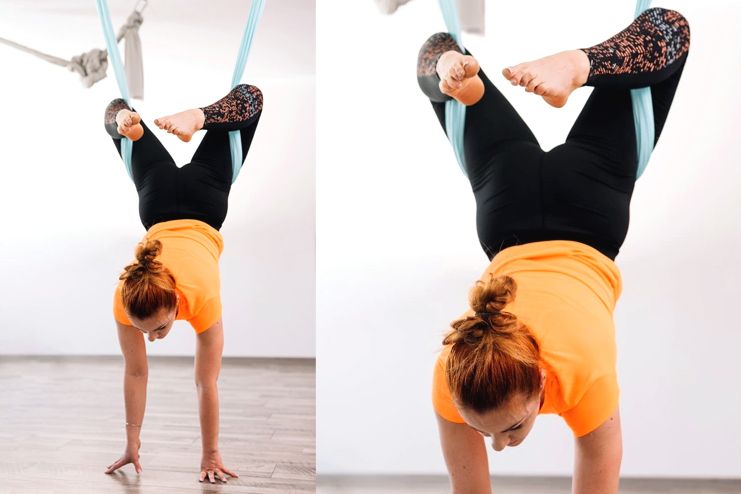 1. Flexibility and Strength
The movements which occur due to yoga swings will make your body flexible and it will strengthen your core. Most of the time it will be beneficial to relieve back pain. You can easily practice tough abdominal workouts and backbends with this.
2. Muscle development
As you do lots of abdominal muscle movements or practice workouts related to the abdomen the muscle starts developing which is good for your health and feels energetic all day long
3. Anti gravity yoga
Since you use a swing instead of doing yoga on a floor it can be termed as anti-gravity yoga which benefits both normal and inversion therapy. Anti-gravity yoga will help to instantly develop your mood.
4. Weak to Stronger body parts
On a yoga swing, you will practice a lot of upside down yoga which can help you to easily strengthen your weak muscles and reduce back and neck pains surely. This helps your weak parts to become stronger by the means of yoga
5. Improves your mood
Practicing yoga on a swing is fun once you let go of the fear and when something is fun that instantly lifts your mood. Because you need some fun in your life, don't you? Yoga helps in spinal decompression and stretches to lift your mood and improve your daily activity
6. Improves blood circulation
As you practice yoga on a swing there are lots of movements that takes place with each exercise or yoga and due to that your blood flow increases and that improves it
7. Relaxing
One just does not use it to exercise or yoga but also to relax and rest on the swing, you can do many fun activities like flying, sleeping, and yoga that will help to relax your body and release tension, it helps to be stress free.
How to Choose the Best Yoga Swing – Buying Guide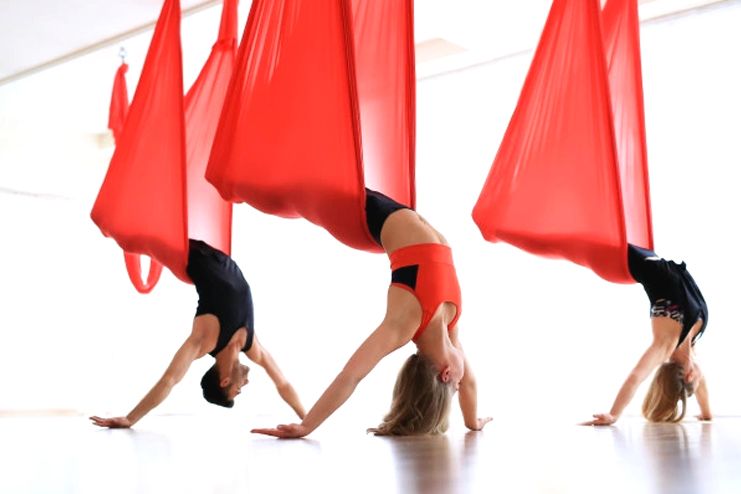 You know all about yoga swings now, but it is a shame if you do not know how to choose the best yoga swing for yourself, so worry not we will help you to choose that
Durability- Always check for how durable the equipment is before buying, by seeing the material, daisy chains, and carabiners. The best one should come with a lock and adjustable settings
Size check- Yoga swing hammocks can vary in size, there are larger and smaller ones both. Best is to choose one with adjustable heights so you can adjust the way you like and can be used by anyone
Capacity- Checking for the weight a yoga swing holds is necessary, most of them holds 300lbs or more than that, the handles sometimes may not be able to hold that much weight so choose wisely. Also if you have a good warranty you can always replace it
Seat size – A good yoga swing is when it can hold your physique correctly. So check if you can fit in it properly and that it is comfortable enough to do movements on
Portability- Most yoga swings can fold and stored in a storage bag that can fit in your backpack or handbag. So see that if you travel often, prefer doing aerial and yoga outdoor you can anytime remove and keep or store it safely
Warranty- Although it can be a fuss and heartbreaking to see our yoga swing breaking or tearing off it can always be replaced and you can get a new one if it has a warranty. Usually, the swings would not break as they are durable enough but the handles or holders and all might tend to. So check for how many years of warranty they provide before buying.
Conclusion
Yoga swings are best to help your body to relax and keep it healthy while doing yoga. It will help you to strengthen your muscles and improve the flexibility of your body. So it all depends on the Yoga swing you choose so ensure you choose one according to your needs. That will make your workout fun and create a calming or stress-free environment for you.