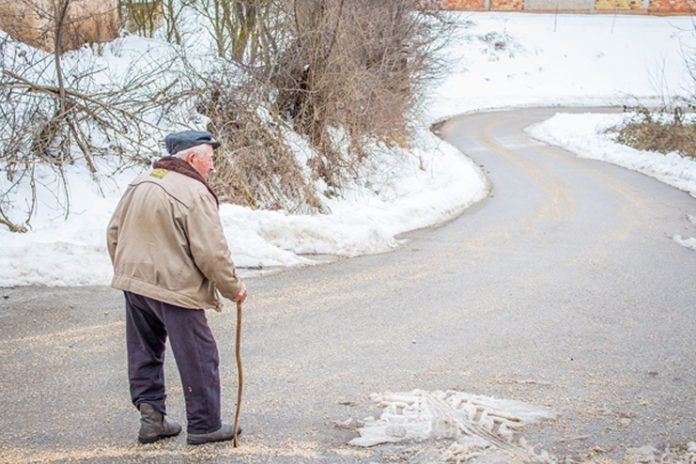 With increasing age, your body experiences biological changes making the bones and muscles weaker. This will in turn affect your balance and reduce your stamina to walk for longer distances. Buying age-appropriate shoes can help a great deal in preventing any injuries or falls. Wearing shoes made for seniors will also help them with issues like arthritis, sore feet, and walking difficulty, etc.
While normal shoes with great support may also suffice, it is always a great idea to choose shoes made specifically to prevent falls. You can easily find some of the best shoes online if you know what features to look for while buying touch shoes. To cut down your hassle, we have made a list of some of the best shoes for the elderly to prevent falls. Whether you have balance problems or arthritis that is keeping you from walking comfortably these are the shoes you must buy to make your life easier.
What to Look for While Buying Shoes?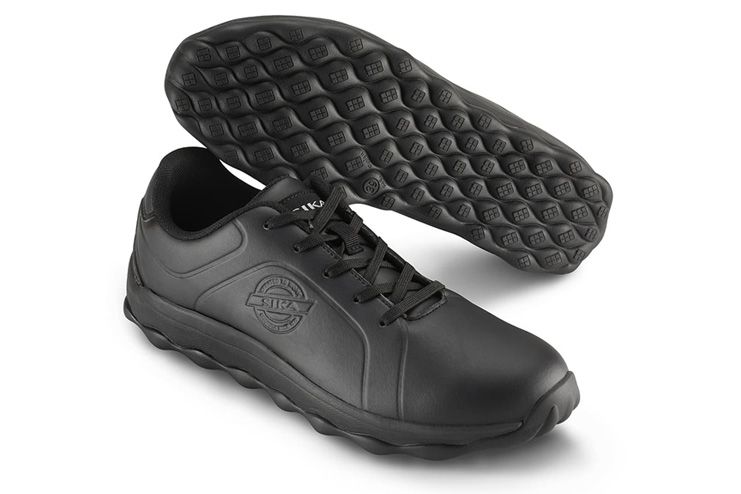 Before buying shoes for the elderly, look for these things to ensure a comfortable and safe experience for them.
Non-skid sole for a better grip that prevents fall. Even on a wet surface, the soles shouldn't slip and have a better hold that ensures safety
Opt for shoes without laces. An easy open and close fastener probably with velcro is great for seniors as it does not require bending down for tying the laces as well as reduces chances of tripping if the lace becomes undone.
Comfortable and breathable shoe material that keeps the foot nicely in place and isn't too hard to walk in.
Support for the ankles with a high back will be a great feature to look for.
Look for shoes without heels. Wearing heels can increase the chances of twisted ankles.
Padded and soft soles are not just comfortable but offer support against friction or blisters. It will also provide comfort for walking and ortho support.
Best Shoes for Elderly to Prevent Falls
1. Merrell Men's Encore Gust Slip-On Shoes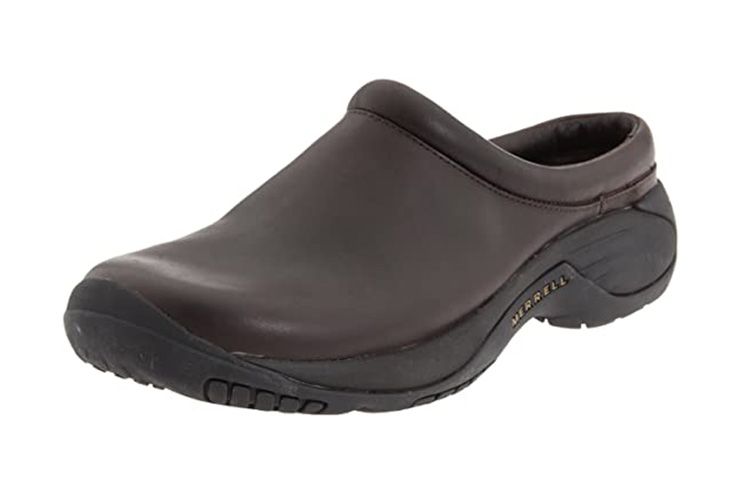 Starting the list with one of the best shoes for the elderly to prevent falls is this Merrell men's slip-on shoes that are both comfortable and durable. It is a shoe perfect for day and nightwear with the support that can make walking super smooth and yet, safe against fall. With higher quality materials, these shoes are also easy to put on with a simple slip-on like a clog preventing the need to bend down constantly. Easily one of the best shoes for aging feet, they have better traction and grip than many other shoes of the same range.
The performance and quality rating of the shoe is high considering it lasts a good time without compromising on safety. The mesh liners make wearing smooth and comfortably airy. With soles made for comfort and shock absorption, it will prove beneficial to arthritis and sore feet users. Give this one a try if you're looking for some smart shoes to wear over casuals as well as something appropriate for a formal night.
PROS
Comfortable and soft soles
Fall resistant
Slip-on makes wearing easy
Extra support for all-day wear
Provide decent stability
Air cushion heels for shock absorption
Suitable for day and nightwear
Arch support
2. Klogs USA Women's Carolina Clog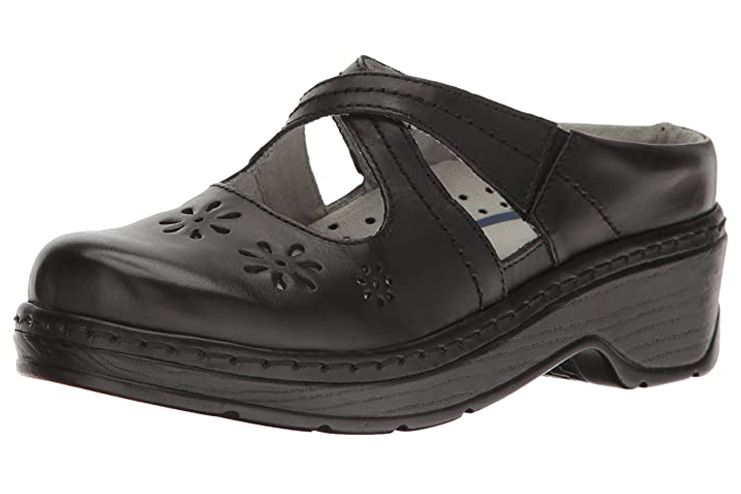 To find shoes for the elderly to prevent falls it is important that the shoe fits comfortably and has room for the shape of your feet. Especially for wider feet and feet with bunions, a show that has a wider front will benefit to a great extent. These Klogs USA women Carolina clogs are perfect shoes designed for such needs.
With a structure that is sturdy and roomier for feet, it will be a perfect fit for bunion feet and the elderly who want a comfortable fit. The leather material makes for a sleek design that doesn't make the front look bulky or disproportionate to the clog. With an airy style, it is appropriate footwear for hot days.
The soles have arch support and contoured beds for a snug fit offering maximum support to the foot. The orthotic inserts can also be removed and makes it flexible for different kinds of use. With a good quality PU sole, that is not just flexible, these clogs are also great for shock absorption and support to promote balance. Suitable for all kinds of wear, these are some of the best shoes for the elderly to prevent falls designed specifically for women.
pros
Good quality materials
Comfortable and snug fit
Wider front
Shock absorption
Excellent support
Removable Orthotic supports
Decent height
High-quality PU sole
Slip-resistant
Flexible and supportive design.
CONS
Sizing issue
Straps may be uncomfortable
3. Adidas Women's Ultraboost 20 Running Shoe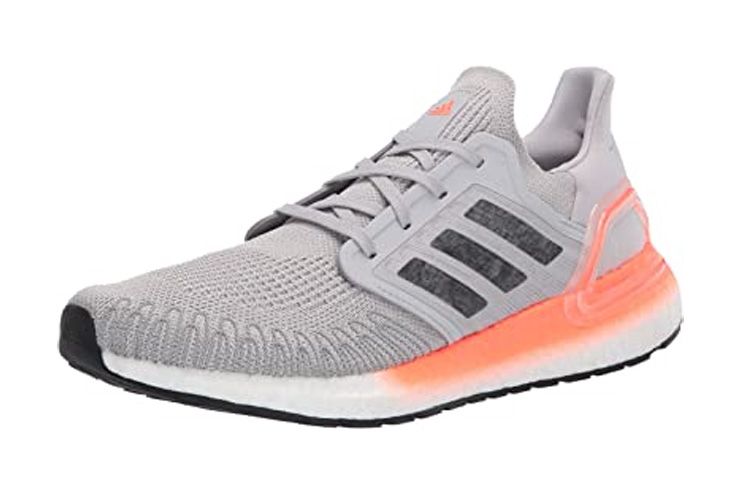 Another absolute favorite on the list of non-slip shoes for the elderly is the Adidas women's ultra boost 20 running shoe. With flexibility and support that is best in class, these are some of the best shoes for the elderly to prevent falls and injury. Suitable for athletic and outdoor activities, they offer support with a wide base and comfortable fit. With unique color options, it will have a selection of designs for every user.
The shoe has a breathable top with a smooth and stretchy fabric that allows for breathable wearing. They are lightweight and versatile for walking, running exercise, and daily wear. The soles are cushioned enough for weak legs and give great grip and support to prevent falls. It also has slip protection with a sturdy grip material and sole design combined with a responsive sole which gives a push back to your feet. For older people, this shoe will fit multiple brackets.
PROS
Lightweight
Comfortable wear
Primeknit upper with a locked-in fit
Multiple colors and design options
CUshioning sole with extra support
Push back from responsive sole action
Suitable for everyday use and activities
CONS
It May not be easy to clean
Size runs a little large
Expensive
Run a bit large
4. Skechers Relaxed Fit Slip Resistant Work Shoe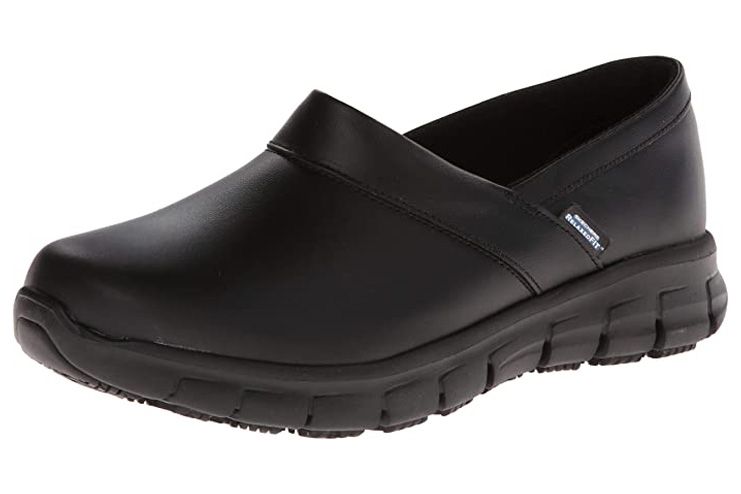 Falling can be fatal for the elderly and slipping is one of the major reasons for such severe injuries. To prevent this here is one of the best non-slip shoes for the elderly, The Skechers relaxed fit work shoe. With a flexible fit, it offers more stability and balances to prevent slipping. This shoe is designed to aid elderly feet to walk with comfort and safety.
This design is perfect for a long time of standing, walking, or other activities for seniors. With supportive features like cushioned memory foam insoles, flexible sole material, and more, these can be one of the best shoes for people of any age.
The sturdy outsoles make it slip-resistant and have other safety features like steel safety toe and electrical hazard protection. Overall it is a great shoe for elders and provides a comfortable yet snug fit for more balance control and stability. Give it a try for an all-around performer option.
PROS
Comfortable and snug fit
Provides support and stability
Easy to wear
Memory foam insoles
Slip-resistant
Electrical hazard protection
Extra supportive for stability
CONS
May run small in size
Leather may not be suitable in summers
5. Propet Men's Life Walker Shoes For Elderly Men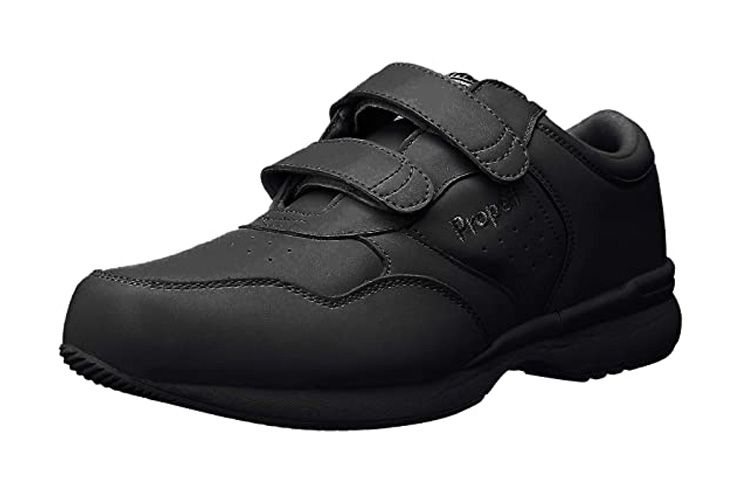 To make a complete list of shoes that keep you from falling, you need to include a rocker sole shoe and this is our choice from the rocker profile. The Propet men's life walker shoes for elder men. Known so widely for their comfort, they are apt for seniors who have problems in achieving both stability and comfort in their footwear. These rocker soles, redistribute the foot's pressure evenly and prevent cramping and ulcerations in the foot.
One of the best rocker shoes, these are perfect for walking and everyday use of the elderly to prevent falls. It has a perfect fit that offers comfort, balance, and a stable walking experience. It comes with other features like cushioned orthotics, rubber tread, and padding under the tongue. This gives it a great grip and prevents slips and falls. With adjustable hook and loop closure, you don't have to struggle to slip it on or bend to tie laces. With a leather upper top and rubber soles, this is comfortable at its best.
PROS
Rocker soles
Better support for the foot arch
Comfortable and flexible
Offers better stability
Custom cushion orthotics
Better grip to prevent falls
Durable
Easy slip-on with velcro fastening
CONS
Not wide enough for broad feet
6. CLARK Women's Sillian Bella Mary Jane Shoes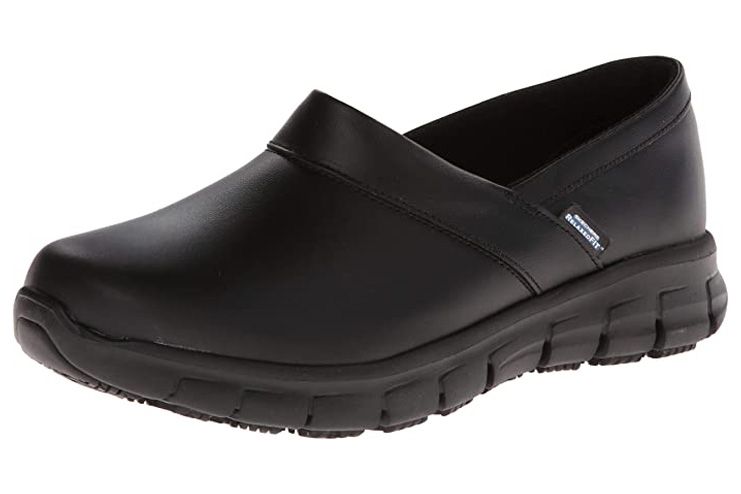 Another very popular choice for the elderly is this Clarks sillian Bella mary jane shoes. One of the best shoes for the elderly with dementia, Due to its closure options. Often people suffering from diseases like Alzheimer's and dementia find it very challenging to tie laces. This shoe solves that problem with its easy to put velcro fastening.
These shoes are super popular not just for their design but for the superior comfort they offer with the memory foam insoles and the lightweight design. The velcro strap is adjustable to provide a better fit this is perfect for providing stability to elders while walking as it gives a better gold and grip to their feet.
With good quality insoles and a synthetic mesh top, it is airy and supportive with enough comfort for longer wearing hours. Perfect for everyday use as well as for every type of occasion. Give this shoe a try if you struggle with laces and love a comfortable fit without it being too tight.
PROS
No Laces makes it easy to slip on
Lightweight and comfortable
Memory foam insoles for a comfortable fit
Wide toe suitable for easy fit
Sizing is correct and true
Looks smart and stylish
Comes with a slight heel
CONS
Lacks arch support
Leather peels off with regular use
7. Hush Puppies Men's Gil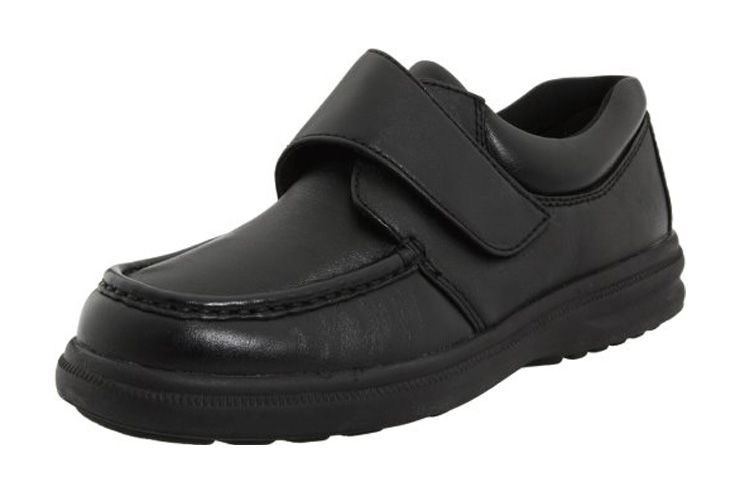 Another one of our top shoes that keep you from falling is these super amazing Hush Puppies Men's Gil shoes perfect for elderly walking and regular use. The easy-to-wear shoes come with a velcro fastening to prevent the need to constantly bend for laces. With a unique design, this shoe is lightweight and yet gives you the feel of a very sturdy fit overall.
The shoe has specially designed outsoles to compensate for the replaced insoles that were very bulky in the earlier design. The shoe feels very light and yet offers great support and comfort to your feet.
With a really smart moccasin-style design these shoes go easily from day events to dinner parties without mismatching your clothes.
pros
Superior comfort
Easy to wear with velcro fastening
Affordable
Stylish design
Suitable for everyday wear
Comfortable design
CONS
Less cushioning inside
No arch support
8. Skechers Men's Equalizer Double Play Slip-On Loafer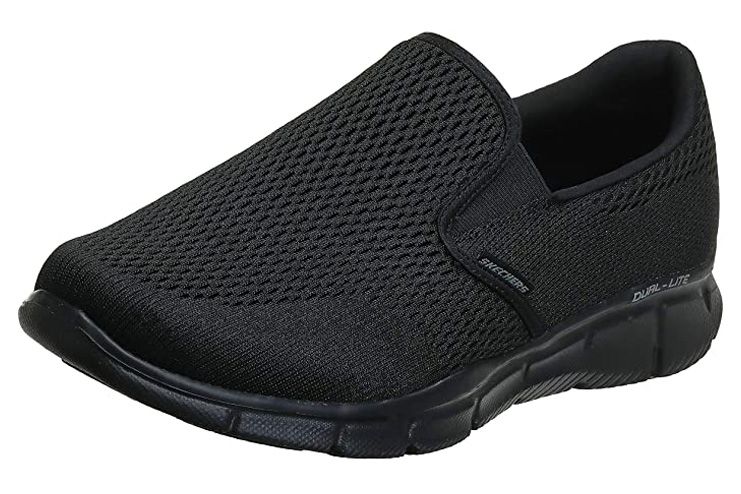 Another option on our list for specific shoes for the elderly with balance problems is these Skechers men's equalizer double play slip-on shoes that come with wider soles making it easy for elders with balance problems to find the stability they want. Often seniors lose balance with age and this can make them prone to falling. Choosing the right shoe is of utmost importance for people with balancing problems.
The casual loafer design is easy to wear and has a superior comfort quality. The lightweight soles make it easy on the foot and are perfect for longer wear. Besides they are great also for grip and traction. This is important for shoes to prevent accidental slips and falls. The sole is wide enough to keep the foot stable and offer extra support. With breathable knit mesh, it is airy suitable for longer use.
PROS
Lightweight
Wider sole for balance improvement
Easy to wear with slip-on design
Superior comfort and support
Footbeds come with memory foam
Great for longer wears
Solid outsoles for greater grip
Multiple color options for everyone
Mesh upper makes breathable to wear
CONS
Not fit for wet weather
Size runs large
Conclusion
So these were our curated list of the best shoes for the elderly to prevent falls. With options suitable for different types of users, the list concentrates on better quality grip and materials. However, falls cannot be completely ruled out due to multiple factors affecting them.
Wearing the correct shoe eliminates the majority of the risk but it is still advisable for seniors to be careful and aware of the environment, weather and health before embarking on the exercise or walks. While most of these shoes are for the elderly to prevent falls, it is also a good option to wear only comfortable shoes that are best for you.