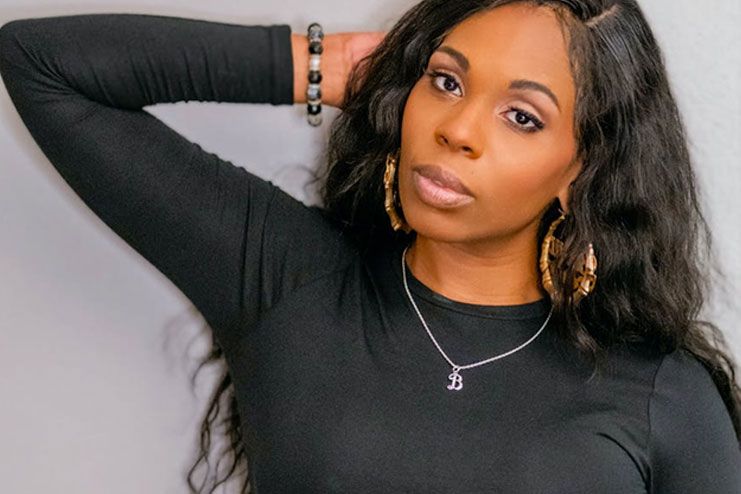 The first image that came to your mind after seeing the word 'Waist trainer' would be the Kardashians and the Jenner's isn't it? Today not Just them but every other woman is being considerate about it. Women prefer it to get that slimming look around their waist and to have that perfect hourglass body figure. In today's modern times it can also be termed as 'Maximal Fashion', as people are at times too much focused on the exterior of their body.
Waist trainers are also known as Waist cinchers. Waist trainers help in shaping the area around the waist and belly, a woman can slip into it and wear a dress yet looking fine and slim with the use of it. It has helped women to be secure who have not been confident with their bodies as waist trainers tend to give a more desirable shape to their waist and tummy. In this blog we will mention some of the best waist trainers for you below, so keep reading to know more about it.
What is a Waist Trainer?
Waist Trainer is apparently a shaping garment. Waist trainers are made for both men and women. Waist trainers are made up of thick fabric and hard metal boning, it has a clenching consisting of hooks or a Velcro. It is an updated version of the corset, corset were compulsorily worn by Victorian Women's back then. Waist trainers are made little comfortable than corsets. It is a shaping Garment similar to a griddle. The ideology of a waist trainer is to shape so one can wear it for a longer time but extreme use of it is not recommended.
Waist Trainer helps in moulding the waist area to give you an hourglass body type look. A waist trainer is typically manufactured from an elastic material, it is actually a high-compression shaping garment, it is constructed with flex boning technology to sculpt your body. At times they may be responsible in helping weight reduction around the waist if followed by proper diet and exercise. To know more about it continue reading our next topic.
Does Waist Trainers Help to Lose Weight
Waist Trainer layout a shaping effect but it is temporary and Would not aid permanently. They can work out as a quick fix, however, You sweat because of it and may shed off some weight but it is due to loss of fluids rather than loss of fat. As your stomach is compressed one may likely eat less while wearing it, or may not overeat during meals.
Waist Trainers are said to be put on for a few hours a day as extreme or too much of anything can be dangerous. Although You might lose a small amount of weight wearing a waist trainer, as you may tend to take in fewer calories, because of a cinched waist your body might make it a habit of eating less and thus may result in a weight loss, but cannot be said as a healthy weight loss.
Experts have recommended having a balance of healthy eating habits and maintaining it, so only wearing a waist trainer may not be responsible for healthy weight loss one needs to balance it out and keep health priority.
Best Waist Trainer to Buy
#1. Lady Slim Fajas Colombiana Latex Waist Trainer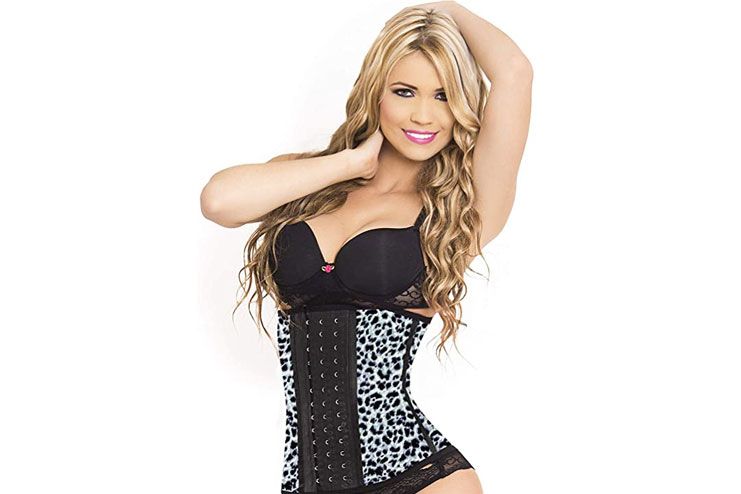 High Quality and durable Latex Waist Trainer. The flexible boning will provide the structure that allows the latex trainer to help you better your posture. It also helps to avoid the trainer from rolling up when you sit or have movements. The 3 hook rows allow for size adjustment especially, when you need more pressure. The latex layer will increase your abdominal area temperature, it will cause you to sweat and reshape and reduce fat deposits in the body near your waist and tummy. This Waist trainer is designed to last many months used on a daily basis. The inner layer has been designed to absorb the sweat. Made of 100% natural latex material
PROS
It is adjustables towards the body
Has flexible boning
Sweat absorbent
Maintains body posture
Helps in reducing waist line
Made of Natural latex
CONS
The smell can be irritating initially
#2. Ann Darling's Fajas Colombiana Latex Waist Trainer.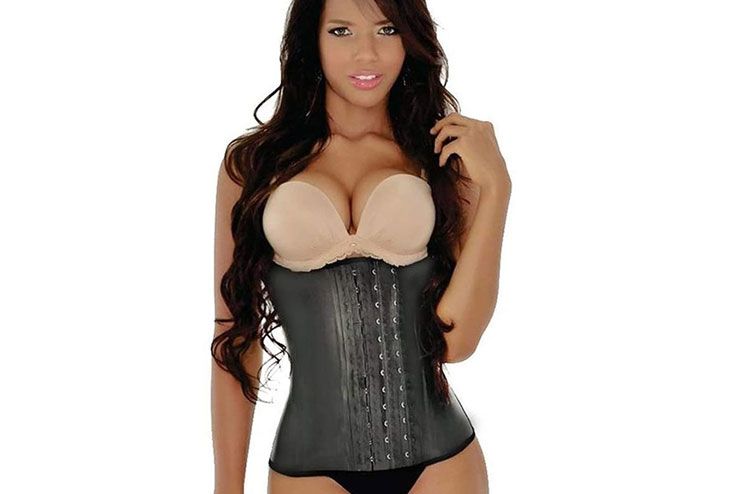 High compression Durable material will offer high resistance to a slim curve. The short torso design is very suitable for those ladies who have short torso and waist trainers that will not roll up or down when you sit doing activities. Helps in shaping your Abdomen waistline, Helps define curves, Increases sweating, Flattens your abdomen, Accelerates metabolism. The pressure gives to the moulding and the sauna effect term this as your best Waist Trimmer. This design of waist trainer is not adjusted by a long rope in the common steel boned corsets, thus can avoid all the uncomfortable moments with the tracks on the back. But it is still strong enough to be used as a corset.  
pros
High resistance
Suitable for short torso ladies as well
Best for postpartum exercising
Suitable to be used daily
Comfortable
Helps define curves instantly
#3.The Squeem perfect waist trainer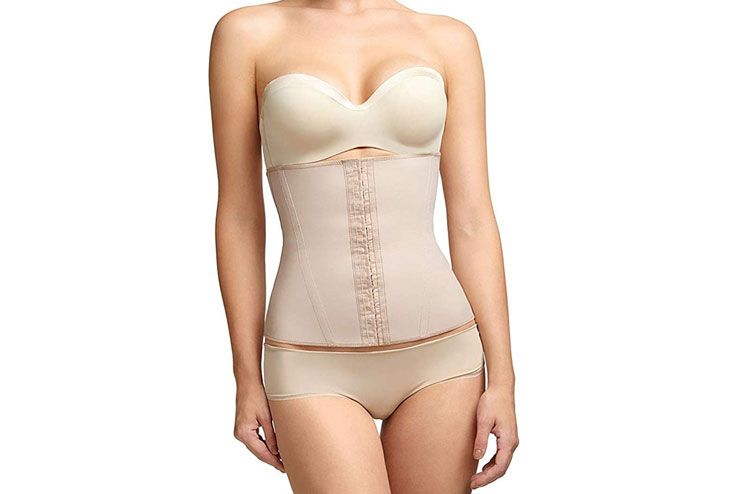 The strapless waist trainer offers great waist moulding and tummy control, without compromising comfort. It sheds inches from the midsection area and enhances your natural curves. Offer amazing back support and improve posture while moderate helps to lift the breasts. The premium waist trainer comfortably shapes the midsection, as the interior is made up of stainless steel bone with which offers great superior support. Fabric is made of 75% natural rubber and 25% cotton, which allows the garment to adapt to every sensual size and shape.
PROS
Can be wore with any type of dresses
Perfect for maternity postpartum belly wrap
Smooth surface lining
Great for all Shape and size
Comes in two colors
Maintains posture
CONS
May not be suitable for short tops
Not made of natural latex
#4. Ann Chery Waist Trainer Corset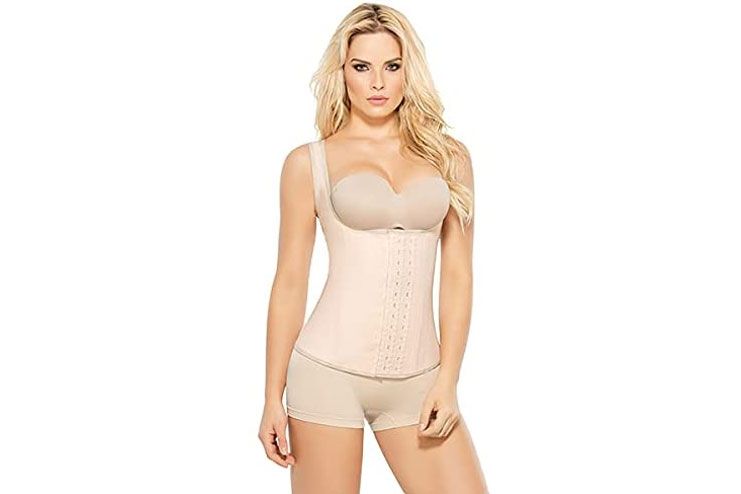 High Quality durable Latex Waist Trainer. The flexible boning provides the structure that allows the latex cincher to help you correct your posture. It also helps to avoid the trainer from rolling up when you seat or move. The rows allow size adjustment when you need to increase compression, or you are in the weight loss journey, The inner layer has been designed to absorb the sweat, to not feel uncomfortable. Made of 100% natural latex. It has been the best waist trainer for almost 35 years.
PROS
Flexible
Maintains posture
Size adjustment
Sweat absorbant
Washable
Best in industry since 35 years
CONS
May not suit all body types
#5. YIANNA Waist Trainer for Women Under bust Latex Sport Girdle Corsets Cincher Hourglass Body Shaper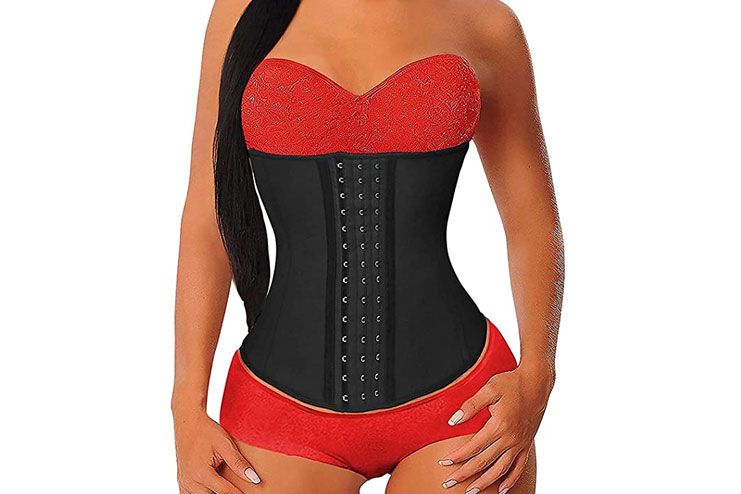 Yianna waist trainer also works for long torso or short torso waist. This product is strong enough to be used as a Boned Waist Training Corset, helps in Boosting the thermal activity and gently lifts underbust, controlling tummy fat. The High compression Durable latex material will give you a high resistance to a slim curve. This Waist Training corset helps to reduce 3-5 inches in the waist instantly. Can be worn every day. The Boning of front and back is for added support,  to smooth waistline, wearing this waist trainer can help you to get rid of postpartum tummy. Reduces inches off your waist and creates an hourglass figure and promotes a quick postpartum recovery.
PROS
Durable
Comfortable
Can be wore everyday
3-5" reduction instantly
Gives smooth waistline
Helps in getting rid of postpartum tummy
Creates hourglass fiqure
High resistance
Lightweight
CONS
May have fit issues for curvy womens
#6. Burvogue Waist Trainer for Weight Loss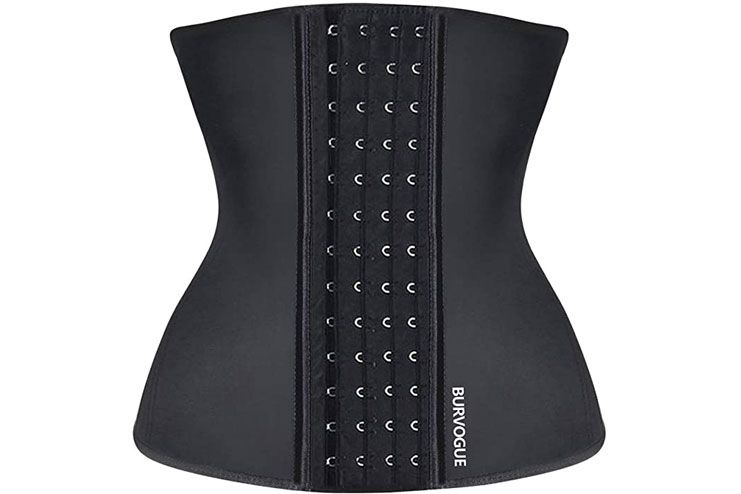 Burvogue Waist Trainer corset has four breasts, can be adjusted according to your measure's, it makes the latex underbust adjustment flexible and wider. The 9 steel bones around the underbust help you to cinch your waist to maintain the correct posture while exercising. This waist trainer for women not only helps to quickly restore the body after postpartum but also helps in correcting the hunchback and creates a perfect and healthy body for a woman. Waist girdle for weight loss Waist shaper vest for women you deserve to have, it is the perfect waist corset for underdressing. The heavy compression durable latex underbust corsets help in reducing your waistline. This corset is responsible for the reduction of your waist up to 3-5" and boosts fat burning activity while you exercise. Can wear it daily and under any clothes..
PROS
Improves posture
Four breast type
Flexible and wider
Durable
Helps reducing waist line
Boosts fat burning activity
Reduces waist up to 3-5"
Recovers post partum tummy
Can be worn in any clothes
Can be used daily
Comes in many variants
CONS
May not be suitable for long torso women
#7. SHAPERX Latex Waist Trainer for Women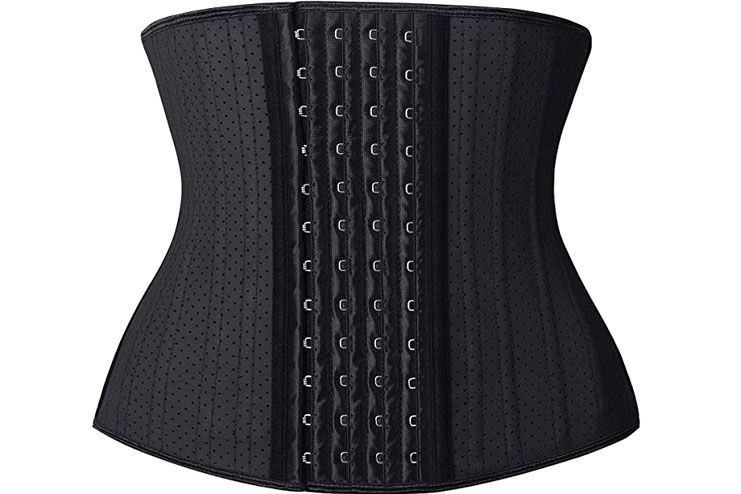 Shaperx latex waist trainer comes in 4 Rows of Hook, helps to keep a tight closure around the waist to have a long-lasting waist training effect, is adjustable and can increase the size. The front hooks are durable and they provide heavy-duty support while exercising. It reduces your tummy and shapes your abdomen and waistline, Promotes to shape of your body. It can also increase sweating, flattens your abdomen, and accelerates metabolism. Helps in reduction of waistline by 3-5" Available in Both normal & short torso lengths, it offers instant waist slimming effect to give you a desired hourglass figure. It provides good side and back support.
pros
Body posture improvement
Durable
Waistline reduction instantly
Available in normal and short torso length
Good during heavy exercising
Great support
Four adjustable hook closure
CONS
Not for long torso length
#8. Ashlone Women waist trainer- latex corset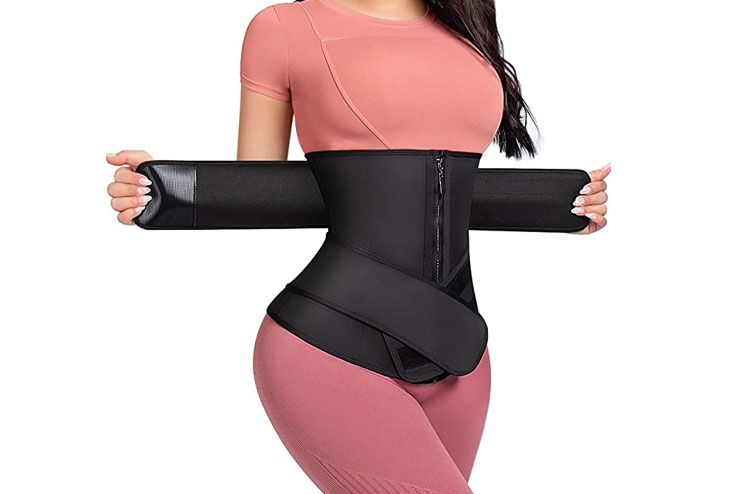 Made of high quality natural has a good amount of plasticity and elasticity. This waist trainer absorbs the sweat to keep your body dry and comfortable, it has a Protective cloth under the hooks which prevent skin from being stretched and irritated. The durable fabric helps the shapewear from getting damaged when worn for a long duration. It has 3 layers closure to make sure it has a proper adjustment, high compression. Because of the high elasticity, you won't find any bulge or discomfort and give you the most accurate fitting in the long run. 9 spiral steel bones are great to support your back. Ashlone comes with a girdle belt that helps you in body shaping, tummy control and postpartum recovery after giving birth.
PROS
Comfortable
Great support
High eleasticity
No Discomfort
Durable
Comes with girdle belt
Absorbs sweat
#9. Feelingirl latex waist trainer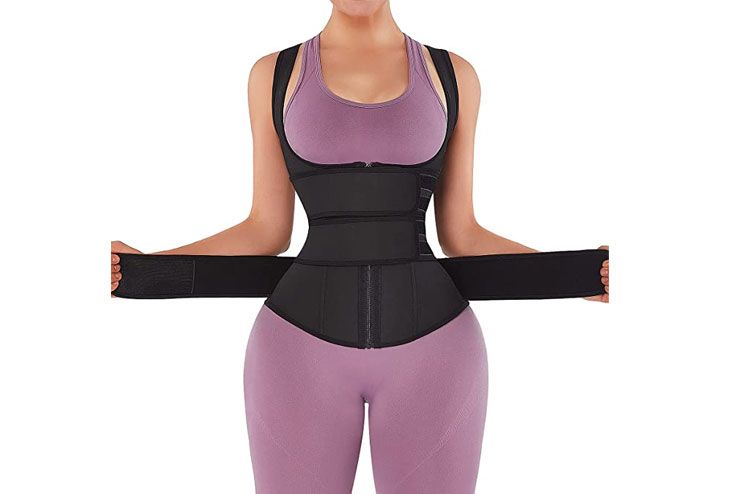 Feelingirl latex waist trainer is made up of 100% latex. It is made up of a double layer composite layer. Waist trainers not only shape your waist but also support your back and lift up the chest. The zipper comes in good quality,  which is firm and smooth, and also durable. It comes with a zipper and belt closure. The belt is designed with classic velcro which can easily adjust the tightness and may not break. It gives great strength to the waist and abdomen. The steel bone fits very effectively and prevents curling and helps to improve the posture. It has good elasticity and strong shape strength, best to have a good waist. It is easy to wear and comfortable to take it off. The inner layer of pure cotton lining is actually moisture absorbent, breathable, comfortable and good for skin too. This body shaper is suitable for all occasions.
PROS
Made of 100% latex
Good support
Comes with zipper
Belt is adjustable
Good elasticity
Good for plus size women
CONS
Fit issues
Not for all body types
#10. Loday Waist trainer corset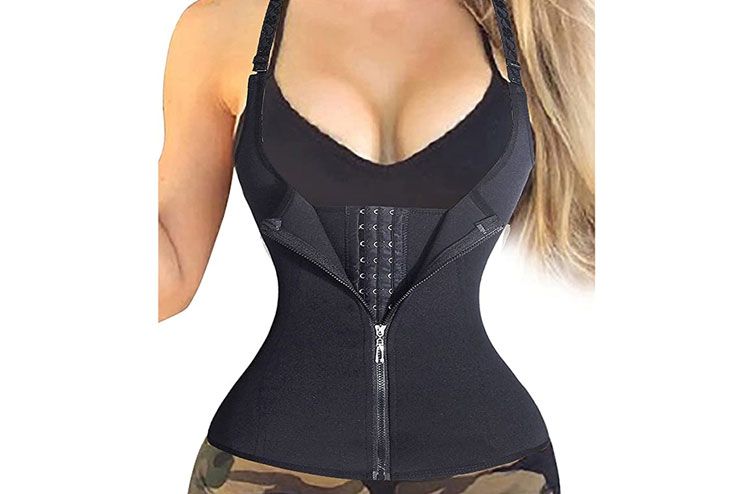 Loday waist trainer, this waist trainer corset has Double Layer-high compression that helps to hold everything in. It is very comfortable, lightweight, stretchy and great to move with your body while performing any activity. Offer Strong Back Support, Relief Your Back Pain. It can be worn with anything. It burns the fats and gives you an hourglass figure. High quality zipper usage is easy and allows you to hide it and gives you a slimmer and cleaner look. Consists of 4 High Quality Spiral Steel Boning that will prevent from rolling up or down when moving or sitting down. It hides your bulges and rolls which result in making you look tight and trim. The belt provides enough support for back pain relief and corrects your posture.
PROS
Good elasticity
Back pain relief
Better support
Can be worn with anything
Corrects your posture
How to Choose the Right Waist Trainer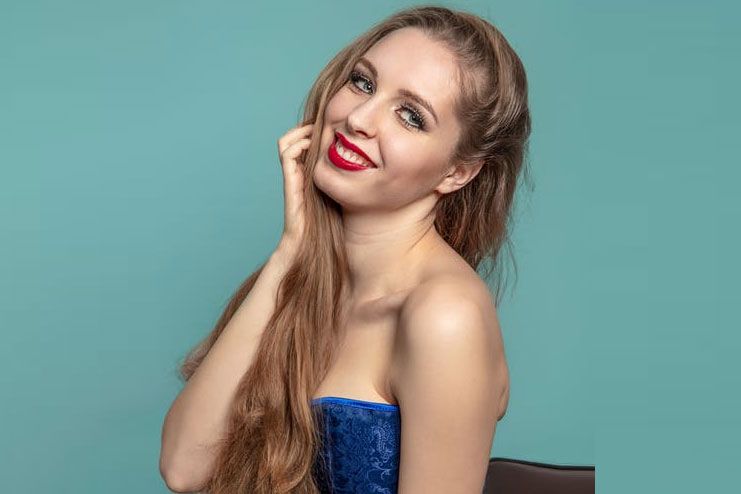 Choosing a waist trainer can be difficult or a task in itself, that is why we are listing some key points to help you choose the right waist trainer.
Comfort- Comfort will always come first no matter what.There are certain types of closures when it comes to waist trainers it can be all towards right or towards left and centre. Best to choose which is comfortable for you accordingly. Necessary to look for quality as you would wear it pretty much often around your waist.
You can wear these on a t-shirt or any fabric which is light to you. Or beneath other clothes as well. To help you wear your waist trainers in gym make sure to choose durable and breathable ones
Breathing- Breathing is most essential, if you see difficulty having too, you might put your life in danger. You must be able to breathe comfortably in any waist trainer you choose as you will wear it often a day one should be able to do all activities wearing one
Boning- The boning is responsible for the support of the waist trainers. It comes in plastic and steel although plastic ones may not be very supportive it is better to opt for steel boning. For gym plastic ones are not recommended, generally plastic one would not be recommended if you are looking for long term use invest in a proper one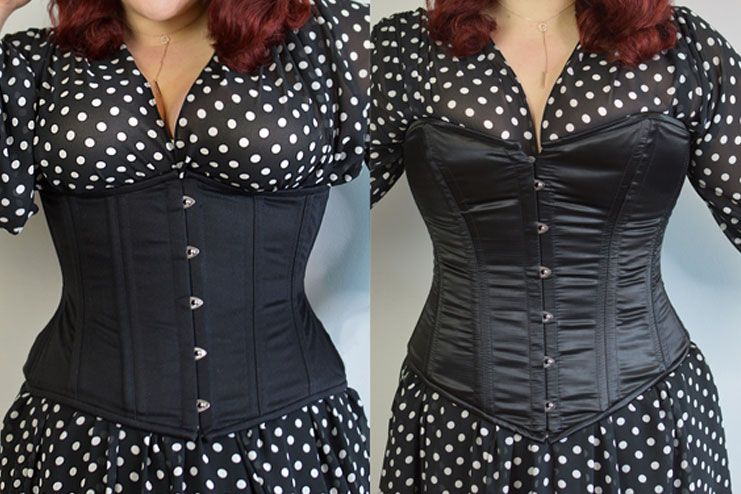 Shape and form – When it comes to shape or form there are two types it. One is overbust- They start from your bust till your waist and to hips. Another one is underbust- they start from under your bust and go till your hips. To be sure of the Shape and fit you need to give emphasis on the correct measurement of your waist. For that take the measurement of the waist, the think area and all the round
Material- Most waist trainers are stretchable, having proper knowledge of the material is good. Most waist trainers are made up of latex which are firm in form and gives good compression on the waist. If you are allergic to latex there are latex free options available.
Different Types of Waist Trainer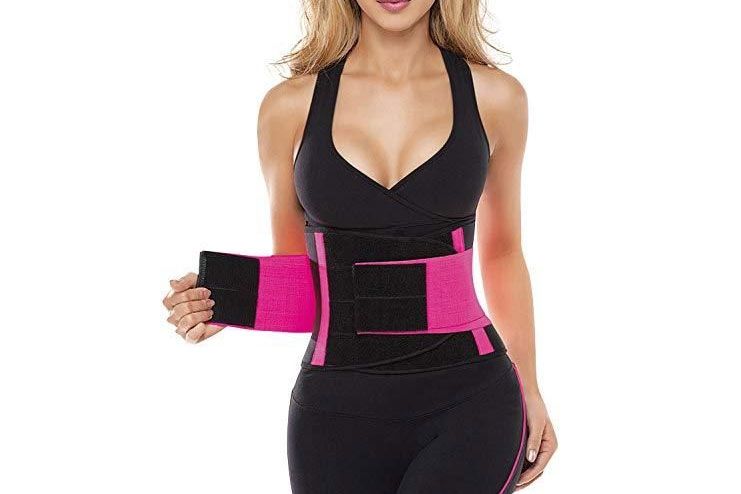 Different Types of Waist Trainer
There are majorly two types of waist trainers- Corset and waist cinchers
Corset- As we described previously, Victorians would always wear and head out wearing corsets. A corset can be painful to wear, as they are uncomfortable and made of still boning. They can help to shed 5-6 inches of your waist.
Waist Cinchers- Waist cinchers are more flexible and comfortable than corsets. They do have plastic boning and help in shedding 2-3 inches. Cinchers consist of zippers and laces too. You can wear it under or above any clothing surface
Do's and Don'ts Of wearing Waist Trainer
What you need to do!
What you need to do!
Do understand that the process is not pain free. It will be painful and quite uncomfortable, so if you experience pain it is better to remove the waist trainer.
Do start out slow and then increase your pace. As a beginner you will be newly adapting to the new technique so give your body time to adjust
Do Have patience and wear it daily for certain hours as you get okay with the experience as without patience to see results one needs to wear it daily and only not when you feel like wearing one
Do Use a waist trainer which fits you, not very tight and not very loose. Fit matters. Choose a good quality which is durable too
Do Workout, there are some waist trainers made for your gym use so choose according to your requirement
Do remember just by wearing a waist trainer nothing would happen. It is not a magical thing it needs things to be followed to see results
Do eat clean food, a healthy diet will also make you feel less bloated and less discomfort in a waist trainer
Being hydrated is valuable for body, your body may lose nutrients and it is good to be always hydrated
What you don't need to do!
Do not wear your waist trainer if you feel pain in the stomach
Do not avoid your body signs if they are screaming to stop wearing waist trainer because of shortage of breath remove it
Do not wear it more than eight hours a day
Do not intend to do very heavy workouts
Don't give up if you wish to see results too soon
Do not avoid choosing the right fit, it will play a vital role.
Here are some FAQ(frequently asked qts)
Is it okay to Sleep in waist trainers?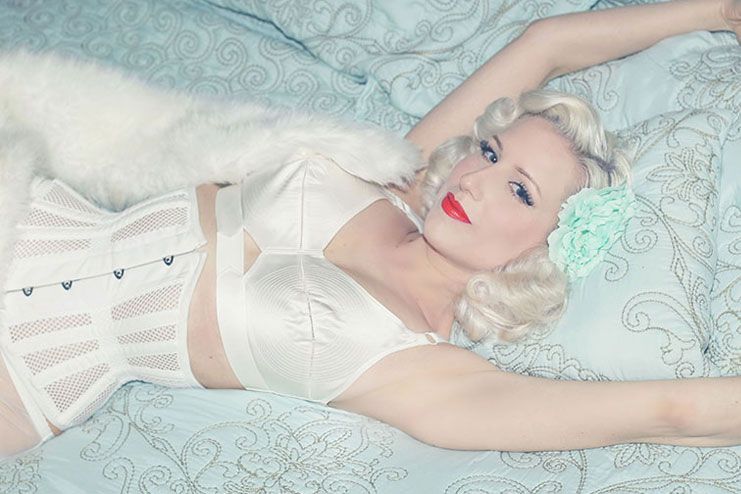 Sleeping in a waist trainer can be beneficial in speeding up the result of losing fat. But of course, nothing comes easy as you may see they can be unhealthy or uncomfortable to sleep in.
Waist if worn for a long time can cause stress on your abdominal area and muscles, also disturb blood circulation. So we would suggest getting professional medical help. Depending on the material, fit and form one can sleep in it with contrast to your sleeping style and pattern. If you feel uncomfortable or have difficulty breathing you may need to stop wearing it while sleeping.
How long to wear waist trainer to see results?
It is a human tendency to look forward to seeing results too soon. But nothing comes easy as Rome wasn't built in a day, was it? Have patience and follow a proper diet, eating habits and workout regime. Wearing a waist trainer a maximum of 8 hours a day is good to start seeing results. You may see results in 4-8 weeks of wearing a waist trainer. If you use it with the following diet and good amount of exercise you may lose 4 – 6 inches too in 4 weeks time. Ofcourse, taking into consideration genetics and your habits.
Conclusion
Waist trainers are made for men and women. Waist trainers are made up of thick fabric and hard metal boning, it has a clenching consisting of hooks or a Velcro. Nothing happens without patience so make sure to be consistent and disciplined to see results. Just wearing a waist trainer won't give you the fruits you want to taste so collaborate it with proper clean diet and workout, do not forget to hydrate yourself daily