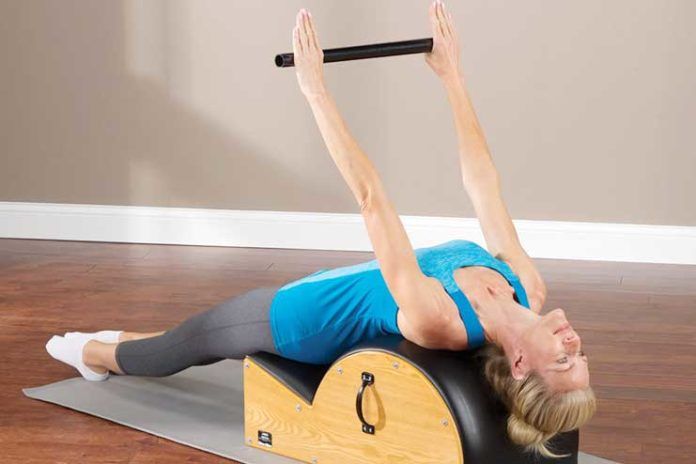 Due to our work and busy lifestyle, we spend most of our time sitting continuously in front of our laptops or computer, and binge-watching Netflix. All of this causes backache, and bad posture and gives rise to poor spine curvature. The spine is one of the most important parts that need protecting, which is why even when working out and lifting weights, a supporter always protects and supports your back especially.
Most of the time, people very commonly face issues because of bad posture and spine problems. This is when to improve your spine posture, the best pilates spine corrector would come in handy and be very useful. It will provide strength to your spine, align your spine, and loosens your back muscles.
This tool is also beneficial in managing mobility issues, arthritis, and osteoporosis. In today's article, we will provide a list of some of the best pilates spine correctors that will help you to get relief from pain and correct your posture. Keep reading!
Best Pilates Spine Corrector
1. Real Relax Pilates Spine Corrector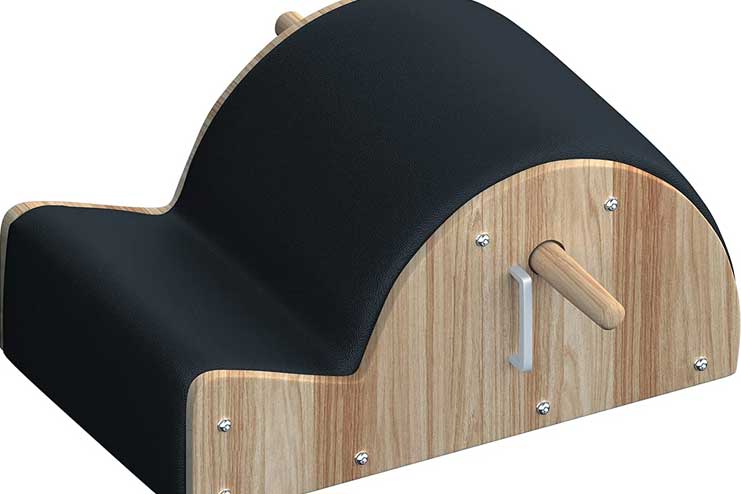 Real relax pilates spine corrector is one of the great options as it has all the features. It is made up of stainless steel and wooden stick, and also has a comfortable foam cushion-like padding for sitting. The pilates corrector comes in an asymmetrical shape which has a one-side gentle curve and another side deeper curve. It will help to strengthen the torso, back, shoulders, and legs by correcting and restoring the natural curvature of the spine
The barrel and padding feel smooth on your skin and are made of expandable polypropylene material. It has a gentle and soft curve on the barrel and a more rounded step that fits your body in it perfectly while exercising or doing yoga. The design of this pilates spine corrector supports different body types easily and can also be used for various uses.
PROS
Lightweight
Carrying handle for easier grip and portability
Highly energy-absorbent
Perfectly fits your body
Thermally stable
Made from good quality material
Ergonomic design
2. Balanced Body Pilates Arc for spine health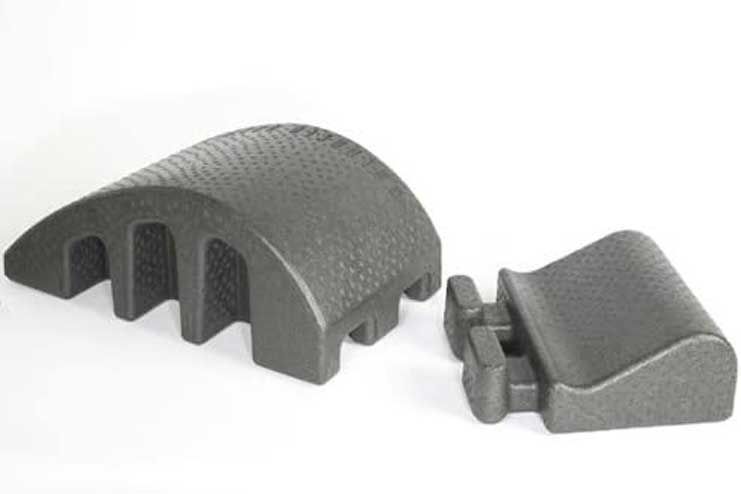 This balanced body pilates arc for spine health is a three-in-one tool. This Pilates Arc can be used as a Pilates barrel to open up your back or as a spine corrector to stretch all of your spinal muscles. This arc spine corrector comes with a unique patented shape. It has steep but gently curving sides to help everyone to work on their arms and shoulders, spine and lower back, and legs and feet. It features an ergonomic design that comfortably fits small to large body types.
It comes with a fitted and detachable wedge that you can change over to use for core strengthening and balance training. This foam back exercise equipment is an amazing tool for people who are beginners with Pilates as well as those who want to challenge their workout. It is designed perfectly to stretch the muscles, correct the posture, condition the whole body, and promote stability. It is also lightweight so one can easily move it around.
Related Article: 10 Step Pilates for Beginners
pros
Lightweight
Features shallow and steep angles
Is a three-in-one tool
Perfectly fits your body
Durable design
Easily detachable
Ergonomic design
3. Stamina AeroPilates Spine Corrector Barrel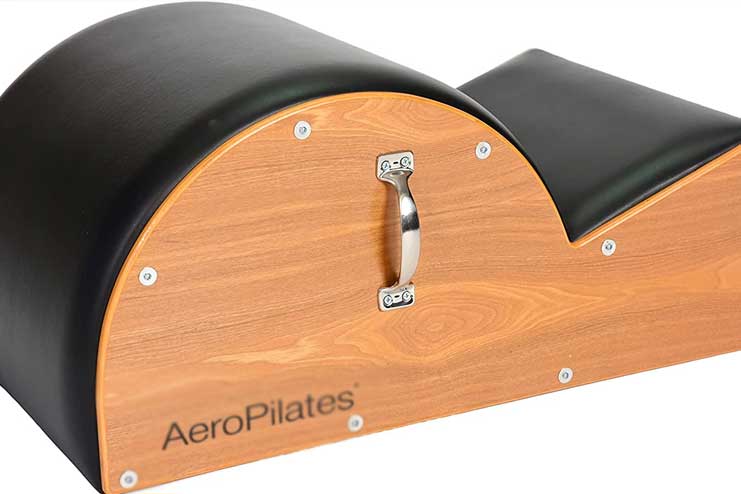 This Stamina AeroPilates Spine Corrector stands out compared to other designs and values. It is designed with its durable wooden construction. You can use it for stretching or strengthening, the padded top feels the most comfortable, which makes the entire experience more fun.
If you need to move the corrector out of the way a carrying handle is also included. It's labeled as a spine corrector barrel, but you can use this handy Pilates tool to open and strengthen the chest, abdominal, and shoulder muscles. A 20-minute workout DVD is included with this one. Whether your spine is out of alignment because of poor posture or aging, the corrector can help align your spine.
PROS
Durable wooden construction
Lightweight
Comes with a carrying handle
Perfectly fits your body
Durable design
Ergonomic design
CONS
The wooden barrel may crack if too much pressure is applied
4. STOTT PILATES MERRITHEW Spine Corrector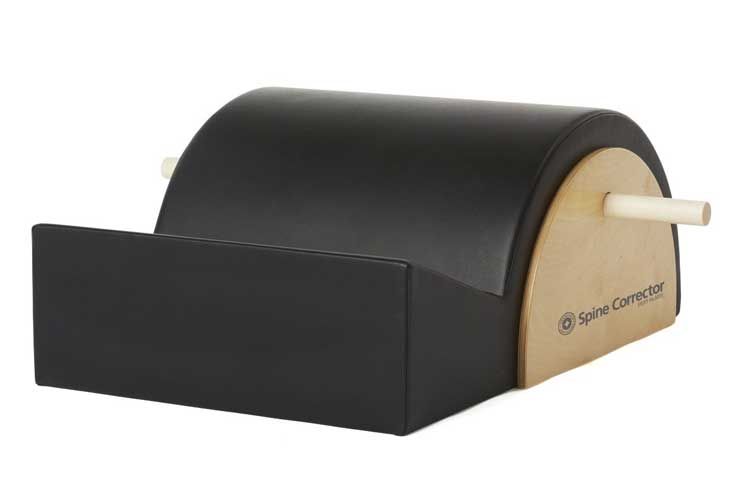 This Pilates spine corrector by stott is built for comfort. This STOTT PILATES Merrithew Spine Corrector not only aligns and mobilizes the spine but also does more than just benefit your back. When you use this Pilates tool it helps in stretching and strengthening the legs, back, torso and shoulders.
The corrector's attractive Baltic Birch panels give it an upscale appearance it does not matter if you are using it or keeping it aside until next time. It's also outfitted with maple handles. For added comfort, the arc is also outfitted with EVA foam padding that provides great support. The slanted platform helps you with its stretching, strengthening, or both allowing you to perform a wider range of movements. It is also lightweight so one can easily move it around.
PROS
Built for comfort
Comfortable and supportive foam padding
Lightweight
Comes with a carrying handle
Stretches and strengthens the whole body
Durable design
Ergonomic design
CONS
Requires you to assemble properly
5. AeroPilates Precision Series Spine Corrector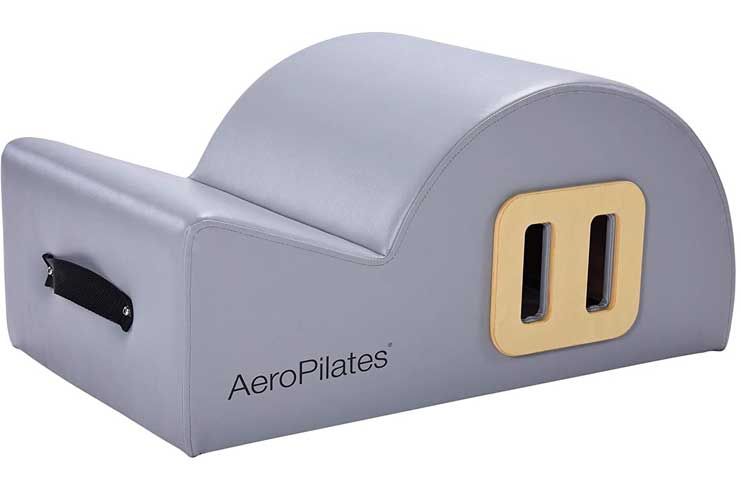 The AeroPilates Precision Series Spine Corrector helps to open up your chest and also to correct your spinal curvature. By using this to exercise on this spine corrector, it will strengthen your back, abs, and shoulder muscles to restore your spine's natural curve. It will also help to open up the chest naturally by straightening your shoulders and by reducing the effects of poor or bad posture.
This spine corrector helps more than just improve the posture, but it also helps to tone and stabilize your core muscles. It features a padded, upholstered surface that makes this spine corrector a comfortable choice for your workouts. It comes with an integrated carrying handle that makes it easy to transport and store this spine corrector. If you are not sure how to begin, then check out the complete available online workout videos with expert guidance.
PROS
Restores natural spine curvature
Comfortable and supportive foam padding
Lightweight
Comes with a carrying handle
Tones core stabilizer muscles
Durable design
Comes with two expert-guided workout videos
CONS
It comes with a limited warranty
6. Real Relax Pilates Spine Corrector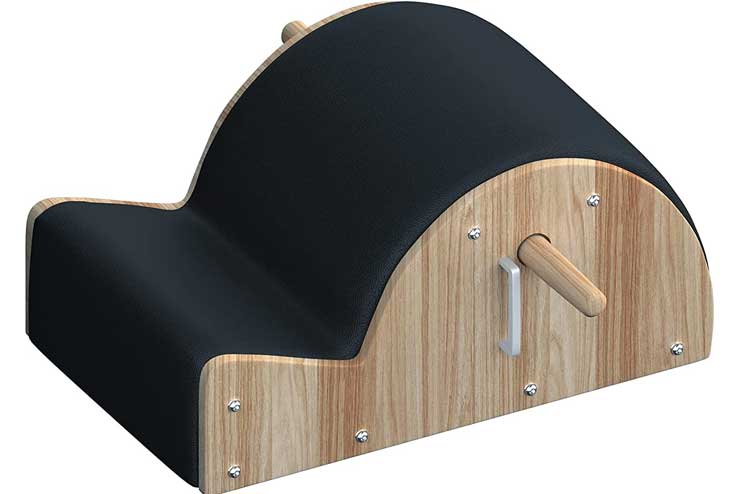 You must go for this Real Relax Pilates Spine Corrector if you are looking for a spine corrector that's ideal for a variety of moves and body types. This exercise arc helps you to perform your favorite Pilates exercises. It's gently curved on one side and has a more defined curve on the other, so one can easily perform everything from back extensions to ab work and spine stretches.
While keeping your spine's natural curve in check, you can work your legs, arm, shoulders, and back. This spine corrector is also great to use for yoga and general stretching. Flip the Relax Pilates corrector over when you're not stretching your spine, to improve your form and balance.
You can work on either side to improve your flexibility, strengthen your core, and to condition your body. This tool is constructed with Expanded Polypropylene (EPP), the corrector also features high-tech material that's built to last. It is durable enough to withstand frequent, repeated use, making the corrector a good investment for all active practitioners. The surface is easy to wipe and clean after each workout.
PROS
Ideal for strengthening and balancing moves
Restores natural spine curvature
Comfortable and supportive foam padding
Lightweight
Designed for Pilates, yoga, and general stretching
Durable design
Easy to clean
CONS
This tool lacks the side handles
7. STOTT Merrithew Arc Barrel Deluxe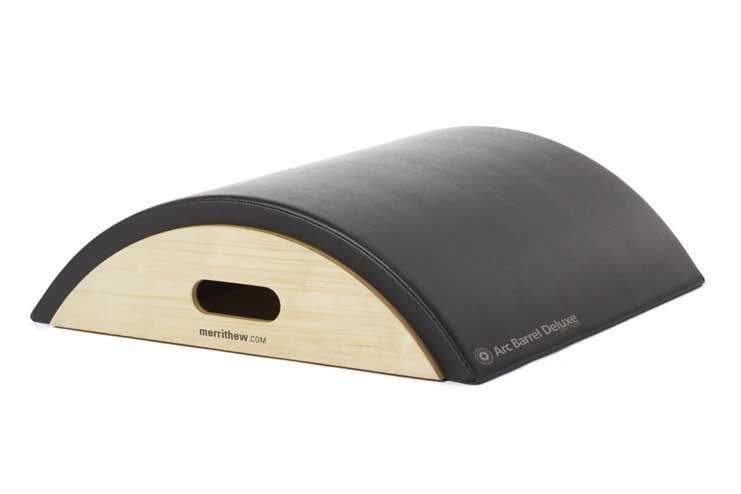 The STOTT Merrithew Arc Barrel works really great for injury rehabilitation and general stretching. It is designed with its gentle curves and supportive EVA foam cushioning. The arc design can be used to decompress and lengthen the spine and also to practice some of your favorite Pilates exercises.
This Pilates barrel is also of ideal size for use during mat-work and features a 117-degree curve. You can also use it on a raised mat or the Cadillac. The Baltic Birch panels give this corrector tool a more upscale appearance, while contoured handles make it easier to carry around. The surface is easy to wipe and clean after each workout.
pros
Durable and supportive EVA foam cushioning
Restores natural spine curvature
Comfortable and supportive foam padding
Lightweight
Ideal size for mat-work
Durable design
Easy to clean
CONS
This tool lacks the carrying handles
8. Pilates Yoga Wedge & Spine Corrector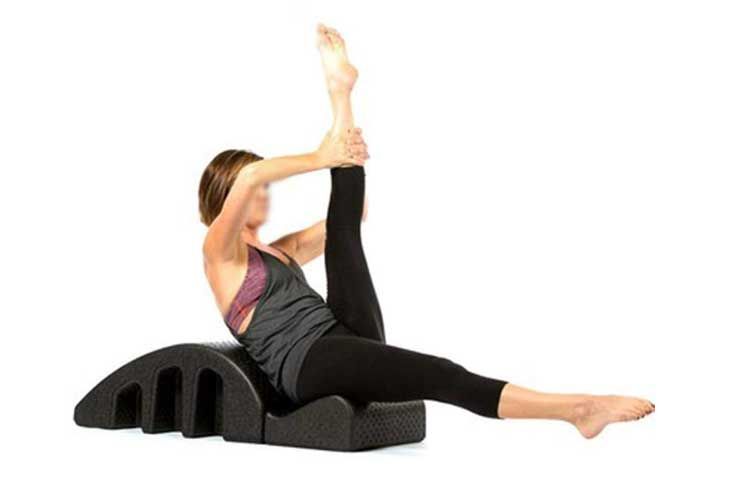 This amazing Pilates corrector tool is worth every penny, you can use it to correct your posture or you could use a spine corrector to restore your spine's natural curve, or you may want to improve your balance and get in some good quality stretching. Aside from correcting the spine and stretching or strengthening your back the corrector also works well for yoga sessions, personal training, rehabilitation, and general fitness. This versatile piece of home Pilates tool caters to everyone, from sedentary office workers to Pilates students and instructors, fitness experts, and many more. It features a flexible, detachable design that provides great versatility.
PROS
Flexible and detachable design
Restores natural spine curvature
Helps correct physical imbalances
Lightweight
Works well for the whole body
Durable design
Easy to clean
CONS
Separating these pieces can be challenging
Does not come with carrying handles
Benefits of Pilates Spine Corrector
Pilates spine corrector has several benefits, which we will list down below. Also, this pilates spine corrector equipment is best for all age groups and benefits from stretching and strengthening exercises overall. Let us study these benefits now:
Helps to align your spine and corrects the posture.
Helps to improve flexibility and ease joint stress.
Tones the back and shoulder muscles
Provides strength to the core muscles
Opens up the chest and strengthens the core
Helps to rehabilitate and train after spinal cord surgery, low muscle tenacity, childbirth, and other injuries.
How to Use a Pilates Spine Corrector
While using a pilates spine corrector, you can simply lie on the corrector to help reduce back pain, correct your posture, loosen stiff back muscles, or use it for exercising to improve your overall spine health. This Pilates spine corrector actually does more than just help your back.
If used properly, in addition to helping strengthen the spine this amazing piece of equipment can benefit in stretching your muscles and improve flexibility. A Pilates spine correctors arc also properly aligns your back, torso, and abs. If you're looking for a piece of home gym equipment that mainly focuses on the spine, this one is an ideal option.
How to Choose the Best Pilates Spine Corrector
Here are some tips which you can follow, while choosing the best pilates spine corrector
Comfort– What provides the best comfort? Having a sturdy frame with a cushioned top and seat with handles, and a device that has enough stability. Hence, you must choose a comfortable, lightweight, durable, yet stable pilates spine corrector.
Density– The material should have a high density. Higher density will ensure that the equipment can take the weight and is durable enough.
Stable Support– The equipment should have a stable and robust frame. This will ensure that the equipment stays in one place while you exercise. With the stable support, it will also take off pressure from the cushion padding.
Dimensions– It is important to check the dimensions before buying. The pilates spine corrector should be of the correct dimensions to be able to support your body frame.
Concave Bottom Design– The concave design at the bottom helps to contour your back and align your spine.
Conclusion
These pilates spine corrector tool, not only boosts mobility throughout the spine, but also helps to correctly align the spine and is considered as an effective form of pain management and relief. Many Pilates moves also strengthen and stabilize the back and abdominal muscles, which can further help to reduce back pain. If you have bad posture due to continuous sitting or a bad lifestyle, opting for this device can benefit many. So choose your favorite pilates spine corrector from our list of the best. Thank you for reading.