Pain in foot is a common condition due to insufficient support underneath the foot. Changing the footwear seems like the only solution. But you can try metatarsal foot pads to prevent and relieve the foot pain.
Metatarsal pads are well cushioned to support your foot and you don't feel the pain or any misalignment during mobility. It is more needed for people who are suffering with pain in the balls of the foot. Definitely metatarsal pads are a good remedy to cure the pain, soreness in the foot.
Your foot health is important over buying fashionable footwear. Firstly, choose the right pair of shoes and comfort your feet with extra cushion support. Metatarsal foot pads come in use for you to prevent the foot ache if any. But you need to find out the best metatarsal foot pads to alleviate the pain, especially in the ball of foot. Below we have listed the top products that were made for the same purpose.
Why should we use metatarsal foot pads?
All the shoes are not accurately designed for your foot shape or size. Sometimes, we need to make certain adjustments to fit the shoes for solace and happy mobility. The best adjustment that you can give to your foot is metatarsal pads. Even a study (R) supports that foots pads can reduce the metatarsal pain.
Footwear and the foot positioning cause the pain and develop the conditions like bunions, callus, metatarsalgia. There are few conditions like plantar fasciitis which cause pain in the foot. Some other foot problems like burning sensations and slippery foot can make it a painful walk for you. A wise alternative is to use metatarsal foot pads if you are experiencing the foot problems every time.
Top 10 Best Metatarsal Foot Pads To Relieve Pain In Foot
1. Succure Metatarsal Pads 2 Pair – Soft Gel Forefoot Heel Cushion Inserts for Women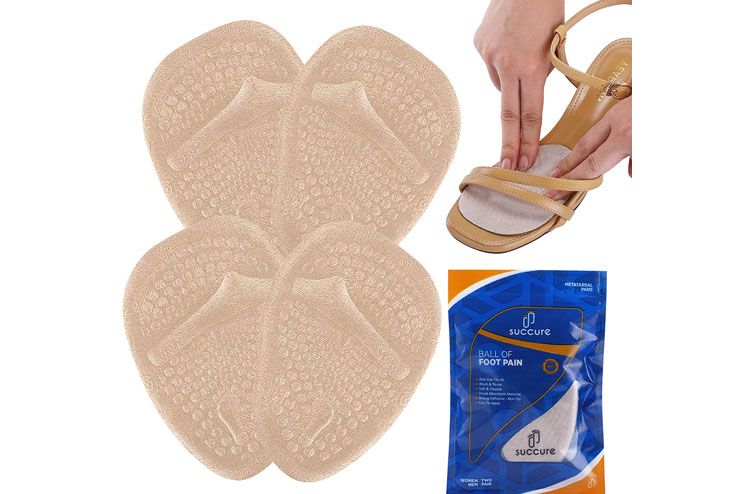 With these metatarsal pads, you are giving a soft cushion like support for your foot. The texture and the shape of the pads absorb the pressure of your foot to relieve pain in the ball of foot. Using this pair of pads is easy as you have to peel off and it doesn't leave any mark on your footwear.
It is the standard size that fits most of the foot sizes and compatible with all styles of heels. You can hide it under your foot and wear along with your footwear to prevent pain. If you notice, the pads are dotted with the texture for massage effect.
It is made from soft silicone material to give you a non slip support and grip. You can wear these pads for a longer time. And you don't have to worry about the wear and tear as it retains the shape automatically after the use.
You can reuse the pads and it keeps showing you the durability even after using it several times. As it is made from high quality material, it doesn't crack or damage easily. The best thing is you can wash and reuse the pads for hygiene.
PROS
Absorbs pressure
Non slip with grip
Soft silicone material
Doesnt leave marks
Wash and reusable
2. Powerstep Metatarsal Pads for Women and Men Ball of Foot Cushions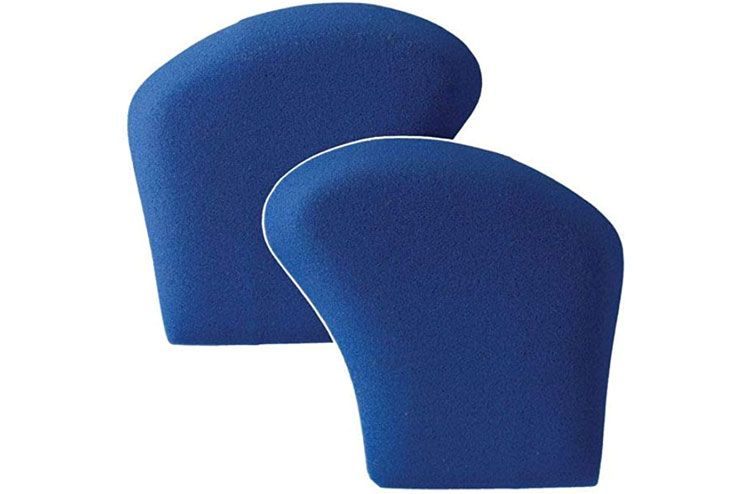 Here are the unisex foot pads that you can choose easily, Wearing the foot pads can be tricky sometimes as it doesnt fit in the shoe. So, these pads are designed with left and right shapes to fit into your shoe accordingly.
The pads are made from synthetic material for extra comfort. These pads don't move out of place with strong adhesive. The foot pads moving after the wear make it tough to handle and make you out of balance. So, you don't have such problems with these metatarsal foot pads.
Another reason to choose these metatarsal pads is that you can reposition for step up. It pushes away the weight from metatarsal bones to relieve the pinch in nerves. If you are complaining about your footwear then try these pads and then see how it feels. And don't neglect your foot health as it can affect your wellbeing.
It focuses mainly on the front area of your foot without any compromise on the metatarsal bones. These pads are good with quality but still inexpensive.
pros
Inexpensive
Standard material
Left and right design
Cushion comfort
Strong stick
3. Premium Gel Ball of Foot Cushions – Reusable Clear Gel Metatarsal Pads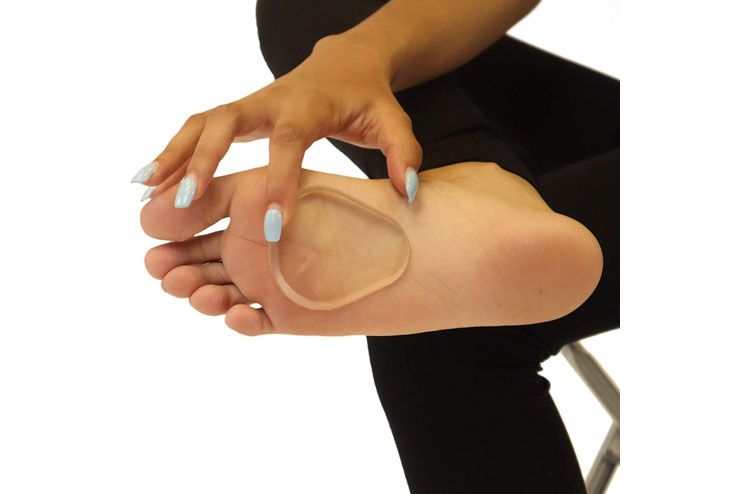 The pads come with gel material that gives a good amount of support underneath your foot. It noy only relieves pain in foot but also relieves the burning sensations that are caused by metatarsalgia, neuromas.
You can apply the foot pads effortlessly as it is made to be self-stick. It is wearable with different types of heels and shoes. The quality and the design of the pads make it usable over and over again. The superior gel pads are to absorb shock and help reduce pain for foot movements.
You can use these foot pads for various foot conditions. When you are experiencing pain in the balls of your foot, these gel pads come in right use. Just have to wash for fresh use. It is one of the most flexible pads cover under foot as it comfy and won't bother you while walking. It is a transparent product that goes well under your foot with all types of footwear.
PROS
Easy to wear and remove
Prevents burning sensations
Shock absorbing
Reusable product
4. Dr. Jills Skived Felt Metatarsal Pads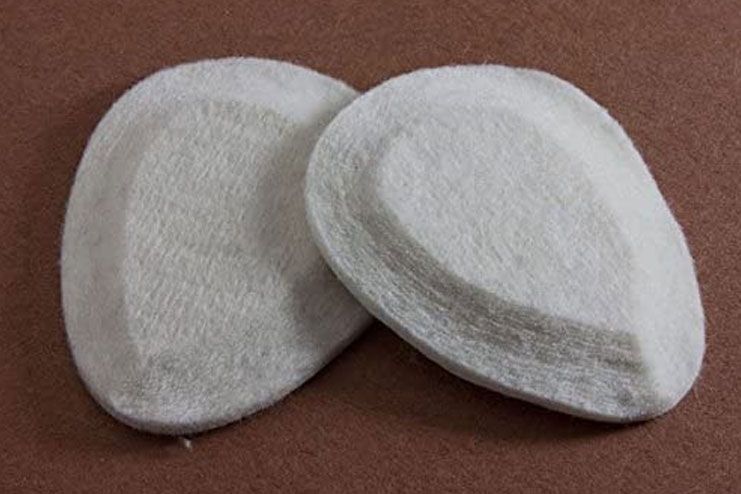 Metatarsal bones sometimes move and make it difficult for you to walk. Fixing a pad over it can aid you in flawless mobility. These pads are perfectly designed with proper dimensions and to be ideal size under foot.
The product asks you to pad and protect the balls of your foot. It is a comfortable pad with wider shape as it prevents your foot from sliding from your shoe.
Once you apply the metatarsal pads under your foot, it stays in place securely. Just wear the pads and keep moving on. If you have tried a thinner pad that didn't give you the right comfort and support then choose this. It is a thicker pad that makes your foot feel comfy.
You wear the pads and let them stay even for all day long. It is one of the most reviewed metatarsal pads for alleviating pain in foot.
PROS
Proper size
Restores support
Thicker pads
Securely stays up
5. Povihome 5 Pairs Dancer's Pads, Metatarsal Pads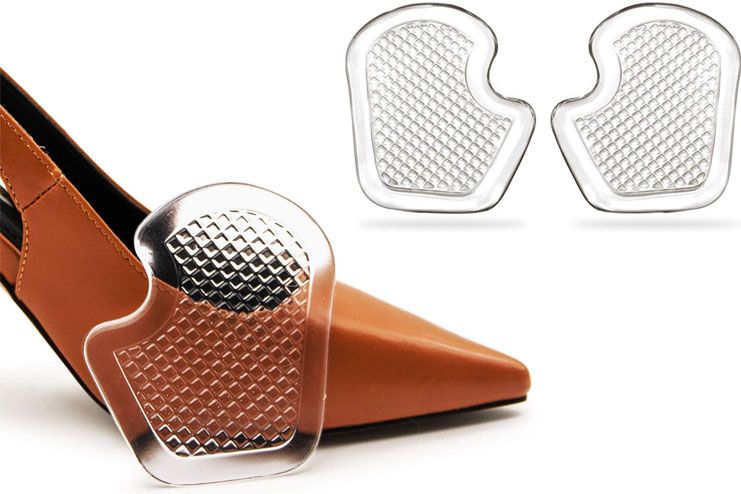 If you are suffering with metatarsal pain or forefoot pain then you can rely on these pads. These are specially made for the dancers who experience pain while making movements. It is specially designed to stick with women. If you are uncomfortable wearing your favourite heels, no more it will be a problem with these foot pads.
The pads are of best use for sesamoid pain, ball of foot pain and metatarsalgia pain. These metatarsal pads are made out of gel that is washable. You can use the product even after washing and drying with the same adhesive. It is free from latex material to make it a comfortable walk for you. It transfers the weight away from metatarsal bones to relieve the pain and tightness which is common for many people.
You can wear it with the designed shapes of right and left to contour your foot without any discomfort. You just have to wash them before using them for the next time. The quality of the product is trustworthy and moreover,it is made out of soft gel.
It is a one time buy as you get 5 pairs which don't run out easily with longer durability and best quality. The product claims to alleviate the foot pain with regular use. Try wearing these quality metatarsal foot pads to support the balls of your foot while hiking, dancing, running and walking or for any other sport.
PROS
Durable product
Flexible use
For everyday
Alleviates pain
Reusable pads
6. Hapad Metatarsal Pads – Metatarsal Foot Pain Relief Cushion – Foot Pads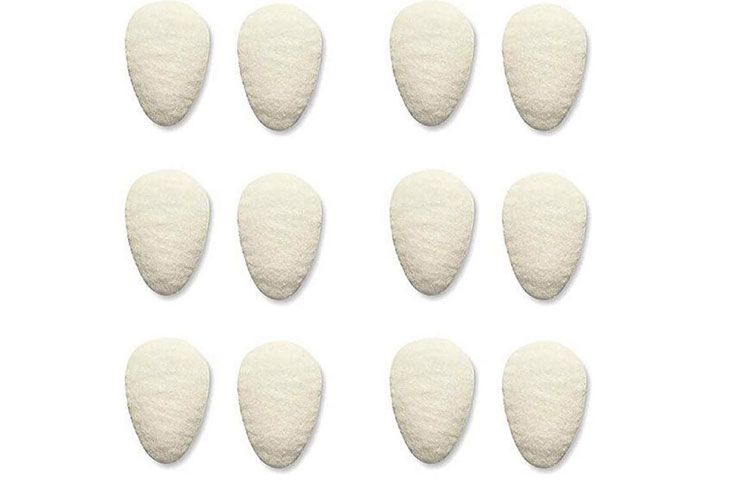 You need the proper placement of the foot to cure the pain. When the weight is shifted away from the metatarsal heads it relieves the pain on the ball of foot. This is what Hapad metatarsal pads do to your foot.
It is one of the best metatarsal foot pads that you can choose for foot health. There are various conditions that target the metatarsal bones. If you are suffering with any of the conditions then choosing this product can be a protection for your foot.
Every pair of these pads is attached with easy to remove adhesive while staying in place when wearing it on. The shoes don't slip off when you wear the pads throughout the mobility. It comes with a medium thickness that fits the ball of foot.
It is a complete durable product that you can wear with all the shoe styles. You can reuse it everyday to prevent the pain with cushion comfort. The comfort is because of the wool felt fabric that's totally safe to wear regularly. The material wicks the moisture making it a happy wear even after a day long use.
PROS
Wicks moisture
Wool material
Medium thickness
Shifts away weight
7. MARS WELLNESS Premium Adhesive Moleskin Blister Precut Medical Kidney Metatarsal Pads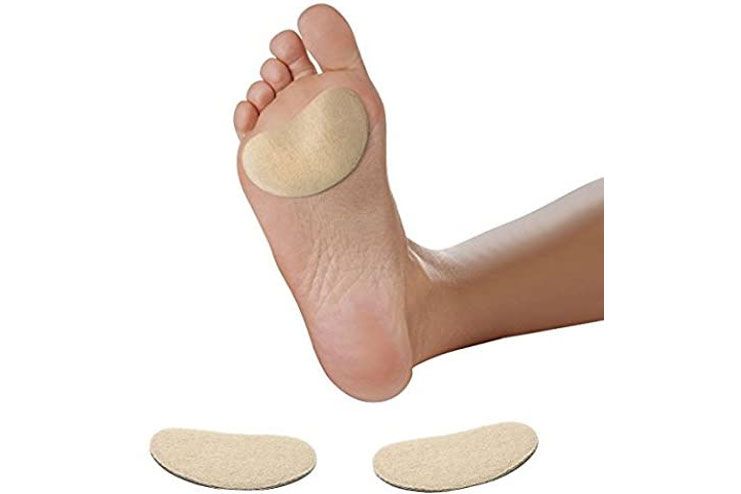 Did you ever suffer blisters in your foot? If yes,then you must use these pads to prevent blisters in foot as it reduces friction to areas with proper placement. Sometimes, shoes rub on your foot and cause pain. Using these foot pads, your foot feels better without any discomfort.
You will feel comfy with the thin interface between foot and shoe. There will be no irritation or any kind of problem wearing these well designed foot pads. You can use this product to protect the bottom of your heels, balls of foot and back of heels as well.
It is one of the affordable and best metatarsal foot pads with reliable quality. You get 50 pieces in a pack which can be stocked for everyday use. These are unisex foot pads that suits variousstyles of shoes.
PROS
Stronger adhesive
Prevents friction in foot
Flexible to wear
Affordable product
8. Francoscavo654 Metatarsal Sleeve Pads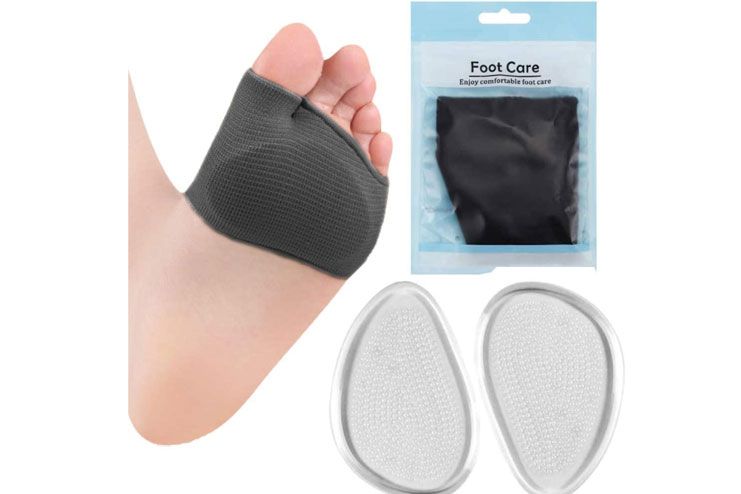 If you have any of the localized foot conditions like bunions, callus, metatarsalgia and neuromas then you can choose these foot pads. And one of the most common foot problems is caused by plantar fasciitis which can be prevented by wearing these pads. Wearing the pads, prevents burning sensations in the foot.
The quality of the product is medical grade with gel material. It makes your walk comfortable with soft pads under the foot. These metatarsal foot pads are for premium support and it is a cushion like support for your forefoot.
These metatarsal sleeve pads are lightweight with superior quality. When wearing it throughout the day, you must not worry about foot trapping with moisture. The sleeve pads are made to be breathable.
Irrespective of any activity, you can use the pads with perfect fitting. When going for the activities like, dancing, hiking, running you don't forget to choose these products as it makes your mobility extremely easy and painless.
These are the best metatarsal sleeve pads that match the footwear of both men and women. You can even wear these shoes with or without the shoes. The pads are washable and reusable for hygiene.
pros
Breathable fabric
Perfect fitting
Washable and reusable
Cushion comfort
For various foot conditions
9. Pedag T-Form Metatarsal Support Pads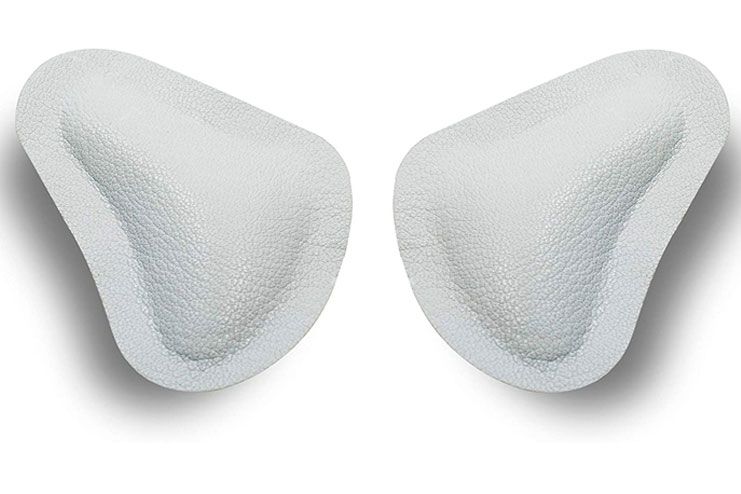 Pedag metatarsal pads are designed in bigger size to align the toes rightly. The right position of toes rescues your foot from the conditions like burning sensations and bunions. The shape of the poads allows you to use any style of shoes.
You can wear them without socks or stockings as well. Wearing it barefoot at home is not a problem at all. It is a fully versatile pair of pads for everyday use. The pads are wearable for men or women and even with the smaller feet.
These pads are made out of leather and latex to avoid skidding and make it non-slip walk on different surfaces. You have to wear the pads as per the right and left design to fit your foot properly.
The brand uses only water based glues to avoid the side effects of chemical glues on foot. Most of them choose these metatarsal pads as they come in comfy T shape and the material is of high grade which makes the wear harmless.
You can choose the pads as per your foot size as the sizes are variable. It even fits the tight shoes which is another benefit. One drawback with these pads is, adhesive will wear off easily after washing.
PROS
T shape design
Harmless material
Non slip grip
Various sizes available
10. SooGree Ball of Foot Cushions (5Pairs) – Metatarsal Pads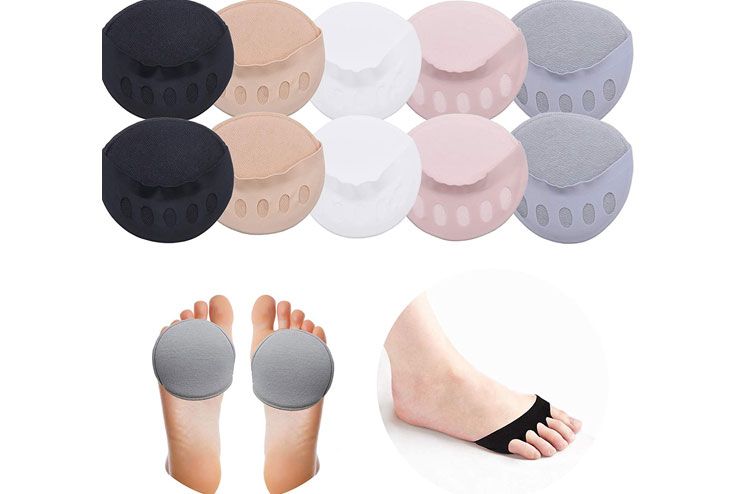 The metatarsal foot pads are designed with upgraded technology. There are pores across the pads for air circulation and to prevent moisture in your foot. It also resists heat throughout the day. You can wear these pads for different types of footwear like ballets, boots and heels.
The pads hug your feet and stop from slipping off. These pads are mainly to focus on preventing the foot from metatarsal pain by reducing the pain and tension in the foot. You Can wear the pads for uncompromised mobility, hiking,running and dancing.
You get 5 pairs of pads to use change and use everyday. And these are reusable with an instant wash and drying. Choose the pads to use for the long term if you have any foot pain conditions. It relieves pain with a soothing effect and healing from pain in the ball of foot, metatarsal, forefoot, bunions, calluses, blisters. These are preferred by the people who suffer with foot fatigue often and to prevent pressure on the forefoot.
It gives support to each toe as it is designed to do so. Also the material of the pads is of high quality cotton to make it a skin friendly product.
PROS
Heals foot pain
Safe cotton material
Breathable fabric
Heat resistant
How to Wear Metatarsal Foot Pads?
Metatarsal foot pads come in different shapes and sizes which differs the way of their use. You must check the design and shape before choosing the product. Most of the foot pads are to stick and peel off after the using. You can still follow these basic and right steps of wearing metatarsal foot pads-
Detach the insole from your shoe and spot the right position to stick the pad.
Open the side pads where the adhesive is given.
Place the pad on the spotted area of the insole of your shoe.
Fit in the insole back in your shoe and wear it on.
Do the same with another shoe and enjoy the comfort of foot pads.
Wrap up: If you are using the metatarsal foot pads for the first time then this article tells you the relevance of it. You will know the purpose of using foot pads, the steps to use. Then, choosing the best metatarsal foot pads can still be knotty. These products are filtered from the available options basing the quality, purpose, price and other important factors. You can choose a pair of foot pads based on your preferences and experience the comfort that is said throughout the write up here.