You have various alternatives to offer balance and mobility. Cane is an easy alternative for injured persons and aged people. You have sticks and stands but they don't provide the improved stability and balance. Also the stands are not easy to carry anywhere you go. Hence, we suggest the best canes for balance in 2021.
A cane should help you in self standing and walking. Only then, you must call it a best cane for balance. The canes with proper base, heavy duty features are listed here for you. You can look for an affordable cane form the same list.
You may want to buy a best cane for balance which has the additional benefits. So, what must be your focus on while buying a cane? To know this, you must get into the informative buying guidance that provided further.
Do Canes really help you balance?
It depends on the balance problems to rate the helpfulness of the canes. If a person needs a helping hand mobility and balance then cane is a must have. It is a good option for the people who can walk with least support. And It is just like another integral part of your body for a better balance.
Also It makes an appropriate choice for the people who are transiting from walker to a walking stick. Canes are ideal for the people who are recovering from injuries and single leg or hand disability and aged people. People who are not comfortable using walkers replace it with a cane.
Health experts says using a cane can diminish pain, improves function in patients of knee osteoarthritis (R). All these instances says cane is a highly helpful.
Which Is The Best Cane for Balance Problems?
1. HurryCane Freedom Edition Folding Cane with T Handle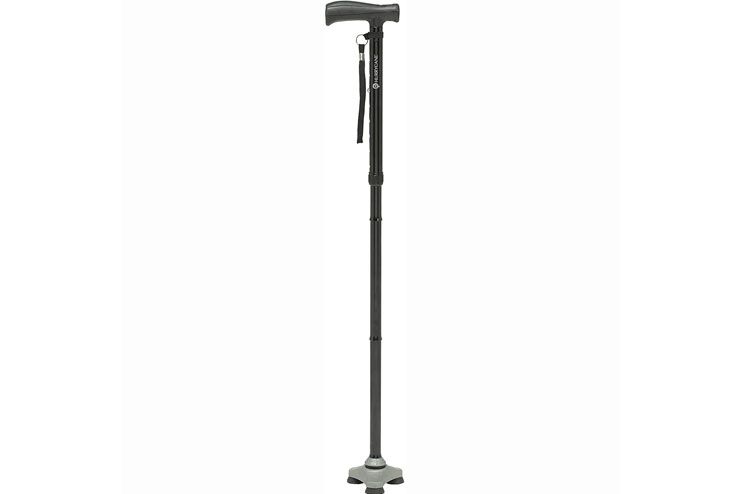 A cane that is perfectly made for indoor and outdoor use. It becomes a helping hand to walk independently who are facing the balance problems. It is a foldable cane with height settings between 30.5" and 37.5".Choosing this product you can adjust it into 8 different heights as per your need. You just have to press the push button to switch the heights. Folding this cane is easier while sitting.
The base is the main feature that ensures extended support for your body. The base is three way fixed to grasp a balance to stand and walk. The weight capacity of the cane is up to 350 pounds. If you are looking for the suitable weight capacity which matches this product then this is the best cane for you.
Hurrycane helps in walking holding your whole body weight with enhanced flexibility. The handle of the cane allows you to have a comfortable grip as it is ergonomically designed. You can secure the cane by hanging it at any corner when you don't use it. It is an ideal product for any kind of balance problems like injury, stroke or any medical condition. We recommend it as a handy help for a healthy walk.
Read: 10 Best Foot Massagers for Diabetic Neuropathy – Discover the Best!!
PROS
8 Height Settings
350 pounds weight capacity
Ergonomically designed
Easily foldable
Strong base
2. KingGear Adjustable Cane- Lightweight & Sturdy Offset Walking Stick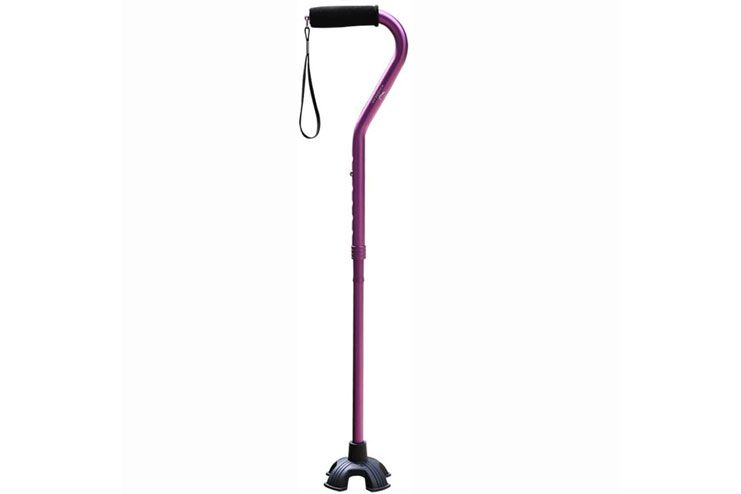 The KingGear cane is sturdy and lets you rely on it for support. You can rest your wrist on the handle while holding it for walking. The weight capacity of the cane is up to 270 pounds.
Another beneficial feature with the cane is height adjustments. You can alter the height of the push button. The height settings are from 31"-36".Though the cane is sturdy it is light to handle. The product is designed with an anti slip cut to save you from slipping and falling. The base is made of strong rubber to withstand the weight and movements while using the cane.
The cane is featured with an anti-rattle lock to prevent noise. You must check and tighten the lock before using it. It is a sturdy stick with a great grip for your hand. You can buy this cane for an easy walk with least or no assistance. If you are looking for a best cane for daily use then take this as an option.
pros
Height adjustments
270 Pounds weight capacity
Anti slip base
Wrist rest handle
Lightweight product
3. RMS Quad Cane Adjustable Walking Cane with 4-Pronged Base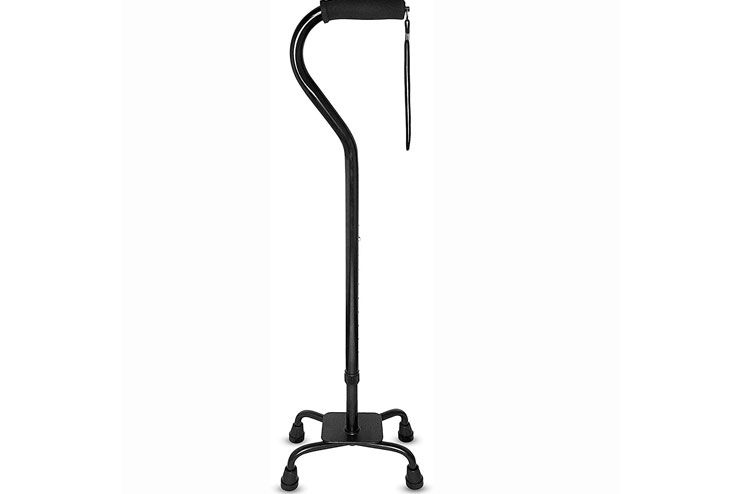 The cane is ideal for the perfect mobility with stable quad base. It can withstand the smooth or uneven floor with anti slip base. You can leave the cane for free standing with the wider base.
It fits for the one who are looking for a transition from walker to cane. This is the best cane to pick for good balance with 270 lbs weight capacity. The whole design of the cane allows you to walk with improved stability.
When you look at the base, it may seem like a heavy product. But then this base weighs 1.5 lbs which is still light to carry while walking. You must consider the comfortable handle which is a vital part of the whole product. The handle is foam covered for comfy grip that wont hurt your hands while using the cane.
The can is easy to use for left or right handed people It is easy to switch form hand to hand. Another feature is height adjustments. It is a convertible cane with height changes from 28" and 37" which fits for taller or short men.
Read: 11 Healthy Wall Sit Benefits – Strengthen Your Lower Body!
PROS
4 Prong quad base
Foam padded handle
Convertible product
270 lbs weight capacity
4. Ohuhu Folding Walking Cane with LED Light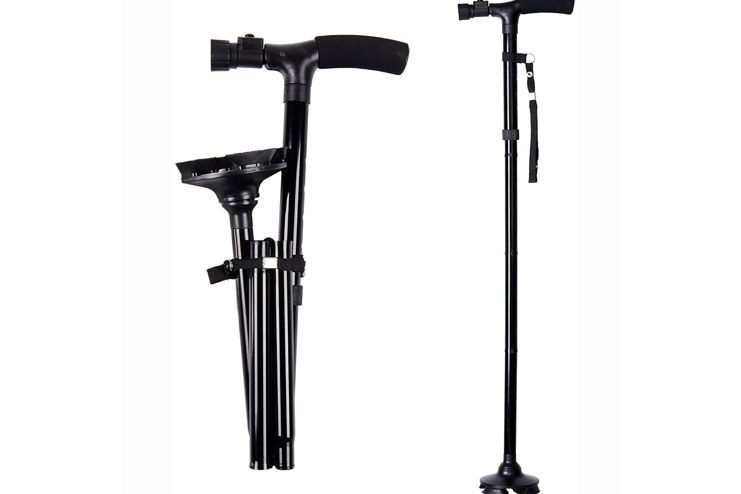 Here is an easy to use cane from Ohuhu. It can stay up even when you leave it at aside. It is a foldable cane within seconds when you are not using it. And It is portable with lightweight design as it is made with aluminium alloy.
The base of the cane is 360 degree flexible which allows you to walk without any discomfort. It is best cane to buy for balance for those who weight up to 250 lbs. It has given the height adjustments from 33" to 37" inches. You can use it for to meet your height requirements as the cane is convertible.
You can pick this cane over others if you are looking for additional features. It has an inbuilt LED light which gives extended support when walking in night or at dark places. You get the proper support and balance with this cane. It is has the contouring handle that prevents your wrist and palms from hurting.
The base of this cane is slip resistant hence you can rely on it for stability. It is the best can to purchase for the elderly people or for the patients who are recovering from injuries. And the cane is compatible to attach with any replacements either tripods, quad or ice tips.
PROS
Travel friendly
Inbuilt LED light
Convertible height
Contouring handle
High weight capacity
5. BigAlex Folding Walking Cane with LED Light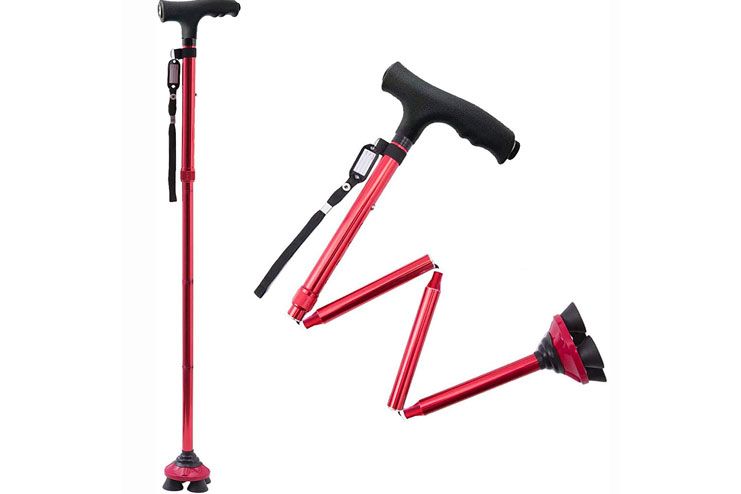 If you are looking for a cane that can be used day and night then pick this. It comes with an LED light feature which is fixed near the handle. You can operate the height amendments with a push button. It is suitable for the people with height variations from 4'9" to 5'6". Even It provides maximum support with weight capacity of 300 lbs.
It is a non slip pivot base for a firm balance. The bottom of the base is made to move on effortlessly on uneven surfaces. You must look for the best cane that offers your balance for longer time. This cane supports you in walking for longer time with well designed handle. It is given with a wrist strap to avoid pain.
Base of the cane is 360 degree free rotation that enables balance and mobility for you while walking. The cane is easy to carry with lightweight material. It is also a travel friendly and easy to store cane with foldable feature.
Read: 11 Energizing Squat Alternatives for Bad Knees – Comfort Your Knees
PROS
5 Height adjustments
Inbuilt LED light
300 Lbs weight capacity
Easy to store
6. HONEYBULL Walking Cane for Men & Women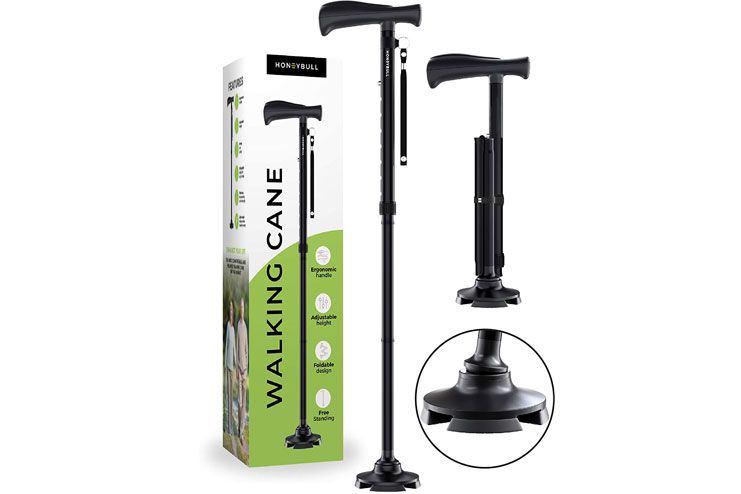 The cane is a reliable product for aged and injured people. The base is designed to navigate easily on plain or uneven surfaces. It stay up with the sturdy pivot base. It is made for people with height range from 5' to 6'5". You can use these height adjustments with an operating button.
This can fits your bag or pouch that you carry along as it is foldable.The base is attached with four rubber grips to prevent from falling and slipping. You can leave it to stand alone when you are relaxing in chair but not walking. The handle is ergonomically designed to use for longer time. You can hold the wrist strap to avoid the wrist ache during long distance walking.
Honeybull cane is made to support the persons up to 250 pounds of weight. It is one of the durable canes that you can buy. It is coated with aluminium for better durability. You can use it holding on your side, on staircase. It is an affordable cane with high quality material and design.
PROS
5 Height adjustments
Pivot base
Ergonomic handle
250 pounds weight capacity
Affordable price
7. NOVA Medical Products Heavy Duty Quad Cane with Large Base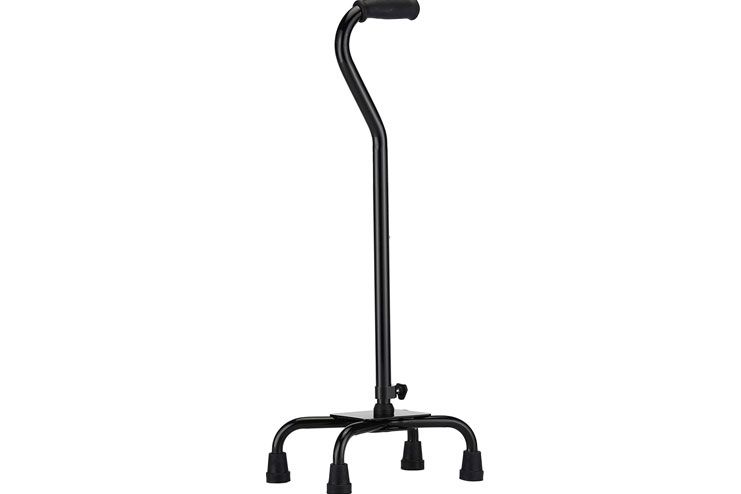 A heavy duty walking cane is a need for the furthest balance. It can support the weight up to 500 pounds. It is built in a sturdy and stable manner. You take this cane for a self reliant walk on any surface.
You can adjust the height between 5'2" to 5'11" which suits the persons height of 4'11 to 5'11. The easy height adjustment is a benefit that you can experience with this cane.
The offset handle allows you to walk with finest hand grip. Well designed handle won't impact your wrist with pain or any discomfort. It has the wider base which makes it stand alone on any surface.
The cane comes with anti rattle feature. You must tighten the lock before using it to prevent cane rattle. It is a made out of aluminium material which prolongs the durability of the product while using it for everyday. It is a best cane to pick for balance and greater mobility.
Read: 10 Exercises To Reduce Back Fat Faster
PROS
Height amendments
Wider base
Highest weight capacity
Offset handle
8. Hugo Adjustable Quad Cane With Small Base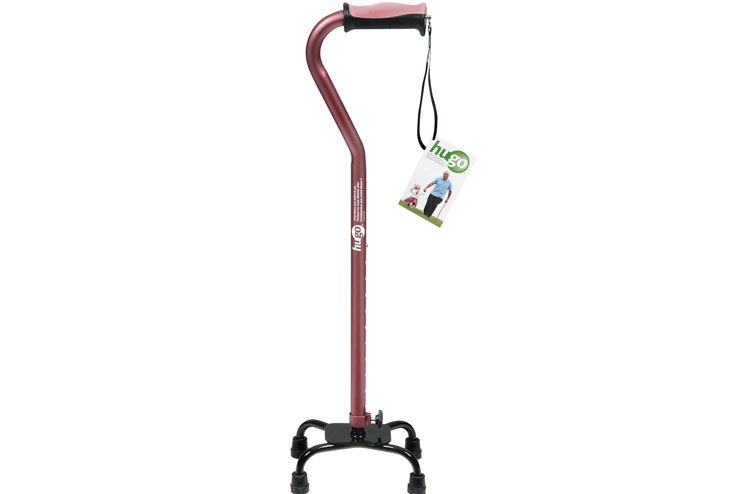 The cane can accommodate the heights from 28 to 39 inches. You can use the 11 precision height settings as per your need. It is a highly convertible cane with maximum weight capacity of 300 lbs. The height settings and weight capacity makes it one of the best canes for balance and mobility.
The ergonomically design handle is to keep your hand from discomfort. You can choose this cane for if you keep walking throughout the day. It is a cushioned handle for save the person from impact shock. You have a wrist strap to hold the cane securely. This cane is for both right and left handed people with pliable rotation. It conveniently stand on its own wider base.
The base rotates from right to left hand which provides balance to fullest. It is attached with the rubber tips to avoid the slipping. Also It ensures the stability and make you feel secure with traction while walking. And It is made with heavy gauze aluminium for increase durability. The product is reasonably priced with high grade quality.
pros
11 Height settings
300 lbs weight capacity
Ergonomic handle
Non slip rubber base
9. Sminiker Professional LED Folding Walking Cane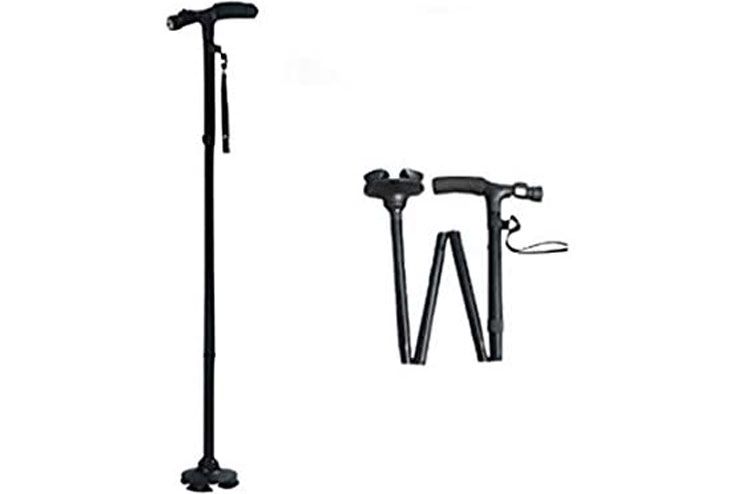 When there is poor balance, you must take care with an alternative support to prevent accidents and injuries. This cane is a best alternative for balance. It is compact with foldable design which enables you to carry anywhere. When you are transiting from standing to sitting position, you can fold this cane and relax down.
It comes with a wide rotating head that makes mobility easy for you. When choosing a cane you must look for the grip and comfort.The cushioned handle gives you a super comforting grip.
As it has the wide base, the cane stands on its own. The rubber base makes sure that you are secure. It is to safeguard from slipping and wobbling. The weight capacity of the product is up to 200 lbs. It is facilitated with the height settings.
At night time, you need a good vision along with the support. Understanding the need, this cane is equipped with a LED light. It is a lightweight product to lift up effortlessly for improved balance and mobility.
Read: 10 Step Pilates for beginners
PROS
Height settings
LED light
Compact and fodable
Contouring handle
10. TigerBoss Foldable Ergonomic Walking Cane Crutch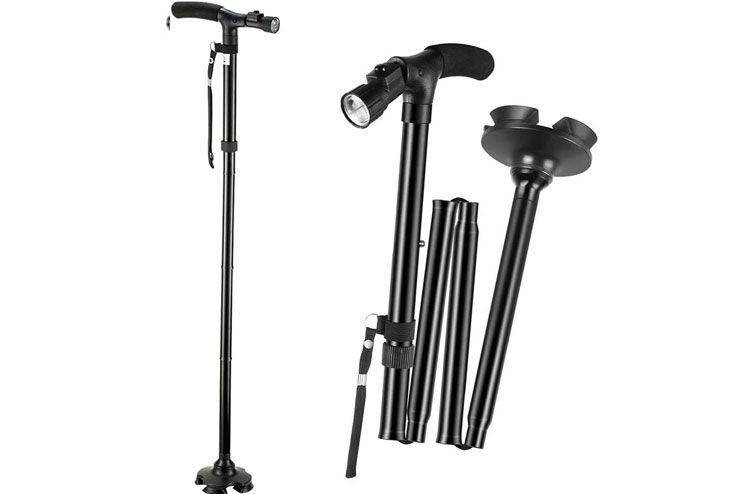 You can go for this cane if you are looking for height range between 33 to 37 inches. It is designed with inch height increment to adjust the height. It is a powerful cane with maximum weight capacity of 250 lbs.
The ergonomic design of the handle aids in offering you the comfort while holding it. The handle is covered with leather to prevent from hand ache. It is not only as best cane providing you balance but also a vision with LED light. You can fold it and carry while traveling.
This T shaped cane stands still along with you providing enhanced stability. The well designed 360 degree versatile base encourages you for mobility. While this cane is lightweight that coated with corrosion resistant aluminium. This material contributes for durability of the product.
PROS
5 Height adjustments
250 Lbs weight capacity
Ergonomic handle
LED light feature
Corrosion resistant
Things to consider to buy a best cane for balance
1. Height adjustments
If a cane has no height adjustment feature then better not buy it. Look for a convertible product to match your height. A walking that doesn't match your height is tough to use.
2. Weight capacity
You must buy the cane that is compatible for your weight. If your weight exceeds the weight capacity of the cane then it may lead to damage or may not come in use as expected.
3. Base of the cane
Stability and balance that you get from the cane depends on the base. A wider and sturdy base can help you with better balance. Look for the the rubber tipped base that avoids from slipping and skidding.
4. Lightweight
You must check the weight of the product. If the product is heavy then it become difficult for you navigate it while walking. So, always pick the lightweight canes for easy walking.
5. Travel friendly
If you want to carry your cane for balance anywhere you go then you must look for a travel friendly product. The cane which is foldable is easy to carry while traveling.
6. Design and built
Design and built are the unavoidable factors while buying a walking cane. The cane with ergonomic handle and contouring shape or foam padded offers proper grip. These kind of designs help you in walking without hurting your hands and wrist.
7. Material
You must choose the cane that made out of high quality material. The quality material help in prolonging the life of the product. Heavy gauze material prevents the cane from wobbling and stands sturdy.
8. Additional features
The canes are featured with additional benefits like LED light and anti rattle lock. LED light makes it easy for you to use the cane in night time. Anti rattle lock is an feature that is given to tighten the cane before using it to avoid rattling.
You can take the support of walking cane to walk independently. As you have the options to buy the according to your needs, don't compromise on your comfort and safety. Choose a best cane for balance that makes you feel secure while walking. It is important to make sure that the product don't cause any discomfort or hurt while using it. It depends on the features and the quality of your cane. Hence, take review on the features before buying one.