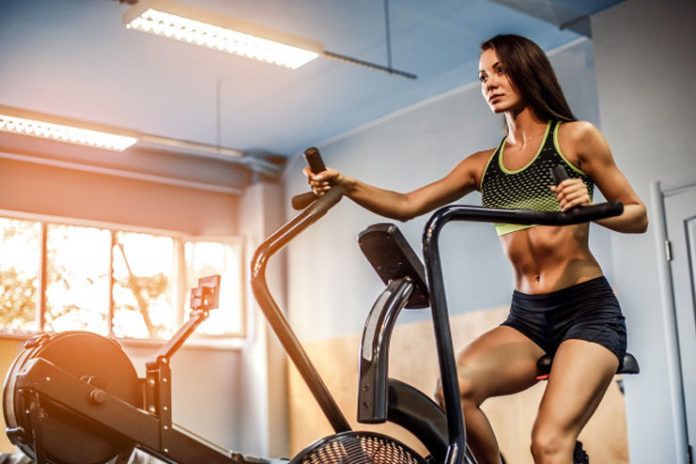 Burning the calories is the prime purpose of crossfit where an air bike does its part without any compromise. It is a must have machine for the people who are into crossfit training. A best air bike for crossfit shows progressive results that you cannot miss at any cost. Here are the things Air Bikes for Crossfit where everyone should adopt them!
Exercise with an air bike is a challenge to build the leg muscles and to tone them. It has become a mandatory exercise in different workout styles. One workout that demands the best air bike is crossfit. A few best options are circulating with huge availability in the market. You don't have to compromise your fitness goals under crossfit training.
We are sharing the additional details that are required while you are selecting a best air bike for crossfit. You must know the significant features and uses of before choosing an air bike. As you are investing a bulk amount to support your crossfit training don't be a blind shopper but be wise. Here is everything that can fall into what you need to be aware of when going for an air bike for crossfit.
What is an Air Bike?
Exercise bikes are an integral part of every workout at gym or home. If you're aiming to sculpt your lower body then a regular exercising bike is good to equip. But if you are looking for a bike for crossfit then it must be an air bike.
So, what's so unique with air bikes.and what is it? Movable handles along with paddling is one of the main features of an air bike. This bike runs with a a
Large fan that generates wind while someone is paddling it. You will have to utilize your maximum of energy to paddle the bike which makes it a perfect machine for crossfit. That's the reason many choose the air bike as the best for crossfit.
Top Air Bikes for Crossfit
1. Assault AirBike Classic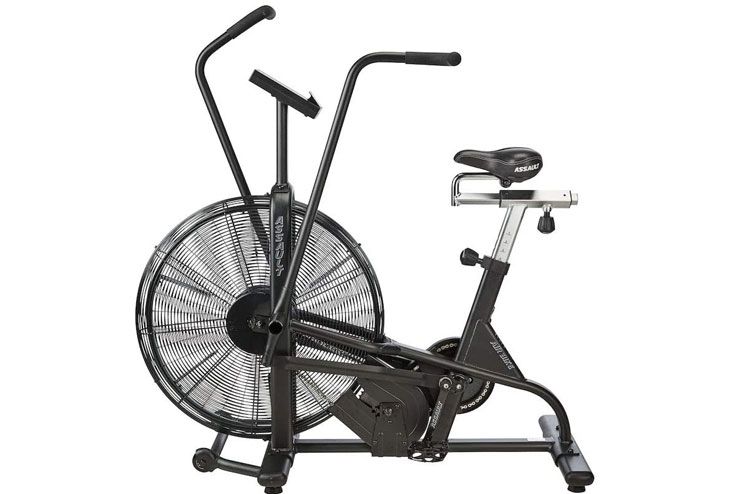 A durable airbike with user friendly features is a perfect workout companion at home or gym. It is made of steel gauge for sustainability and for long term use. It has an inbuilt shelf to hold your gadgets and other belongings while you are engaged in cycling.
The seat is adjustable with 6 settings which can be changed according to your comfort. You may want to know the weight capacity of this airbike and it is 350 pounds. This is an absolute sustainable machine for workout.
You can have the lower to higher resistance which makes this a best airbike for crossfit workout. Not only for crossfit but also great for workout styles like tabata, intervals and cardio. It is provided with 20 ball bearings and pivot points to give a smooth experience and this also helps durability. The resistance of the bike increases as you paddle. While you are indulged in shedding calories, keep a count on the calories burnt, distance and time. These can be a must known air bike for CrossFit.
PROS
Higher weight capacity
Digital track display
Smooth workout
Made of alloy steel
2. Schwinn Airdyne Pro Exercise Bike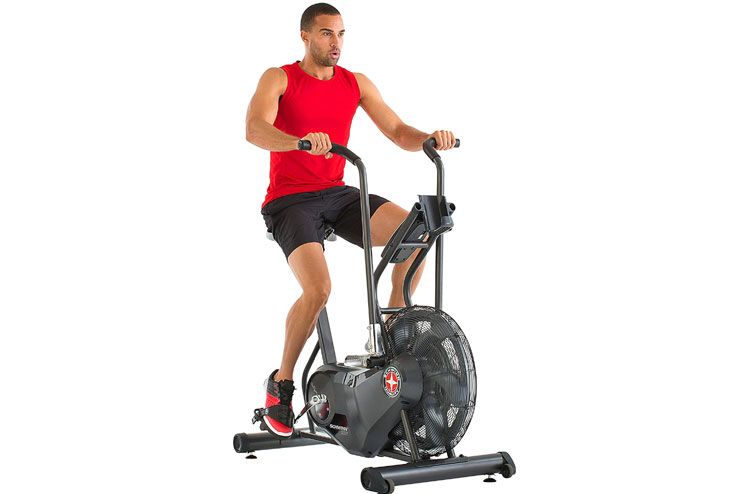 The exercise bike with a fan from Schwinn has many impressive features like LCD display and stable foot pedals. LCD display is to show the speed level, duration, calories and other details that you can monitor while using the machine. The pedals are attached with straps that help you with self balancing and motion.
It is the best air bike for crossfit as well as the cardio workout as it provides several levels of resistance with the wind system. The air flow from the fan provides the cooling effect and makes you feel comfortable while exercising on the bike.
While you are practicing exercise on this machine, you don't have to reach out for your water bottle by walking the distance. It is equipped with a bottle holder to keep your water bottle handy for you. It has another amazing feature that is transport wheels for portability from space to space.
PROS
Easy to assemble
Resistance levels
Self balancing paddles
Fan with cooling effect
Movable machine
3. Marcy Fan Exercise Bike with Air Resistance System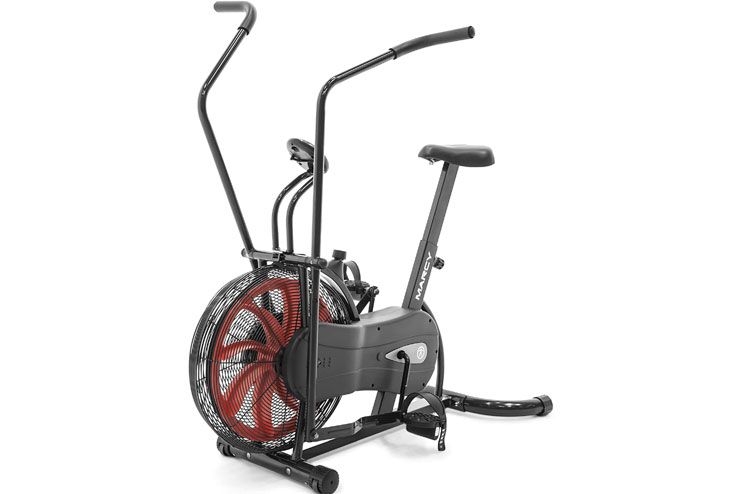 The exercise bike is designed to target your lower body and simultaneously strengthen your arms, increasing the endurance of the upper body. While you are working out, the bike keeps your cool without discomfort and sweat. This kind of machine is a dream gym equipment for many. You can install it for home or professional gyms.
It has a resistance knob to operate according to the needed level of intensity. Each user can change the intensity level according to their personalized need. This feature makes it an easy to use exercise bike of all. Another use friendly addition is LCD display to track the time, distance, speed and calories burnt throughout a cycling session.
You must also consider the seat that comes with the air bike as it allows you to sit and practice your exercise without any trouble. This air bike is attached with an adjustable seat according to your comfort. The ergonomic handles help you acquire the grip you need for vigorous exercise. You can hold the handles without hurting your hands. Design of the bike is the primary object as it prevents from straining your back muscles. It is a durable and best air bike for crossfit with all the required features.
PROS
LCD display
Adjustable resistance levels
Ergonomic handles
Durable product
Cooling effect fan
4. Ativafit Fan Bike Exercise Upright AirBike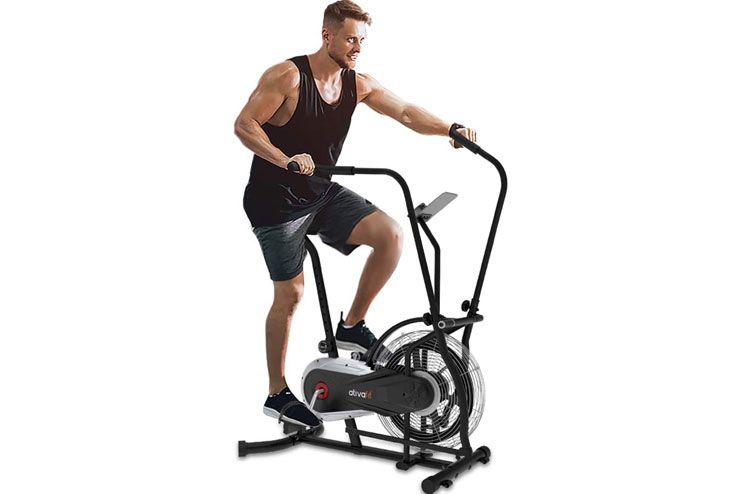 You are looking for a heavy duty air bike then check this out. It is recommended for a maximum 250 pounds. You have a digital monitor to check the details from the calories burnt to speed and the resistance level. It helps you keep a track while exercising throughout on the machine.
Both the handles and seats are adjustable for your comfort. You can set the seat as per your convenience to avoid any discomfort. This is the best air bike for CrossFit as it allows sculpting upper and lower body. There is changeable and maximum resistance to accomplish your fitness challenges.
As you keep shedding sweat, the fan provides a cooling effect with the airflow. It is one of the well performing airbikes with safety features like strap paddles. When you are practicing cycling, you can increase the intensity by securing your foot into the straps and keep going on.
It has a cell phone holder which saves your time and keeps you away from disturbance. You can pick your phone while exercising the cycle. Another great feature is transport wheels for easy portability of the machine from place to place.
PROS
High weight capacity
Portable wheels
Paddles with straps
Adjustable seats
5. leikefitness Fan Exercise Bike Upright AirBike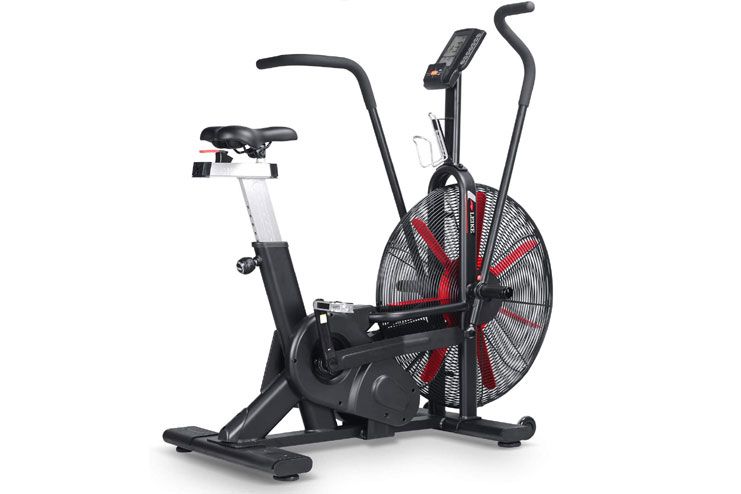 As you are choosing an air bike for crossfit, you need unlimited resistance for the upper and lower body. You just have to paddle to increase the resistance from lower to higher which is a flexible feature.
It supports the weight capacity up to 280 lbs which is a high capacity. The endurance of an air bike is heightened with a high grade steel material. You can simply adjust the seat and handlebars to match your comfort levels.
You will have to place your foot on the pegs and continue to workout. This air bike is beneficial for crossfit workout as it gives you a smooth experience every time as it has a joint chain and belt drive. This is a super solid exercise bike for cardio as well.
The additional advantages with this air bike for crossfit are a phone holder and water bottle holder which are inbuilt. It has the digital display to view all the details including calories expenditure, distance, speed. As you can see these important details, you can go accordingly. It has the front wheels to help with easy mobility.
PROS
Great weight capacity
Additional holders
Chain and belt mechanism
Easy assembly
6. Body Rider Body Flex Sports Upright Exercise Fan Bike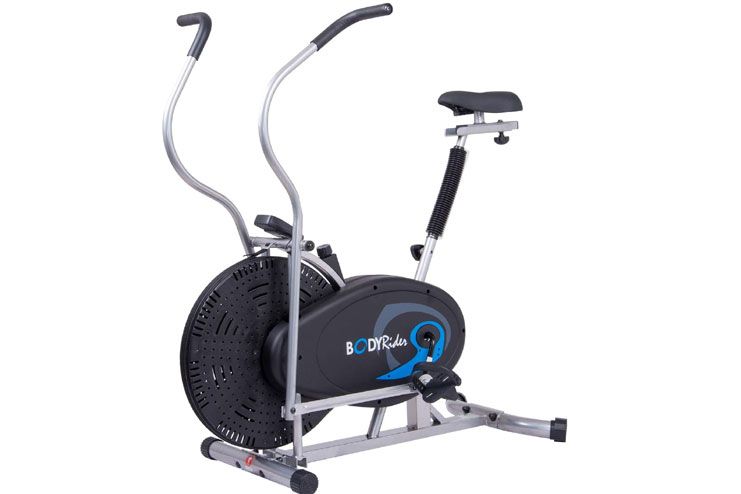 Crossfit is a trending workout style that has beginners and pro trainers. You need convertible equipment for a professional crossfit gym. If you have come here for a fan bike then this can be a perfect choice for your needs. Basically, this air bike has adjustable resistance for high intensity and sprints for low tension. You can switch the resistance levels to match your goals as it has 8 variable levels.
This machine has an inbuilt tracker to show the calories burnt along with speed, time and distance. Keeping a track on your exercise is a must do to motivate and improve yourself. You better throw a challenge with the help of this workout beast.
The design and built is sturdy to prevent from falling while.you are indulged with cycling at high speed. It has the height adjustments for a personalized use. The seat is flexible to set it up as per your comfort and reach.
PROS
Sturdy built
Digital display
8 Resistance levels
Easy to assemble
What makes a Good Air bike?
1)Height adjustments
A best air bike must have the height adjustments unless it is for a single person. If you are looking for an exercise bike for family or professional gym then convertible features must have the weightage. Only then it makes the best air bike in my view.
2)Design and built
You must consider the design and build before picking an air bike. It must be super sturdy and stable to withstand the intensity of the workout. Well designed with standard material air bikes is the best for crossfit.
3)Digital tracker
An air bike with a digital tracker is brilliant equipment for crossfit workout. Every minute counts for your workout so the tracking does too. In fact, this is a basic feature you must look at while choosing a best fan bike. It shows the crucial details including calories burnt, speed and resistance level.
4)Weight capacity
You must know the weight capacity of air bikes for CrossFit. You may have many options but choosing a machine that suits your weight is important. Exceeding the weight capacity of a workout equipment may cause damage to it or reduce the efficiency.
5)Resistance levels
It must have various resistance levels to reduce and increase the tension according to the practice level. This is the most significant feature that you must consider to buy the best air bike. It makes it versatile to use by beginner or advanced trainers of Crossfit.
6)Comfortable seat
Check the seat of the air bike before finalizing the product. A cushioned seat can make you feel more comfy. You can look for a flexible seat that adjusts with the sitting positions. An air bike with too small a seat can cause discomfort while practicing the exercise. So, give it a fine check of the seat and then select it.
Conclusion
Finding a workout machine for crossfit is a bigger task than you imagined. If you have decided to buy an air bike for CrossFit then it is a brilliant decision. After all, every air bike may not be compatible with crossfit. You must check the features, intensity and others to call it befitting for a high-intensity workout. You must be knowing what all to consider while buying an air bike. A list of best air bikes are ranked according to the given features, prices and the expected quality. This article can make your airbike selection easier compared to a random selection. Now you know what to purchase and to make best use of the product you are going to buy.
Recommended: