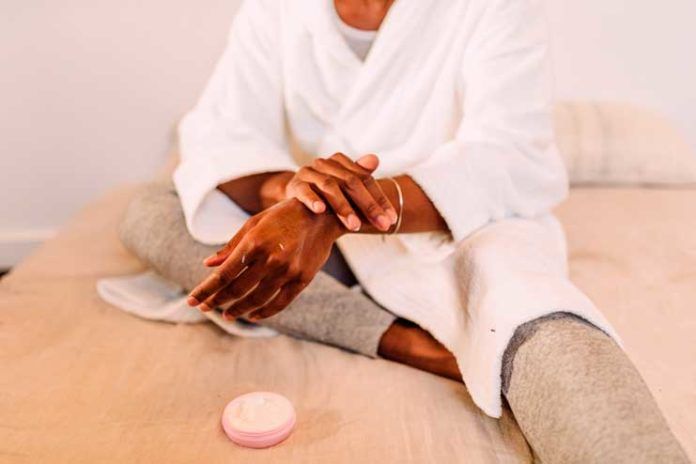 Shaving has always been in vogue and many have tried or used different hair removing methods like shaving, waxing, laser hair removal, threading, and hair removal creams. Sometimes these methods may not particularly suit you and do not completely get rid of grown hair. People also face the issue of ingrown hair and that is not a peaceful experience now, is it? That is when hair growth inhibitors come into the picture.
Hair growth inhibitors help to reduce the growth of hair. It helps to get rid of excess body hair and over time also with the ingrown hair. This hair reduction happens because hair growth inhibitors cut back the supply of nutrients to the hair follicles and when they do not get enough that is when the growth of hair reduces. In this article will talk more about hair growth inhibitors, how they work and which are the best ones to buy. So let's find out more…
What is Hair Inhibitor and What Does it Do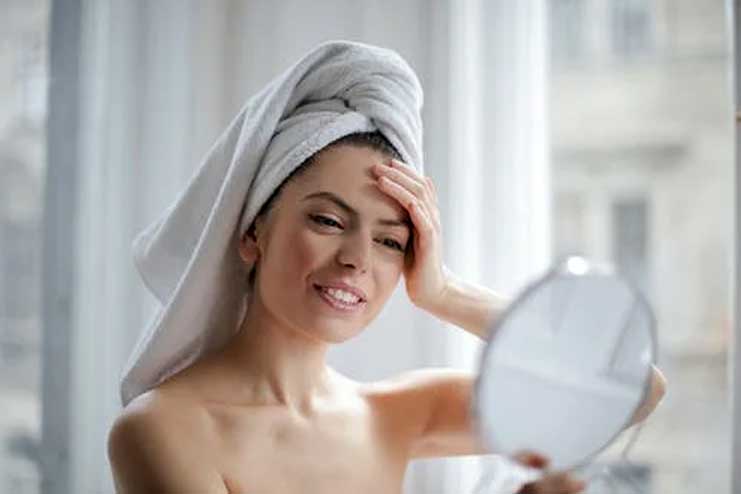 There are many standard hair removal methods like shaving, waxing, threading, or using hair removal creams. But after a while, the hair is regrown and one needs to frequently use the same methods to remove body hair. You might be thinking there is an option of laser hair removal too but they are expensive and not everyone can keep affording a laser hair removal.
That is why now you can opt for a Hair inhibitor, they are responsible to delay or reduce hair growth. They come in a spray bottle or cream that needs to be applied after you have shaved or waxed your skin. Once you apply a hair inhibitor they remove the hair from the roots directly and you can have flawlessly smooth skin.
For some of you waxing must be painful and shaving needs to be done on a frequent basis, in today's busy world no one has that much time and energy to use it for removing unwanted body hair. So hair inhibitors act as your savior, but many misunderstand them as a permanent hair removal technique.
That is not true it does not permanently remove hair. But constant use of hair inhibitors can delay and reduce hair growth for up to 3 months and that is a very good amount of time especially if you have a busy schedule.
Is it Safe to Use Hair Growth Inhibitor
Yes, They do not damage your skin as they are usually made of natural botanical ingredients or have plant-based extract in them. But it is always advisable to read the ingredients list and see if you tend to have allergies to any of these ingredients and if not it is safe for you to use. Also, the best way to be sure is to do a patch test a day before and see if there are any skin rashes or allergies due to the use of hair growth inhibitors. You can also always check with your dermatologist for a particular product.
Hair inhibitors need to be applied only after you shave your body hair and will not be effective if you have removed all the hairs directly from the roots already. Also, it is recommended not to apply any essential oils or products on the skin after the use of hair inhibitors. If you notice your skin having any kind of side effect you can always discontinue the use of it.
Also read-10 Best Collagen Supplements For Hair Growth
Best hair inhibitors to buy
1.Venus visage hair growth inhibitor spray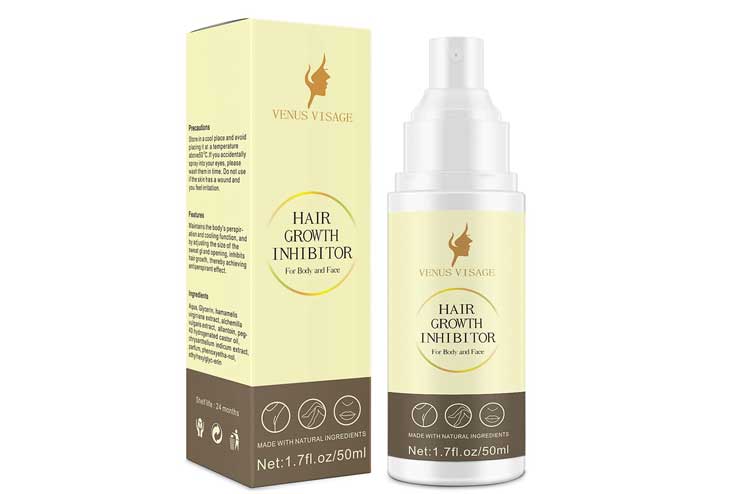 Venus Visage product is made from natural ingredients and can inhibit hair growth effectively. Infused with botanical extracts and smells really good. It says with regular use the active ingredients will help to reduce, weaken and delay the regrowth of hair. It is a painless and easy process, just spray on the skin and leave it.
You do not require tweezing or shaving and can be used on the chest, under arms, legs, lips and private parts. Instructed to use it once a day and in 30 days, it will show clear results. Also do a patch test before using directly on the skin.
PROS
Painless
No black spots
Natural ingredients
Makes skin smooth
No irritation
Nice smell
Easy to use
CONS
Takes time to show results but works
2.Completely Bare Don't Grow There Body Moisturizer & Hair Inhibitor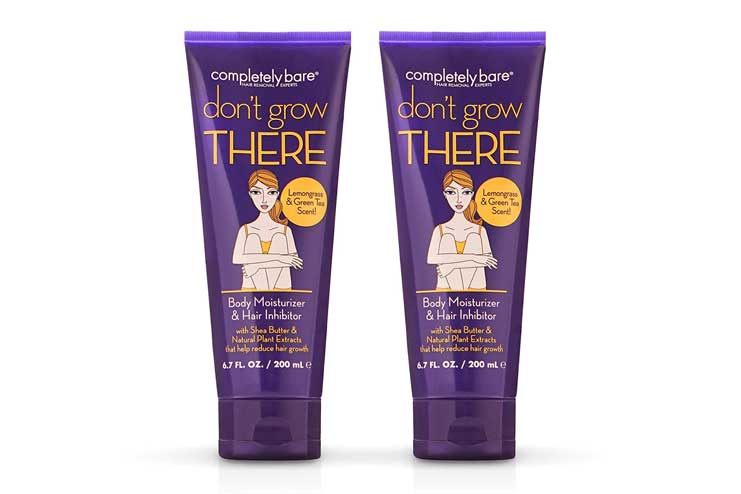 Completely bare don't grow there you can surely reduce your need to shave weekly or on a regular basis. This is a unique product that reduces hair growth and acts as a moisturizer and hair growth inhibitor both in one. It is infused with moisturizing ingredients like shea butter and white willow for brighter, well-nourished skin and has a scent of green tea and lemongrass that feels very refreshing on the skin.
The lotion contains CB tri-complex and Capislow, proven to reduce hair density by 50 percent, reduce hair length by 30 percent and reduce hair growth by 55 percent. It is formulated specially to reduce hair density, growth, and length. This has a natural plant extract which makes the product useful and safe to use.
pros
Moisturizer and inhibitor both
Made from natural plant extract
Infused with shea butter
Refreshing scent
Reduces hair growth
Has Cb-tri complex
Suitable for all skin
3.Smooth best all-natural hair inhibitor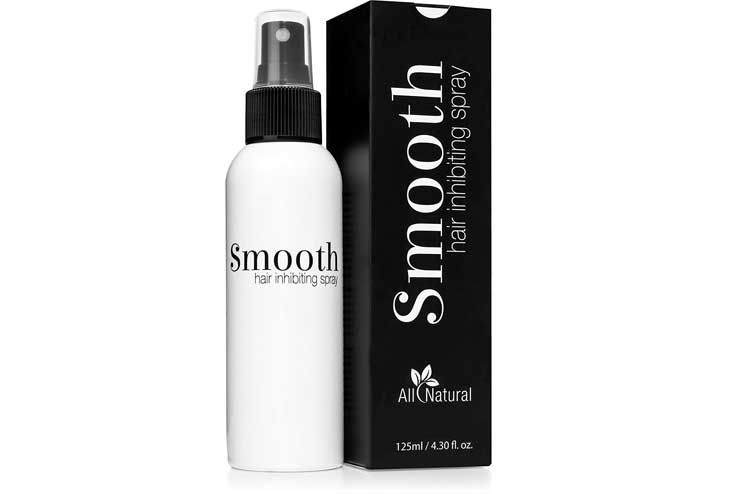 Smooth hair inhibitors can be used by all skin types and even on sensitive skin as it does not cause burning, breakouts, or peeling. It is safe to use even on the bikini line. The product promises to give lasting results with one year of satisfaction guarantee. It comes with a gentle liquid formula that is easy to use, you just need to spray the mist that does not take much time and does not create any mess.
It is infused with an advanced formula that stops the growth of ingrown hair made with odorless topical formula. It is moisturizing and limits the growth of the hair. Your unwanted body hair will become progressively softer, finer, and lighter in color, and will permanently stop growing.
PROS
Reduces hair growth
Makes hair softer and lighter
Odorless formula
Suitable for sensitive skin
Made from plant and citrus extract
Moisturizes skin
Also read – Hirsutism In Women – 8 Beneficial Remedies To Stop Excessive Hair Growth
4.Vivostar hair inhibitor fine spray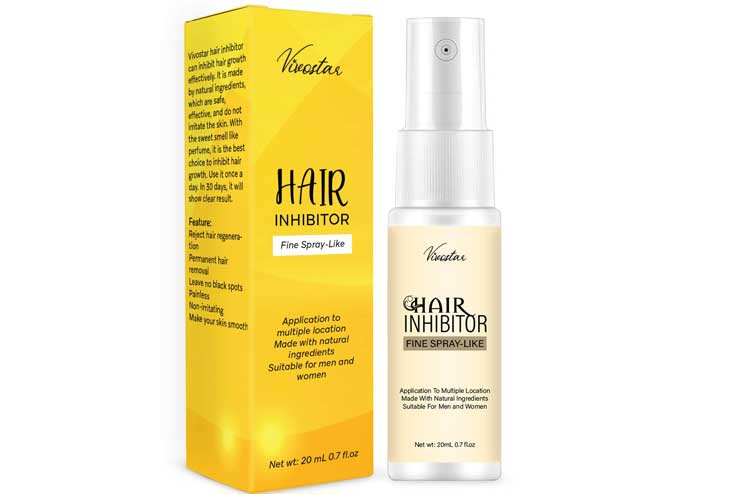 Vivostar hair inhibitor is one of the safest hair inhibitor sprays as it is made with natural hair ingredients that are effective and safe and do not damage or irritate the skin. Infused with natural oils which stop hair regeneration and the growth of new hair.
It is moisturizing and limits the growth of the hair. Your unwanted body hair will become progressively softer, finer, and lighter in color, and will permanently stop growing. It has a sweet smell and makes it easier to use. It is painless and easy to use in a spray bottle. It can be used by both men and women and you need to use it once every day to see results
PROS
Easy to use
Reject Hair Regeneration
Permanent Hair Removal
Leave No Black Spots
Non-Irritating
Made from natural ingredients
Make Your Skin Smooth
CONS
May take time to show the result
5.Thruvdove hair growth inhibitor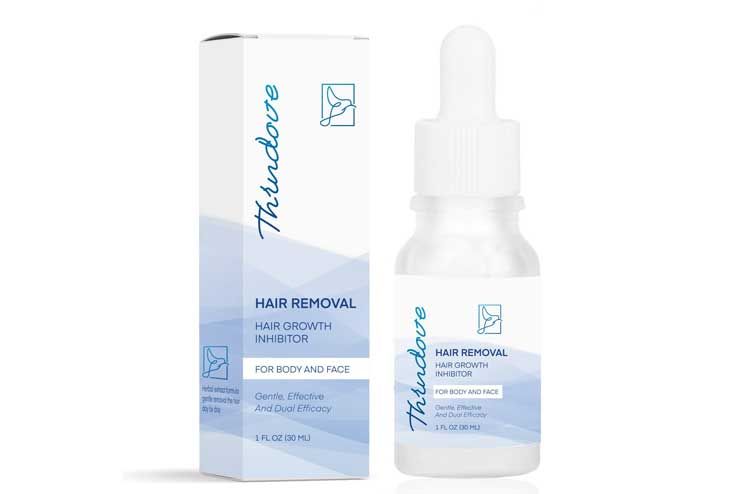 Thruvdove hair inhibitor is gentle on the skin and made with hypoallergenic ingredients, which is mild to your skin. The hair regrowth inhibitor spray has active ingredients like natural plant-based essential oils that dissolves deep into the hair follicle and decreases cell growth, which helps to reduce the natural growth of hair.
It keeps the skin smooth and nourished. The formula feels soothing on the skin. This also does not make skin dry like some of the other sprays. This product can be used on sensitive parts of the body too. It smells good, is suitable for all skin types, and does not cause any irritation
PROS
Hypoallergenic formula
Gentle on skin
Soothes skin
Natural plant-based oils
Decrease cell growth
Nourishes
6.Gigi slow grow hair growth inhibitor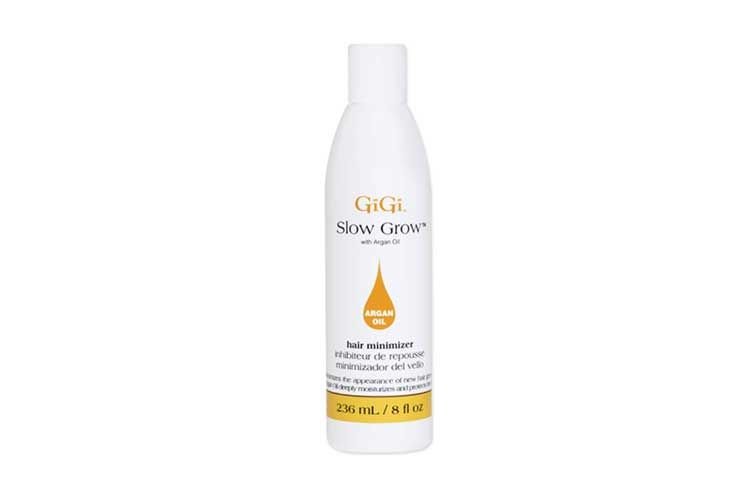 Gigi's slow hair growth inhibitor has argan oil as the active ingredient in it. The product is best to be used after any hair treatment and is effective post-hair removal. It has sebum-reducing abilities that can help decrease sebum and oiliness from the hair. It helps to hydrate and soothe the skin. The spray also can be used on wounds and cuts as it does not damage the skin.
The product leaves a lightweight and comfortable layer on the skin making it more tender and silkier. The skin looks brighter and the tone becomes even with minimal to less visible hairs, which makes it easier to absorption of other skincare products. It also comes with a non-greasy formula and one should definitely try it out.
PROS
The goodness of argan oil
Sebum reducing abilities
Lightweight
Non-greasy
Makes skin soft and silky
Easily absorbs
Cruelty-free
CONS
May not be effective on thick hair
Also read- 45 Must Try Natural Remedies For Hair Growth
7.Nopunzel hair inhibitor spray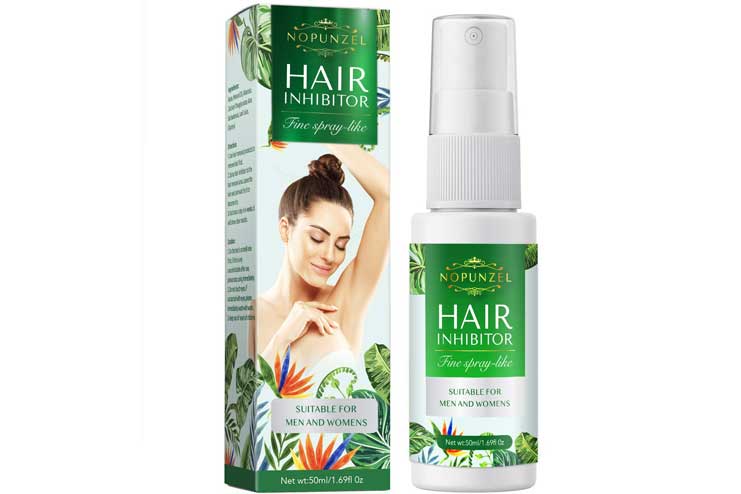 Nopunzel hair inhibitor spray is made of all-natural ingredients and has a blend of nutrients and supplements that stops and reduces hair growth. It is natural and mild enough to keep your skin smooth and nourished after hair removal. It is said to be a great product that does not dry the skin and has proven to effectively stop the regeneration of hairs. Also said to be preventing the growth of ingrown hair.
With this product, you can remove any parts of the hair and now say goodbye to salon appointments. The Nopunzel Hair Inhibitor is the best solution to your problems with unwanted hair as it penetrates deep into your hair follicles, dissolving them in a painless way. It smells great and gives you a refreshing feeling after use.
pros
Made from natural ingredients
Does not feel drying
Makes skin smooth
Prevents growth of ingrown hair
Smells great
8.Pop modern Hair inhibitor spray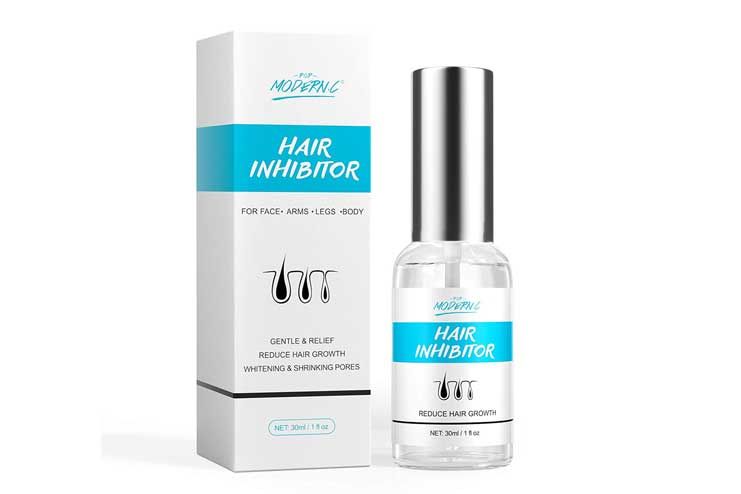 This pop modern hair growth inhibitor spray contains natural ingredients and botanical extracts which makes it safe to be used anywhere on the skin and effectively inhibits hair regrowth. The active ingredients in it are absorbed into the hair follicle to decrease hair growth. Has aloe vera that soothes skin.
No harsh chemicals and artificial ingredients, won't cause burning or peeling in sensitive areas like the bikini line. This spray has a natural gentle formula. It can be used on any part of the body and is suitable for all the skin types and also solves multiple skin problems.
PROS
Contains botanical extract
Reduces hair growth
Absorbs easily
No harsh chemicals
Gentle on skin
Suitable for all
9.Bikini zone hair growth inhibitor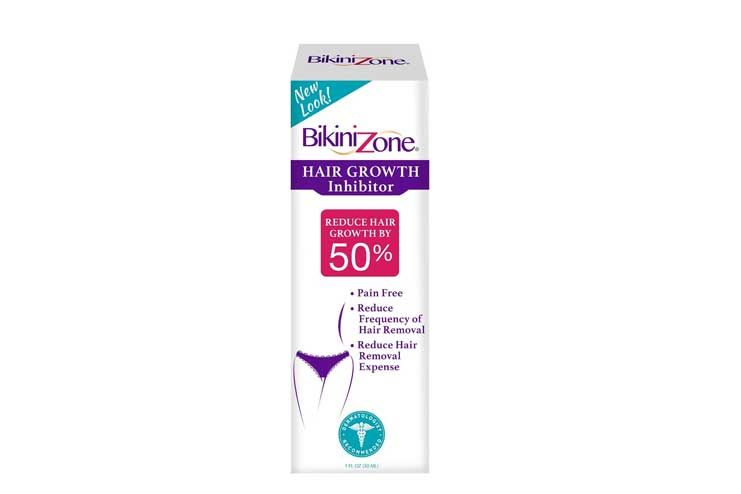 If you are looking for a hair growth inhibitor, especially for a bikini you might like to try this one out. This product has a sensitive formula which makes it best to be used on the sensitive part of the body. It contains vitamins like A, E, and D that leave skin hydrated, smooth, and soft.
It reduces the hair density by 45% and length by 35%. It is infused with a plant extract that reduces the growth of hair naturally. This product will help you to reduce the frequency of using hair removal products. It contains Larrea divaricata extract that is responsible to reduce the growth of hair and thus makes it a great product that is best for the bikini area
PROS
Best product for bikini area
Enriched with Plant extract
Reduces frequency of hair removal products
Contains Vitamins
Keeps skin hydrated
No burning
Good for sensitive skin
CONS
May take time to see results
10.Rantherm Hair inhibitor spray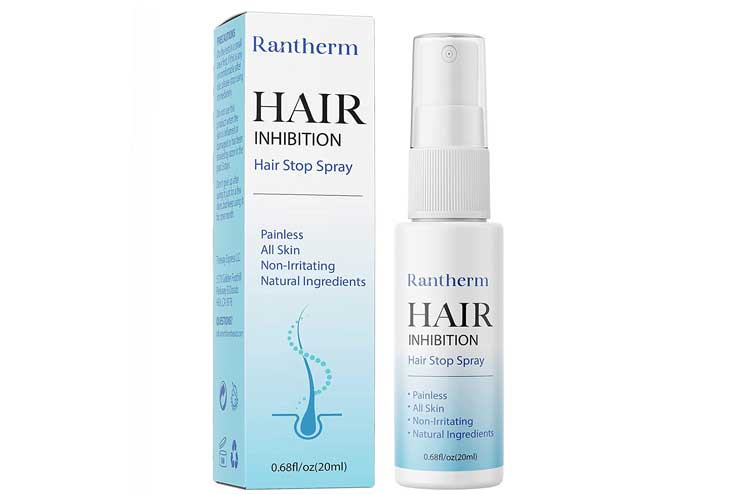 The Rantherm hair inhibitor is safe to be used anywhere on the body. It is infused with natural ingredients and botanical extracts like hamamelis Mollis Oliver extract, curly lavender extract, and golden chamomile extract which work together to reduce hair growth. This hair removal spray has a natural gentle plant formula that does not cause irritation on the skin.
It gives a soothing feeling and the skin feels hydrated after use. As it contains many botanical extracts it is safe to be used on the sensitive part of the body. You can use it once a day to see better results. It may not suit everyone so better to do a patch test before
PROS
Infused with natural extracts
Reduces hair growth
Hydrates skin
Can be used on any part of the body
Contains botanical extracts
CONS
It May not be suitable for everyone
Also read- Important Oils For Hair Growth
Possible Effects of hair Growth Inhibitor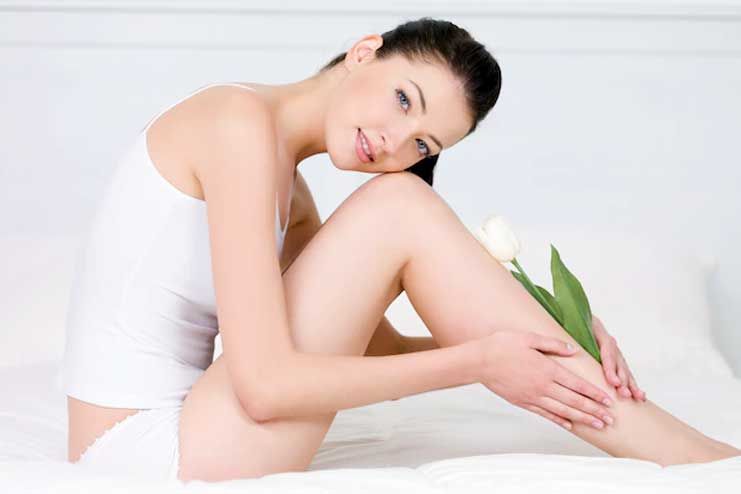 Hair growth inhibitors are made of topical solutions and natural plant-based ingredients and here are some ways how it affects hair growth.
Hair Growth inhibitors are to be used in combination with other hair removing products. As mentioned earlier they would not be effective if you remove hair from the roots already by other means, as hair inhibitors themselves affect the roots of the hair and they reduce the supply of nutrients to the hair follicle that affects the hair growth or reduce the growth of hair
Hair growth inhibitors actually work by affecting the natural way of hair that it grows, when you use a spray or cream on the body they weaken the structure of the hair follicle and that stops the growth of hair or completely delays it.
If you have dense thick or coarse hair it will take time to show its effects on the hair. One does not have to worry about getting rid of body hair at least for about three months as constant use of hair inhibitors as the name says inhibits the growth of the hair directly from the roots.
Also read – 18 Ways to Get Rid of Ingrown Hair at Home
Conclusion
Hair inhibitors are a great way to get rid of unwanted body hair and to reduce the growth of natural hair or ingrown hair. If you have dense thick or coarse hair it will take time to show its effects on the hair. One does not have to worry about getting rid of body hair at least for about three months as constant use of hair inhibitors. There are various products that have been listed in the article. I hope this helps you to choose the one that suits you. Thank you for reading.