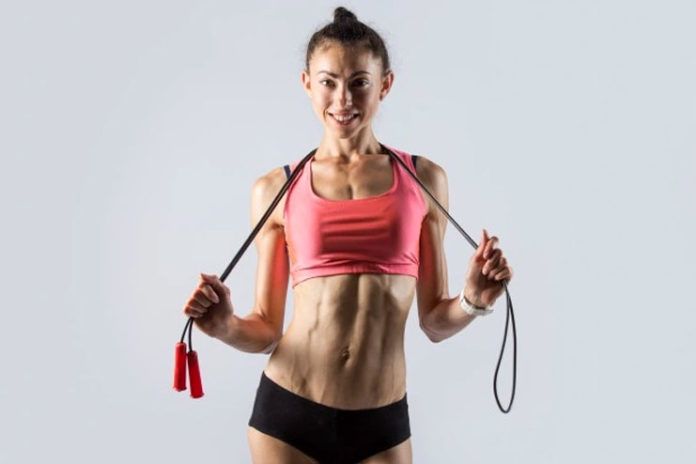 Jumping rope or skipping rope is said to be the most effective workout ever, many of you don't know the secrets of using a jumping rope and the benefits. To maintain balance, energy, and stamina boxers use jumping rope for their training. It helps them to improve their stamina and footwork
Jumping rope has many health benefits and intends to improve overall body strength for all professional boxers and fitness experts. Jumping rope is one of the simplest workouts yet can be extremely effective in many ways. Jumping rope or skipping ropes comes in many varieties according to one's needs. In this article, we have compiled some of the best boxing jump ropes which are recommended by experts for professionals to have an effective workout. Keep reading to find out more.
Why Do Boxers Jump Rope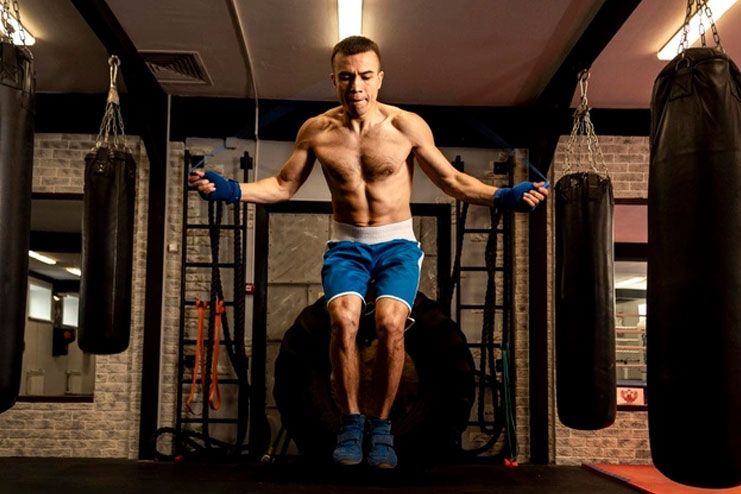 Jumping ropes are a great cardio tool for boxers, and it helps them to keep moving forward and to stay focused in the ring. It also benefits them to improve their footwork, every boxer includes jumping rope as a must in their training. One of the prime benefits for boxers as to why they use jump rope is, the foot weight while skipping helps them to shift from one foot to another that helps them to train similar to situations in the ring.
Benefits of Skipping Rope for Boxers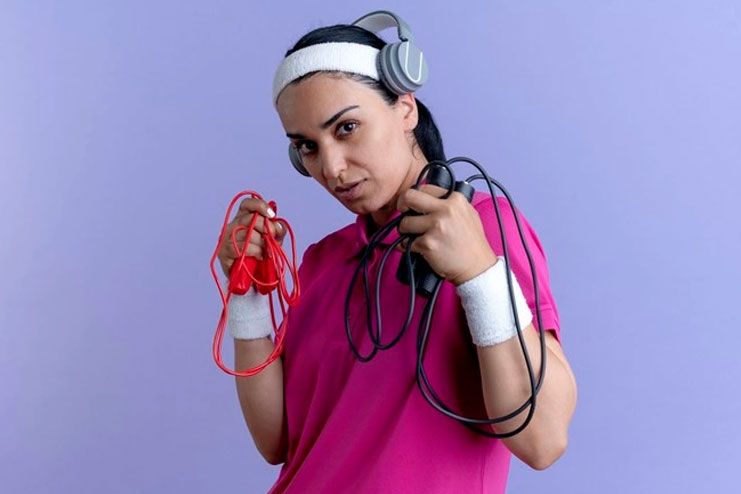 There are tons of benefits of using skipping rope for boxers (R), some of them are-
Builds stamina
Improves coordination
Improves footwork
Best cardio workout
Builds strength
Perfects speed and swiftness
Increases punching power
Improves balance
Builds mental endurance
Helps with leg movement
Fun and progressive
Also read – 10 Curable Home Remedies To Relieve Tired Legs And Feet
Best Boxing Jump Rope
#1. Degol skipping rope for boxing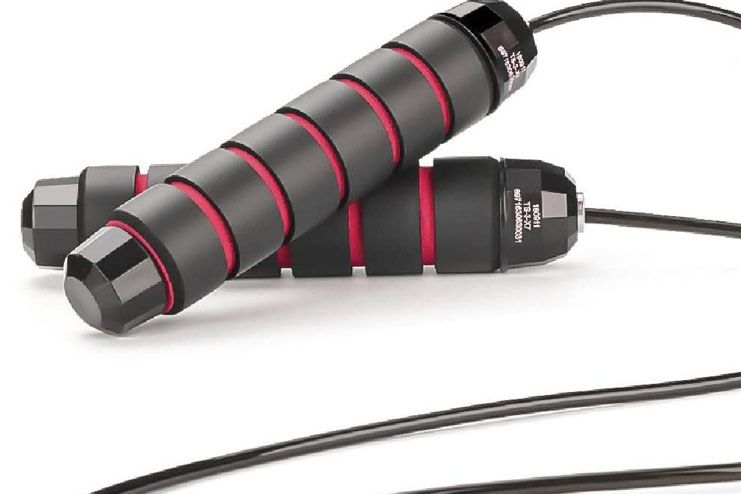 Degol boxing is one of the best soft and smooth jumping ropes you can find. Degol exercise skipping rope is a great choice for boxing, MMA, and cross-training. It can help to shape your cardio endurance, stamina, and speed while improving the muscle tension of your whole body. It consists of a ball bearing system that does not twist or bend the ropes which makes it easier to be used, unlike other ropes which easily twist. The ropes are PVC embedded which makes them durable, soft, and smooth. It does not crack up, the handles are lightweight and ergonomically designed. The length of the rope is 9 ft and can be easily adjustable which makes it an ideal option.
PROS
Improves muscle tension
Consists of a ball bearing system that does not twist
PVC ropes
Lightweight handles
Adjustable rope
Does not crack up
CONS
The bearing tends to retract
#2. Epitome fitness sonic high-speed jump rope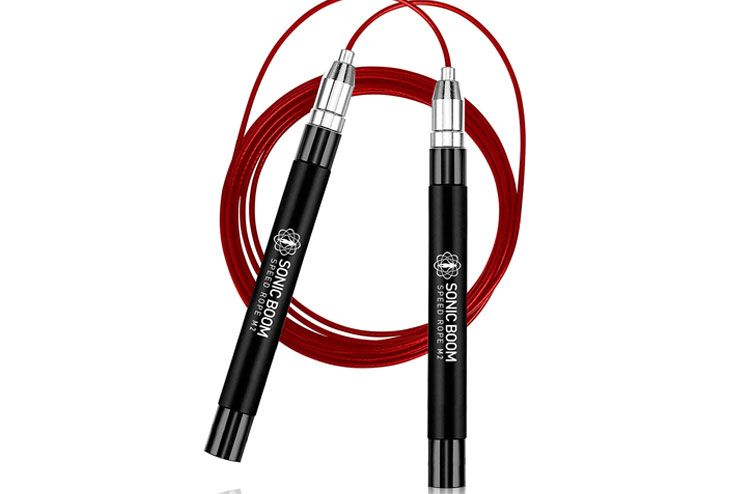 Epitome fitness jump rope has supersonic speed which makes it great for workouts. It is designed to be FASTER than ever, so you can make better progress, train harder, and break your goals in record time. It has premium quality- 360-degree ball earing and anti-slip grips. These are the first, patent-pending, self-locking, screw-free jump ropes for men and women. When you want to improve your speed you also need a rope which may help you to achieve that goal, good news is this rope is exactly the one that can help you with its sick speed. It comes with 2 adjustable, 10ft polymer-coated speed cables; so you can get the exact length you need for the gains you want. The ropes come with a lifetime warranty.
pros
Supersonic speed
Adjustable rope
First self-lock
Work to improve your speed
Polymer coated cables
#3. WOD nation speed jump rope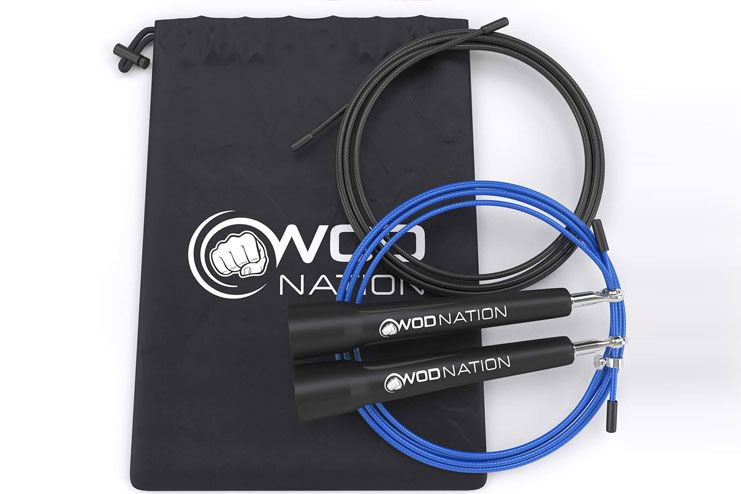 WOD speed rope is not only fast but also creates a very stable rope swing so you can easily recover from inaccurate swings. The rope not only spins fast but also lasts for a long time. With regular use you can achieve the goal of your life and be in the best shape possible. It is designed to be faster, so you can make better progress, train harder, and break your goals in record time. This jump rope focuses on your health and maintains it when used regularly. WOD Nation has combined ballistic nylon resin handles with patented silky smooth liquid steel bearings and topped it off with a kink-resistant nylon-covered steel cable. Is adjustable and of 10 ft length.Comes with a nylon carrying bag
PROS
Stable rope
Spins fast
Nylon resin handles
Adjustable rope
If used on a smooth surface it can last very long
Comes with a nylon cover bag
CONS
The rope may seem too thin for some users
#4. Ballistyx jump rope by epitome fitness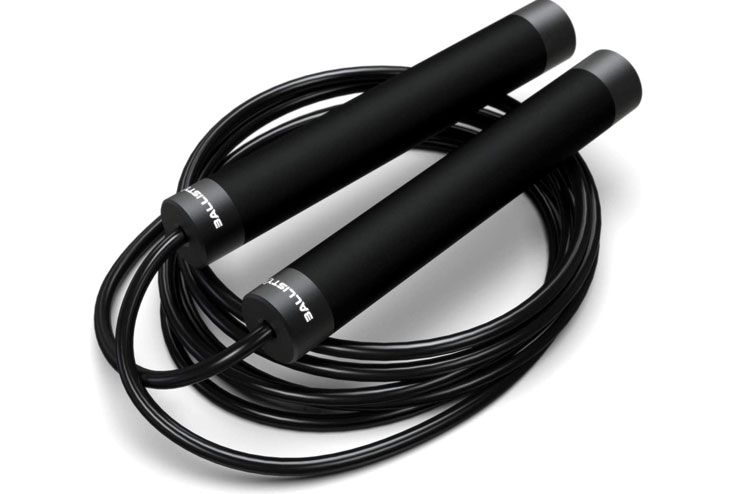 Ballistyx jump rope boosts both ability and agility, helps tone your body to the next level. It has one lighter and faster speed cable for lightning speed and one heavier power cable for max cardio and conditioning. Get your blood pumping, your body toning, and those muscles pounding with improved speed. Designed with serious athletes in mind, the Ballistyx exercise jump rope provides lasting durability. Its flexible speed and power cables won't kink, splinter, or snap, and full stainless steel handles never tap out. If you are someone who likes to sweat and have good cardio then this is one option for you. The ropes are also adjustable.
PROS
Hels toning your body
Improves speed
Durable
Best rope for a good cardio
Adjustable
#5. Multifun jump rope with a calorie counter.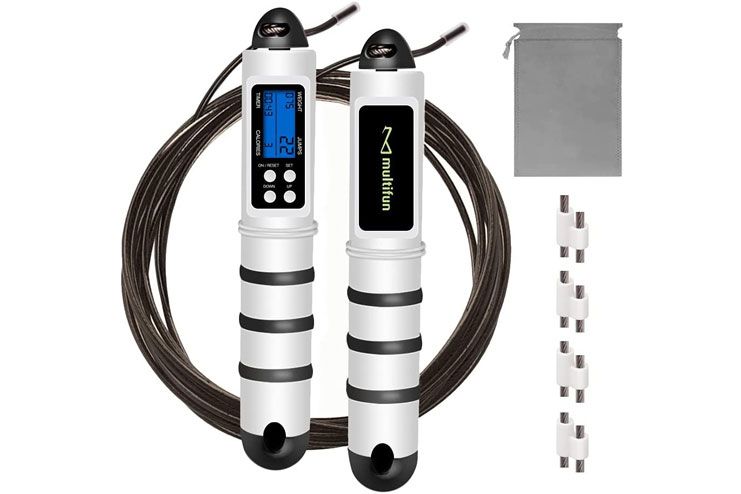 One of the best skipping ropes that comes with a calorie counter, now what is better than that? You can keep track of your calories easily with this functional rope. The multifun skipping rope has an HD LED display on this speed jump rope, which shows Timer, Weight, calories, and Circles. It helps to precisely count time and it will show the number of circles you jump and the calories burned. That will help you to achieve better fitness results. Steel rope and PVC covering make it durable and long-lasting.
That is how it makes it suitable for any floor to be used upon. Built-in high-quality ball bearings to avoid twisting, winding, or bending. This skipping jump rope ensures fast and stable rotation. A great choice for boxing, MMA, and cross-training. Ergonomically designed with non-slip handles for optimal and comfortable grip. The rope is 9 ft long and can be adjusted easily.
PROS
Comes with a calorie counter
Steel and PVC material
Suitable to be used on any floor
Fast and stable rotation
Great for boxing, MMA, and cross-training
Ergonomically designed
Adjustable
#6. Goxrunx jump skipping rope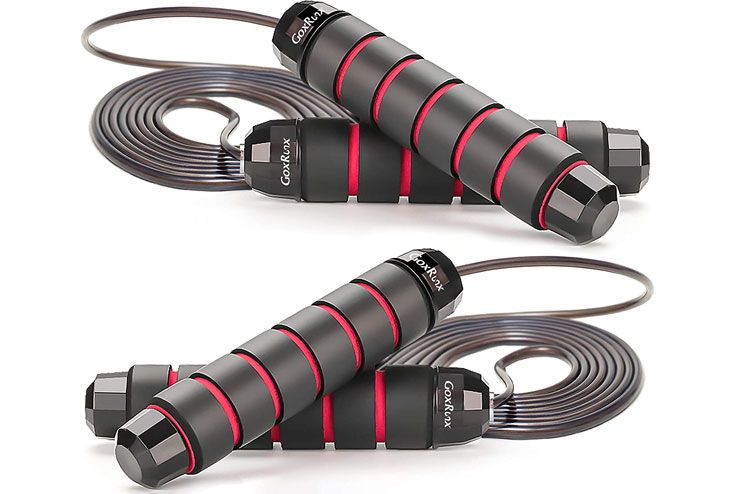 Want to have an effortless and smooth jumping experience then this one is an option for you. The thickened braided steel wire with PVC coated, which features long using life and not easily breaking. The jump ropes have an anti-dust ball bearing system to keep them more durable and stable, you could easily swing the skip ropes by 360°rotation. Ideal option for MMA, Boxing, Cross-training and exercise, also the jump rope suits for all heights and all kinds of different skills. Consists of soft memory foam and anti-slip handles that provide amazing grip and durability. The rope is designed 9.8 ft and fit for all women, men, and kids, and can be easily adjusted.
PROS
Gives an effortless jumping experience
PVC coated
Anti-dust ball bearing system
Anti-slip handles
Durable
Adjustable
CONS
The handle connector can have better quality
#7. Redify 2 pack adjustable rope for a workout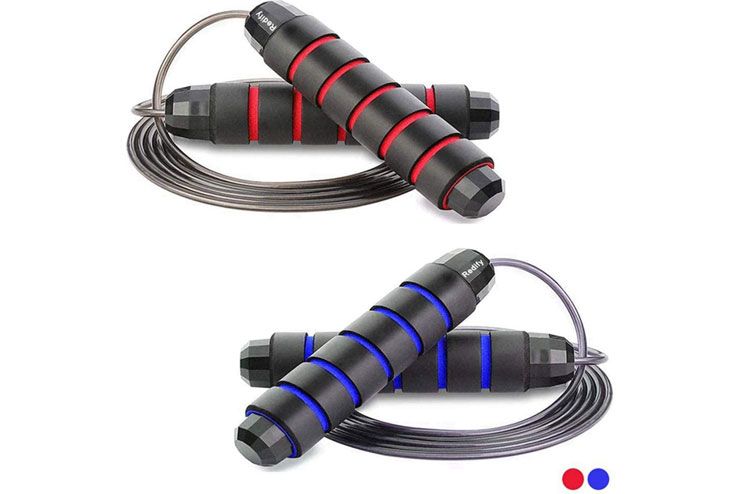 Redify jumping rope is great for cardio training and a fun way to get in shape fast. Allowing you to burn calories and get in a great workout skipping or jumping. This Jump rope is a great calorie-burner. Improves your balance and coordination and improves the muscle tension of your whole body. Comes with braided steel wire rope which is coated with PVC and ensures the maximum service life, and avoids cracking or breaking.
The ball bearing system avoids twisting, winding, or bending like other fitness ropes, high-quality premium ball bearing, it ensures a smooth and effortless spin making it the perfect addition to any calorie-burning workout and is very durable and smooth. The handle of the ropes is exceptionally comfortable, handles are wrapped in soft memory foam on the surface. The Jump rope design with 9.8 feet long of the rope, it can be adjusted quickly according to your height, suitable for men, women, and kids.
pros
Great calorie burner rope
Improves balance
High-quality ball bearing
Durable
Comfortable handles
Adjustable
CONS
Adjusting these ropes can be a bit difficult
#8. Wastou speed jump rope for training fitness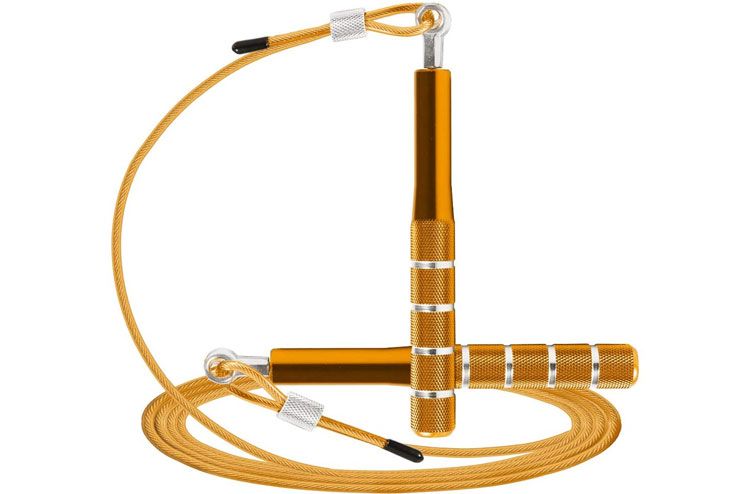 Wastou speed jump rope is good for those who are interested in being fit anytime. This skipping rope allows you to jump at a fast speed smoothly and freely without the exercise ropes getting tangled and twisted. It gives you more control and also reduces the chance for you to trip over. The equipment is a great adult jump rope for weight loss and a workout tool for women and men.
The workout jump rope is made of steel wire rope which is coated with silicon material giving it extra protection. You can expect durability, endurability, and fluentness, eliminate tangling and coiling, and allow you to jump on different flat surfaces. The jumping rope for exercise designs is 9.8 feet long of the exercise jump rope. It comes with a dual-speed bearing design, the handle rotations are truly consistent and smooth.
PROS
Great speed rope
Durable
Adjustable
Dual speed bearing design
Rotating handles
Advanced design
#9. Proud panda heavy jump rope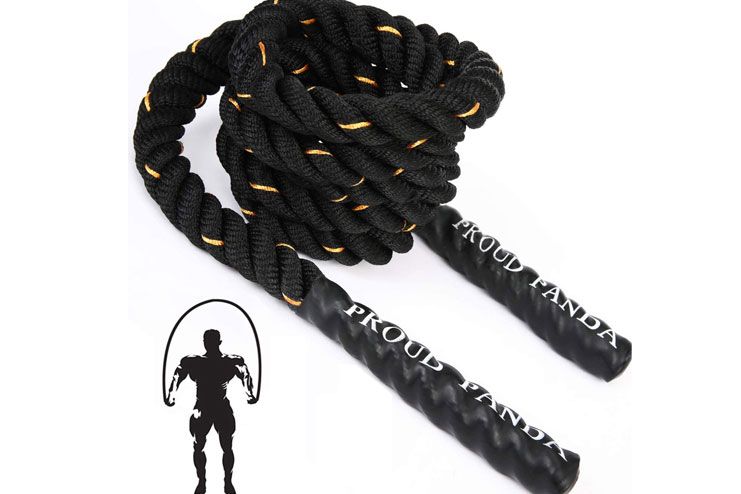 Proud panda heavy jump rope is designed to strengthen your muscle and improve your stamina, with this weighted jump rope, you can easily achieve your exercise goals. The exercise efficiency of heavy jump rope is 5 times more than ordinary skipping rope. Three-strand-thick exercise rope is featured with a soft handle, and a durable polymer synthetic fiber with the high tensile strength to prevent breakage, which will allow you to burn calories and have a great and comfortable skipping exercise. Improved coordination, agility, footwork, quickness, and endurance. It can help you burn a significant amount of calories, and increase strength and promote weight loss effects. It can build your core, shoulders, and back muscles, and improve your strengths in a short time jump rope workout.
PROS
5 times more efficient than ordinary rope
Three strands thick rope
Does not break
Improves footwork and coordination
Increase strength
Promotes weight loss
Durable
CONS
The rope is not adjustable
#10. XYLsports jump rope for fitness and boxing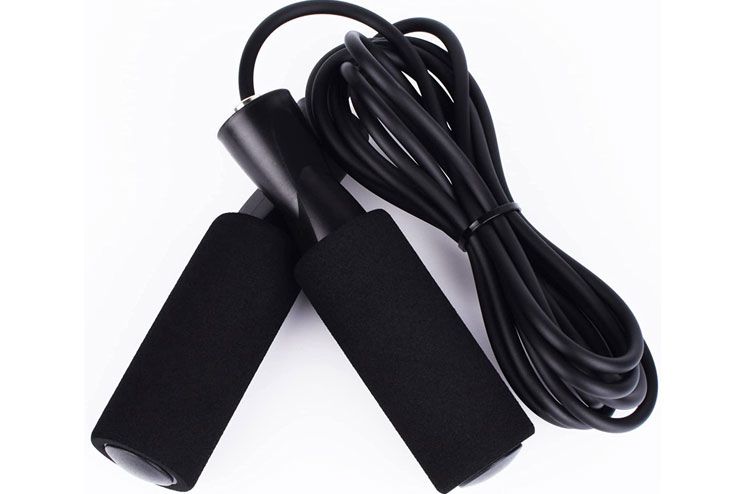 This jump rope is great for building fitness and coordination for boxers. You may benefit from weight loss as it burns calories, stronger bones, and ankles, improves coordination and heart health. 9 feet 8 inches PVC Rope, foam-padded comfortable handles, length is easily adjustable. Gives ultra-smooth high-performance rotation ensures smooth revolutions. 5mm diameter very durable rope, the most popular type for fitness buffs. The rope is of good quality which ensures durability and also comes with a lifetime warranty by the seller
PROS
Durable
Improves coordination
Builds heart health
Ultra-smooth high performance
Comes with warranty
CONS
The quality of ropes may have been better
#11. Lifeezzy high speed weighted jump rope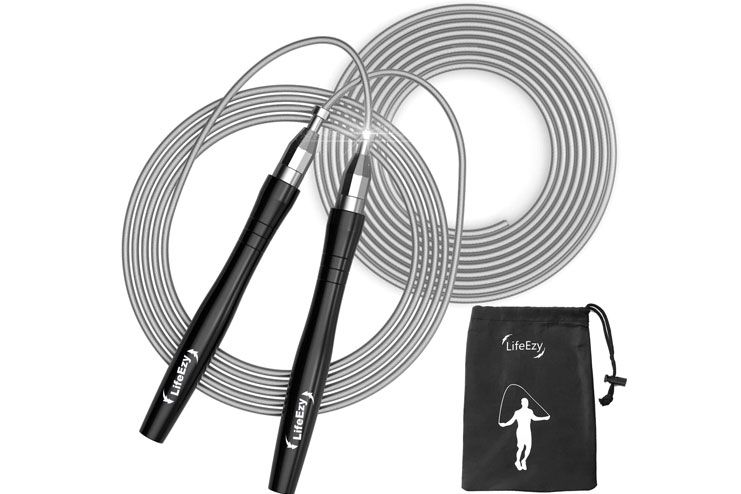 The rope is designed with serious athletes in mind, this weighted jump rope provides an easy 360 degrees rotation. It is built with a high-quality double-bearing system, it ensures stable and fast rotation, tangle-free, which brings you smooth jump exercises. Comes with a unique self-locking design, you can adjust the 10 feet long rope to a suitable length. The rope is made of steel wires that are coated with wear-resistant PU material, which features durable and smooth, ensures maximum service life, and avoids cracking or breaking. The rope is durable and also comes with a lifetime warranty by the seller.
Also read – 5 Cardio Workouts For Weight Loss At Home
PROS
Provides 360 degrees rotation
The high-quality double bearing system
Tangle free
Unique self-locking design
Wear-resistant
Durable
CONS
The locking mechanism can be tricky
How to Choose the Best Boxing Jump Rope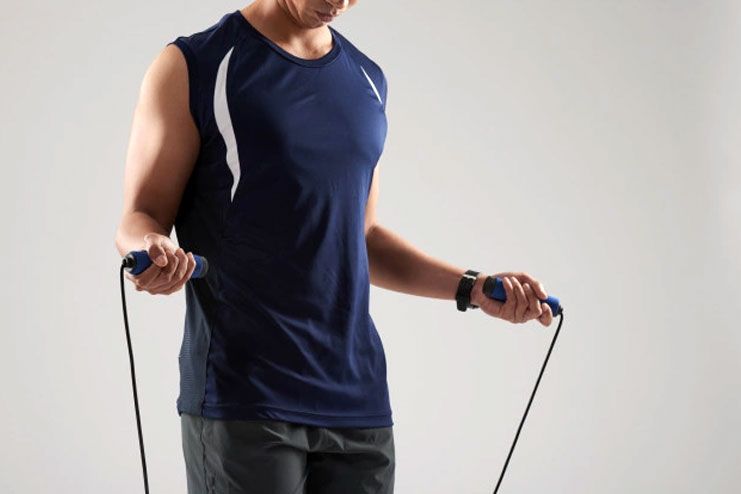 Material- Vinyl and plastic jump ropes are commonly used. Vinyl is generally used for hard or rough surfaces while plastic ones are only for soft smooth surfaces. When it comes to handles, rubber or silicone ones work best, and always see durable ones as the right material in choosing jumping rope plays an important role.
1. Length
Today most jump ropes do have adjustable handles to set the height according to your requirement. To check if the ropes are of appropriate height you can place your foot in the center and stretch it upwards to your shoulder. If it reaches up to that height it is the right one for you.
2. Weight
The weight of your ropes depends on you and your training, if you want to train it just for cardio you can go for lightweight ones and if you train for muscle building, go for the heavier ones. If you are a beginner go for a standard weight jumping rope to build your strength
3. Handle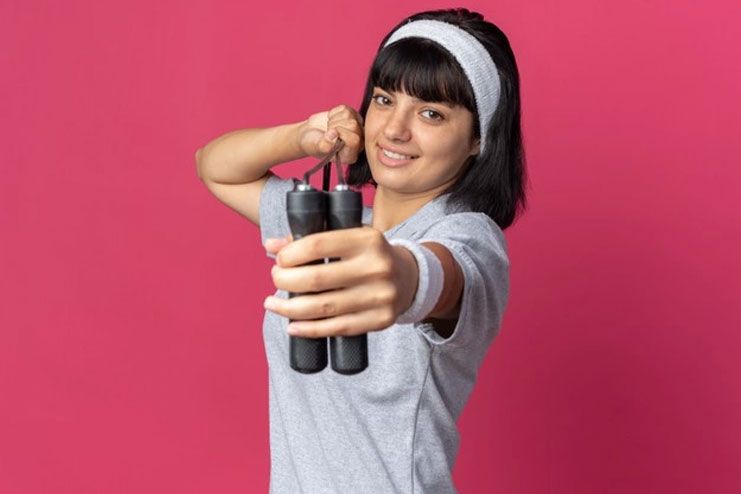 Choose a handle that is sweat-proof and can give you a better or firm grip. A soft foam handle will help you to hold it correctly. Rubber and silicone ones are smooth and can rotate easily. Also handles with heavier weight can help for strength and muscle improvement
Also, read – 10 Tips to Make your Abs Stronger
Conclusion
Jumping rope has benefits that help boxers to train and is a must-have workout tool for them. Jumping rope is one of the simplest workouts yet can be extremely effective in many ways. There are plenty of options to choose your ideal jumping rope and hope that this post has contributed to making a choice. Thank you for reading.