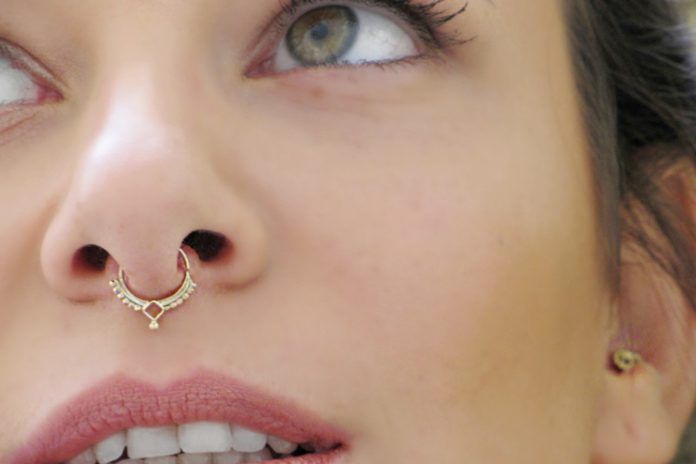 Piercing has started to develop as a new fashion trend. Body piercing is considered as a great symbol of showing your trendiness across the globe. Septum ring piercing is also started to becoming famous. Various septum ring jewelry are available for different septum piercing styles.
Piercing has started to develop as a new fashion trend. Body piercing is considered as a great symbol of showing your trendiness across the globe. Septum ring piercing is also started to becoming famous. Various septum ring jewelry are available for different septum piercing styles.
Here we have tried to provide all the details about the concept of septum ring piercing. Read on to know how to pierce your nose at home as well as various tips to prevent the infection which can cause due to nose piercing.
What is Septum Piercing?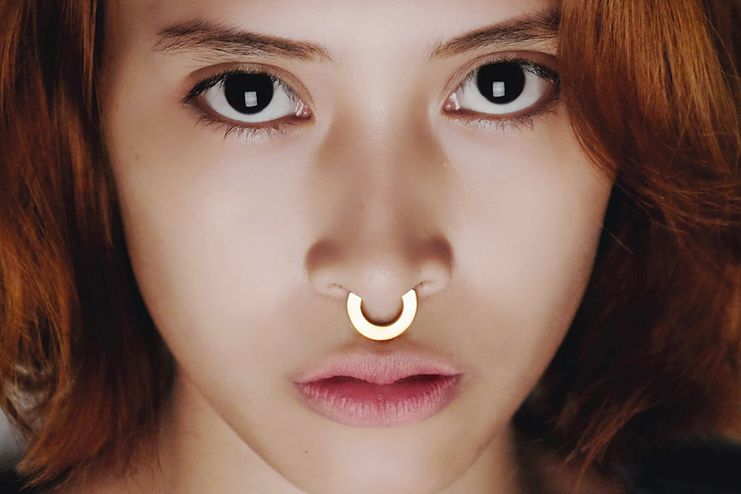 Septum piercing is basically the piercing of skin of nasal septum to wear nose jewelry. It is a highly traditional technique in various cultures. According to the experts, a nasal septum piercing is considered as the most common type of body piercing after earlobe piercing across the globe.
In septum piercing the small gap between the nostrils at the bottom of nasal cartilage which bisects the two nostrils is pierced and the desired jewelry is attached to it. This process can be highly painful, however, the intensity of pain depends on the person. It should also be kept in mind that the healing of pierced septum takes around 1-3 months for complete healing. This may vary person-to-person.
The septum piercing may feel highly uncomfortable if it touches the two walls between the nose, also known as cartilage. It is also important to place the jewelry in a manner that it will not cause any damage to the cartilage. Septum and nose ring can be of different types. You can choose your own nose septum ring to place as a clip on septum ring.
Different Types of Septum Rings?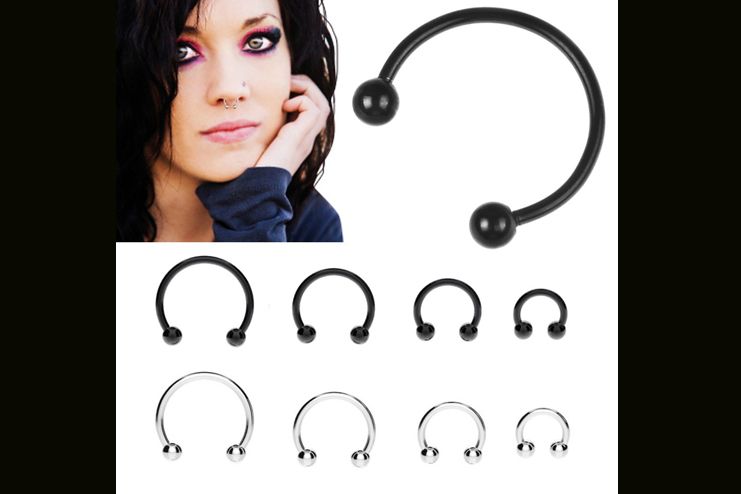 There are various different types of septum rings from which you can choose your desired one. A septum is also the area which is considered as good for keeping piercing rings of different types of various sizes and shapes.
We have listed some of the major septum rings types which you can consider to choose yours.
1. Bone stud nose rings
One of the best type of nose ring which is highly easy to put on as well as take off is known as bone stud nose rings. They look nice on a nose and are available in various sizes. You can easily opt for your size so that it can match your nose as well as facial shape. Apart from that, the end parts of this type of nose rings can be attached with gems which look more trendy.
2. Horseshoe septum ring
This is one of the most common types of nose rings which is down by almost all people who have pierced their nose. This ring is also highly good for looking and easy to wear on. This ring, too, available in various shapes as well as sizes. Thus, it can be highly easy to find one that fits best for you.
3. Septum ring hoop
The design of hoop is very similar to horseshoe ring. However, unlike horseshoe, it is available in full circle. This design suddenly became highly popular. This also is available in various shapes as well as sizes from extravagant to basic.
It is always recommended to choose quality over design whenever you are opting for septum ring. Just avoid opting for septum ring if it is not made up of the quality material even if it is good in design. Materials which are not allergic to your skin or cannot cause any infection are considered good. You can always go for rings which are made up of titanium as well as stainless steel. You can also choose a golden septum ring if you are having septum piercing since a long time.
How to Pierce Your Septum Ring at Home?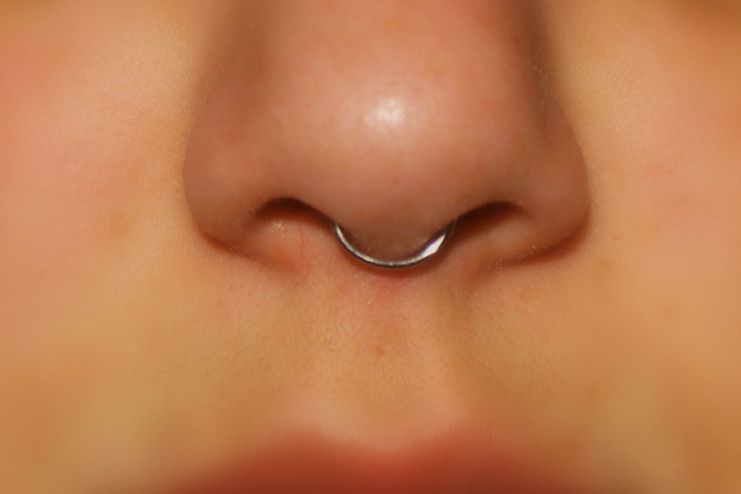 It should be already made clear that piercing your septum at home is not an all recommended as it may cause various infections and may complicate the situation even more. The detailed process of piercing your septum is given below.
1. Tools required for piercing your septum
Piercing clamps○ Nose jewelry
Sterilization swabs
Aftercare solution
Sterilized stainless steel needle
Surgical sharpie pen
Process
First, sterilize all your equipment using the sterilization liquid.
Clean your entire face and remove all the dirt, bacteria as well as grease. You can use antibacterial face wash for better benefits.
Take a sharpie pen and mark the area where you want to pierce your skin. Ensure that you are happy with it. You can change the spot by just wiping the old one.
Position the sterilized piercing clamp properly and mark them on your nostrils. And get yourself ready to pierce the skin with the help of a needle.
Maintain your breathing process and take deep breaths by calming yourself down.
Get a sterilized needle and position it properly on the marked spot. Just push the needle into your septum. Do this as quickly as possible to reduce the pain. However, your touch should be gentle.
Ensure that you are not stabbing the cartilage of your nose.
Now attach the jewelry in the pierced area of your nostril and position it properly according to your desired choice.
Ensure that the jewelry does not fall off once it is secured.
Apply the aftercare lotion properly to prevent any infection which can cause by piercing.
You can also clean the area with the help of saline solution. Just make a saline solution with mixing distilled water and salt. Take a cotton pad or swab and apply the mixture on it. Place the swab or pad on the area and clean it gently.
Avoid using bath towels or any other unclean cloth, while doing this.
Some tips on preventing infection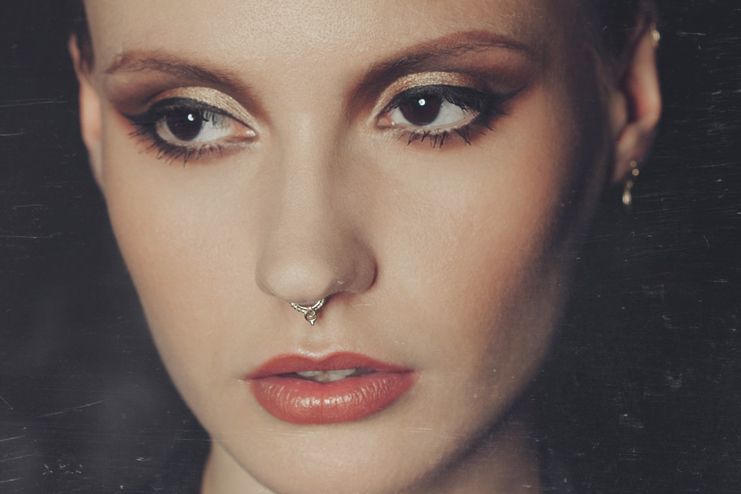 Septum piercing infection symptoms includes, severe pain, unusual coloring discharge, excessive bleeding and redness, pierced area feels hot if touched.
You can follow the tips to cure septum piercing breathing problems or septum piercing congestion.
Avoid applying makeup directly on pierced area on jewelry.
Avoid removing your jewelry repeatedly as it will cause wound opening.
Keep in mind that piercing is a wound which requires important nutrients to heal. Keep yourself hydrated and eat a balanced diet to boost the healing process. This will also help in strengthening your immune system and can keep yourself away from infections.
Change your pillowcase every night before going to bed.
Avoid using strong chemicals such as hydrogen peroxide or alcohol on a piercing.