Stress and tension are common issues that we all face as a part of life. But at least we realize that all this is affecting hair health. The improper blood flow in the scalp may trigger hair fall. Not only this but the other hair problems like dandruff and over oiliness of the scalp may also cause that horrific hair fall. To stimulate hair growth you must think of getting ahead massager.
How about getting an instant head massage at home? This is the best solution rather than spending on salon visits now and then. So we have made a list of the best head massages that may help with hair growth and improve overall hair health.
Here you have both electric and non best head massagers. You can tally your requirements with the products in the list. Finding an effective and safe head massager that results in hair growth is a better solution than just leaving your problem as is.
Best Head Massager to Buy
1. Kerotin Scalp Massager Stimulates the Scalp, Promotes Hair Growth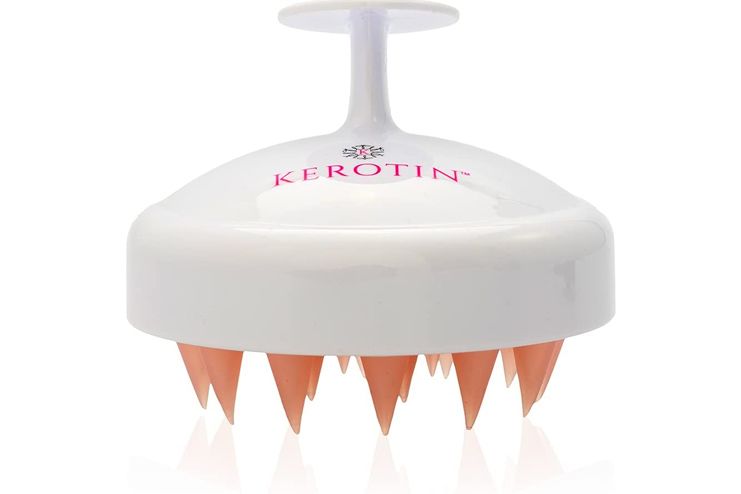 The head massager stimulates the blood circulation in the scalp and oil glands which helps hair growth. If you are often feeling tired then you need to opt for this as a solution. It helps you relax and relieves the scalp from itching as well.
The Kerotin scalp massager is suitable for all hair types and rejuvenates the hair follicles resulting in activating the muscles. All these functions are needed for longer, voluminous and stronger hair. Use the massager to cleanse your scalp while washing your hair and it also removes dandruff, dirt as well. You will be able to hold the massager with its ergonomically designed handle and it is a lightweight one. It is a perfect tool that you must have for shinier and healthier as made with tourmaline.
It is a battery-less head massager that is waterproof to use while washing your hair or any time. Combining the massager through your hair can remove the tangles. For best results, you can use Kerotin nourishing oil while massaging with this product.
PROS
Suitable all hair types
Lightweight tool
Made of tourmaline
Waterproof product
Cleanses scalp
2. COMFIER Head Massager, Cordless Scalp Massager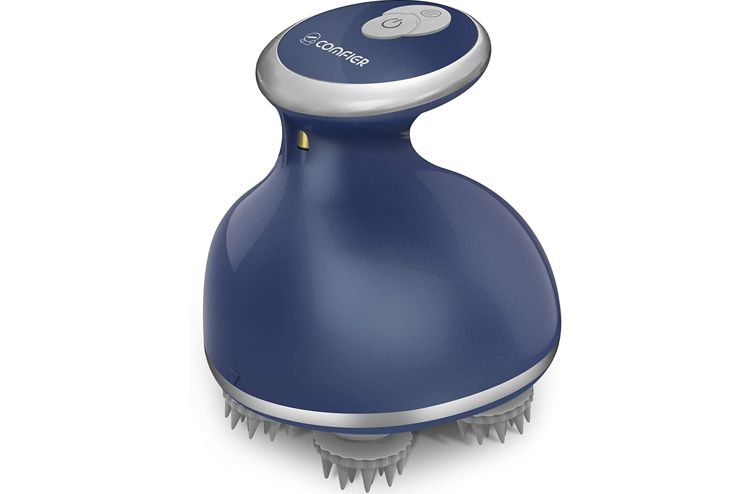 Comfier is a trustworthy brand for electronic tools and devices which are developed with easy-to-use technology. The head massager from the company is designed with silicone heads and 68 kneading nodes to stimulate hair growth. It is a head massager that aids in cleansing your scalp, relieves you from stress, and improves blood circulation at the same time.
Comfier head massager is built with a device that gives out moderate vibration in order to relieve fatigue. It makes you feel relaxed and refreshed through the massage time. You can operate it with 2-speed settings.
It is a battery powered and rechargeable device that is also portable. This is a compact, waterproof massager that is extremely effortless to use for massaging your scalp. The massagers calm the itchiness. You can even set a timer to have a good massage with an auto switch-off feature. Moreover, if you don't find this product useful then you can return it.
PROS
4 Silicone heads
68 kneading nodes
2 Speed settings
Waterproof device
10 minutes timer
3. Shampoo Brush Vibrating Scalp Massager – Electric Handheld Soft Hair Scrubber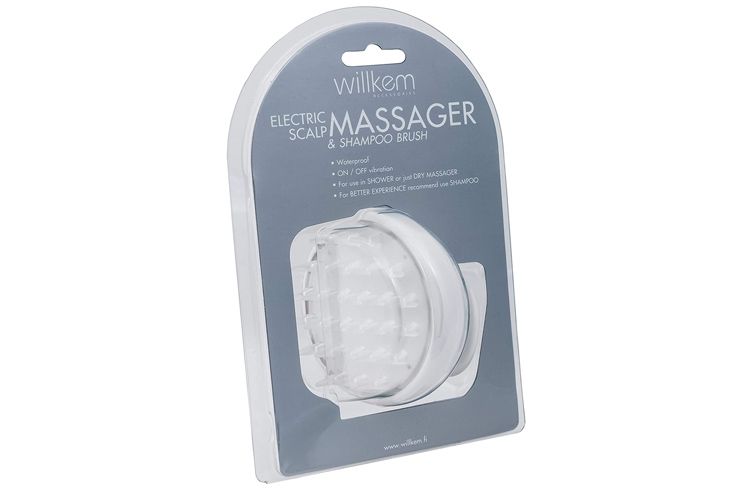 You can have a scalp massage with this shampoo brush which is relaxing and comfortable. It produces vibrations which are to relieve tension and stress. As you massage your scalp with the soft brush, it promotes blood circulation and that eventually helps with hair growth. If you are looking for a head massager that aids in hair growth then this is the best option.
It is a waterproof tool to use during a head bath that cleanses your hair and enhances your hair care routine. This is a battery powered massager that detangles the hair. As you scrub the massager on your scalp, it creates a good lather that makes your hair wash gently. It can even eliminate dandruff and keep your scalp away from itchiness, flake free.
Shampooing will become a better experience for you and you can operate it easily with an on/off button. It plays a multi purpose part of your hair routine including scrubbing, exfoliating dandruff, and dirt, cleansing, detangling hair. Overall, you can get a soothing scalp massage from the comfort of your home.
PROS
Battery powered
Promotes blood flow
Remove dandruff
Soothing vibration
4. 4 Pack Scalp Massagers, Handheld Head Massage Tingler, Scratcher for Deep Relaxation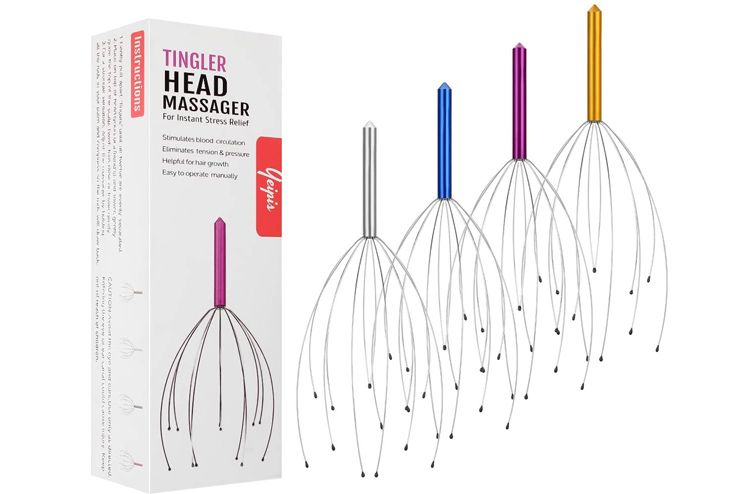 Are you looking for the best non-electronic head massager that aids with hair growth? Then here is an option that makes your scalp massages soothing and relaxing with proper blood circulation. The massager has rubber beads that gently touch your scalp and don't tug with your hair while having the head massage. You will feel a sense of calmness instantly with this head massager.
It is a portable head massager and extremely finest to handle with a lightweight design. The tool creates a tingling sensation from head to toes and is extremely flexible. It is not only to massage your head but also can be used to massage elbows, ankles, knee joints. The purpose is to improve the blood flow, then relax the muscles and give you instant relief from tiredness, fatigue.
The head massager is affordable and it comes in a 4 pack that is useful for a family or to share with your loved ones. If you are not satisfied with the head massager for any reason then you can return it back for a refund.
PROS
Lightweight product
4 in one package
Multipurpose use
Affordable price
Useful return policy
5. Electric Scalp Massager, RENPHO Waterproof Portable Head Massager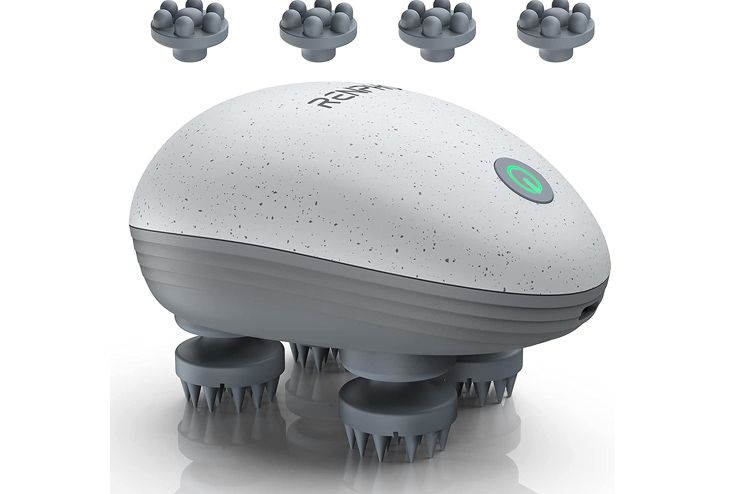 Renpho head massager comes with 4 heads that have 76 massage nodes. The massager covers your scalp with nodes which gives you a 360-degree kneading effect. The kneading with these many nodes helps you relax from stress as it stimulates blood circulation. The inner scalp circulation is the major function that is needed for hair growth.
You will have that soothing relief which is much needed after a long day. The modified speeds at low, medium, and high are to offer the three-dimensional kneading massage experience. It has an auto shut-off feature after 10 minutes of massage.
The cordless head massager is a must have as it is handy and lightweight to use during any time of the day. The product is operated with a battery which makes it even more comfortable to carry and use. It is not only used for head massage but also for the back, neck, shoulders, lower back, and arms. If your hair is prone to tangling then you can use it for detangling easily which prevents hair loss. You may want to detangle your hair while shampooing fearlessly with this massager as it is waterproof.
PROS
Lightweight product
Auto shut off feature
76 massage nodes
Different speed settings
6. H01 Electric Handheld Hair Massager, 2 Mode Soft Vibration Comb Scalp Massager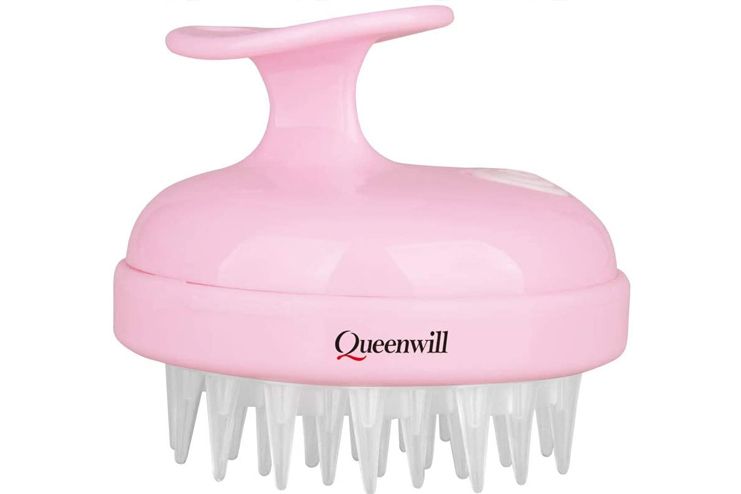 The head massager provides thousands of vibrations per minute together which makes you feel refreshed and relaxed. It promotes a good sleep for you post having a head massage with it. You can use this head massager for hair growth as it promotes blood circulation and increase hair vitality in a safe way.
You can enjoy using the head massager even during hair wash as it is water resistant. As you scrub your hair with the massager, it removes the dirt and grime that settles on the scalp which cleanses your hair well. If you feel there is dead skin on your scalp then picking this head massager may remove the dead skin cells as well. Hence, the head massager is best recommended for hair growth.
It is made of high-quality material and well-designed ergonomically for an easy holding that allows you to massage your head effectively. The unique technology has inbuilt modes which has one mode for regular massage and the second mode is for node massage. So, you will have to press once for regular massage and press twice for node massage.
PROS
2 different modes
Water resistant
Ergonomically designed
Thousands of vibrations
7. VIVIYA Electric Scalp Massager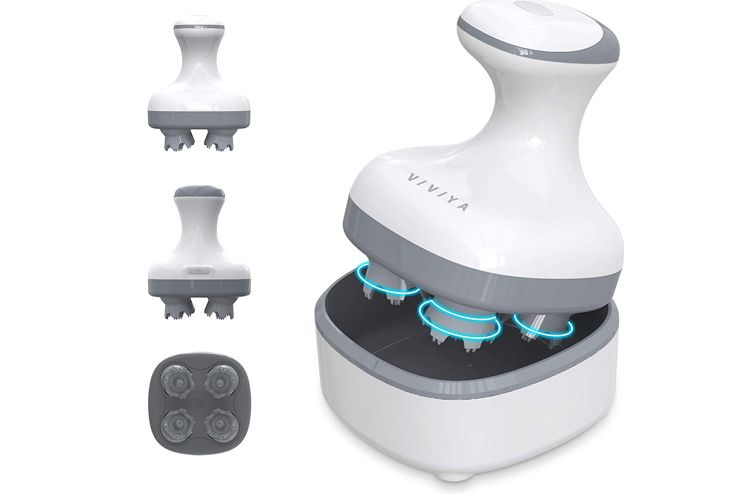 Electric scalp massager from VIVIYA is featured with four massaging heads and 28 nodes. These nodes can rotate clockwise and anticlockwise giving sensational relaxation. As it kneads your scalp, it helps in blood circulation and relaxes the nerves which eventually calms your stress. You can have a better sleep with a 10 minutes head massage using the massager. And if you are looking for a safe head massager that also results in hair growth then this is a considerable option.
You can opt for the head massager for multipurpose as it is suitable to massage the neck, arms, stomach, and legs. It is an electric but waterproof massager to use while shampooing your hair. Before using it, keep it fully charged and have a relaxing time.
You can utilize 4 modes of the massager which are clockwise rotation with high and low speeds, counterclockwise rotation with high and low speeds. These heads are removable to easily clean for a hygienic head massage.
PROS
4 Variable modes
Removable heads
Multipurpose massager
Soft clothed pad
Total 28 nodes
8. Tenswa Electric Scalp Massager Portable Head Massager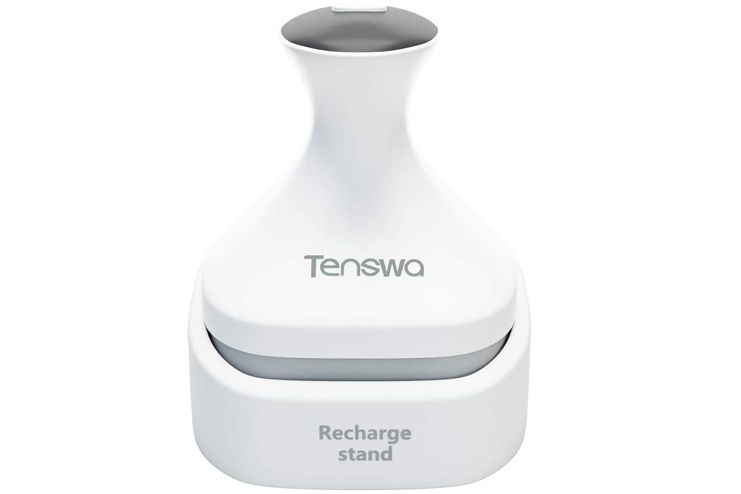 The scalp massager is the best for hair growth and you can choose it if you are looking for one. The heads of this massager can be rotated clockwise and anti-clockwise which helps give full scalp coverage. As the massager gives an even soothing effect, you will have instant relief from stress, tension, and headache like common problems.
It is a multi direction movement massager with left, right, and up, down as well. The massager is usable for the legs, lower back, shoulder for complete relief. As you massage, it promotes blood circulation in the head. And it has 6 variable modes like open, close, push, pull, knead and claw which are great for personalized use according to your need. You will have a comfortable grip with its compact design which also avoids hair tangling while having a head massage.
You have many more reasons to choose this head massager for hair growth- the lasting power of the battery gives you the continuous massage that you need. You can use the device even while shampooing your hair for cleansing as it is waterproof.
PROS
Multi dimensional massager
6 different modes
Waterproof feature
Multi purpose massager
If you are looking for a head massager that promotes hair growth then you must browse for various options. But you may get into a tricky search as there are too many random suggestions as a result. So, to avoid all the delay of relaxing massage, we have prepared a sorted list of best head massagers. You can check the features and brief reviews to find a suitable head massager and make it a worthy purchase.