Waist trainers has gained popularity today, waist trainers are much comfortable than a corset and have been wore by women since Victorian times. Although finding anything for beautiful plus-size women is like finding a black cat in a coal cellar. But thanks to today's upgrading fashion world and social media, women are now being confident in their own skin, shape, or size. Many brands have also come up with a section for Plus size clothing and that feels great.
Every woman needs to celebrate her curves and waist trainers help define it. Waist trainers can slim your waist and give you an hourglass figure. That is why in this article we have listed down some of the best waist trainers for beautiful plus-size women. So make sure to check those out.
Best Waist Trainers for Plus Size
#1. Feelingirl Neoprene Sauna Sweat Plus size woman waist trainer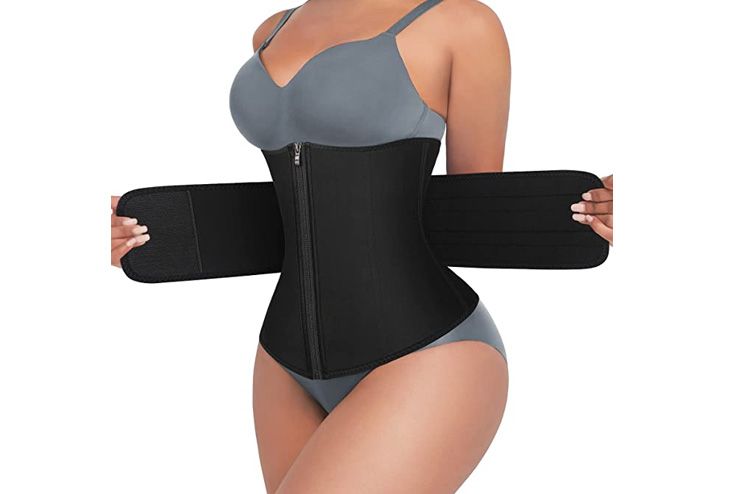 Feelingirl Neoprene Waist trainer is for plus size women and those who have fat in the tummy area this will surely help to burn the fat and make you sweat like anything. Neoprene fabric is lightweight, skin-friendly, close-fitting, more sturdiness, moisture-wicking, keeps warm, lets you always keep dry and comfortable.
The best part is it has an adjustable velcro closure, which lets you adjust the tightness of the trainer on your waist. It is a great product to be used during workouts, as it helps to speed up workouts and keeps your muscle warm throughout. It has 7 steel bones and it prevents curling. One can use it daily, while running, or during workouts.
PROS
Helps sweat and burn fat
Comfortable
Adjustable
Can be used daily
Comes in 5 variety
Best for workouts
#2. Lover Beauty Latex Waist Trainer for Plus Size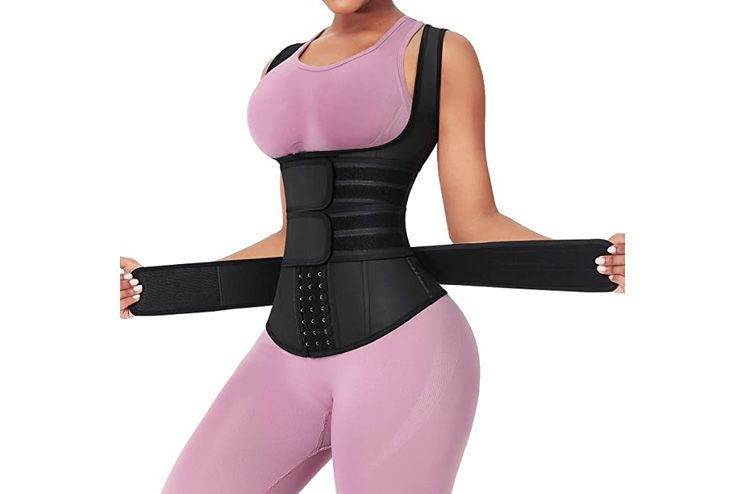 Lover beauty waist trainer is made up of 100% latex and comes with hook and eye closure which is great as it gives the best comfort with such closure. It has three belt fittings that help the abdomen to sweat and wrap very much when you workout. The best part is it has no odd smell that most waist trainers do and since it is made up of latex they are durable and most comfortable to wear.
It has 9 steel bones for better support and has a U shape drop design that helps you to look attractive by making your chest erect, and gets rid of your back fat. And give you a perfect hourglass figure. This waist trainer is suitable to wear every day for any activities
pros
100% Latex
Hook and eye closure
Corrects posture
Can be used daily
Plus size
Helps get rid of back fat
#3. Along fit sweat sauna plus size waist trainer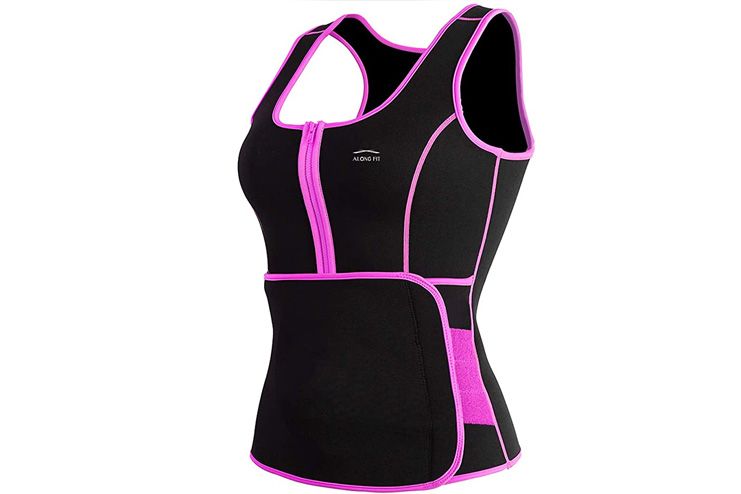 A long waist trainer is made up of 80% neoprene and 20% nylon. It has a hook and zipper closure. This is one of the best waist trainers for people who are working for fitness and beauty, as it provides the best sauna and curve shaping effect. It has an adjustable trimmer belt and great premium quality neoprene fabric.
It is great to have an adjustable trimmer as you can easily adjust according to our tummy control needs. You can feel the instant burn with the sauna effect waist trainer and it fits in tightly yet does not feel uncomfortable. It provides tummy control, breast and back support properly.
PROS
Premium neoprene fabric
Hook and zipper closure
Adjustable trimmer belt
Gives best instant sauna effect
Comfortable
Tummy control
Breast and back support
4.Burvogue Waist Trainer for Weight Loss
Burvogue Waist Trainer corset has four breasts, can be adjusted according to your measure's, it makes the latex underbust adjustment flexible and wider. The 9 steel bones around the under-bust help you to cinch your waist to maintain the correct posture while exercising.
This waist trainer for women not only helps to quickly restore the body after postpartum but also helps in correcting the hunchback and creates a perfect and healthy body for a woman. The heavy compression durable latex underbust corsets help in reducing your waistline. This corset is responsible for the reduction of your waist up to 3-5" and boosts fat-burning activity while you exercise. Can wear it daily and under any clothes.
PROS
Improves posture
Four breast type
Flexible and wider
Durable
Helps reducing waistline
Boosts fat burning activity
Recovers post partum tummy
Can be worn in any clothes
Can be used daily
Comes in many variants
CONS
May not be suitable for long torso women
#5. Wonder beauty plus size waist trainer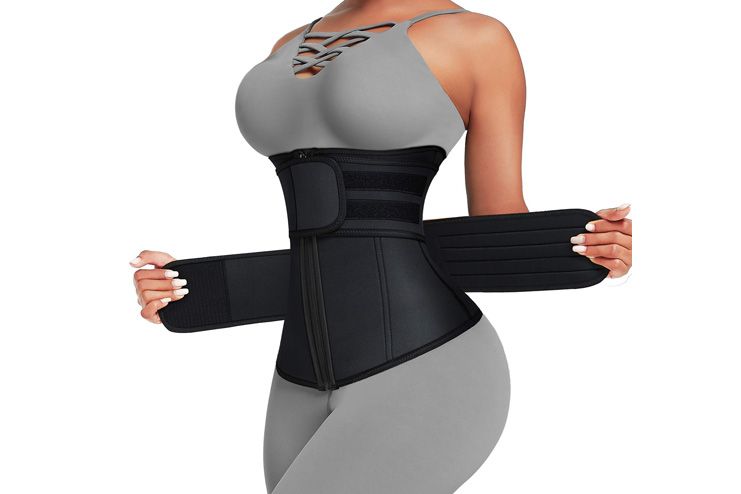 Wonder beauty waist trainer is made up of premium quality neoprene fabric which helps you to sweat more as it increases the temperature of your tummy area. It is provided with adjustable 2 Straps that give firm tummy control to your lower belly area, that helps to reduce waist size and turn it into hourglass shape immediately. It has 7 Steel Bones that help to straighten and give you desired back support, helps to correct your posture, and makes your lower belly flat. You can move freely and it won't roll down. This waist trainer boosts thermal activity, due to high compression one can lose 3 inch of tummy fat and even a person with a long torso can wear it easily now that is so good to hear.
PROS
Premium Neoprene fabric
Helps sweat more
Can be used for any activity
Boost thermal activity
Suitable for long torso as well
CONS
It may hurt back in the start
#6. Lttcbro plus size waist trainer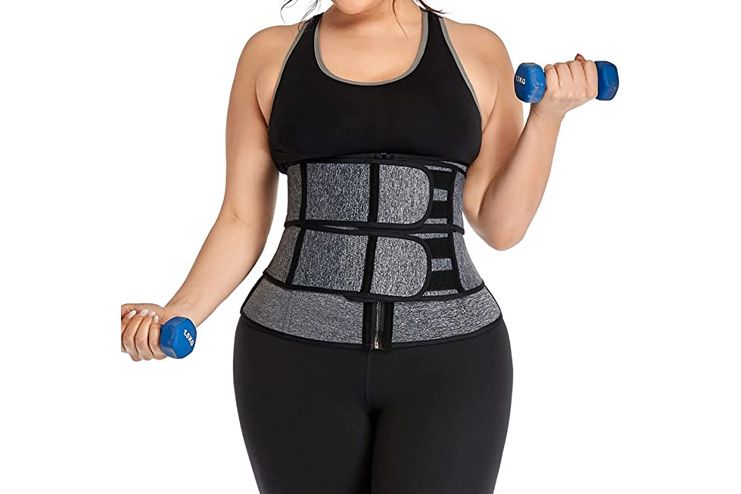 This is rated one of the best waist trainers for all sizes of woman. It helps to increase fitness, supports the lower back, burns fat, improves posture, back support and relieve pain, and controls the flabby tummy. The waist trimmer is quite stretchy; it helps to provide support and lumbar support, which also helps to relieve pain. One of the best options for postpartum recovery or post abdominal surgery,c section, lose weight, abdominal strains, and weakness, tummy trainer. The boning stripes through out the waist cinchers help to keep your back in the correct position. The belt is adjustable and it has a hook and zip closure which makes it fit and comfortable. The waist trainer is durable and suitable for all plus-size beauties
PROS
Provides best support
Durable
Zip and hook closure
Lumbar support
Back support
Improves posture
Relieves pain
#7. Nebility Woman waist trainer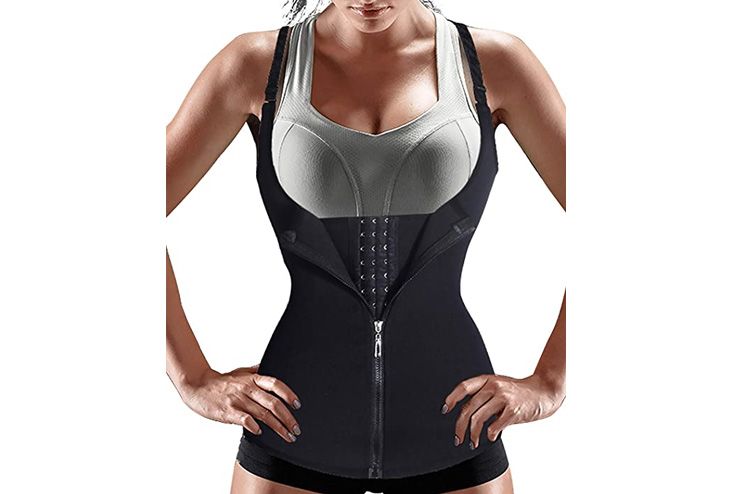 A Nebility woman waist trimmer gives firm support and is highly flexible. This waist trimmer will definitely lift your curves and make you celebrate them. Once you wear this waist trainer it helps to increase blood flow, as the temperature increases to burn more fat.
It also makes abdomen fat if you have had postpartum recovery. Bodies extra lumps and bumps could be hidden when you wear it to any occasion to give you a smooth curve finish without visible lines. It also supports the full back to increase posture and helps in relieving pain. It has adjustable straps and it is durable. The waist trainer is comfortable to wear and also is breathable
pros
Highly flexible
Hides lumps and bumps
Gives smooth finish in dresses
Makes abdomen flat
Uplifts breasts
Durable
Comfortable
Breathable
CONS
It might fold up at the bag if not of true size
#8. Ashlone Women waist trainer- latex corset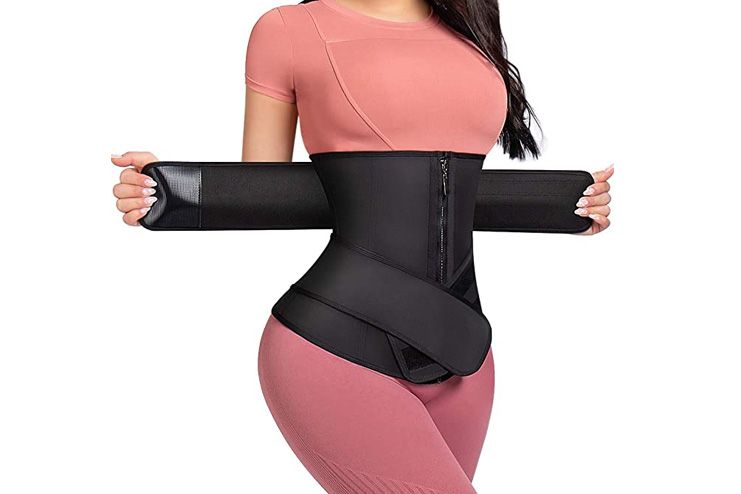 Made of high quality nature has a good amount of plasticity and elasticity. This waist trainer absorbs the sweat to keep your body dry and comfortable. It has a Protective cloth under the hooks which prevents skin from being stretched and irritated. The durable fabric helps the shapewear from getting damaged when worn for a long duration. It has 3 layers closure to make sure it has a proper adjustment, high compression.
Because of the high elasticity, you won't find any bulge or discomfort, and give you the most accurate fitting in the long run. 9 spiral steel bones are great to support your back. Ashlone comes with a girdle belt that helps you in body shaping, tummy control, and postpartum recovery after giving birth,
PROS
Comfortable
Great support
High elasticity
No Discomfort
Durable
Comes with girdle belt
Absorbs sweat
#9. Training girl women waist trainer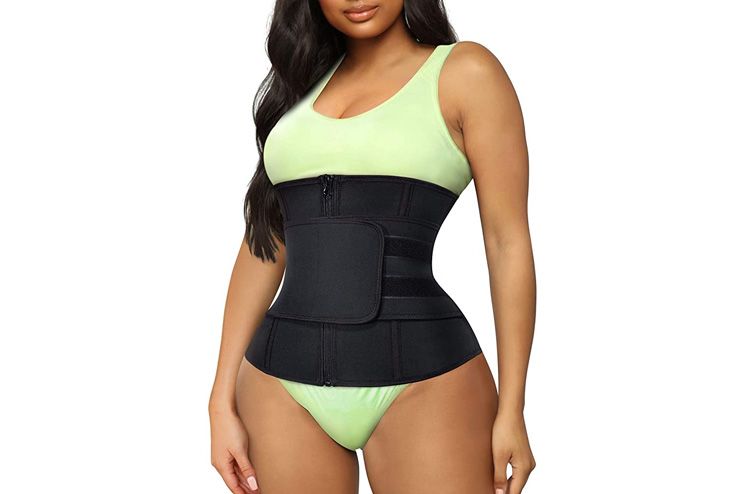 Training a girl waist trainer is one of the most perfect waist trainers one would have their hands on. It promotes firm control and shaping to the waist. Midriff and waist get instant hourglass shape when you wear it. It is made of Latex-Free fabric and 100% neoprene fabric that is what makes it comfortable & stretchy, which means it is easy to clean, and will not roll up or irritate your skin, and does not stab like some other stomach control belt.
It has a front long length and back short length that allows it to be a better fit for the female body and completely cover your belly. Comes with 5 spiral steel bones which can bend easily, but recover quickly to origin, it is also flexible and durable. It helps to lift your chest, provide side and back support, release lumbar spine pain, prevent a herniated disc, and correct your bad posture for an elegant look.
PROS
Instant hourglass shape
Flexible
Durable
Easy to clean
Spiral steel boned
Lifts chest
Great support
Corrects posture
CONS
Might have fold if not maintained
#10. Ekouaer training waist trainer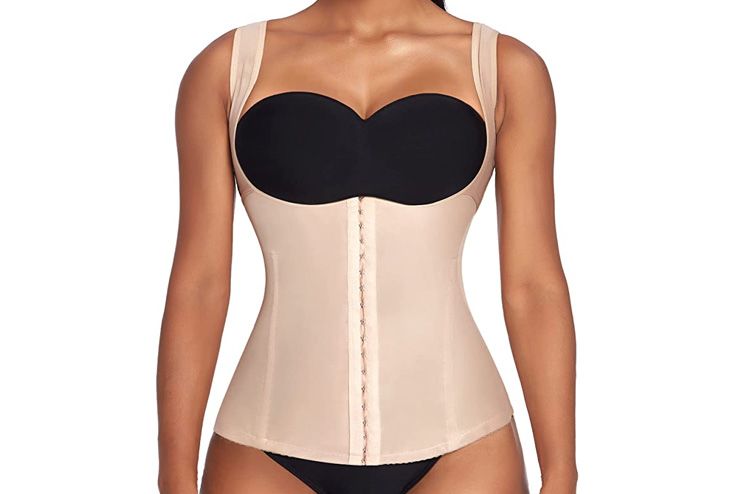 Ekouaer trainer is made of high-quality 90%polyester and 10% spandex soft fabrics, which are smooth, healthy, moisture-wicking, elastic and stretchable, flexible and breathable, comfortable to wear. It has a front U-type anti-drop design that makes your chest erect and attractive, effectively firm control armpit & back flabby fat to make your body no lumps or bumps or bulks.
This trainer corset is equipped with 3 rows of hook eye closure, to ensure you could fit it at most times and gives you a sexy natural curve. This waist trainer helps to flatten your abdomen, reduce the waistline, support back, postpartum recovery, improve posture, relieve waist pain, protect spine, expedite fat burn while exercise, combine with a healthy lean diet, and drink plenty of water. If you are someone who recently has postpartum recovery, this body shaper will help you to reduce swelling, tighten skin, control tummy & back, and relieve postnatal pain. Overall it is a great waist trainer that has all the benefits in it.
PROS
High quality material
Flexible
Breathable
Gives sleek look
Best for postpartum recovered woman
Reduces tummy
Gives back relief
How to Choose the Best Waist Trainer for Plus Sized Body
Flexibility and Comfort- nothing is worth it if it costs your comfort. Go for an adjustable one or choose which has flexible boning. Do not always wear it when you are sleeping, make sure the waist trainer for you let's you breathe and you feel comfortable wearing it.
Size- Size of your waist trainer should not be too large and not too small. It must be of your perfect size, if you are not able to choose the right size do refer to the measurement chart or take advice from the expert.
Material- Material should be comfortable and not cause any allergies to you. There are options in materials so choose which is best one for you
Adjustable – Choose waist trainer which can be adjustable as that will let you adjust according to your size and needs. Or if you don't have many options in adjustable ones, you can go for a closure which has velcro and hook and eye type.
Conclusion
Waist trainers have been helping many women to get confident with their body especially plus size women. Waist trainers for plus size women help to accentuate their curves and make them look beautiful. Following a proper diet and exercise will be the key factor in maintaining the right size and look to your body