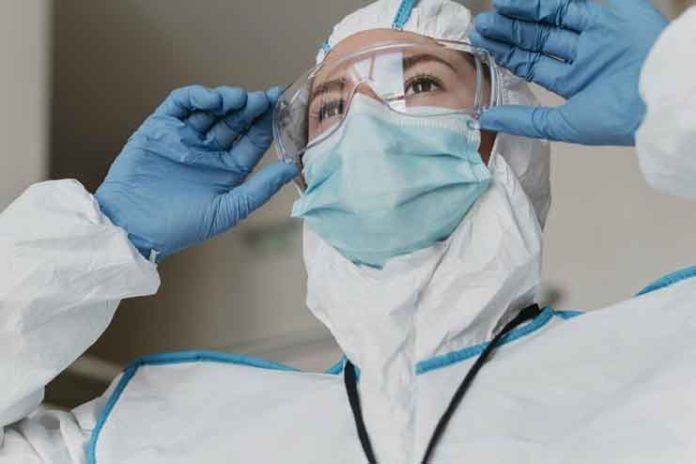 In today's pandemic times, wearing a mask and glasses while heading out can get disrupted because of the vapour settling on it, it tends to blur our vision and seems to get super messy especially if you are someone from the medical or industrial sector. Your fashionable glasses can make you look good but may not protect you from fog, dust, and dirt. Honestly, fashion is what you create and you can be fashionable even while wearing anti-fog glasses which comes in many cool designs
Apart from this, having anti-fog glasses is mandatory when you are working in a chemical field or live where there is a humid climate, you need to protect your eyes from all the harmful radiations, dust, dirt, and multiple hazards. So if you are here to know more about anti-fog glasses for your safety you are at the right place as we have compiled some of the best anti-fog glasses for your eye protection.
What are Anti Fog Glasses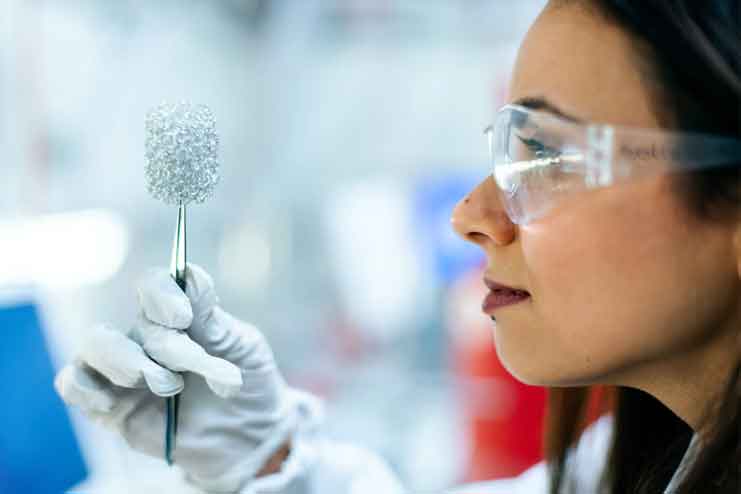 Anti-fog glasses are different from your ordinary glasses. They have a coating on the lens that is designed to prevent disrupted view because of the condensation of water and that makes it reduce the fog on the glasses. Anti-fog glasses also come scratch resistant, which helps as it will not disrupt the vision. These anti-fog glasses are best as they protect all the workers who come from the medical field, carpenters, industrial workers, or chemical field workers, and while heading out for common people.
These glasses in simple terms prevent water vapour from forming small droplets and hampering the vision which we call Fog. They work by giving protection to your eyes and act as a safety layer.
How Do Anti Fog Glasses Work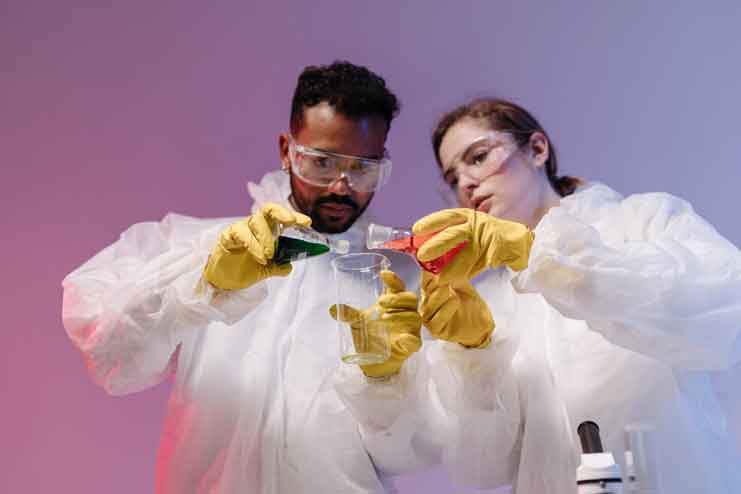 Firstly, let us know what makes fog appear on the glasses? Fogging takes place when atmospheric humidity condenses resulting in vapours. That happens because of the difference in temperature, and heat energy is generated and releases water molecules and those form water droplets. These droplets are what we see as 'fog'.
As now you know how you see fog on your glasses, let us tell you how these glasses work to prevent it. Anti-fogging agents are used in anti-fog glasses, these are actually chemicals that prevent condensation of the water droplets and minimize the surface tension. The coating on anti-fog lenses wards off water vapor from forming tiny droplets, which we call 'fog', these lenses delay the condensation thus known as Anti-fog.
Why Do You Need to Wear Anti-Fog Safety Glasses
Improved vision- Due to fog settling on standard glasses it makes the vision unclear. Anti fog glasses are also scratch-resistant that stopping the glasses from getting scratched. Because of humidity and dust settling if you have unclear vision it may be harmful for you and your eyes if you work in an industrial or chemical environment so wearing anti fog glasses is better.
No Foggy mess- If you are someone who works in an environment where there is lot of dust, dirt, smoke, hazardous field, welding work or chemical field and most times there are changes in the temperature of these places that can lead to foggy messy and disrupted vision, having a pair of safety anti-fog glasses not only protects from the fog but they are also safety glasses that keep you away from all the risks.
No frustration- As common people in these covid-19 times while heading out wearing a mask and your sunglasses or eyeglasses the fog gets generated because of your breathing the air that is passed, it tends to be warmer and all this seems a lot frustrating that is when- anti-fog glasses come in handy, at least you may not have to go through that experience and get frustrated
Best Anti-Fog Safety Glasses
1. Nocry safety anti-fog glasses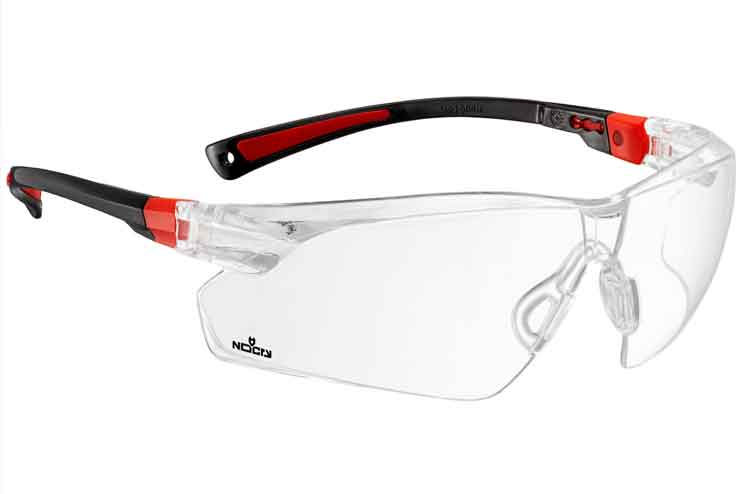 Nocry safety glasses are one of the best glasses which also give protection against UV rays. These glasses keep your eyes safe from all harmful risks and they are made by polycarbonate wraparound construction which is very strong and durable. No matter your face and size they have adjustable side and nose pieces which give you the perfect fit.
Nocry glasses do not fog as they are double coated and untinted which means no optical distortion as well. Ideal for woodworking and carpentry, metal and construction work, lab and dental work, shooting, cycling, racquetball, or anywhere you need to wear PPE eyewear.
PROS
Double coated lense
Sturdy
Durable
UV protection
Polycarbonate material
No distortion
Non slip
CONS
These aren't scratch resistant
2. 3M safety anti fog glasses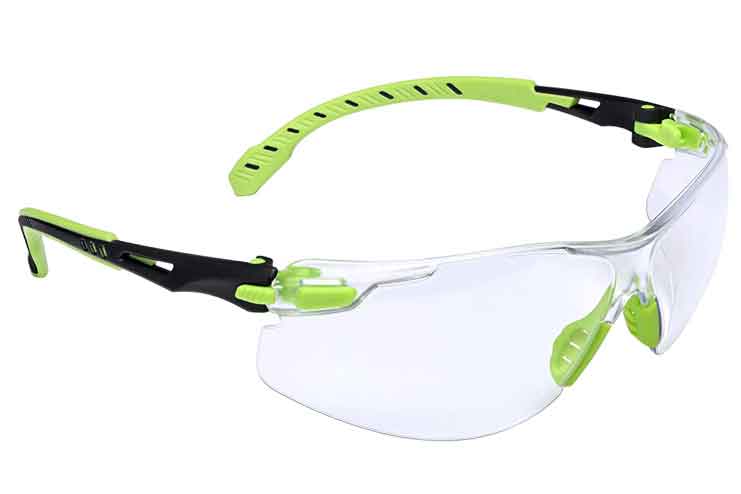 3M safety anti fog glasses are widely used for the functions they provide. These glasses are specially designed for challenging situations such as hot and humid conditions, indoor and outdoor work, physically demanding tasks, and climate-controlled areas. Gives you all the comfort you need as they provide soft nose bridges and padded temples. As these lenses are Polycarbonate they absorb 99.9% UV rays. These are only used for industrial and occupational use. These are also anti-scratch and make them one of the best out there, apart from this they are also very sturdy and fashionable that would surely make you look cool.
PROS
Fog resistant coating
Designed for climate controlled workplaces
Comfortable
Durable
Comes in bold color options
Anti scratch
Uv protected
3. MAGID Y50BKAFC Iconic Y50 Design anti fog glasses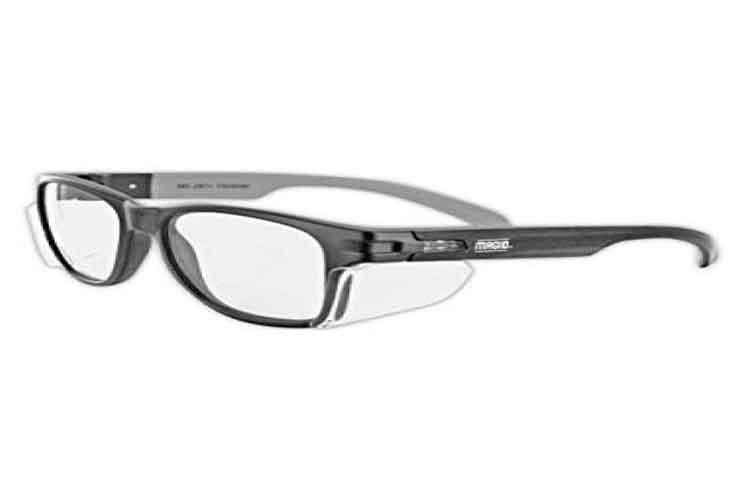 Magid anti fog glasses are powerful eyewear. It has stylish and classic design that promotes worker compliance. It has a Low base curve frame with clear side shields that provide great peripheral vision and also gives protection from the sides. These glasses are of polycarbonate hard coated lenses which are scratch resistant and the grey on these gives extra protection. Comes with a soft padded temple for ease. These are lightweight and comfortable, they will definitely provide you a sporty look and will keep you safe from sun and sparks.
PROS
Lightweight
Sturdy
Clear side shields
Polycarbonate hard coated
Soft padded temple
Scratch resistant
4. Safetyplus safety anti fog glasses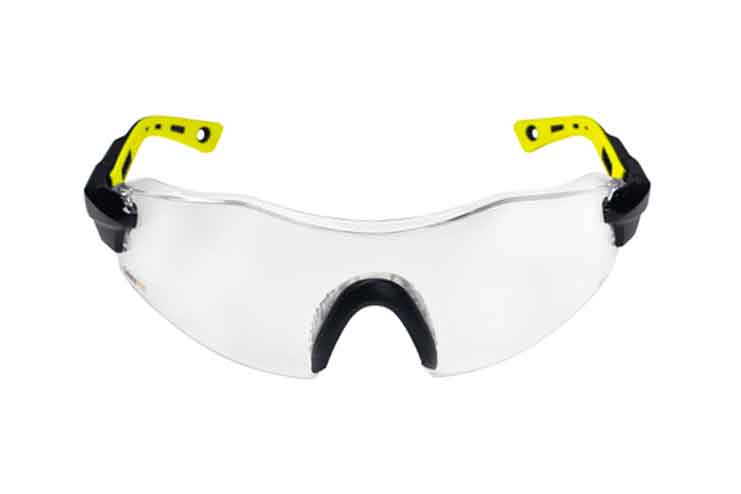 Safetyplus safety glasses are one of the well designed glasses. They have polycarbonate frames and lenses both which makes them one of the best quality glasses. These are CE-certified eye protection glasses. Best thing about them is they are Made with latex-free polycarbonate for strong and durable eye protection and give 99.9% UV Protection. For comfort, these have adjustable hinges that can be angled and extendable temples for a custom fit. To provide increased visibility these are anti fog and anti-scratch resistant. They are also available in different lens colors but clear ones are one of the best options to go with.
PROS
Well designed
Polycarbonate frames and lenses
CE certified
Latex free
Durable
Gives UV protection
Scratch resistant
CONS
Anti fog may disappear after some time
5. Liansan oversized anti fog glasses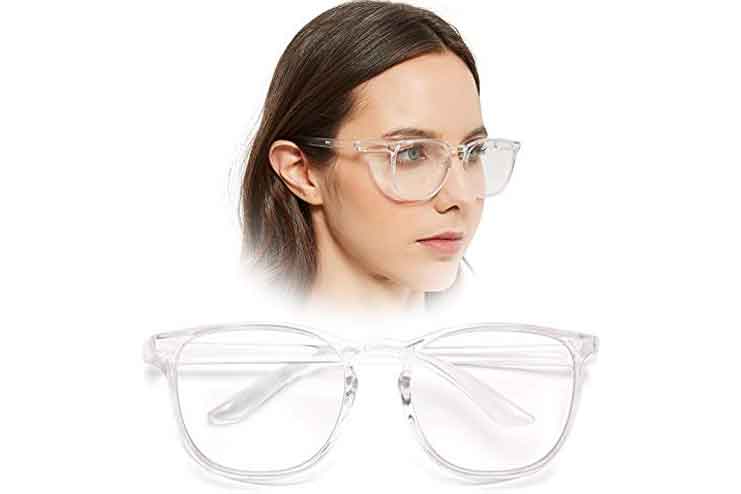 Let's take a moment to appreciate the design and beauty of these glasses of course with the ways it tackles all the causes of fog that make it one of the best eye glasses. These safety glasses can be used as safety goggles, anti-blue light glasses and UV protection glasses. These have double coated anti fog coating and are made of polycarbonate frames and lenses making them good quality eyewear. These are provided with a side shield which gives the best peripheral protection to your eyes, glasses are safe to wear and very strong and durable. They do not slip which saves you from all the mess. Super stylish design suitable for all the young crowd and gives a perfect feel. Anti-fog, glare, and blue light-resistant for better visibility, untinted lenses mean no fogging up or optical distortion.
PROS
Double coated anti fog glasses
Uv protected
Gives peripheral protection
Anti fog,glare and blue light resistant
Durable
Stylish design
6. Jo anti fog safety glasses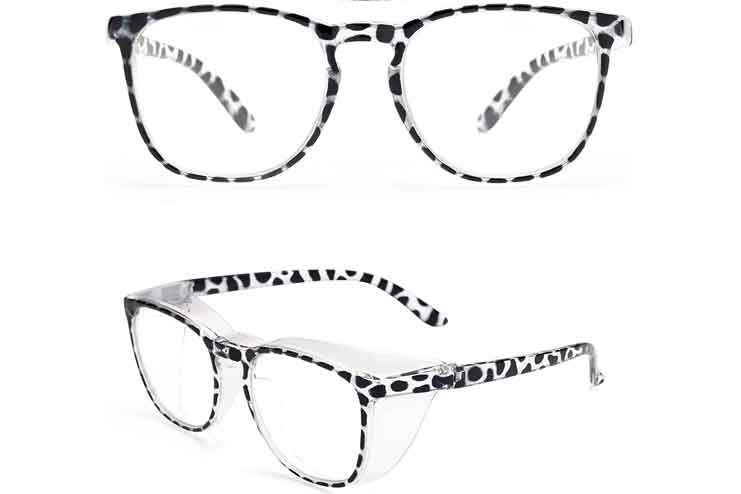 Jo anti-fog glasses give the best visibility to eyes. JO glasses are the first glasses which are designed to look and give you a feel of classic eyewear while helping you to protect your eyes from grimy fingers. With premium blue light blocking and anti-fog lenses, stoggles are made for all-day, everyday comfort. Polycarbonate is a fully recyclable material that is both lightweight, flexible, shatterproof, and impact resistant. This material has crisp optical clarity and blocks nearly 100% of UV rays, so you'll be protected by both the lenses and the frame. It comes with a one-year warranty and 90 days money-back guarantee so this is one of the best options to look for while choosing anti fog eyewear.
PROS
Gives you classic look
Lightweight
Flexible
Shatterproof
Gives crisp optical clarity
Blocks UV rays
Comes with a warranty
CONS
These are not entirely scratch proof
7. Ergodyne skullerz anti fog glasses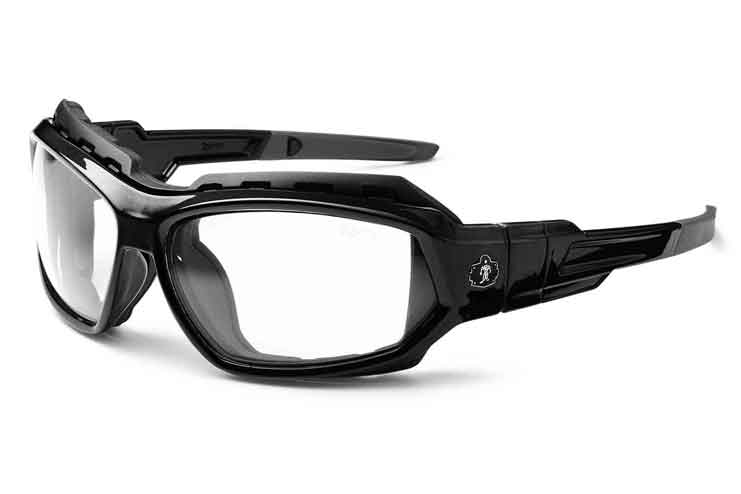 Ergodynes skullerz anti fog glasses give you all the safety one needs against all safety measures. These are made up of 100% nylon, single lens, the blade-style frame that provides a wide field of vision and coverage. It provides utmost comfort as it has rubber nose pieces and rubber temples to keep the glasses secure and resist sweat. Now you can head out while protecting your eyes as the glasses are scratch-resistant lenses and block 99.9% of harmful UV rays. These good looking safety sunglasses are great for protecting your eyes during outdoor work like construction, carpentry/woodworking, or landscaping and if you have some outdoor hobbies you can go for these glasses.
PROS
Blade style frame perfectly
Has nose & temple rubber piece for comfort
Protects from harmful UV rays
Sweat resistant
Scratch resistant
CONS
May not fit all shape faces
8. Bison life safety glasses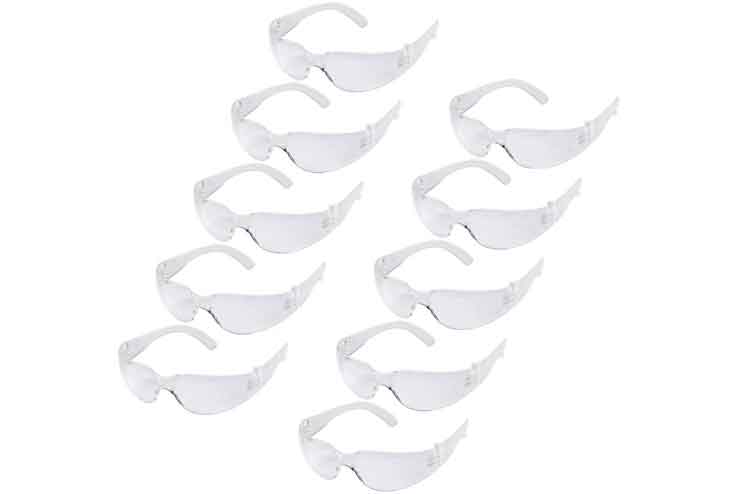 Bison are one of the great options for everyday safety glasses. These glasses are incredibly light, all-around ballistic impact protection with a snug, comfortable, and secure fit that helps minimize slippage. They provide full coverage and are scratch resistant and give the best protection for your eyes and also helps to maintain the glasses. Deep, universal-fit temples provide full brow and side protection equal to that of eyewear with large side shields and are built for all-around visibility and a high level of direct and peripheral eye protection from flying particles or debris. The glasses give protection from all kinds of hazardous work be it small pieces of metalwork or large industrial areas work. Everyone can wear these glasses as they are suitable for all.
PROS
Comfortable
Gives full coverage
Scratch resistant
Brow and side protection
Best protection from types of risks to eyes
Suitable for all
Durable
CONS
May have been of better quality
9. Hanchs safety glasses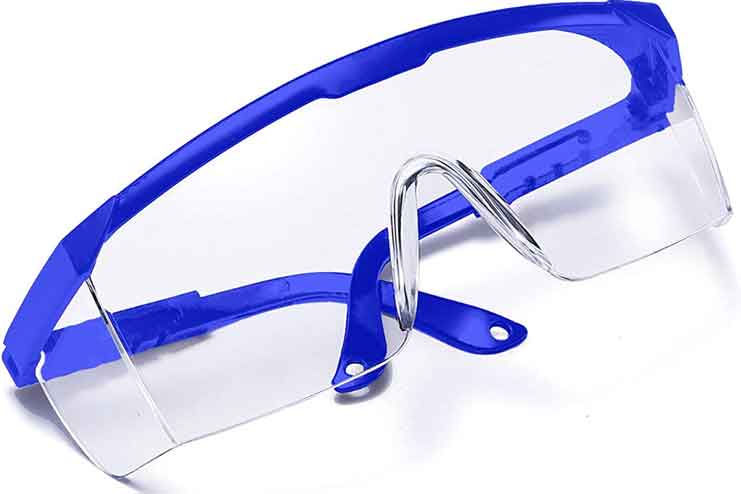 Hanchs glasses are wide vision protective, making it of utmost safe for the eyes. The glasses are impact resistant, and are suitable for multiple occasions. It has protective properties like UV protection, scratch-resistant, anti-fog coating technology. Comes in an ergonomic design which makes it safe and comfortable to wear. Men and women can be worn by anyone. Suitable for laboratory or working with chemicals, pharmaceutical or medical use, gardening, and other outdoor activities. It has adjustable temples that protect it from all the sides making it an ideal option to buy.
PROS
Wide vision protective
Suitable for multiple occasions
Uv protection
Ergonomic design
Comfortable
Durable
Can be worn by men and women both
10. Torege safety anti-fog goggles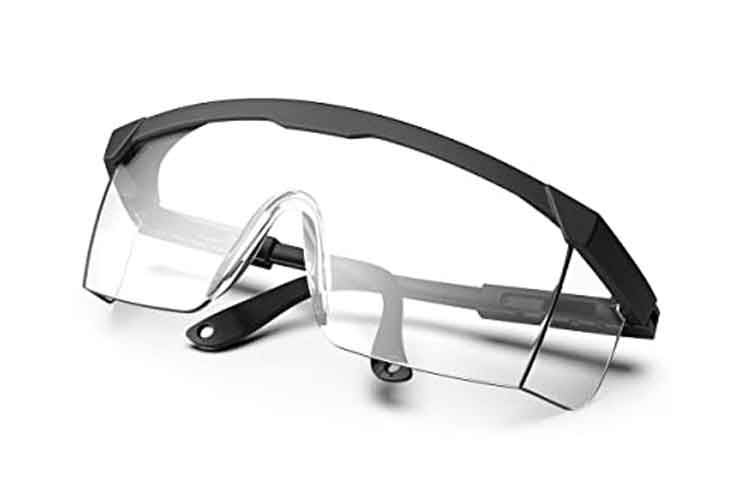 Torege is protective eyewear that is suitable for all occasions. The glasses are double anti-fog coated which ensures your vision is clear while also protecting your eyes from harmful blue light. In the current period of the infectious disease pandemic, if you are looking for protective eyewear that is suitable for all occasions this is one of the best ones to get your hands on. It uses optical lenses which makes it super safe to use. Perfect as lab goggles, protective nurse glasses, or outdoor protective eyewear. These are also super lightweight which will make you question if you are even wearing it. With these goggles you can protect your eyes from accidental chemical splashes, flying debris, sprays, liquids, or saliva.
PROS
Double anti fog coated
Ensures clear vision
Lightweight
Protective eyewear
Blue light protective
Durable
11. Outray stylish anti fog glasses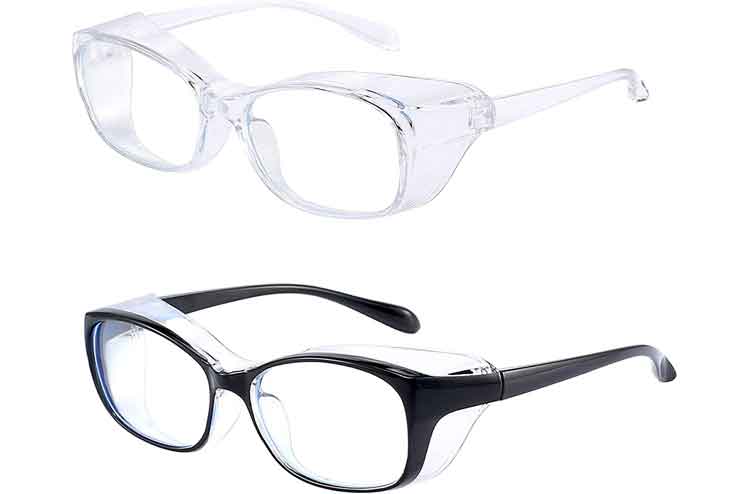 Outray glasses come in the purple shade which makes them look fashionable and trendy for everyday use, transparent color suitable for fashion dressing match, designed to fit different face shapes and sizes. One size is said to be fit for everyone. It comes in an eye wrap design to block flying debris, splashes & airborne droplets. It uses blue light filter coating, which is light and thin that can block harmful blue light, making the vision clearer and comfortable. These glasses are durable, come with comfortable one-piece nose pads and ensure comfort for long periods of time.
PROS
Durable
Fashionable
Comfortable
Gives clear vision
Blue light protective
Eye wrap design
CONS
May not provide full coverage to the eyes
How to Choose the Best Anti Fog Safety Glasses
Critical factors- the first thing is your eye condition and how is your work environment. If your work environment is hot and humid and there are always changes in temperature while working you need to go for extra care and find the one which has effective anti-fog coated lenses.
Visibility- You wear these glasses to have a clear vision and visibility so that is most important factor to get your hands on anti fog lenses which gives effective visibility and keeps you away from dust and dirt too
Material- Polycarbonate is the material which is mostly used for such safety glasses, acrylic and glass follows the next in the list. Polycarbonate is a best material which protects your eyes even from UV rays
Proper coverage- Whenever looking for anti fog glasses they come in various designs and fit. Going for the one which is a perfect fit for your eyes and which covers them properly is beneficial. For comfort go for the ones which have temple cushioning and nose piece.
Comfort & safety – you may have to wear these glasses for a good amount of time so they need to be super comfortable when you wear them. Most important thing these glasses are worn for safety purposes so make sure you check all the measures such as how effective they are, are they scratch resistant or not, durability of glasses and the quality of coating along with comfortable features like coverage, temple cushioning and nosepiece.
Conclusion
Anti fog safety glasses help you to protect yourself from many harmful risks, they are your safety glasses especially if you work in an industrial area and for that matter in general too. Understanding how they work to make use of it is always better and having the right knowledge to choose these anti-fog glasses is a plus, we hope this post has helped you to understand how anti-fog glasses work and what to look for with our list of best anti-fog glasses. Thank you for reading.