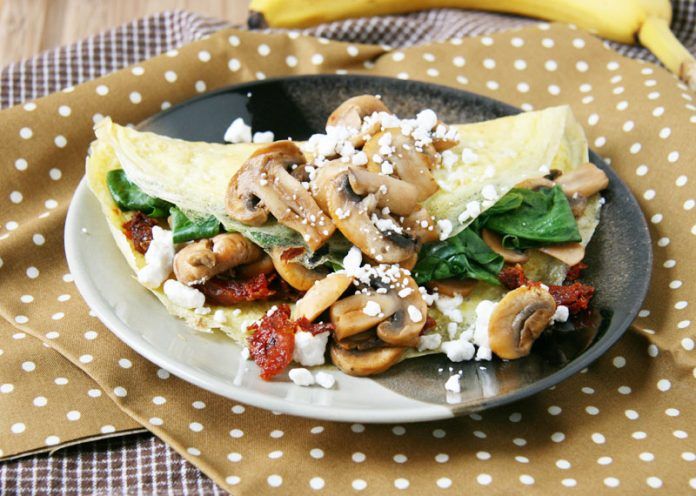 Here we come with a delicious breakfast with the mixture of mushroom and eggs. Yes, it is an omelet, but of French style. It is an easy to cook recipe. Your family members will really compliment you for the Wild mushroom omelet. Garnish it with flat-leaf springs and fresh fruits. You can add flavors to the omelet by including a spritzer drink in the breakfast. So, get ready with the ingredients and lets start with morning breakfast.
Ingredients
2 tablespoons finely chopped shallots
2 tablespoons water
2 ounces wild mushrooms, coarsely chopped
1 tablespoon chopped fresh flat-leaf parsley
1 teaspoon fresh lemon juice
1/8 teaspoon salt
1 tablespoon butter, divided
4 large eggs, divided
1/4 teaspoon salt, divided
1/8 teaspoon ground white pepper, divided
Preparation
1. Combine first chopped shallots, mushrooms and water in a small skillet over medium-high heat.
2. Cook until water evaporates and mushrooms are tender and stir occasionally.
3. Remove from heat and stir in lemon juice, chopped parsley, and 1/8 teaspoon salt.
4. Melt 1 1/2 teaspoons butter in skillet over medium-high heat.
5. Take out the inner portion of 2 eggs in a small bowl.
6. Add salt and a dash of pepper, beat until eggs are frothy.
7. Pour egg mixture into pan, and spread with a heatproof spatula until egg starts to thicken.
8. Quickly pull the egg that sits on the sides of the pan to the center with the spatula, tipping the pan to pour uncooked egg to the sides.
9. Continue this procedure until almost no runny egg remains.
10. Remove pan from heat and arrange half of the mushroom mixture over omelet in pan.
11. Run spatula around the edges and under omelet to loosen it from the pan.
12. To fold the omelet, hold the pan handle with one hand and tip the pan away from you.
13. Give the handle a sharp tap with your other hand so the top edge of the omelet flips over, or fold the edge over with a fork.
14. Slide the omelet from the pan onto a plate, rolling it as it slides, so it lands folded in three with the seam underneath.
15. Tuck in the sides of the omelet to neaten it.
16. Repeat procedure with remaining butter, eggs, salt, dash of pepper, and mushroom mixture.
Heart Health
Mushroom is rich in fiber, vitamin and potassium that contribute to the cardiovascular health. Sodium in the mushroom controls the blood pressure in the body. It helps to reduce heart diseases.
By: Shaveta Kandhari
Disclaimer:
The above tips and information are only for reference purpose. The articles are not written by qualified medicare professionals. Even though, you may find the tips and information easy and useful, we recommend you to consult a qualified medicare professional before adopting these. It is necessary to analyse and find out your physical fitness in accepting these tips. Some tips may not suite you or you may be allergic to. Hence consulting a medicare professional is essential. Failing which, you will be having the sole responsibility for the consequences arising out of your negligence and reluctance.
NOTE:We inform you that we are not owner of any of the products, images or any other products displaying on our website. But all the articles are written by us and we owned them. If you found any image or product that found under your copyrights then please feel free to CONTACT US. We will remove that image or product as soon as possible. All the images are collected from Google.