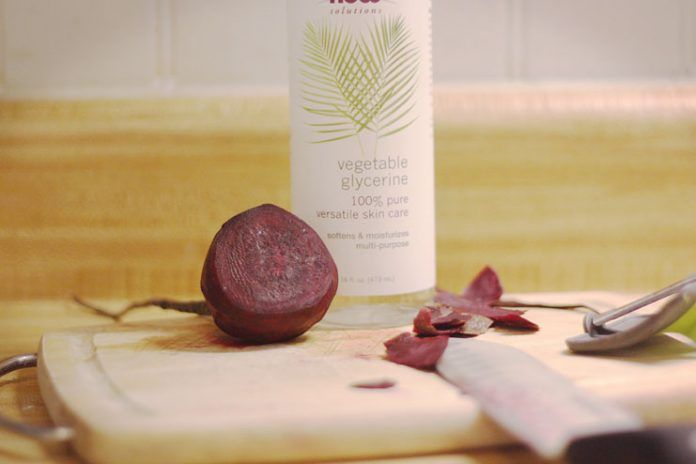 When it comes to our skin, we always look for various ways to clean and raise the glow of the skin to make more attractive. Although there are various chemical-filled skin products are available, they can also cause health hazards. Therefore, using vegetable glycerin for your skin can be highly useful. Various vegetable glycerin uses for your skin makes your skin glowing and attractive in a complete natural way.
Here, we have tried to provide you some of the amazing vegetable glycerin uses along with additional information on vegetable glycerin. Read on to get full information on how to use vegetable glycerin on your skin.
What is vegetable glycerin?
Vegetable glycerin or glycerol is a natural triglyceride which is obtained from various plant sources such as palm, soy, coconut oil. Odorless in smell, vegetable glycerin is a liquid with thick consistency.
It is a water soluble organic compound derived from composing of carbon, oxygen, hydrogen. It is sweet in taste and safe, non-toxic for consumption.
Nowadays, vegetable glycerin can be found in almost everything such as cosmetics, shampoos, lotions as well as medicines.
Vegetable glycerin is highly useful in making large number of homemade beauty products.
Does vegetable glycerin have any side effects?
Even though there are no serious side effects of the vegetable glycerin, it is recommended to be careful and follow precautionary steps for using vegetable glycerine.
You may experience some side effects such as redness, hives, rashes after applying expired vegetable glycerin on your skin. It is recommended to stop using vegetable glycerin immediately if you face any of these problems.
Problem of dryness of skin can also erupt after applying vegetable glycerin. This occurs due to the humectant nature of the glycerine which pull out all the moisture from the skin. However, you use completely diluted form of the glycerin to prevent this problem.
Best uses of vegetable glycerin for skin
Humectant
Humectants are highly useful in pulling the water out from the air. This humectant such as vegetable glycerin helps in keeping the skin radiant as well as hydrated.
Cleanser
You can also use vegetable glycerin as a cleanser. Cleaning with vegetable glycerin helps in sanitizing your skin and keeps all the acne-causing bacteria away from it.
To make a cleansing face mask, mix some glycerin in liquid castile soap along with essential oils such as rosemary or lavender.
Oil control
Glycerin also contains best oil regulating properties, which is helpful in preventing that greasy look on your face.
Moisturizer
Glycerin can also be used as a moisturizer. To make the mixture, mix equal amounts of shea butter, glycerin and add essential oils in it. Some of the best choices for essential oils are ylang ylang, lavender as well as frankincense.
Skin smoothness
Glycerin also helps in providing skin smoothening effect. Along with this, vegetable glycerin also helps in filling up the cracks as well as fine lines on the surface of your skin.
Preservative and stabilizer
Another big advantage of vegetable glycerin is that it can be used as an amazing preservative as well as stabilizer in your lotions, shampoos as well as creams. Along with this, it also helps in preventing the ruining of beauty soaps and lotions.
Natural shampoo
You can make a natural shampoo with the help of vegetable glycerin which can show some of the effective results.
To make a shampoo, mix ½ cup of vegetable glycerin with ½ cup of thick coconut milk. Now add around 12 drops of essential oils. You can choose rosemary, cedarwood as well as vetiver. Now, you can apply the mixture on your scalp properly on your hair and hair strands.
Hair conditioner
Making an effective hair conditioner with the help of vegetable glycerin.
Mix ¼ cup of vegetable glycerin with ¼ cup of aloe vera gel to make a simple conditioning mask. Now apply it on the hair, which are already shampooed and allow it for resting for 10-20 minutes. Wash it off with the help of water to get a glowing look for your hair.
Acne remover
With the help of vegetable glycerin, you can also make an effective solution best for acne removal.
To make this, combine ½ teaspoon of glycerin, ½ teaspoon of orange blossom water as well as 4-5 drops of tea tree oil. You can apply it on your hair overnight and then wash it off properly in the morning.
Provides cooling effect
Using vegetable glycerin also helps in providing amazing cooling effect. This effect is helpful in providing soothing to itching, hives as well as rashes and various other skin and hair problems.
Hand softener
Vegetable glycerine can also helpful in preventing the condition of dry or rough hands as well as sales on palms. Using vegetable glycerin can be highly helpful in making your hands silky as well as smooth.
Amazing emulsifier
Vegetable glycerin can be an amazing emulsifier. It can act as an amazing base for various emulsifying oils as well as essential oils. It also helps in binding the oils to make a smooth and silky gel, lotion as well as cream.
Toner
You can also make amazing toner with the help of vegetable glycerin. Just mix ½ cup of witch hazel along with ½ cup of rose water as well as ¼ cup of vegetable glycerin to make it. Ensure that your toner has cooling as well as skin-balancing properties.
You can also add some essential oils in it such as rose or germanium. Adding these essential oils will help in providing more skin benefits to your body.
Blemishes reducing
Vegetable glycerin also useful in reducing blemishes as well as redness from the face. Along with maintaining the pH level of the skin, glycerin also helps in nourishing as well as providing more brighter, younger and radiant skin in quick time.
Apart from this, glycerin is also loaded with important antibacterial properties and is highly helpful in getting softer skin.
You can directly apply some glycerin on your skin or you can also mix it with some Vaseline or milk and then put it on your skin. Leave it for resting until it dries on your skin and then wipe it with a moist wash cloth.