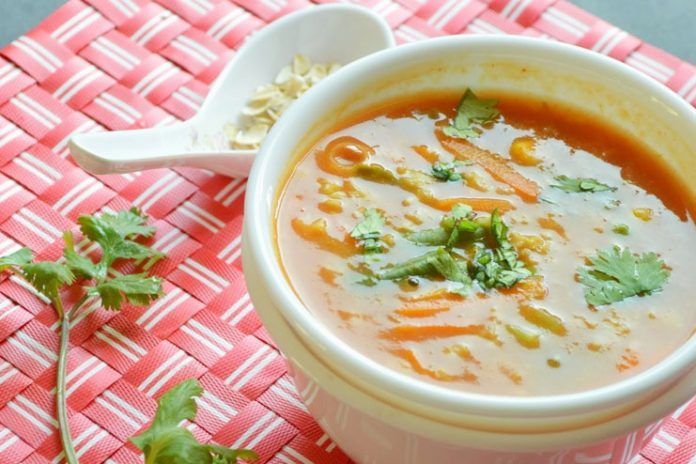 Oats soup is a fiber-rich soup which aid in weight loss. This soup is nutritious, healthy, and tasty. Garlic adds a good flavor and aroma to this soup. Oats helps to reduce cholesterol and high blood sugar. Let's follow this recipe.
Preparation Time:
15 minutes; Cooking Time: 15 minutes; Servings: 1-2
Ingredients
2 tsp- Finely Chopped Garlic
1 cup -Chopped and Boiled Mixed Vegetables (French Beans, Carrot and Cauliflower)
1 tsp- Oil
1/4 cup- Finely Chopped Onions
2 tbsp- Quick Cooking Rolled Oats
2 tbsp- Chopped Coriander
3cups- Water
Salt and Pepper to taste
Method
1. Heat the oil in a deep non-stick pan and add garlic and onions.
2. Cook on a medium flame for 1 to 2 minutes.
3. Add the mixed vegetables, 3 cups of water, salt, and pepper.
4. Mix it well.
5. Cook on a medium flame for 2 minutes and stir occasionally.
6. Add the oats and coriander, mix well and cook on a medium flame for a minute.
7. Serve hot.
Disclaimer: The above tips and information are only for reference purpose. The articles are not written by qualified medicare professionals. Even though, you may find the tips and information easy and useful, we recommend you to consult a qualified medicare professional before adopting these. It is necessary to analyse and find out your physical fitness in accepting these tips. Some tips may not suite you or you may be allergic to. Hence consulting a medicare professional is essential. Failing which, you will be having the sole responsibility for the consequences arising out of your negligence and reluctance.