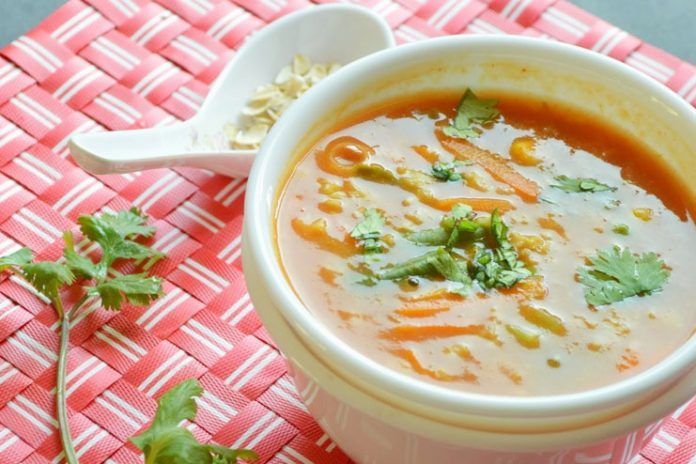 Oats soup is a fiber-rich soup which aid in weight loss. This soup is nutritious, healthy, and tasty. Garlic adds a good flavor and aroma to this soup. Oats helps to reduce cholesterol and high blood sugar. Let's follow this recipe.
Preparation Time: 15 minutes; Cooking Time: 15 minutes; Servings: 1-2
Ingredients
2 tsp- Finely Chopped Garlic
1 cup -Chopped and Boiled Mixed Vegetables (French Beans, Carrot and Cauliflower)
1 tsp- Oil
1/4 cup- Finely Chopped Onions
2 tbsp- Quick Cooking Rolled Oats
2 tbsp- Chopped Coriander
3cups- Water
Salt and Pepper to taste
Method
1. Heat the oil in a deep non-stick pan and add garlic and onions.
2. Cook on a medium flame for 1 to 2 minutes.
3. Add the mixed vegetables, 3 cups of water, salt, and pepper.
4. Mix it well.
5. Cook on a medium flame for 2 minutes and stir occasionally.
6. Add the oats and coriander, mix well and cook on a medium flame for a minute.
7. Serve hot.