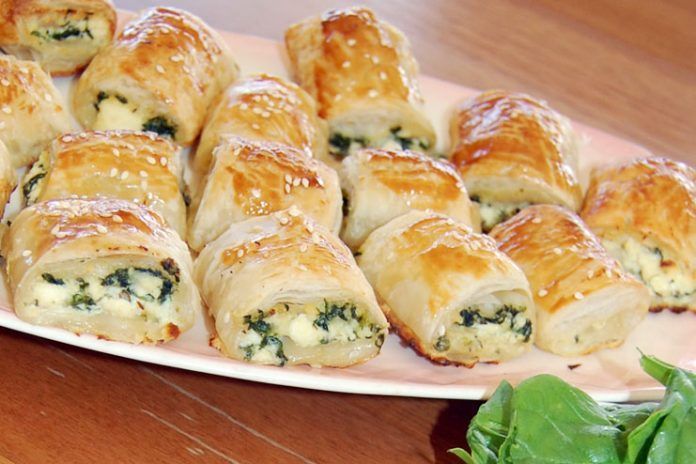 Spinach is good for everyone. This baked spinach roll provides vitamin A which boosts the immune system, improves vision and nourishes the skin. Let follow this Baked Spinach Roll recipe.
Ingredients
For The Stuffing
1 potato, boiled
1 chopped onion
1 chopped green chilies
1 tsp chili powder
1 tbsp chopped coriander (dhania)
3 tbsp white sauce (for baking)
1 tbsp butter
Other Ingredients
20 large spinach (palak)
3 cups white sauce (for baking)
3 to 4 tbsp grated mozzarella cheese
For the White Sauce
2 tbsp butter
2 tbsp plain flour (maida)
2 cups milk
salt to taste
1/2 tsp freshly ground black pepper (kalimirch)
Directions
For the white sauce
1. Heat the butter in a broad non-stick pan and add plain flour and cook on a slow flame for 1 to 2 minutes and stir continuously.
2. Add the milk, mix well and cook on a medium flame for 3 to 4 minutes, or till the sauce thickens and stir continuously.
3. Add the salt and pepper, mix well and cook on a medium flame for 1 minute.
4. Remove from the flame and keep it aside.
For the stuffing
5. Mash the potato and keep it aside.
6. Heat the butter in the pan and fry the onion for 1 minute andadd green chili and fry for 1/2 minute.
7. Add the mashed potato, vegetables, chili powder, coriander, white sauce and salt and cook for 2 minutes.
How to proceed
8. Drop the spinach leaves into salted hot water and after 5 minutes, drain it.
9. Put a little stuffing in each leaf and roll up.
10. Spread a little white sauce on greased baking tray and arrange the rolls, pour the balance white sauce on top, sprinkle the cheese and bake in a hot oven at 230- degree c (450-degree f) for 10 minutes
11. Serve hot.
Note
Instead of spinach leaves, you can also use cabbage leaves.
Also, Read Best and Healthy Baked Corn Recipe