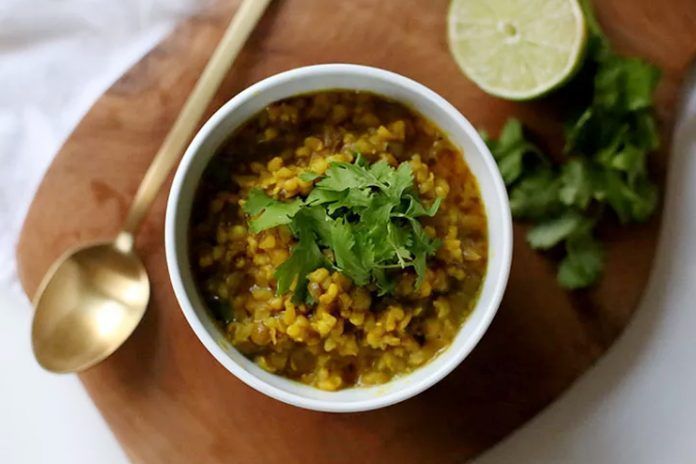 If you are trying to lose weight and spending hours at gym, you must strengthen it with Ayurvedic healthy soup for weight loss. This will not only help in staying fulfilled for long, but also provide all necessary nutrients needed by our body. A proper and balanced healthy diet in addition to weight loss exercises and proper body toning will help in natural weight loss which is sustaining for long. Every diet chart has laid special emphasis on soups as soups provide minimal calories and fill up 30% of our meals. Thus preventing us from consuming excess calories during our meals.
[Read: Ayurvedic diet for weight loss]
Ayurvedic healthy soup for weight loss: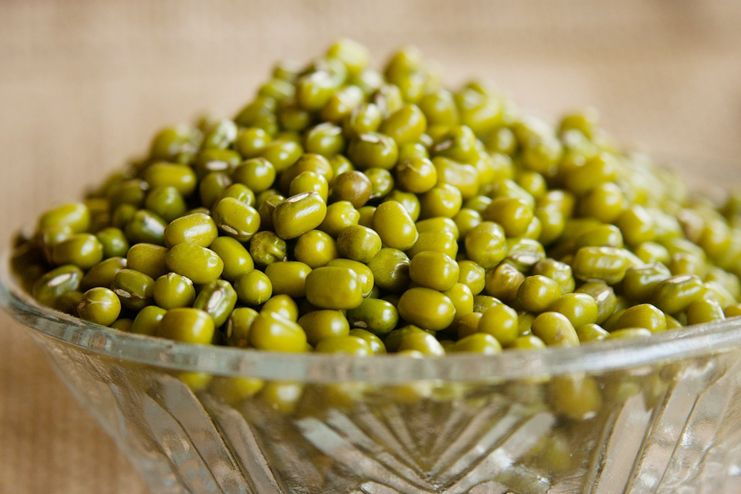 – Moong bean soup, for spring body detox and deep cleansing. Ayurveda considers in great to adopt soups during weather change to not only prevent from infections but also raise immunity and cleanse the body.
– Moong bean soup has some wonderful and miraculous benefits in breaking down the toxins and flushing them off our body. According to science of Ayurveda green moong bean soup helps in balancing all three doshas.
– Moong bean and the spices together help in removing toxic mucous in the body accumulated over time due to poor diet or lack of exercise. Our body gains weight when it is poisoned. But by cleansing and detoxifying the body we aid natural weight loss. This healthy diet helps in toning the body too
– This soup is highly nutritious and detoxifies our body naturally. It works by cleansing the liver, gall bladder and the vascular system of any undigested toxin.
– If you follow it for a few days you would lose weight naturally, lose any retained water and feel lighter, clearer and much more energized.
– This moong bean soup can be proceeded from1 to 7 days, and for more wonderful impacts extend it further. Eat this for breakfast, lunch and dinner when you are hungry. Opt for the days your are not that busy.
– It not only nourishes but also helps in digesting the previous undigested matter too
Benefits of Ayurvedic healthy soup from moong bean for weight loss: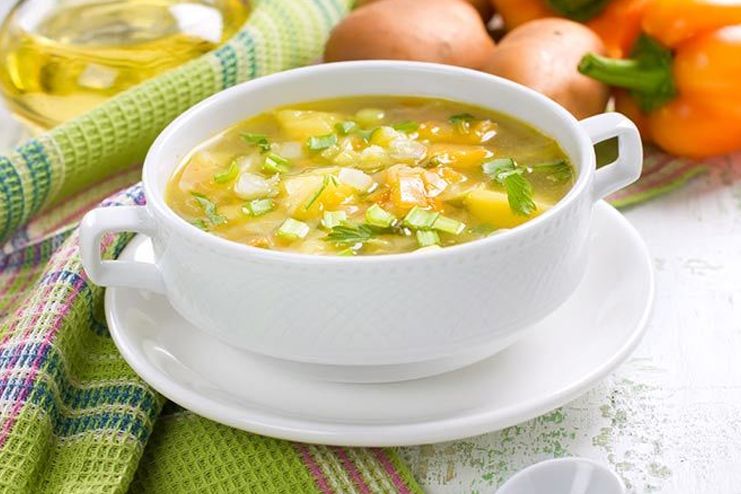 Deep cleanses the body and detoxifies from toxins and residues including heavy metals by cleaning all the body subtle channels.
Calms and pacifies digestive fire, for Ayurvedic health and healing
Sharpens mind and provides energy in addition to vitality and tranquility.
Promotes weight loss, reducing swelling and water retention.
Tips for Ayurvedic Cleansing: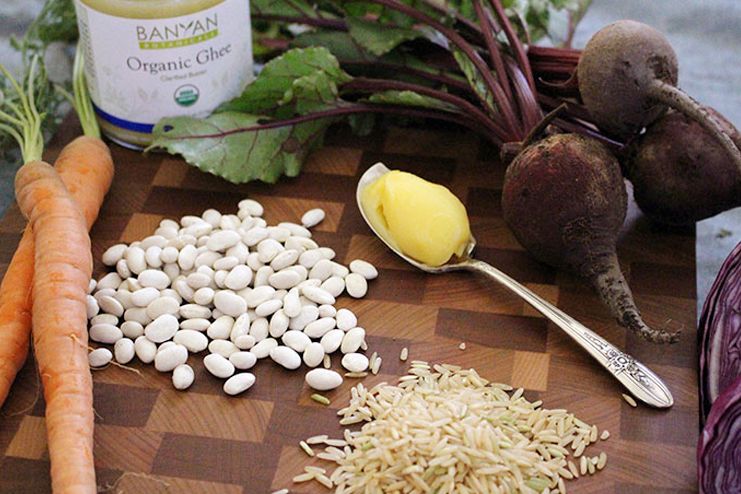 Ayurveda recommends one or two teaspoon of sweet cream butter or ghee dissolved in hot water early in the morning on empty stomach.
Throughout the remaining day eat only moong bean soup and nothing else. Best part here is you can eat as much as you need to satisfy your hunger pangs. And only eat this soup when your previous meal of soup has been digested. This implies having a break of 3-4 hours between two meals.
Make a freshly cooked batch for each day. Do not use previous day's soup by reheating. This will make the meal full of prana(energy) Do not use microwave to reheat during daily meals, but use gas burner
Add some green leafy vegetables like spinach, kale, pumpkin or chard to make it a tasty delight.
Drink warm water and lots of herbal tea made with ginger and lemon in addition to the soups. Try to relax while sipping the hot steamy delight
If you feel weak or bored, you may consume a little brown or white rice.
For all the sweet cravings have a teaspoon of raw honey
Ingredients for Ayurvedic moong bean soup for weight loss: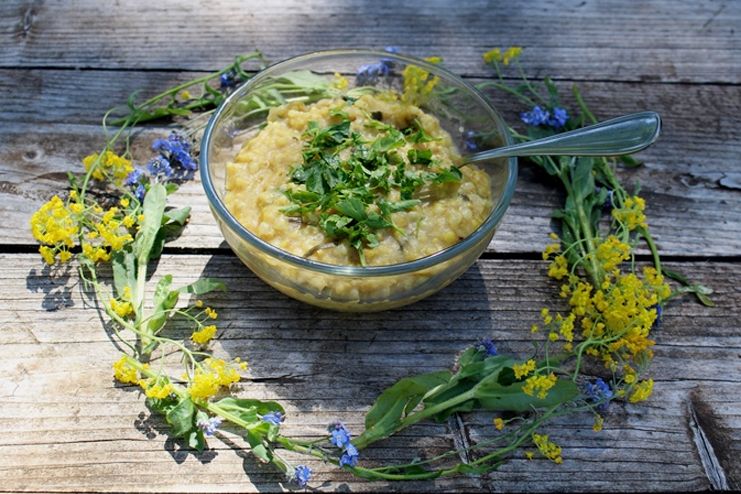 100g moong bean beans
1 liter water
a pinch of asafetida
a spoon turmeric powder
2 spoon fresh root ginger
1 spoon cumin seeds, garam masala, ground coriander, ground fennel as you like to, for adding taste
coconut oil
Lemon juice
Rock salt and pepper
Coriander fresh and other green herbs
[Read: Healthy cucumber and green pea sandwich]
Recipe for preparing Ayurvedic moong bean soup:
Wash the green whole moong bean and soak it overnight
Now add them to a pan the next day and put turmeric, leave them to simmer and cook
Keep it boiling for an hour and add water if needed
Now separately heat the coconut oil and add cumin seeds, garam masala, ginger, asafetida until it brings a distinct aroma
Now add all other spices and heat for a few minutes
Add this all to the soup and add salt to taste
Serve with lemon juice and coriander garnishing
Add green vegetables for variety, as one meal for the day.
[Read: Amazing benefits of almond oil]
Other enrichments to the 3 day Ayurvedic soup weight loss detox include: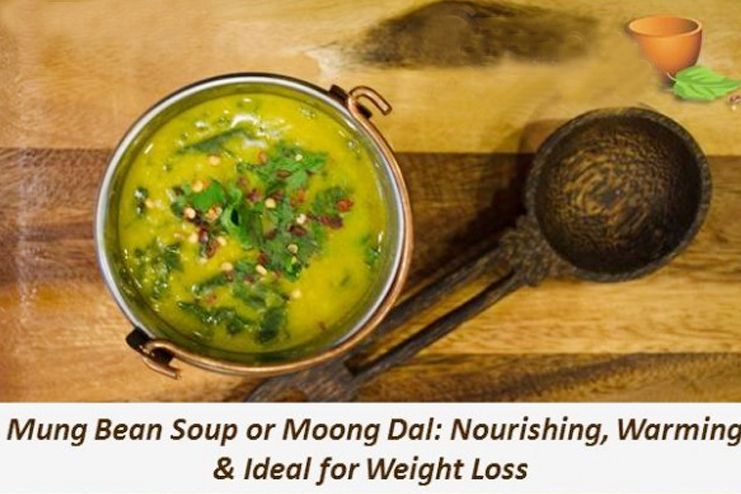 Use Ayurvedic massage every morning. Apply oil and massage then stay for 15 20 minutes for oil to absorb. Now take hot shower to clear off the toxins
Use neti pot and tongue scrapper daily for clearing toxins well
Try to relax as much as you can and do not indulge in TV and other external stimulus from digital devices
Use home made skin products and pamper your skin naturally
Practice yoga, pranayama and medicine daily. This will be nourishing and strengthening
Be sure to connect with nature by brisk walk in park
Be creative with reading, gardening and listening to soothing music.
[Read: 11 best Ayurvedic herbs]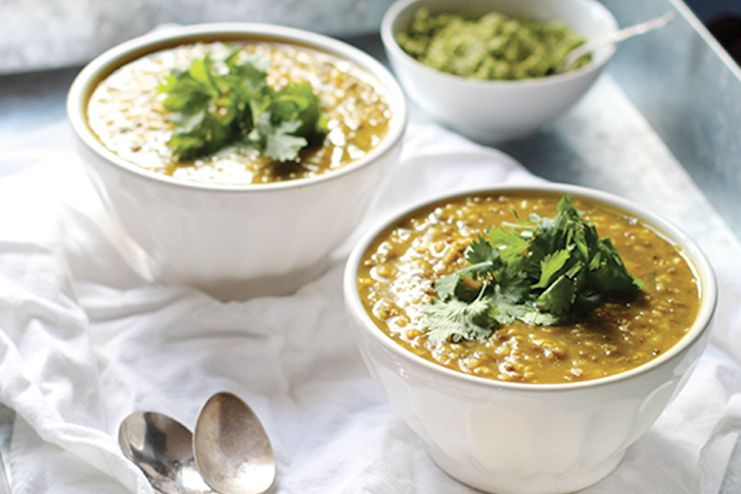 The above compilation on Ayurvedic healthy soup for weight loss is based on experiences and learnings over time. This Ayurvedic moong bean soup is the most assured and safe way to detox and weight loss. Be sure to check with your health care provider before opting for it. As there maybe allergies and weaknesses emerging from existing conditions. Also for pregnant, lactating mothers and people with illnesses, these diets must not be taken without expert medical care. Share ahead and keep writing us, we love hearing from you!
Minu Manisha